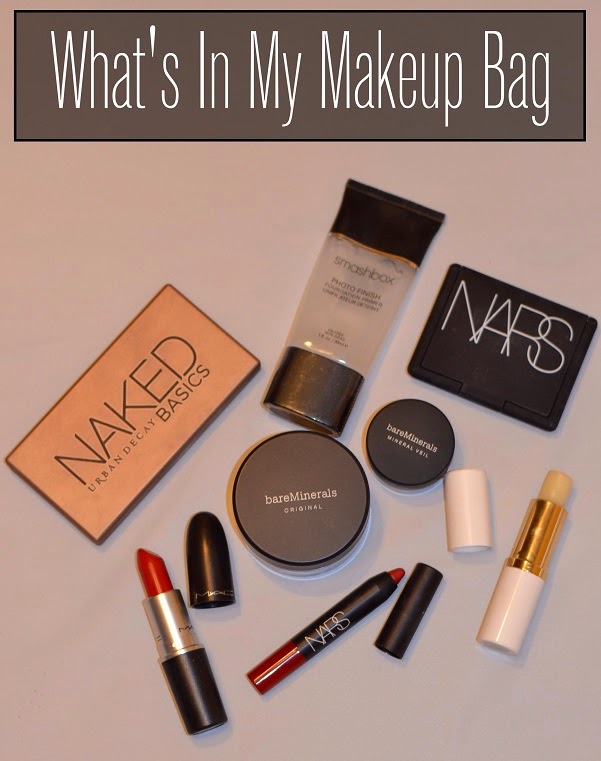 It's been a few months since I posted what's in my makeup bag. I've makeup routine by using some new brands. Here's what I'm using:
1.
Smashbox Photo Finish Primer
: This product is essential in establishing a smooth look. It softens and smoothes your face which helps your foundation look flawless. I apply this before I apply my foundation.
2.
bareMinerals Original Powder Foundation
: I've been using this for about 10 years now. Being that I have sensitive skin, this foundation works great with my skin. I've tried a couple of other department store brands, but they made my face break out and itch. I've stayed with bareMinerals.
4.
Urban Decay "Naked Basics" Eyeshadow
: I've been using this for about a couple of months now. It's a great nude eyeshadow pallete that basically works well for everyone. It stays on all day.
5.
Nars blush in "Deep Throat"
: I just received this blush from Sephora last week in the mail and I love it! The color looks great with all shades of lipcolor and stays on all day. I'll be using this one for a long time.
6.
Estee Lauder Lip Conditioner
: I apply this before my lipcolor for super soft lips. I also use this when I'm not wearing lipcolor to keep my lips from getting chapped.
7.
MAC lipcolor in "Lady Bug"
: I just bought this lipcolor at the MAC store a couple of weeks ago. I love the color! As with all MAC lipsticks, it's super smooth and the color is vibrant.
8.
NARS Velvet Matte lipcolor in "Cruella"
: I received this in the mail from Sephora with my blush, as a birthday gift. I love the color! When I saw the name of the lipcolor "Cruella", I immediately thought of Cruella deVil from the Disney movie; how fitting for a color as deep red as this one.
I didn't include my brow definer and mascara as I purchase these at the local Walgreens. I use Cover Girl and Maybelline brands.
* Here's a tip: If you like to shop at Sephora, sign up for their VIP rewards card. I've been a member for several years now. With each purchase you accumulate points. You can spend the points on their promotional items. During your birthday month, they'll offer you a couple of items to choose from. This month was my birthday month, so I picked the set of two NARS lipcolors, one being my favorite shown above. I've gotten other free products too like a bareMinerals mini color set, perfume, and more! Plus, if you buy online they always offer you to pick 3 free samples to include with your order. Happy Shopping!
Shop the Post:
See These Blogs I Link Up With: