Love Your Hair Again With Nexxus
"This post is sponsored by Nexxus New York Salon Care, a product of Unilever, as a part of an Influencer Activation for Influence Central."
For years I had full, thick hair.  My hair has been through several transitions. 
When I was a kid and I wanted to wear it in a ponytail, my mom would always tell me, "you have such thick hair", while she struggled to put it in the ponytail holder.  It was straight all during my childhood, until I became a teenager.  That was the first change to my hair. 
When I became a teenager, my hair stayed full, but also came the wavy curls.  How did I deal with it?  I permed it often.  The more kinky the curls, the better.  In the late 80's and early 90's, having a "perm" was the type of hair to have (I'm revealing my age).  Just look at the photo below.  Can you say, frizz?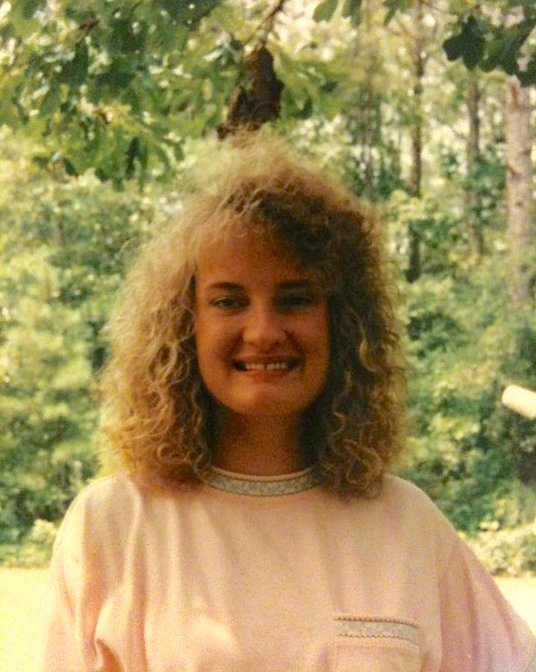 When I was in college, I straightened my hair.  I didn't own a straightening iron then, just blew it dry with a curling brush and blow dryer.  Eventually my hair settled down from being shocked all those years of having a perm.  Then, I started highlighting it.  I loved my hair.  It was easy to fix and looked natural.
After I graduated from college and got married, my husband and I had a baby.  When I was pregnant, my hair went through another transition.  My roots became darker, much darker than I had been my whole life.  I had read that this was normal.  I also noticed after my pregnancy, my hair started to thin out a bit over the next several months.  I felt that my hair wouldn't be the same.  I wanted my thick hair back!
I experimented with different shampoos, conditioners and styling products.  They either made my hair too dry, too brittle or too limp.  I had a few layers cut in my hair, hoping that my hair would have volume and not be so flat.  Nope, that didn't work either.  The photo below was taken in 2011 on a trip to Nashville with my mom and daughter.  That's probably the worst my hair has looked.  And, my fashion sense was the worst too.  Yep, totally bad photo, except for my daughter.  She was 7 years old in the photo (my, how she has grown quickly).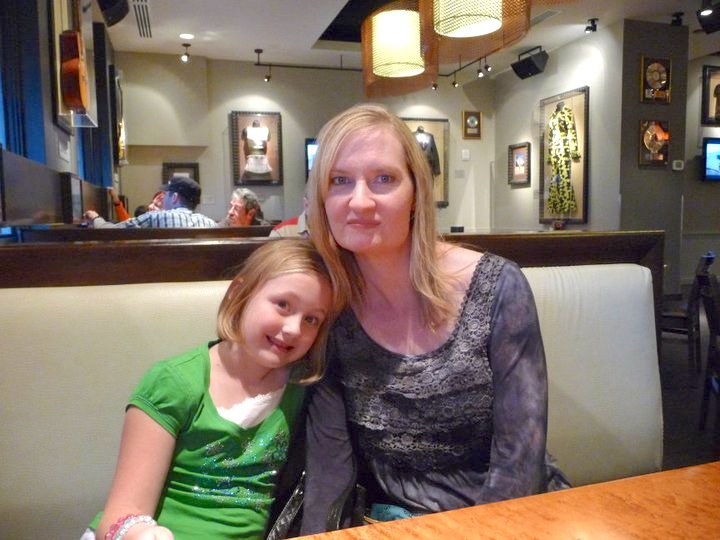 In 2014, I started blogging and developing my personal style and gaining more fashion sense.  I started fixing myself up more and paying attention to my looks, especially my hair.  I was still using hair products not exactly right for my hair.  They would cause my hair to be limp.  I was washing my hair everyday to keep it from being so limp.  But, my hair looked lifeless and dull.  Last year I started washing my hair every other day and used a dry shampoo on the roots in between washings.  That helped to keep my hair from drying out so bad, but it was still limp and I felt like it basically stuck to my head.
A couple of weeks ago, I was sent several Nexxus New York Salon Care products to try.  I used the Emergencee Shampoo and Conditioner, Reconstructing Treatments, Volumizing Foam Mousse+, Mixximum Finishing Mist and Dry Shampoo Refreshing Mist.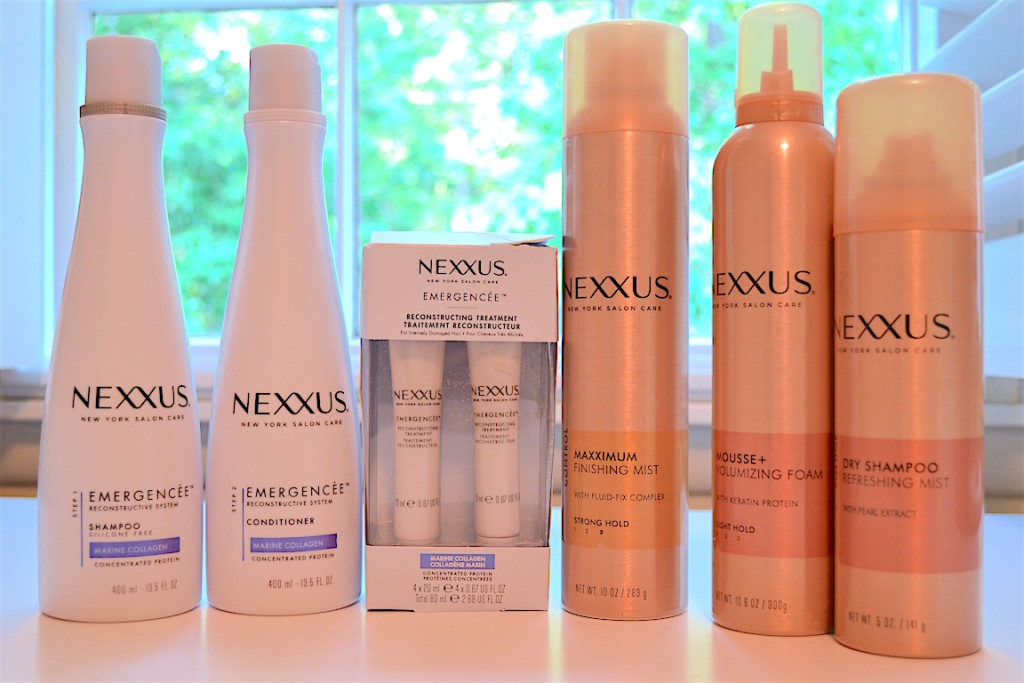 I have used all these products for about 10 days.  I have used the Shampoo and Conditioner every other day so far and have used one of the reconstructing treatments.  The Shampoo and Conditioner work fabulous!  My hair is not so limp anymore!  The Nexxus Reconstructing Treatment made my hair feel so soft.  It's enriched with a high concentration of proteins, collagen and elastin to help reinforce the hair fiber within.  After each washing, I apply a small amount of Mousse Volumizing Foam to my damp hair before drying it.  It made it feel thick and full!  In between washings I use the Dry Shampoo on my roots.  After styling my hair I use the Maxximum Finishing Mist.  This sets my hair and lasts all day.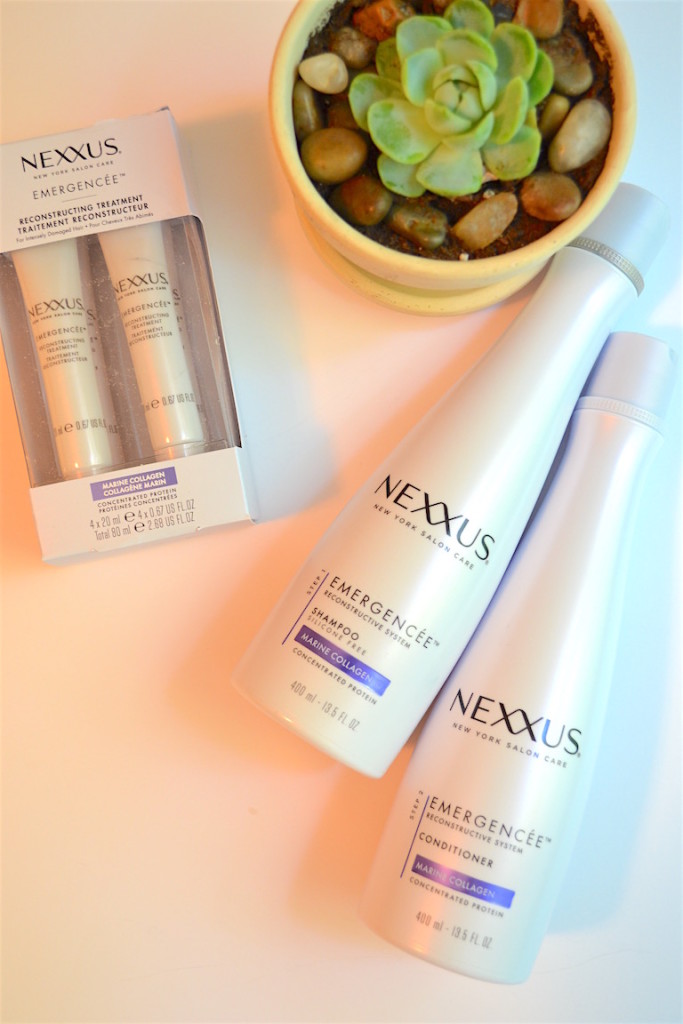 You can see the before and after photos.  When I would curl my hair before I started using the Nexxus New York Salon Care products, it would still be limp and lifeless.  Now, my hair holds its shape and looks alive!  I love my hair again!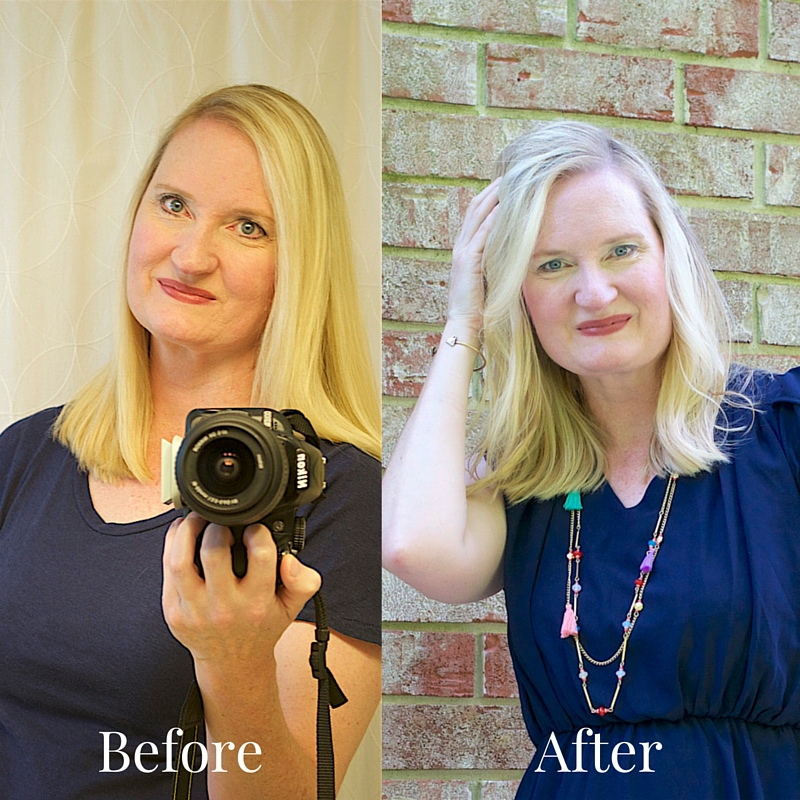 Find out about these Nexxus New York Salon Care products and more:
Nexxus New York Salon Care website: http://www.nexxus.com
Nexxus New York Salon Care Facebook: https://www.facebook.com/nexxus/?fref=ts
Nexxus New York Salon Care Instagram: https://www.instagram.com/nexxusnysaloncare/
Nexxus New York Salon Care Twitter: https://twitter.com/nexxushair
Thanks to @nexxusnysaloncare for providing these products for me to try.  As always, all opinions are my own.