Target's New Brand Favorites: A New Day
A few weeks ago Target announced that it would be replacing its Merona and Mossimo brands.  At first I was disappointed to hear the news, since I have favored those brands for a few years.  A few years ago, when I first started using a capsule wardrobe, I discovered Target's clothes.  Because I was on a budget, their clothes were affordable and pretty too!  When I was buying basic essentials for my first few capsule wardrobes, I loved the Merona brand because I needed several skirts and dressy tops for my job.  I also bought a few tees and pants too.  Looking back on how much I have shopped at Target for their clothes, I wondered if I would like their new brand, "A New Day".  When I saw a sneak peak last week at their new clothing line, I was excited!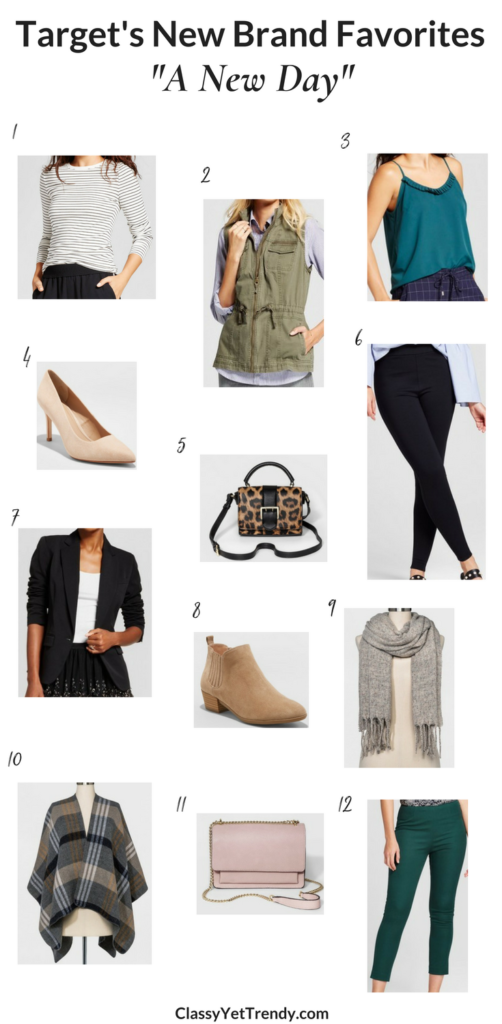 Shop The Post:
1. striped long sleeve tee (comes in white/black and navy/white)
2. utility vest (comes in olive and grey)
3. teal ruffle cami
4. nude pumps (comes in several colors)
5. leopard bag
6. ponte pants (comes in black and navy)
7. bi-stretch twill blazer (comes in black, navy, khaki and grey)
8. taupe ankle boots (also comes in black)
9. marl scarf
10. plaid shawl
11. blush crossbody (also comes in black and brown)
12. teal ankle pants (also comes in burgundy)
I can't wait for you see their new product line "A New Day"!  It just debuted yesterday, and I'm already in love with the clothes, shoes and accessories!  From a capsule wardrobe standpoint, this new clothes line will fit in nicely with your capsule wardrobe.  They have plenty of beautiful basic essentials in their new brand, but they also have trendy pieces too, to keep your wardrobe looking fresh.  You may want to include a few of these items if you are using a capsule wardrobe from my Capsule Wardrobe eBook Store.  You can get one of the new eBooks from the Fall series, The Essential Capsule Wardrobe: Fall 2017 Collection.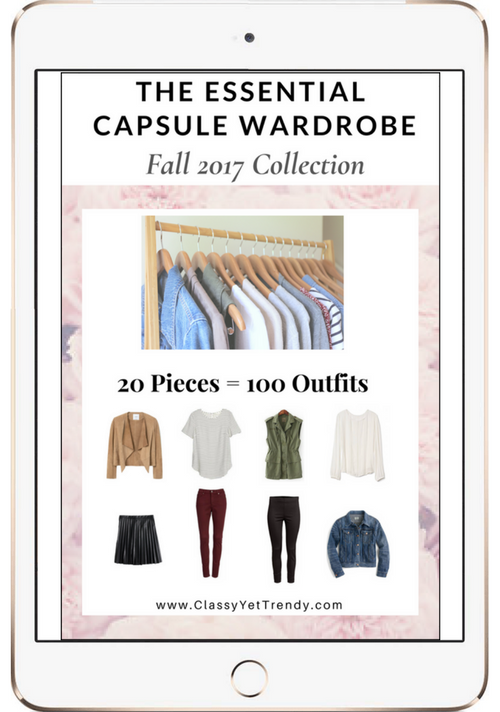 This teal ruffle cami makes a great layering piece that you can wear under cardigans and blazers.  You can also add layers to this floral pleated midi dress, being that the pattern is floral but subtle enough to wear it with many things.  These taupe ankle boots are the perfect color and this leopard crossbody bag is just too pretty!  If you are needing a new blazer, I really like this bi-stretch twill blazer that comes in 4 colors: black, navy, khaki and grey.  The style and shape of it looks perfect.  Here's several items I've spotted that I highly recommend from the "A New Day" brand:
CLOTHES
SHOES
ACCESSORIES