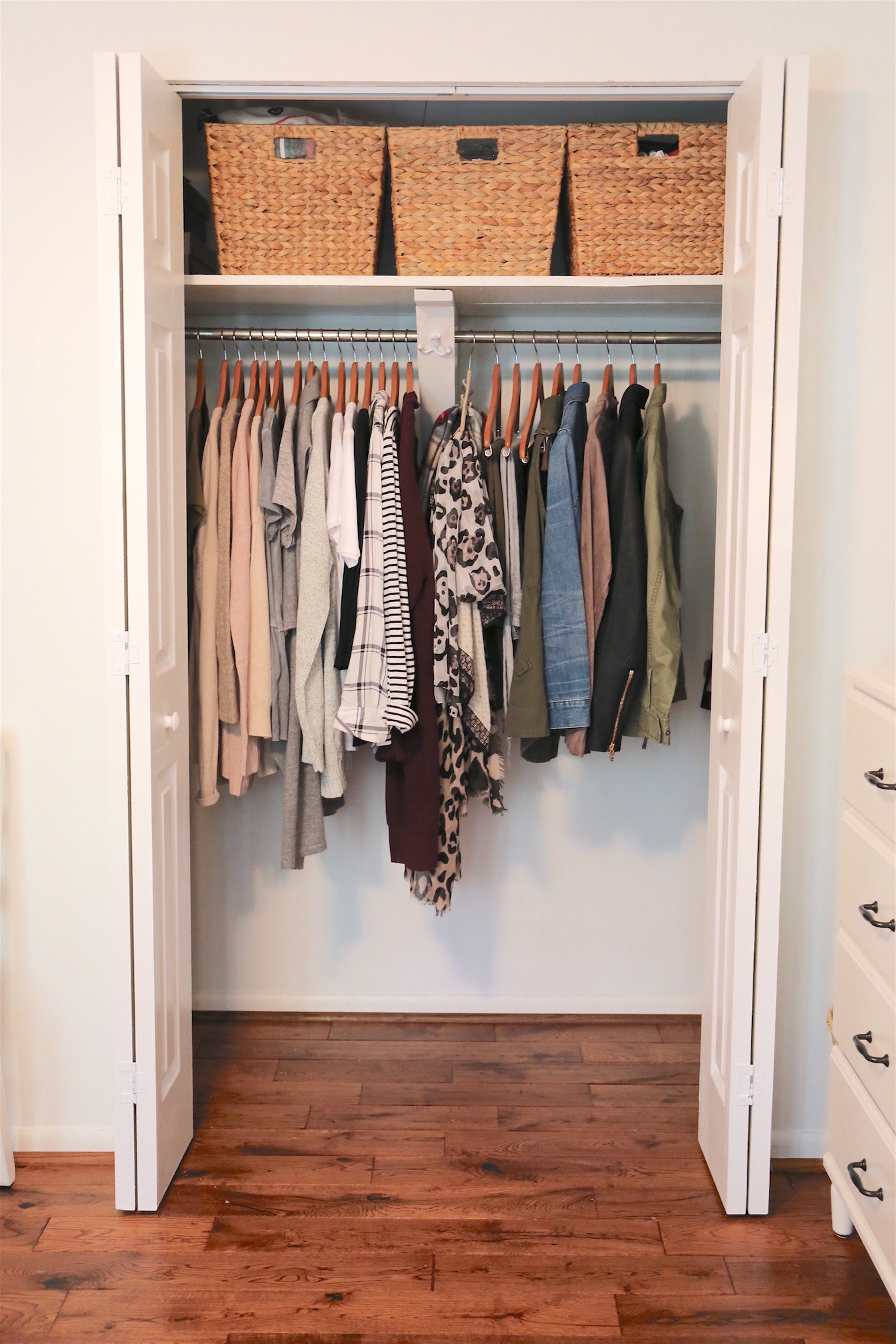 I have a new closet room and want to share how it turned out with you all!  About a month ago we had hardwood floors installed throughout our house.  We had movers come in and move all our furniture from our bedroom, my closet room, my office, the dining room and living room, downstairs to the den area and in the garage.  For a solid week, my husband and I slept on our mattress on the floor.  We had our furniture arranged so that we had enough room and were as comfortable as we could get, given the circumstances.  Throughout that week, we heard the sounds of the installers ripping up the old hardwood, sawing the new pieces and hammering them in.  I had my desk downstairs in the den and tried my best to work on my blog posts throughout all the construction.  Talk about having a headache at the end of the day!
Two years ago when we bought this split level home, there was carpet in about half the house, including my closet room and my office.  There was hardwood in the foyer, hallway upstairs and in the den downstairs.  It was the thin hardwood planks and there were several split boards throughout the house.  Plus, the stain on the wood floors had turned an orange color.  The installers said they could reuse the good pieces, so we told them they could have them and repurpose them.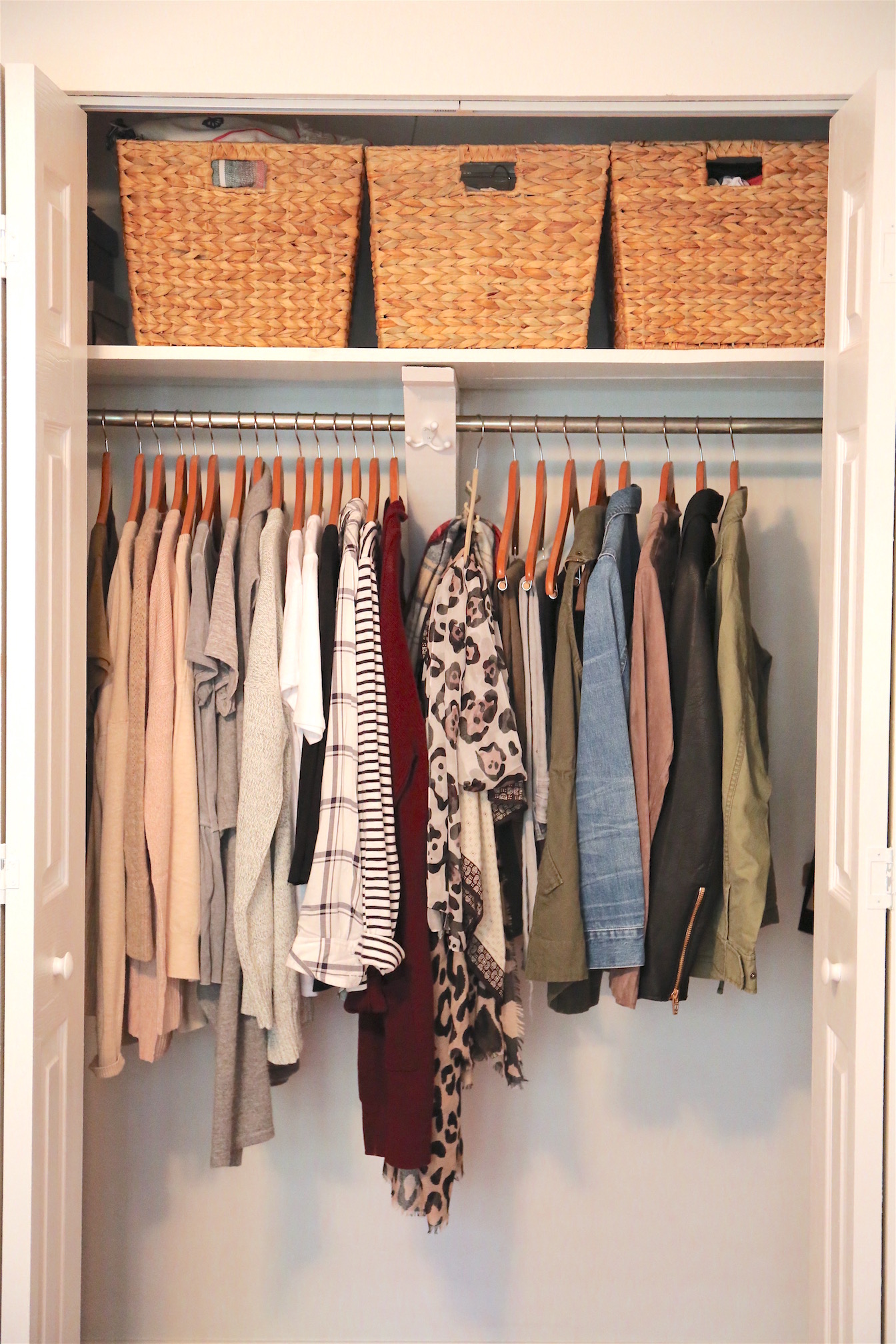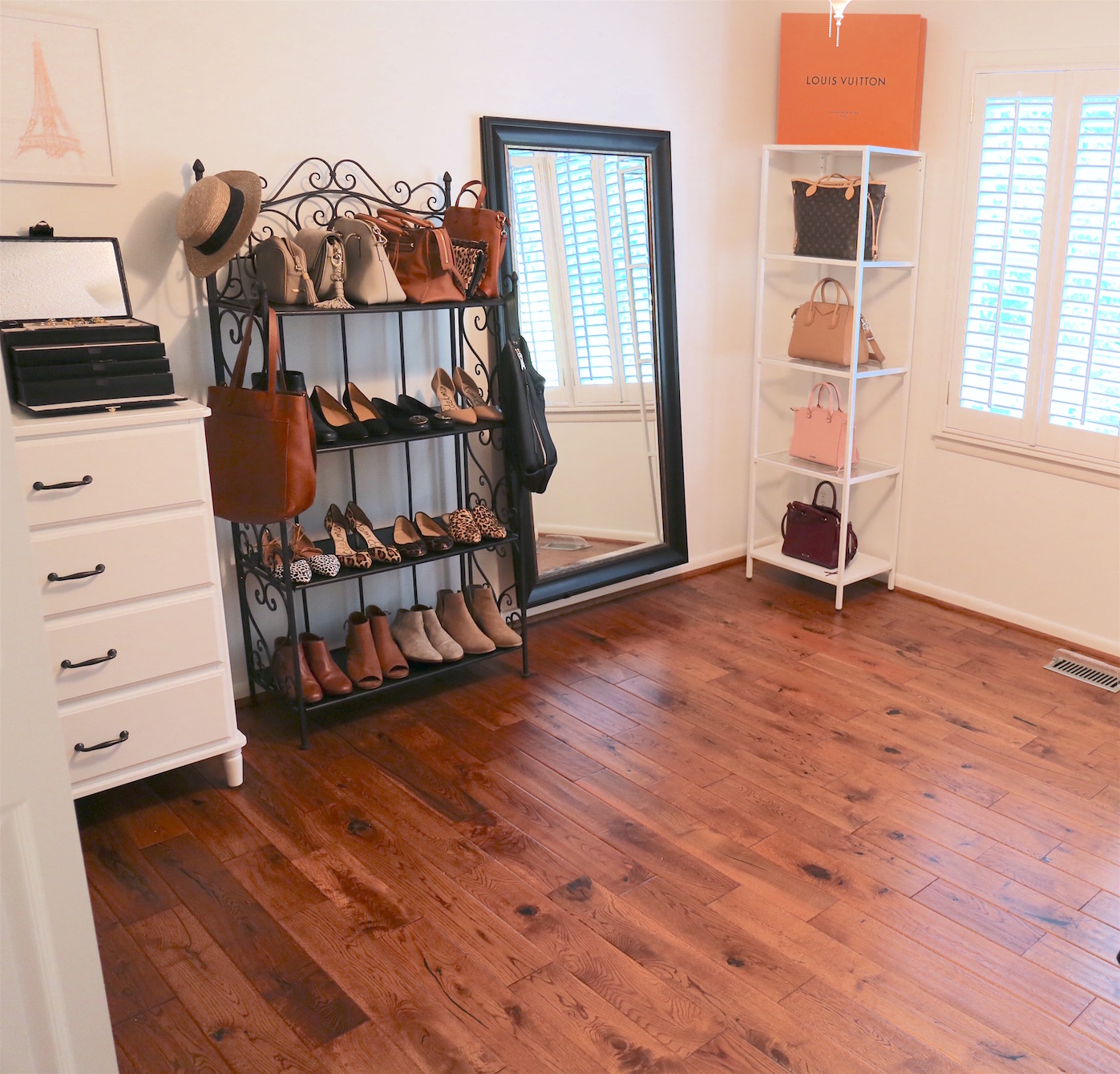 When it came time to move the furniture back in my closet room, I knew I didn't want the big, dark dresser that I had back in there.  I moved it to the storage building behind our house.  I decided to go to Ikea and buy the Tyssedal 4-Drawer Chest in white to hold my undergarments, loungewear and beachwear and 2 Vittsjo Shelf Units in white to sit on either side of my windows for my handbags.  I love the Tyssedal chest!  It has soft close drawers and is a well made piece of furniture!  The Vittsjo shelf units are gorgeous in person.  I bought 2 more for my office!  I've seen them spray painted gold, but I kept mine white.  The furniture I bought back in the room, were my bronze 4-shelf unit (purchased from Hobby Lobby about 4 years ago, I also like this one), my full length mirror (this one is gorgeous!), my painted and recovered chair and my rolling wardrobe rack from PBTeen.  Although my jewelry armoire is in the photos, I'm going to donate it since I have my new jewelry case.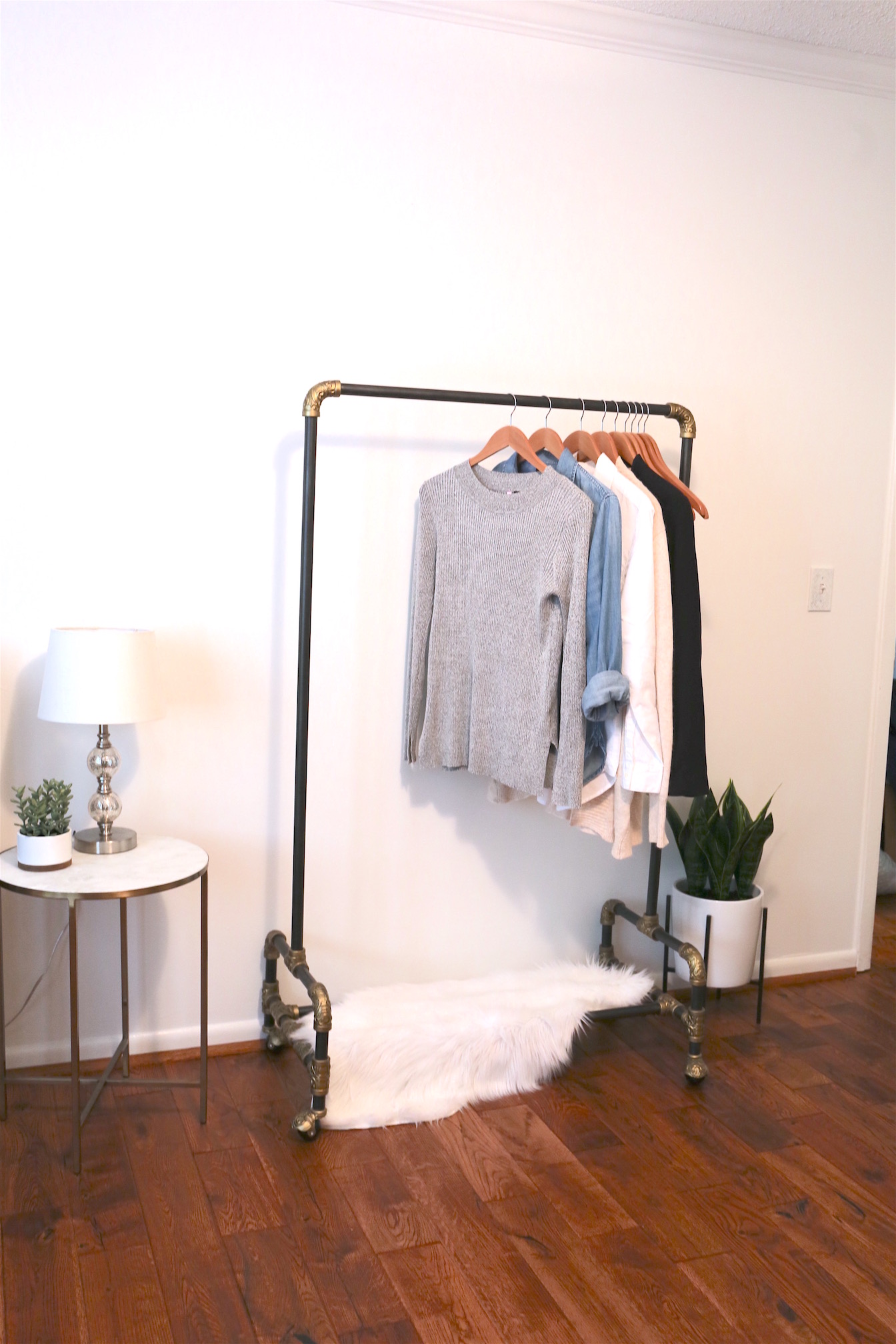 The photo above with the rolling clothes rack is the staging area for most of my photos!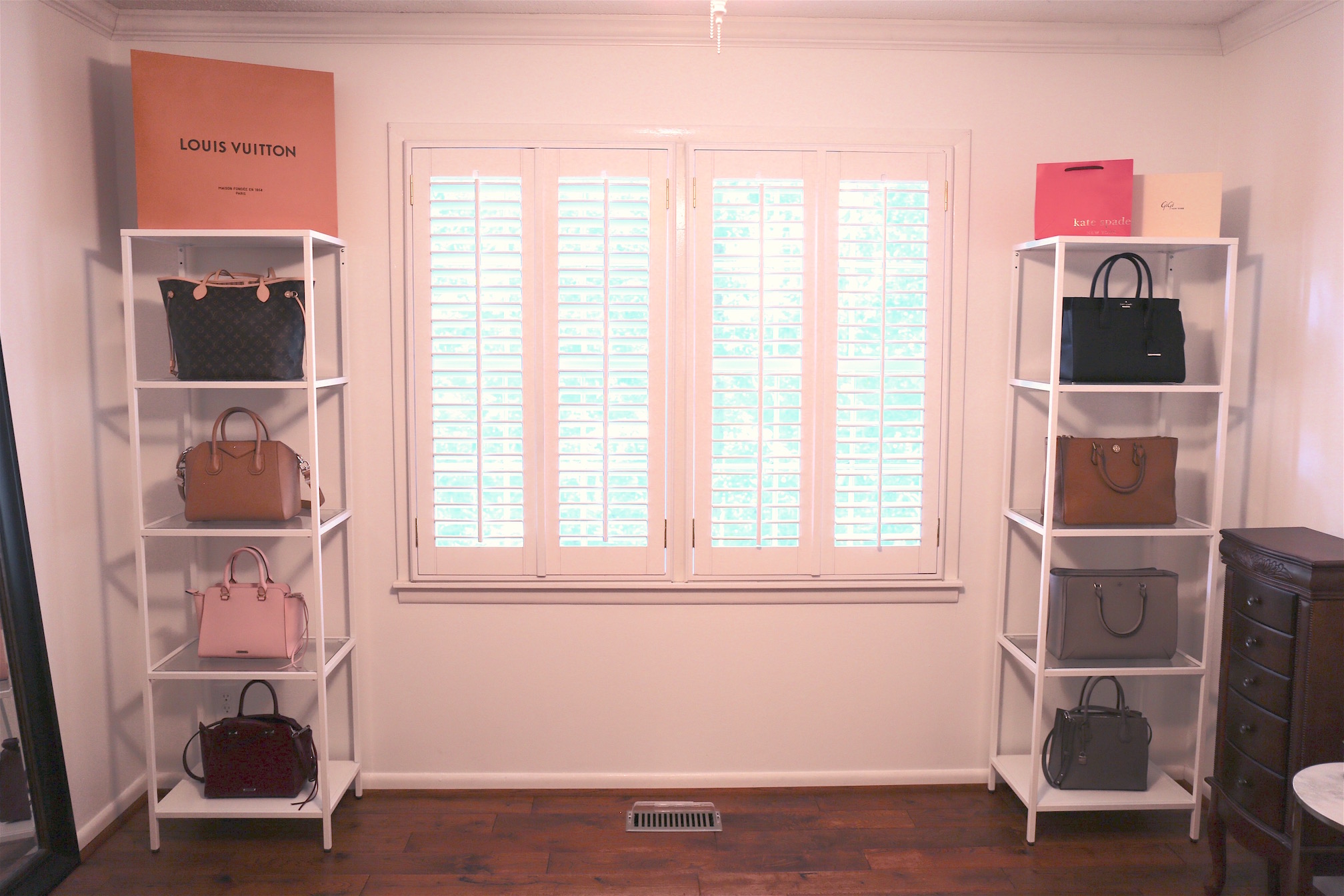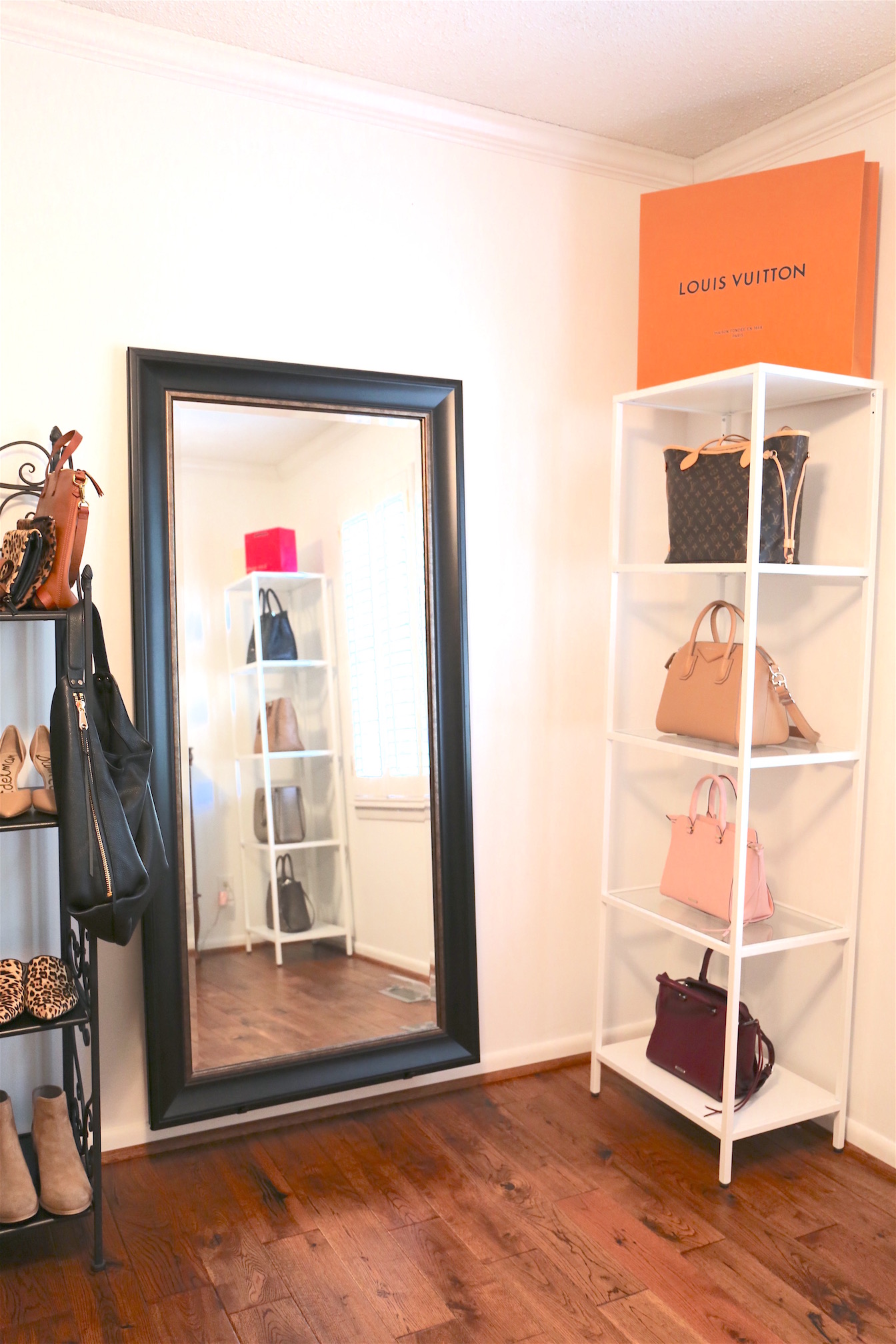 My full length mirror I purchased on sale last year from Kirkland's!  Since I'm tall, my husband installed two curtain rod holders at the bottom to elevate it.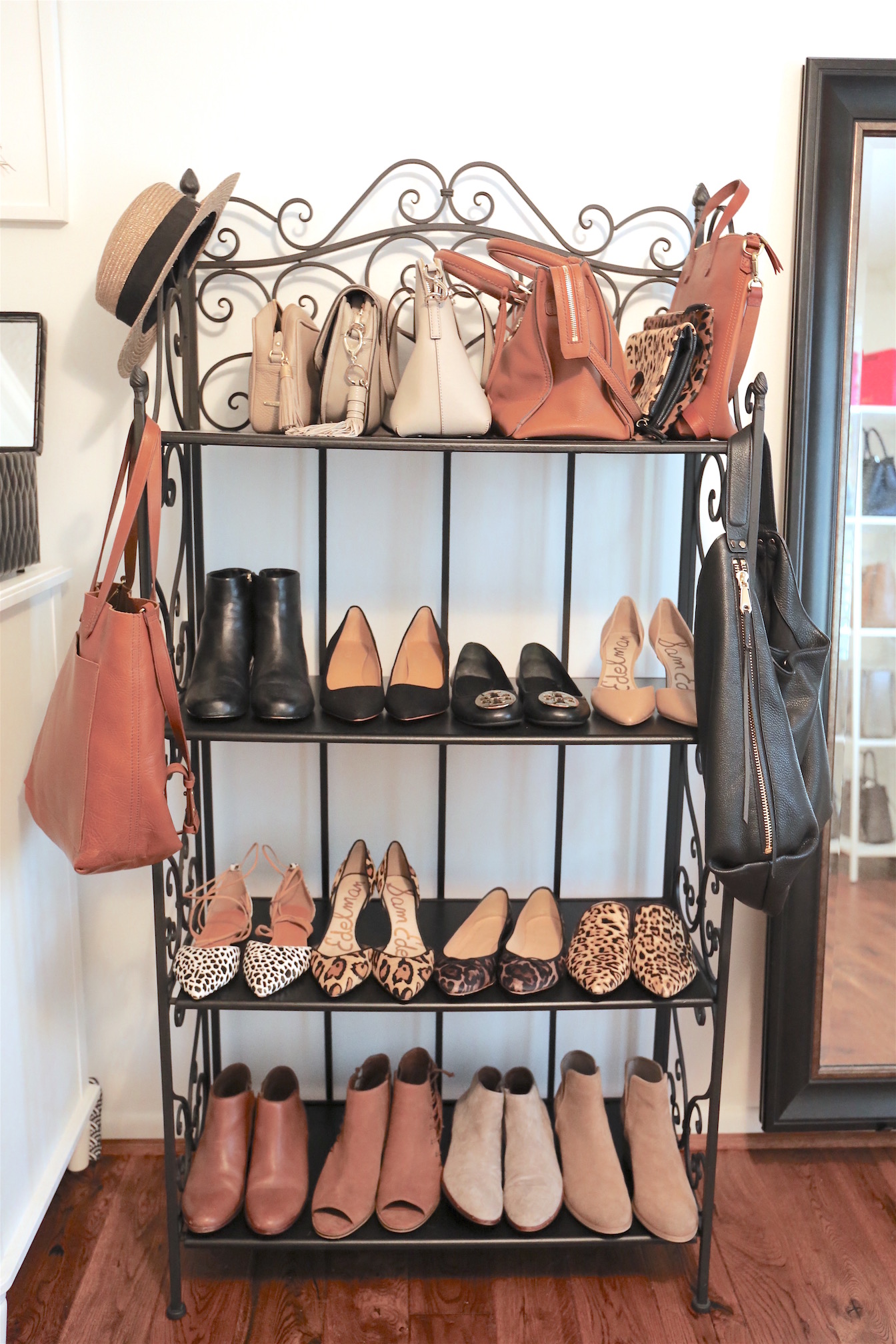 My shoe rack, which is a book shelf unit we purchased at Hobby Lobby about 4 years ago.
Shop a few of my shoes:
black ankle boots
black kitten heels (similar)
Tory Burch Minnie flats
d'Orsay nude pumps in suede
leopard mules
Sam Edelman brown ankle boots
Sam Edelman taupe suede ankle boots
Hinge suede ankle boots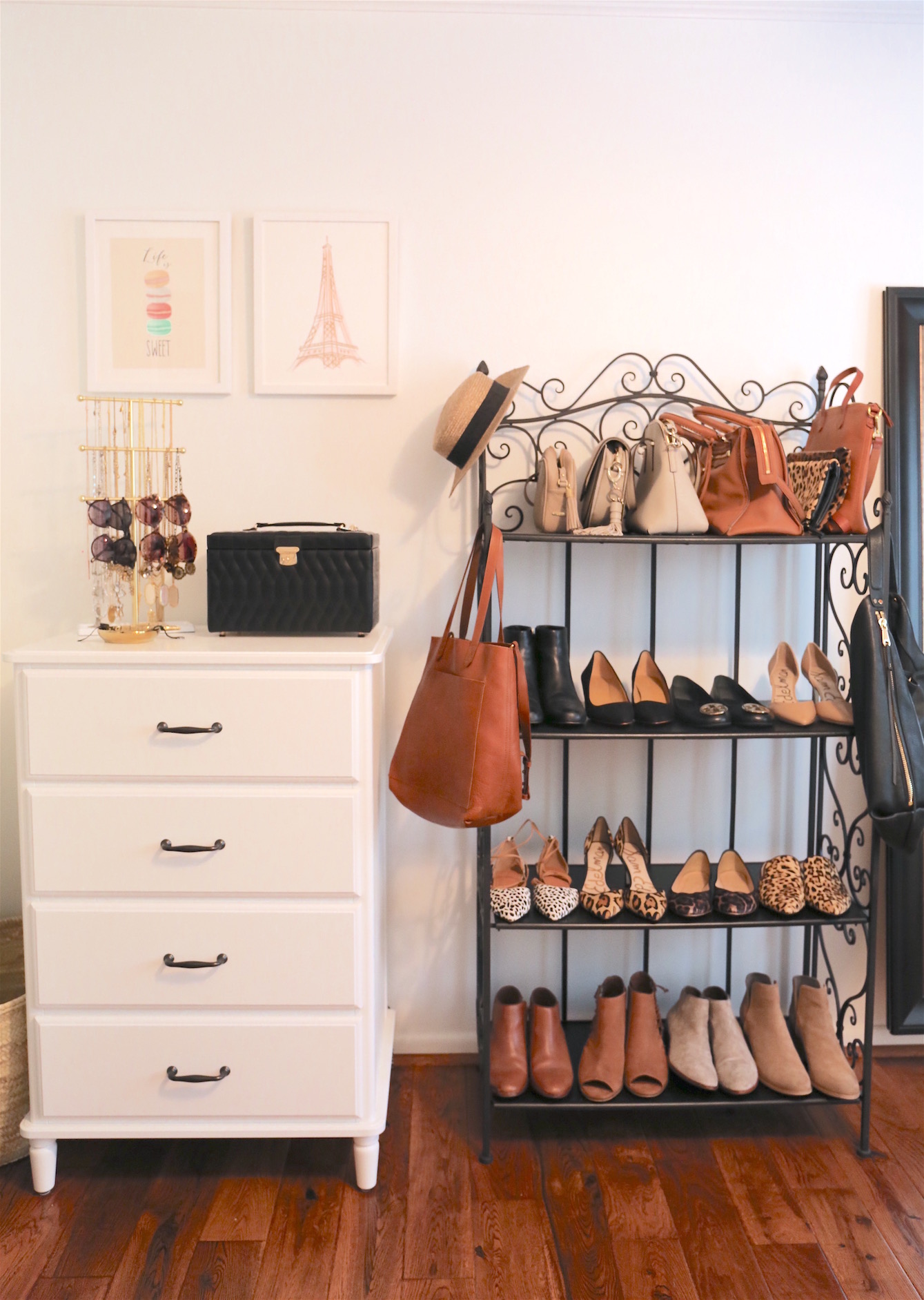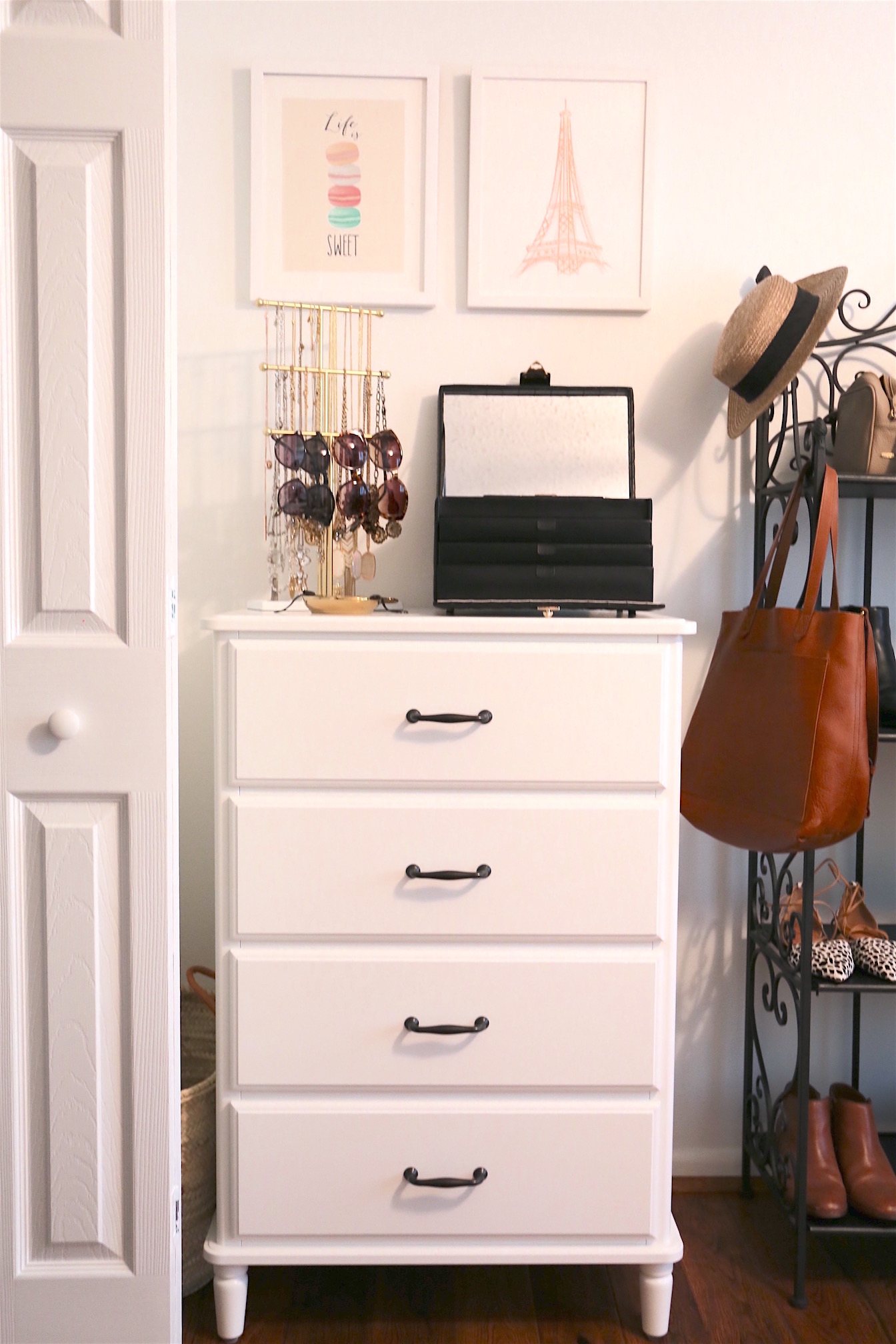 This Ikea Tyssedal 4-drawer chest came with silver pulls.  I spray painted the pulls with a bronze spray paint to match my other furniture.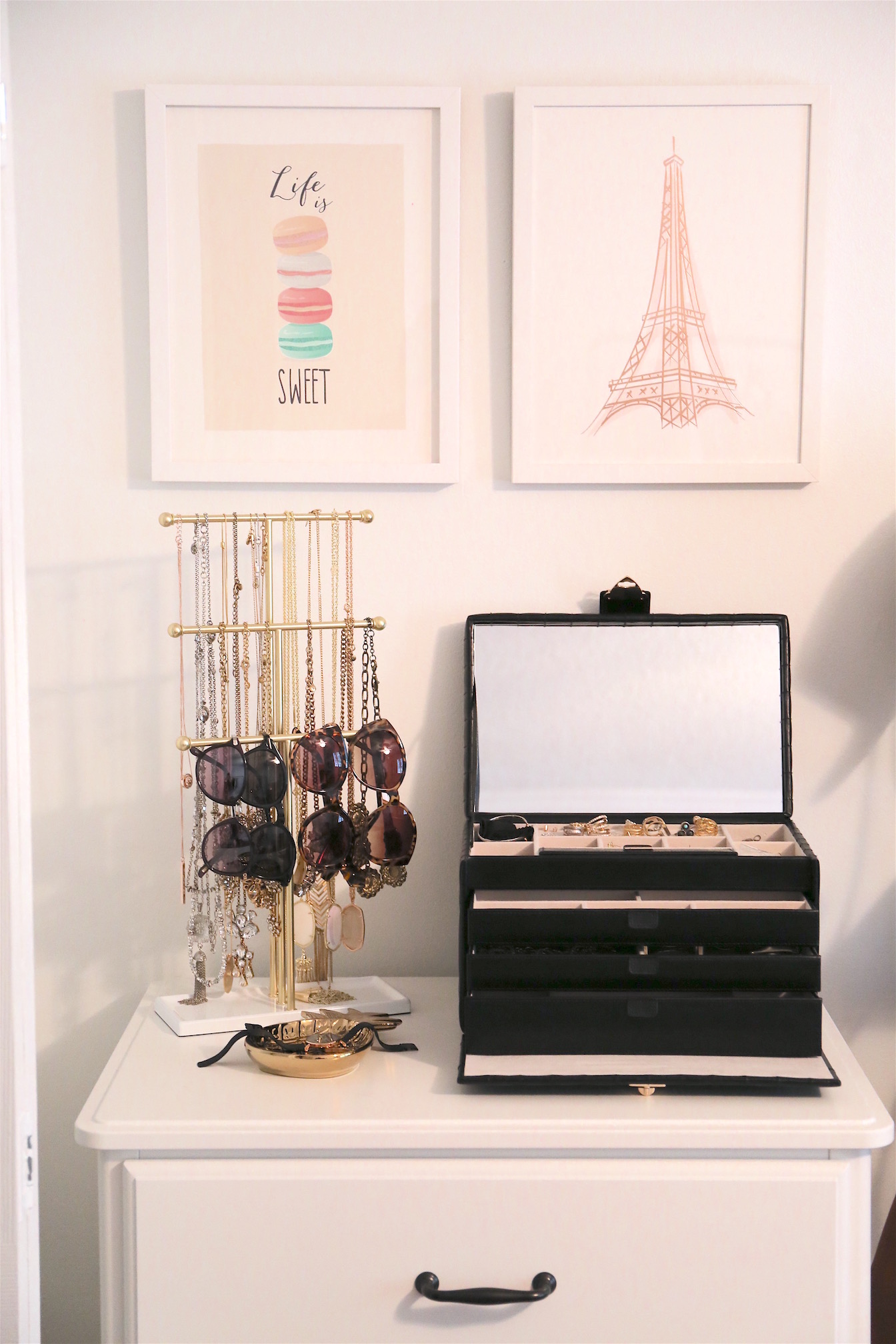 I brought in two of my Minted framed prints (similar "Life Is Sweet" and similar Eiffel Tower framed print)from my office and hung them over my chest of drawers.  See them in my office reveal from 2015!
Items on top of my chest of drawers: Trigem Tabletop Jewelry Stand, Wolf Caroline Large Jewelry Case, gold pineapple tray (similar)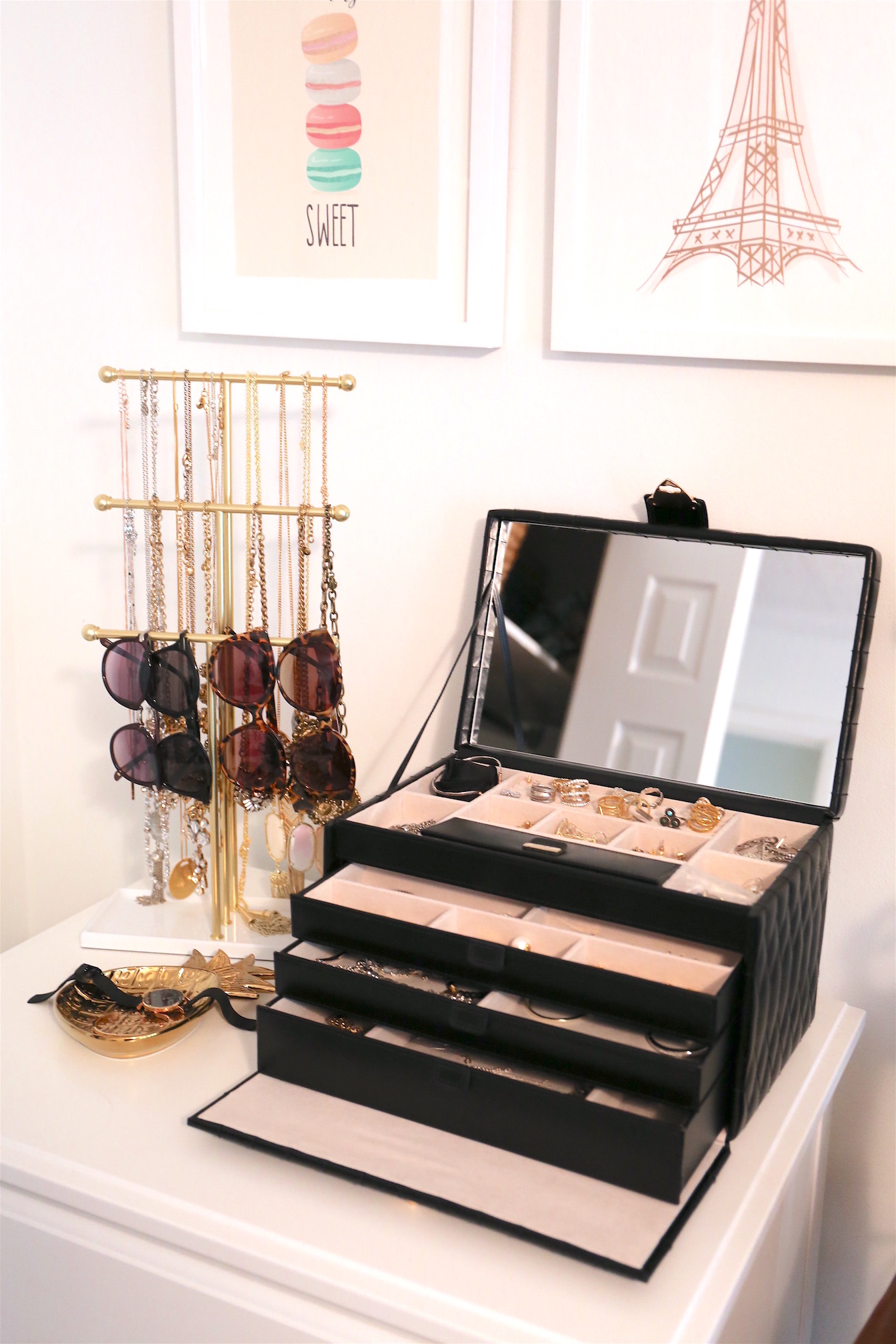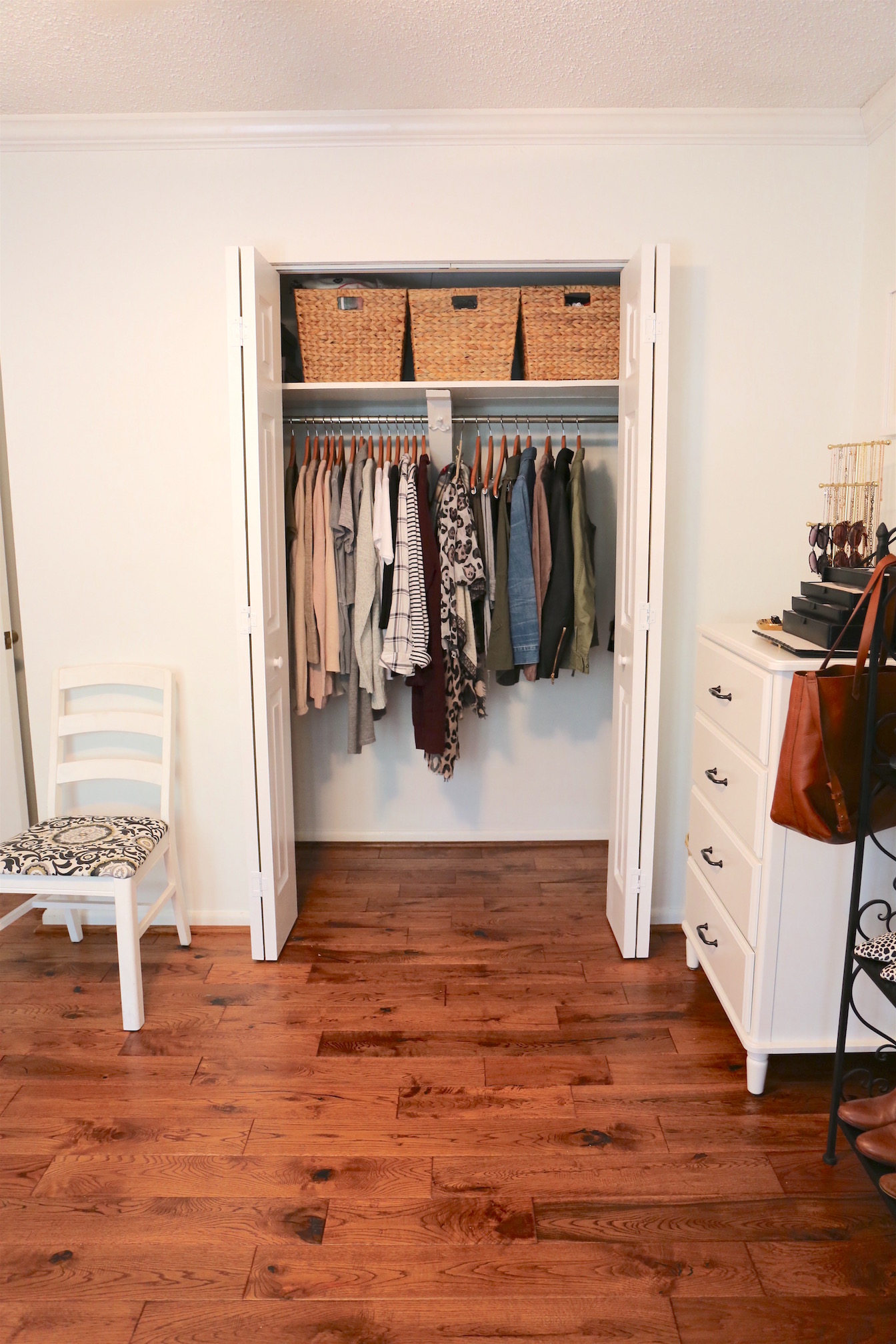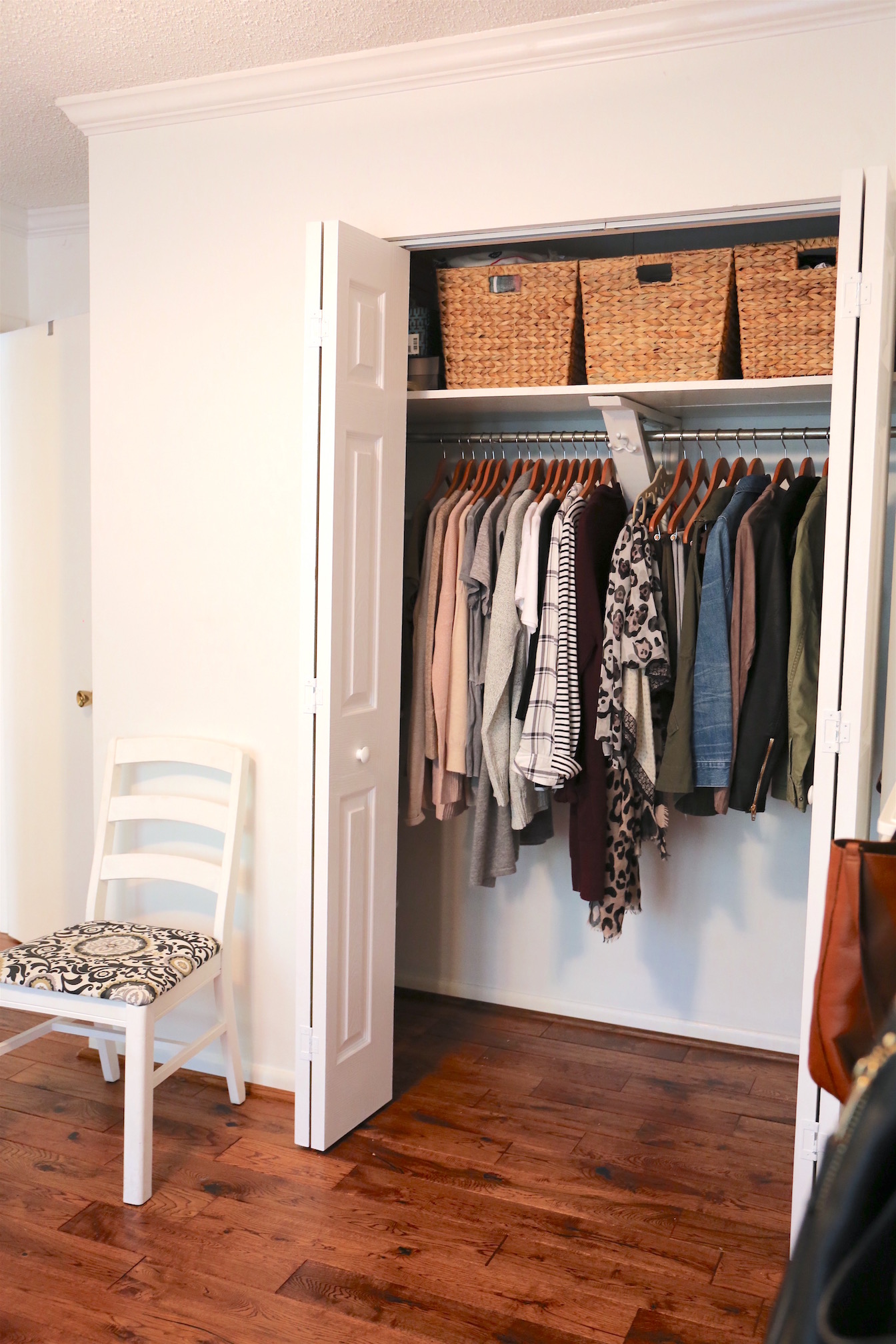 If you'll notice in my photos, I don't have wall to wall clothes, because I use a capsule wardrobe system in my closet.  I have all the clothes I need hanging in my closet.  I pushed my heavy coat, trench coat and other outerwear to the side to show my capsule wardrobe.  On either side of my closet I have clear storage bins for my off season clothes.  When it comes time to creating my next season capsule wardrobe (which will be for the Winter), I will pull out my Winter clothes from the storage bins and store away my Fall clothes.
If you are needing to transform your closet, similar to mine, you can get a copy of any of my Capsule Wardrobe eBooks in my eBook Store.  If you want to try out a mini capsule wardrobe, you can get a free copy of my Mini Capsule Wardrobe eBook!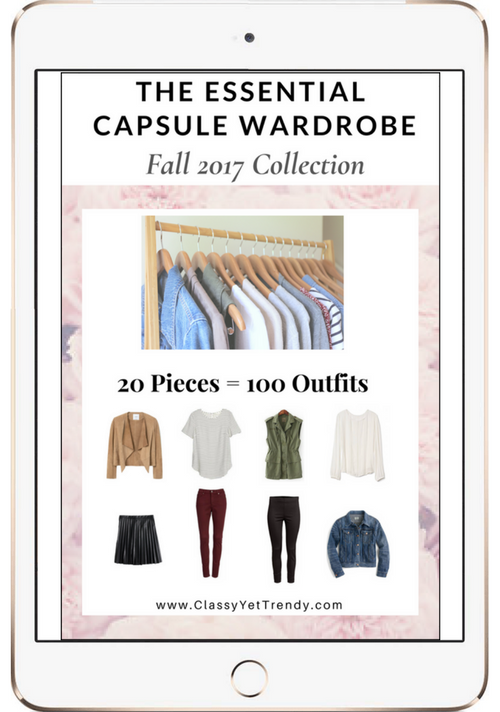 I'm very pleased with how my closet room turned out!  I wanted a clean, almost minimalist look with bronze and white furniture.  The floors are so easy to keep clean.  We had hardwood floors in our previous house and didn't realize how much I missed having them until we had these floors installed!
Thank you for letting me share with you my closet room tour!  I'll be sharing with you all an Office Room Tour soon!