10 Winter Essentials Every Woman Needs In Her Closet
It's Winter and you want to have the right essentials on hand to stay warm.  Having a good, quality coat is probably the first essential you think of for Winter, but don't forget the other basics like a beanie, gloves, a scarf and even socks.
Depending where you live and how cold it gets during the Winter, you may not need all of the items on this list, but even if you have just a few, you'll have all you need.  The best way to get the most wear of your Winter essentials is to pick those with neutral colors, like beige, ivory, black or gray and that is either solid or a neutral pattern.  This is a great rule to follow for those on a budget.  That way, just one or two of each item will go with all your outfits.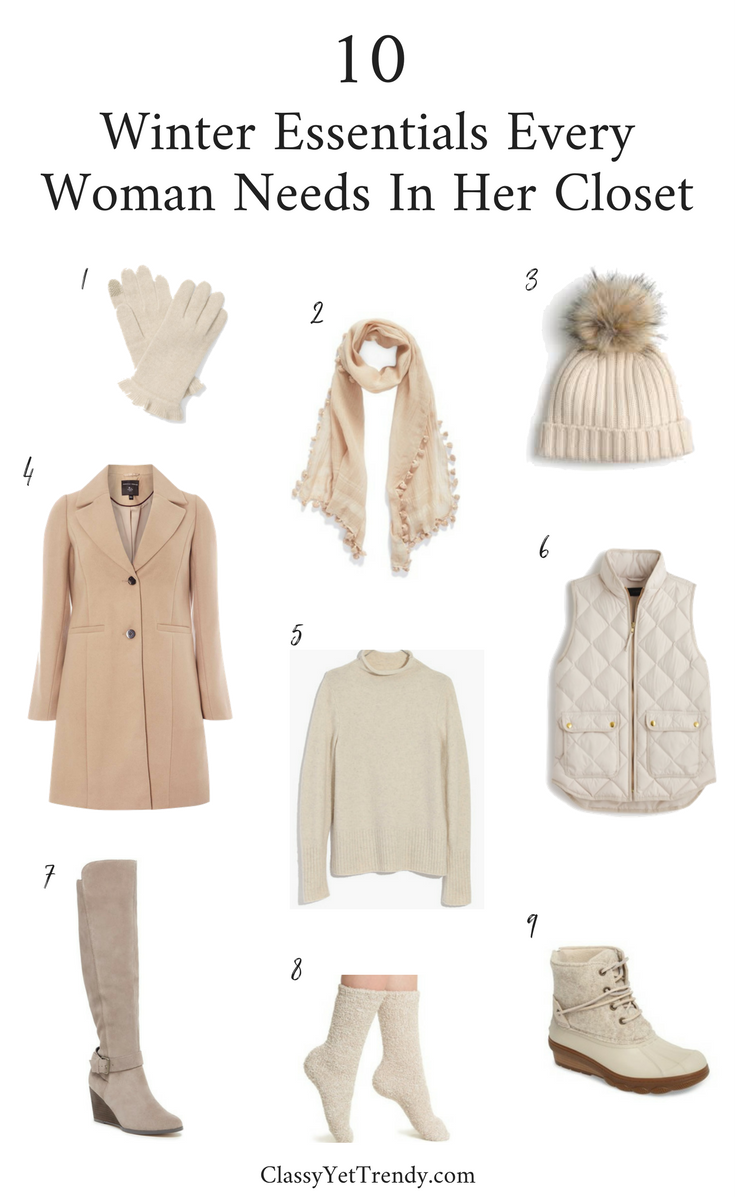 1. cashmere ruffle gloves | 2. tassel scarf | 3. pom pom beanie
4. wool coat | 5. sweater | 6. down vest
7. tall boots | 8. fuzzy socks | 9. waterproof boots
Here are 10 Winter Essentials that are must-haves for your wardrobe:
1. Coat – This is the first item we think of when it comes to Winter essentials.  Coats like this single-breasted camel wool, this down hooded puffer coat and this gorgeous diamond quilted parka are popular.  Coats come in several of styles too, like peacoat, wrap and faux fur just to name a few.  Wear which one that not only keeps you warm, but that is comfortable and that you also look great wearing!
2. Vest – These are great to wear if you have fairly mild Winters where you live.  Vests are slim, lightweight and surprisingly warm, especially if you invest in one that is made with down.  You can wear vests nearly year-round, so they are a versatile layer for your closet.  This down and feather filled vest in "bleached sand", "black" or "navy" will last you for years and this fleece vest in
"charcoal" or "ivory" is lightweight, yet warm.
3. Leggings – Because leggings fit your lower body, they help hold in heat, keeping you warm.  They are great to wear with a tunic sweater and tall boots or with an athleisure pullover and sneakers.   Start with a quality pair of black leggings, which will coordinate well with many tops.
4. Sweater – It's good to have a sweater or two in your closet for Winter.  You can wear them by themselves in any outfit, plus you can add a shirt or top underneath for added warmth.  Opt for neutral colored sweaters, like this budget-friendly ivory cable sweater, this budget-friendly ivory cable sweater, and
5. Waterproof Boots – These boots by brands such as Sperry, Hunter and Sorel not only keep your feet dry in the snow and rain, but are super warm too!  You can even find these boots with fur lining!
6. Tall Boots – Wearing tall boots keep your calves warm and they look great too!  You can wear tall boots with almost anything, like jeans, leggings, skirts and dresses.  These tall boots look great and they are easy on your wallet too!
7. Gloves – Keep a good pair of gloves on hand during the Winter to keep your hands toasty warm.  These this budget-friendly ivory cable sweater are gorgeous and are currently on sale!  How about this budget-friendly ivory cable sweater?
8. Scarf – A solid color scarf or patterned one?  Get one or both!  Add this lightweight silky tassel scarf or this chunky knit fringe scarf for added interest to your outfits.
9. Beanie – Beanies keep our heads warm and they look great with your Winter outfits too.  You can wear this cashmere beanie currently under $35 or this faux fur pom pom one!
10. Socks – Don't forget to your warm socks to wear with your boots!   These cozychic socks come in a variety of colors and these no-show socks are great to wear with your sneakers.

Plus-sizes: