My 29-Piece Winter 2019 Capsule Wardrobe
I've prepared my closet for the Winter season!  See all the clothes in my Winter 2019 Capsule Wardrobe!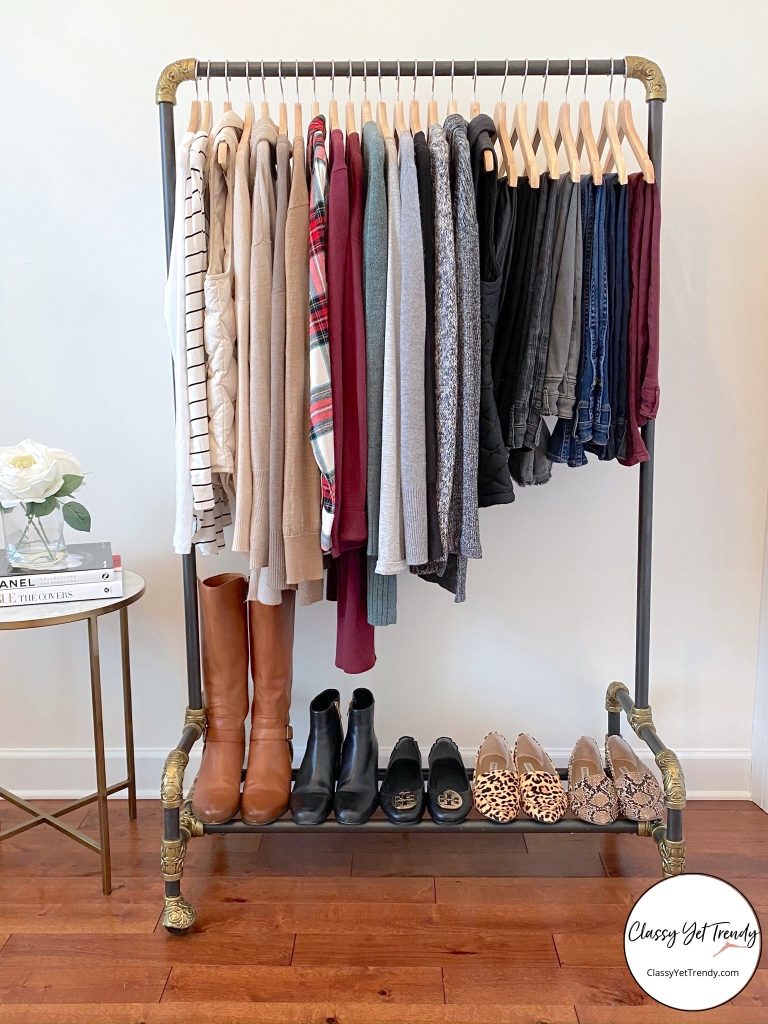 A couple of weeks ago I created my Winter 2019 capsule wardrobe and shopped the Black Friday / Cyber Week sales for some clothes I wanted to include. I knew exactly what I needed to complete my Winter capsule wardrobe and found a few deals in those sales! I added those items to my capsule wardrobe, chose exactly which pieces to include and now my winter capsule wardrobe is complete!
My personal capsule wardrobes are different than the Seasonal Capsule Wardrobes in the Capsule Wardrobe eBook Store. I utilize many pieces I already own, but I do use some of the pieces from the seasonal capsule wardrobes!
When I started working on my Winter capsule wardrobe, I took my Fall capsule wardrobe out of my closet, put a few pieces from my Fall capsule back in my closet that I wanted to use, then put the rest of the clothes away.  I work at home so I dress casual everyday.  I allocate Sunday as my "free day" to dress a bit more dressy for church. Although, I often wear some pieces from my capsule wardrobe to church.
In deciding what clothes I wanted in my Winter capsule wardrobe, first I decided my base color, which is the first step in my popular blog post, How To Create a Capsule Wardrobe: A 5-Step Visual Guide.  I decided on BLACK as my base color.  Then, I picked 2 accent colors: burgundy and sea green.
To create a capsule wardrobe that is efficient and that can make many outfits, I use mostly Core Closet Essentials.  What are core closet essentials? They are basic essentials in neutral colors that never go out of style.  Core Closet Essentials are considered the building blocks of an efficient closet.  You can have a capsule wardrobe with just core closet essentials, like in my eBook Simplified Style: A Year-Round Core Closet Essentials Capsule Wardrobe, or you can add a few trendy clothes in accent colors to expand your wardrobe.  My Winter capsule wardrobe uses mostly core closet essentials, with a few tops and bottoms in the two accent colors.
By using your Core Closet Essentials, you save money as well!  Using mostly basic essentials in your capsule every season prevents you from having to constantly buy lots of clothes.  You can choose to buy just a few clothes or wear entirely what you have in your closet!  It keeps money in your wallet, plus it's better for the environment!  A few years ago before I started using a capsule wardrobe, I would buy lots of clothes every month with all kinds of colors and patterns.  I would grow tired of them quickly and would buy more.  Now, I utilize my core closet essentials and I enjoy wearing my basic essentials over and over!
I share my outfit of the day often on my Instagram @classyyettrendy, so visit my Instagram if you want to see what I'm wearing!
Now onto my Winter capsule wardrobe!  I have 29 items in my Winter 2019 capsule wardrobe.  Every season when I am creating my capsule wardrobe, I use several pieces in the Simplified Style®: A Year-Round Core Closet Essentials Capsule Wardrobe! You can get your copy just below…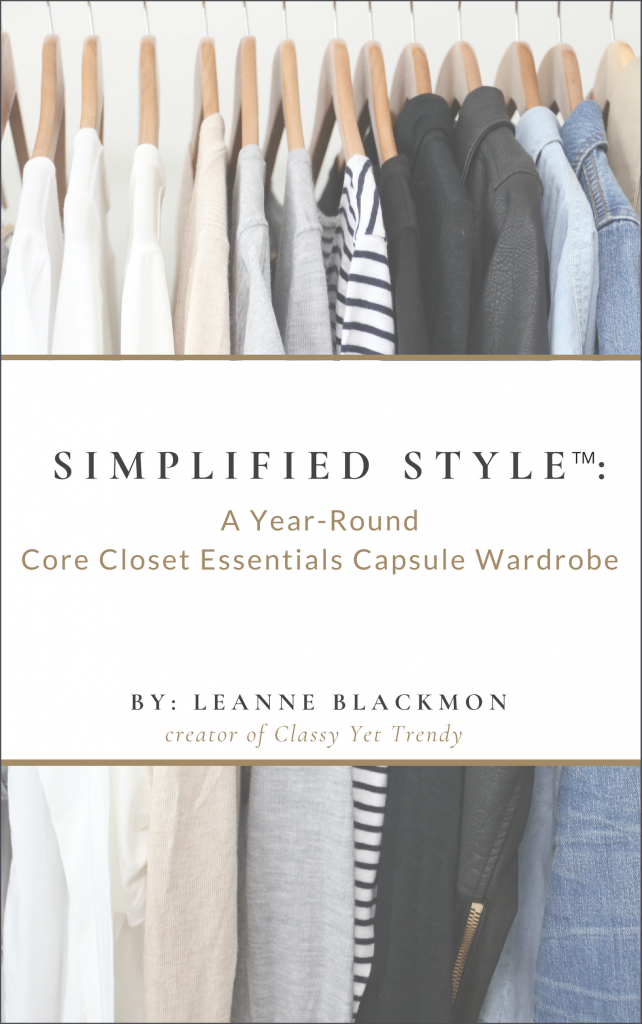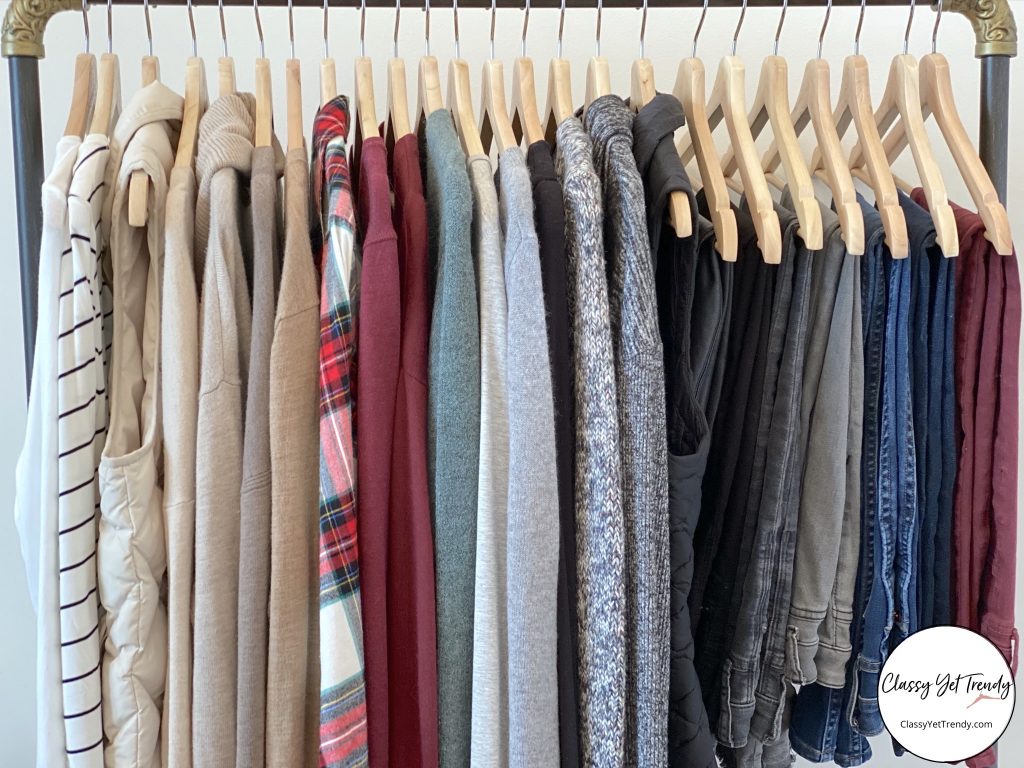 Here are the Tops and Layers that are in my Winter 2019 capsule wardrobe: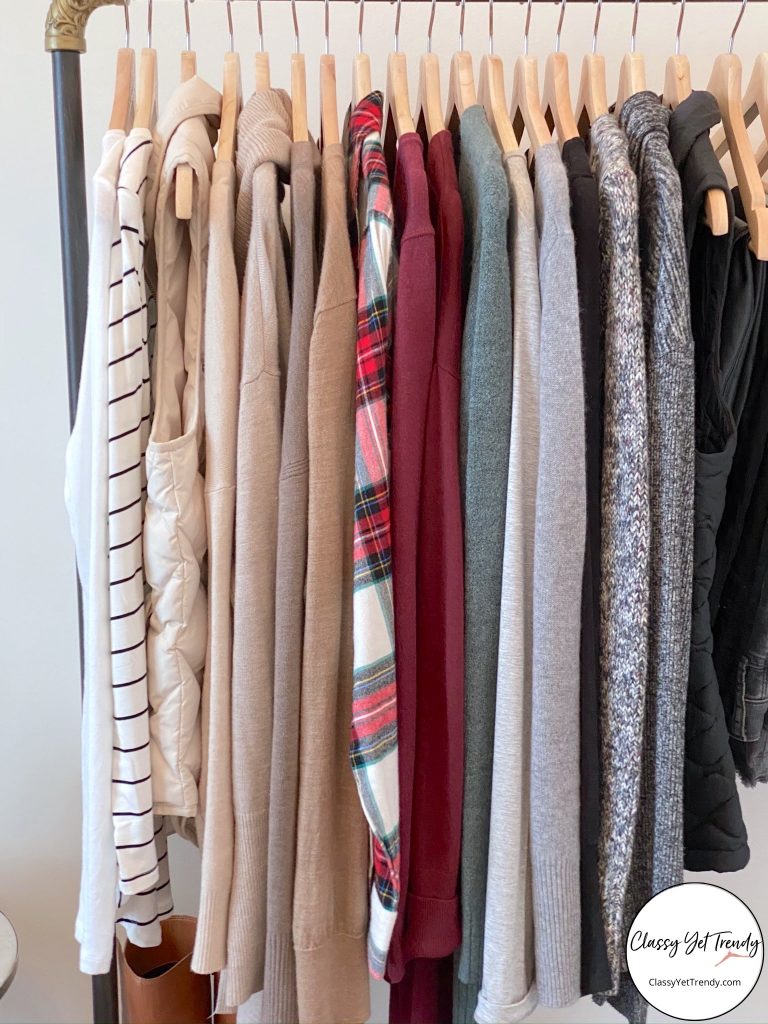 Tops and Layers (left to right):
white long sleeve tee (exact)
striped long sleeve tee (exact)
ivory puffer vest (exact)
beige v-neck tunic sweater (exact)
beige cowl neck tunic sweater (same brand, similar style)
brown v-neck tunic sweater (exact)
camel cardigan (exact)
red flannel plaid shirt (exact)
burgundy long sleeve tee (exact)
burgundy cardigan (similar)
sea green cardigan (exact)
gray long sleeve tee (exact)
gray cashmere v-neck sweater (exact)
black long sleeve blouson tee (similar)
black marled cardigan (exact)
black marled cowl neck tunic top (exact)
black puffer vest (exact)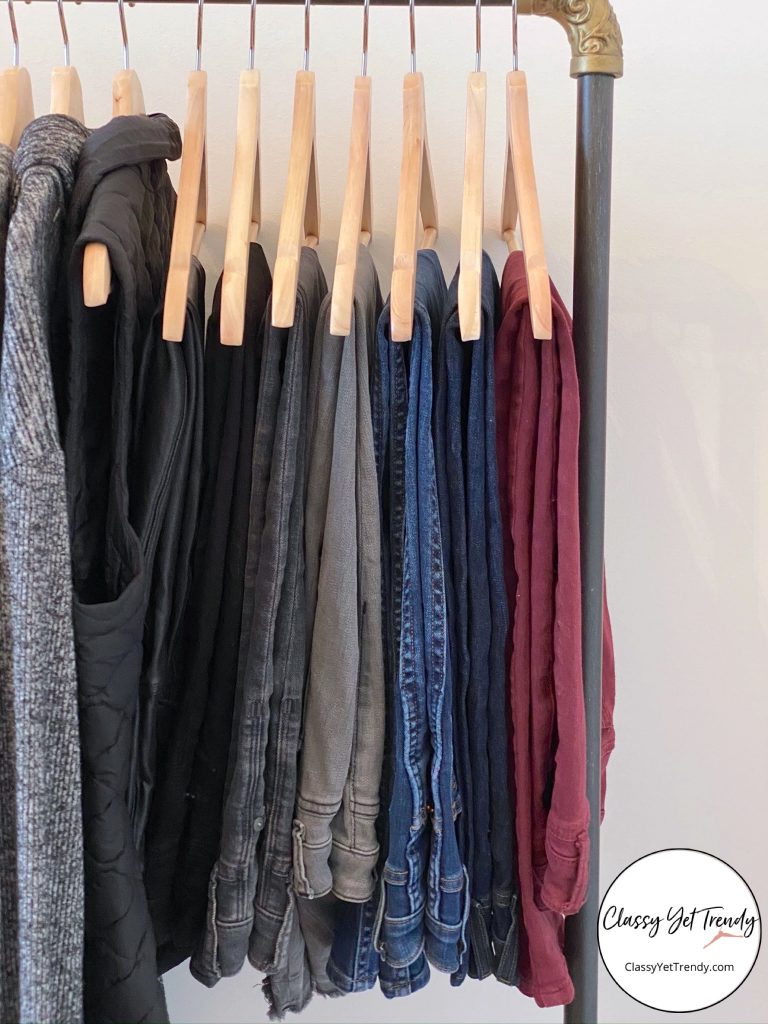 Bottoms (left to right):
black faux leather leggings (exact)
black jeans (exact)
black wash jeans (exact) (similar)
gray jeans (exact)
medium wash jeans (exact)
dark wash button jeans (exact) (similar)
burgundy jeans (similar)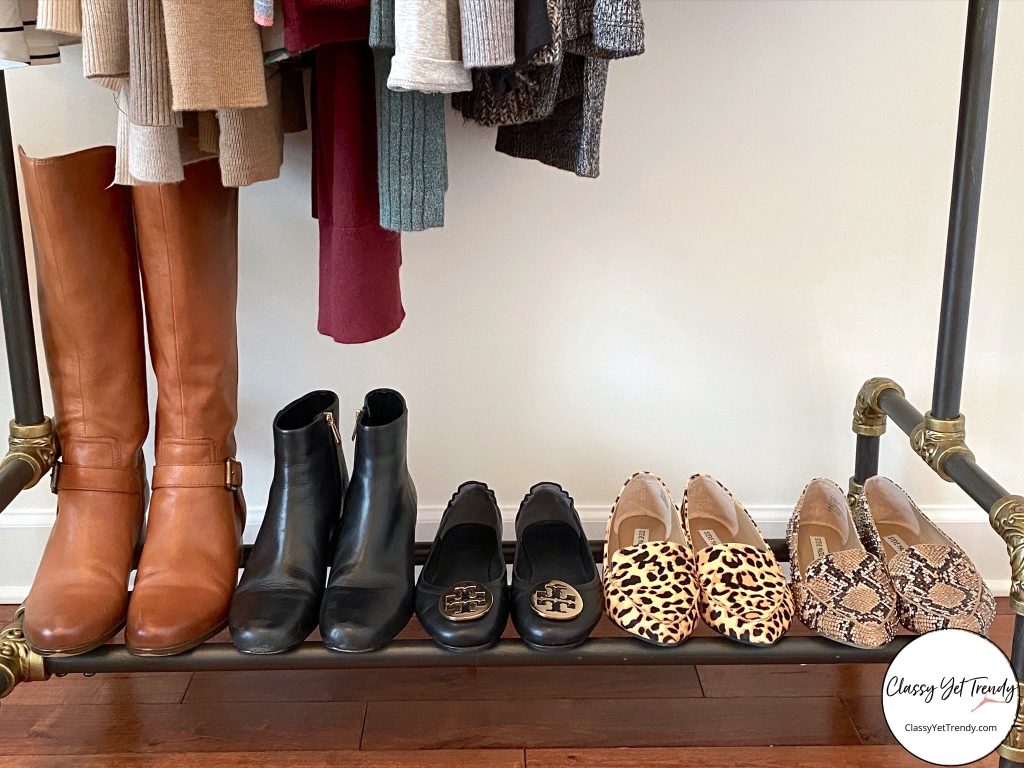 Shoes (left to right):
tall brown boots (exact) (gorgeous ones in regular & wide calf!)
black ankle boots (similar)
black flats (exact)
leopard pattern loafers (exact)
snake pattern loafers (exact)
Shop The Post: