Join Me In the #HowIWearItChallenge Wardrobe Challenge
I'm starting a fun wardrobe challenge where we will style 6 items from our closets and wear them each day throughout the week. We can share our outfits on social media, tag our photos with #howiwearitchallenge and see how everyone styles their outfits.
The past few weeks has been life changing with all the virus concerns and social distancing. I'm praying that everyone is ok, stays safe and that this passes soon so we can all get back our normal lives that we are used to. Since we are urged to stay at home, I'm sure a lot of us has binge watched tv shows and movies, read several books and have enjoyed wearing our loungewear.
I thought of an idea that we can all do together! It's something fun that will break up the monotony of staying at home, divert our attention from what's going on around us and will get us excited to get dressed everyday! Since I work from home here on Classy Yet Trendy, I feel good when I get up and eat breakfast, then get dressed in my clothes from my capsule wardrobe. I am more productive and gives me a feeling of normalcy everyday.
Style these 6 items from your closet and wear one each day in any outfit for 6 days (each piece can be any color & any style): Monday-tee, Tuesday-jeans, Wednesday-sneakers, Thursday-cardigan, Friday-striped top, Saturday-flats

When it starts: Monday, April 6
When it ends: Saturday, April 11

Share your outfits on your social media accounts and here in the Facebook group! Tag your photos of you wearing your outfits with the hashtag #howiwearitchallenge. See how everyone styles their outfits too! I created this fun challenge to be a diversion to everything going on around us right now and to bring some normalcy to our lives!
Get your wardrobe challenge planning worksheet and find out more about the challenge on the blog.
What Is The #HowIWearItChallenge?
The How I Wear It Challenge is a 6-day challenge, where you have 6 items you pick from your closet, then you wear those items each day in an outfit for a week. The items you pick can be any color and any style, but it has to be the featured item of the day.
What 6 Items Do You Wear?
For 6 days, you will wear an item each day. These are the items you will wear in the challenge:
Day 1 – TEE
Day 2 – JEANS
Day 3 – SNEAKERS
Day 4 – CARDIGAN
Day 5 – STRIPED TOP
Day 6 – FLATS
How Does The Challenge Work?
For example, on Day 1, you can wear the Tee with a pair of pants, cardigan and pair of mules. Day 2, you can wear the Jeans with a blouse and a pair of flats. There are no limits on what you can wear in your outfit. You can wear any style of outfit, whether it be casual or athleisure.
Use the Challenge Worksheet
I created a #HowIWearItChallenge Worksheet to make it easy to plan your outfits! All you do is write the challenge pieces you will be wearing for each day in the spaces provided. Be sure to include the color of the piece as well. Then, add pieces from your closet creating outfits for each day. Then, when the challenge starts, use this worksheet as a guide to get dressed quickly everyday!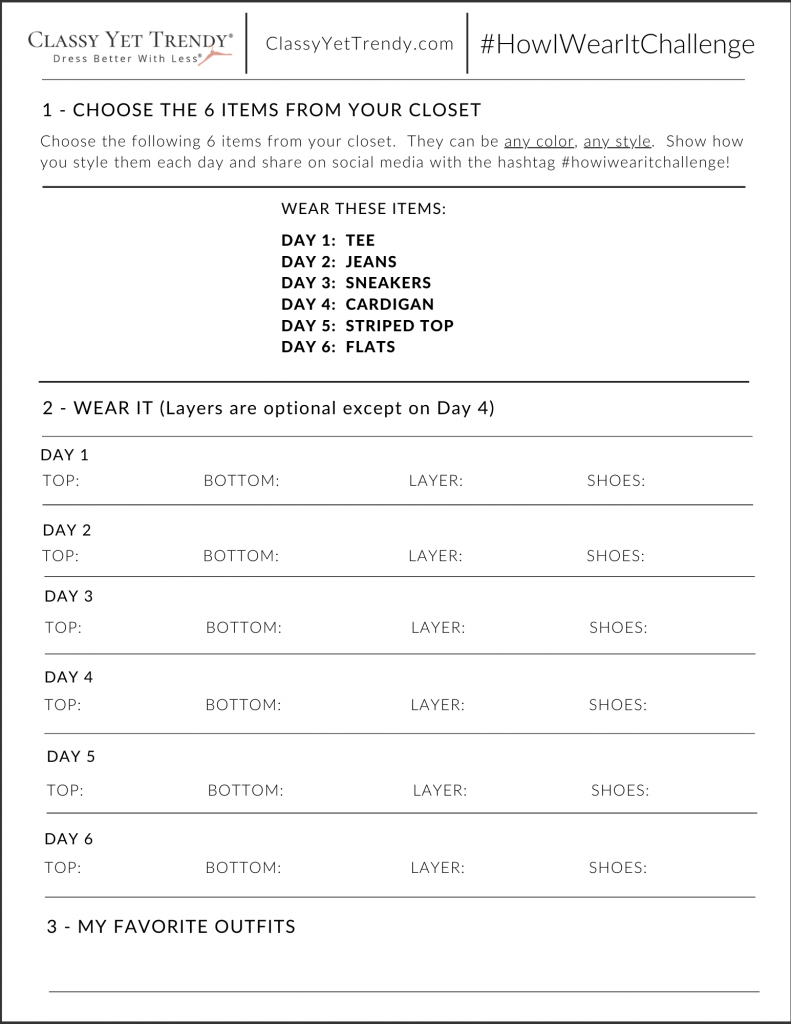 You may also like:
How To Clean Out Your Closet
How To Create a Classic Wardrobe
Free Printable Capsule Wardrobe Season Planner
10 Ways To Wear A Denim Jacket
When Does It Start and End?
It starts Monday, April 6 and ends Saturday, April 11. I was going to have a 7 day challenge, but the 7th day would have been Easter, so I opted for just 6 days.
Who Can Participate?
Everyone can participate! Since we are encouraged to stay at home during this time, this challenge is meant to be casual so we still feel comfortable while we are at home.
Where Can I Share My Photos?
On any of your social media accounts! I'll be sharing my photos on my Instagram, the Classy Yet Trendy Facebook page (you welcome to comment and share you outfit photos underneath mine each day) and in the Classy Yet Trendy's Capsule Wardrobe Collective Facebook Group. Be sure to include the hashtag #howiwearitchallenge!
Do You Have To Use A Capsule Wardrobe?
Nope. You do not have to be using a capsule wardrobe to participate. I'm using pieces from my Spring 2020 Neutral Capsule Wardrobe. This is a great way to wear clothes and shoes in your closet and style them your favorite way!
What Will I Be Wearing?
I'll be wearing these 6 items from my closet:
Day 1 – white tee
Day 2 – black jeans
Day 3 – white sneakers
Day 4 – beige cardigan
Day 5 – white/black striped top
Day 6 – tan flats
Here are several items that I will be wearing during the #howiwearitchallenge (all from my Spring 2020 Neutral Capsule Wardrobe).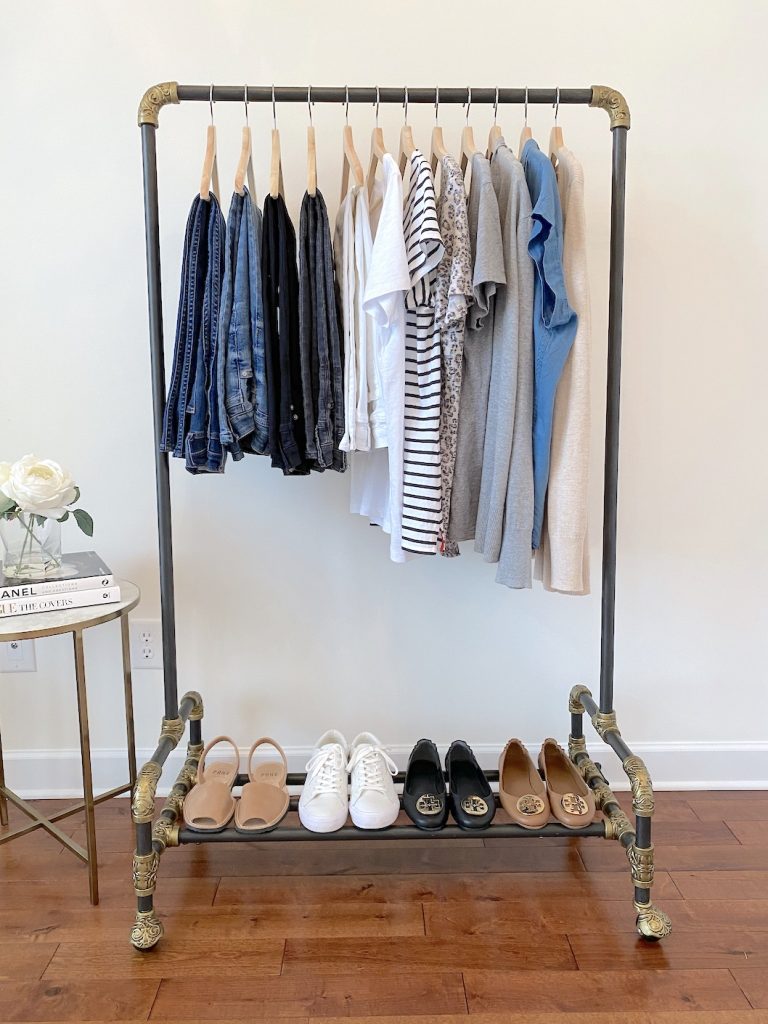 Clothes (left to right):
Medium Wash Jeans (exact)
Light Wash Jeans (exact) / See the review of the jeans here
Black Jeans (similar) CHALLENGE ITEM
Black Wash Jeans (similar)
White Pants (exact) I love these pants!
White V-Neck Tee exact (the perfect tee!) CHALLENGE ITEM
White Striped Tee (exact) / Also like this one! CHALLENGE ITEM
Leopard Pattern Tee (exact) / Similar Tee
Gray V-Neck Tee exact (the perfect tee!) / See the review of this tee here
Gray Open Cardigan (exact) "light gray heather" color
Chambray Central Shirt (exact)
Beige Cardigan (similar) CHALLENGE ITEM
Shoes (left to right):
Avarcas Sandals (exact) in "Tan" color
White Sidewalk Sneakers (exact) So comfy! CHALLENGE ITEM
Black Ballet Flats (exact)
Tan Ballet Flats (exact) CHALLENGE ITEM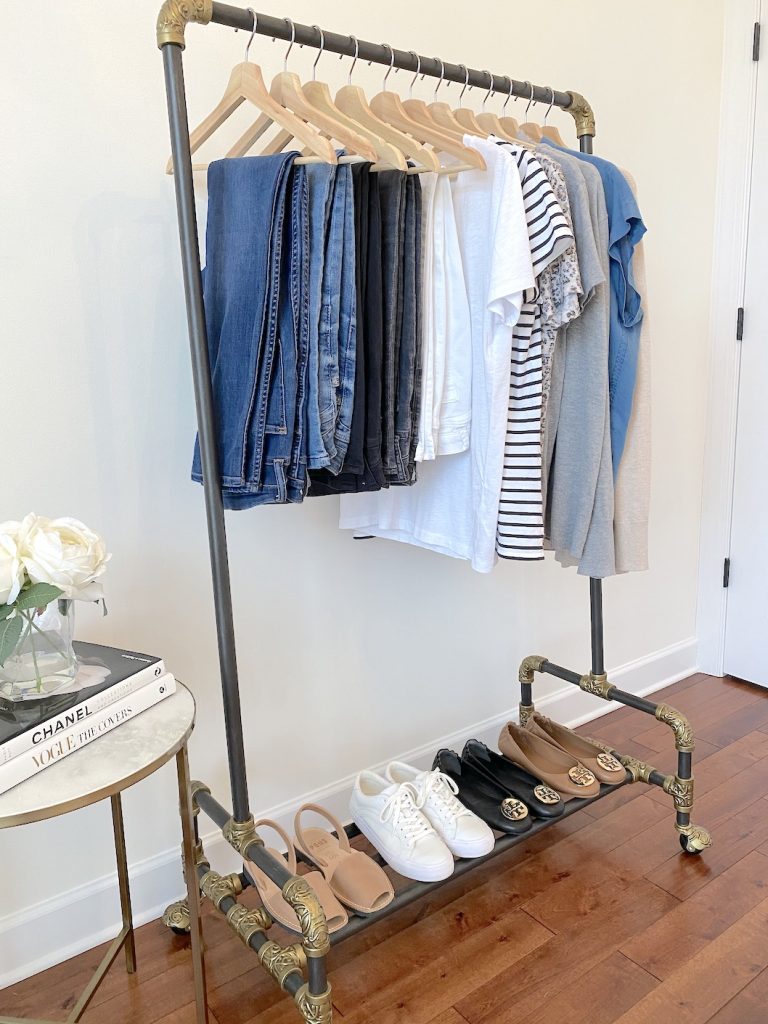 Join me for this "How I Wear It Challenge" and let's share our style together! Will you be participating? Comment below! If you share what you wear on social media, use the hashtag #howiwearitchallenge and see what others are wearing too! Don't forget to DOWNLOAD YOUR WORKSHEET to plan your outfits for the challenge!
You may also like:
How To Start A Capsule Wardrobe: A 5-Step Visual Guide
6 Ways To Wear A Plaid Blazer
10 Ways To Look Expensive On a Budget
10 Ways To Wear A Striped Tee