Pretty Tops For Work From Home Zoom Meetings + Tips On What To Wear
You will look great wearing these pretty Spring tops to your Zoom meetings! Also, find out which completer pieces and jewelry will look great with your tops.
Are you working from home and are participating in Zoom meetings? If you are, then you want to make sure you look great!
Earlier this week, I conducted a short survey in which email subscribers and Classy Yet Trendy page followers and group members gave their thoughts about the Summer capsule wardrobe eBooks. I received many responses from you all saying you needed help in knowing what to wear for your Zoom meetings!
WHAT TO WEAR
Zoom online meetings are different than attending an in-person meeting. When you attend a meeting in person, you are dressed from head to toe, but when using Zoom, you only have to get dressed from the waist up! You can wear any kind of bottom and shoes: jeans, leggings, joggers, pants, sneakers or slippers (of course, you can always wear a complete outfit with pants, skirt and shoes). You want to make sure that your top half looks like how you would dress for meetings, as if you were at work. Think professional and put-together!
A few examples of what to wear would be something as simple as a solid color tee with a necklace or scarf, or a soft pattern blouse with a blazer, cardigan or jacket.
WHAT TO AVOID WEARING
You want to avoid being too casual or dressing too boldly. Avoid wearing athletic clothes, loungewear, tank tops as these can seem too casual for a meeting. Also, avoid wearing patterns that are too bright and bold, as well as large, colorful earrings, which may be distracting.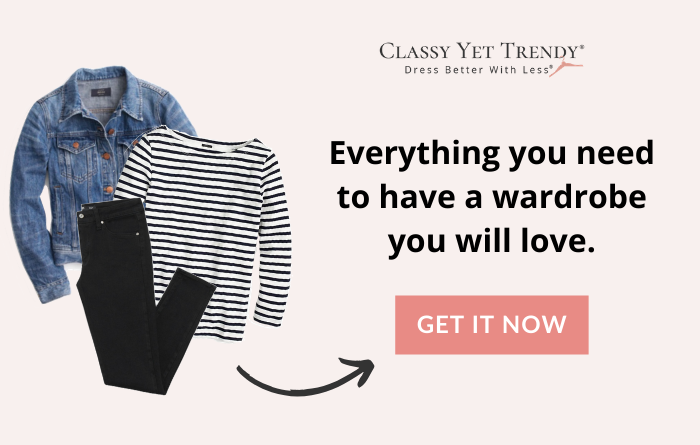 PRETTY TOPS FOR ZOOM MEETINGS
If you are needing a couple of tops to wear for your Zoom meetings, I found several pretty ones in soft hues and patterns. If you haven't had a chance to get a new Capsule Wardrobe eBook for the Spring, but need a few tops for the Spring season, here are several to choose from, mostly all are budget-friendly too!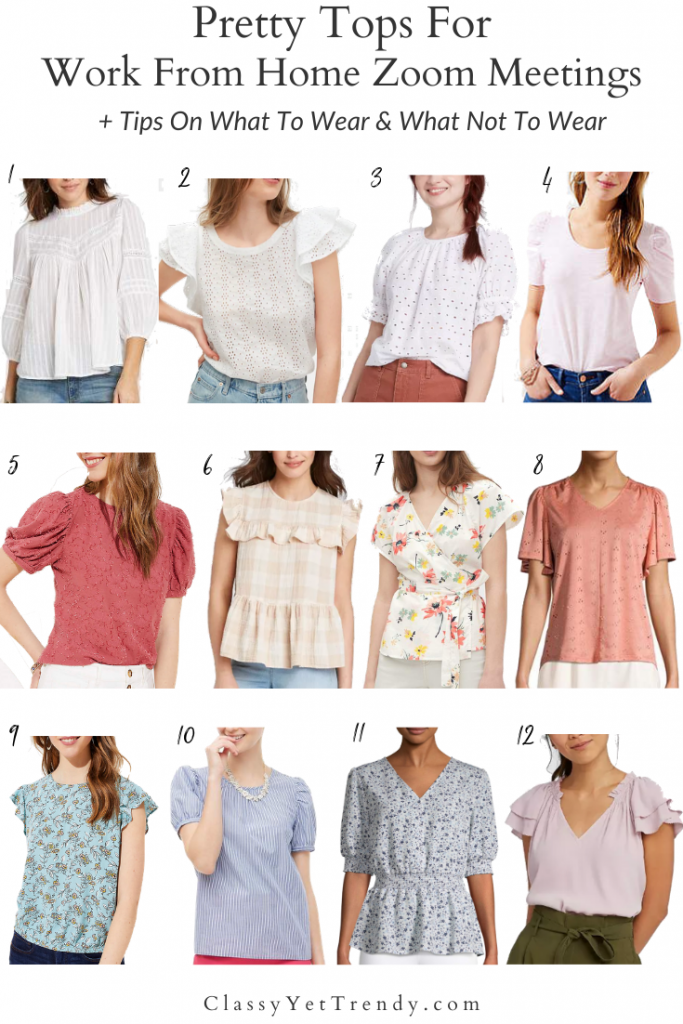 1. White Textured Top
2. White Eyelet Flutter Sleeve Top
3. White Eyelet Puff Sleeve Top (Seen in this try-on session) comes in 3 colors!
4.  Cinched Sleeve Statement Tee
5. Clip Puff Sleeve Top
6. Flutter Sleeve Ruffle Top also comes in white or peach!
7. Floral Wrap Top
8. Flutter Sleeve Top only $13.88!
9. Blue Floral Top
10. Striped Puff Sleeve Top
11. Button Smocked Top comes in several colors & only $15.88!
12. Flutter Sleeve Blouse comes in 4 colors!
Shop The Tops:
ADD A NEUTRAL COMPLETER PIECE
You can add a neutral color completer piece, like a blazer, cardigan or jacket for a finished look! Since these are neutral colors, you can wear them with many tops if you have several Zoom meetings. This Linen Blend Beige Blazer is great for the Spring, or you could wear this budget-friendly navy ponte blazer or navy crepe blazer. This $29.99 denim jacket would look great for an elevated casual look. If you want to wear a cardigan as a completer piece, this button cream color cardigan, this white textured cardigan or this navy v-neck cardigan would look pretty with the tops shown above.
Shop These Completer Pieces:
ADD JEWELRY
A delicate necklace and/or earrings look great with a feminine style top! If your top is a v-neck, square neck, or a crewneck, you can add a necklace and/or earrings. If your top has a high neckline, you may want to add just a pair of earrings. This necklace and earring set comes in gold or silver and is so pretty! I have this Dichroic Glass Necklace and Sophia Drop Earrings and love wearing them, and they are in a set! These budget-friendly jewelry pieces are easy on your wallet and so elegant: Silver Bar Necklace and Earrings set and this Rose Gold Stone Necklace (comes in 6 colors!).
Shop The Jewelry: