Nordstrom Anniversary Sale 2020: What I Bought
The #NSale Nordstrom Anniversary Sale is going on now and today and cardholders with Influencer status can shop! I have been (impatiently) waiting to shop the sale and today at 8:30am, when Influencer status cardholders could start shopping, I bought everything that was available in my Wish List. I am SUPER EXCITED about this sale, probably the most excited I have been in all the Anniversary Sales that I have shopped in the past. With all the Covid going on right now, it is so good to have something positive to get excited about! So, Nordstrom if you are reading this, Thank You for having the Anniversary Sale!
I have an area of the blog devoted to the Nordstrom Anniversary Sale 2020! It will include important information about the sale, top picks, try-on sessions and more. Click on the menu at the top of this page, then click on Nordstrom Anniversary Sale 2020 colored yellow.
Nordstrom has a Wish List option (underneath "Your Account") you can use to add items to that you want to buy at a later time. This was really handy as I added items to my Wish List, then when Nordstrom opened the sale for Influencer cardholders to shop, I transferred everything that was available in my Wish List with a couple of clicks to my shopping cart, then checked out, all in a few minutes!
Be sure to see the previous posts on the blog that will help you shop the sale:
Nordstrom Anniversary Sale 2020 | Sneak Peek +Shopping Tips – shows how to shop the sale, shopping tips, plus a few first picks of the sale.
Nordstrom Anniversary Sale 2020 | Top Picks + Most Popular Items – I share what I predict will be the most popular items and which ones will sell out.
The Nordstrom Anniversary Sale #NSale #NordstromAnniversarySale is considered the most important sale of the year. While Nordstrom holds half-yearly sales throughout the year, this sale has become legendary among Nordstrom customers who enjoy outstanding savings on the most exciting new fall and winter merchandise. There's also summer merchandise on sale too at deep discounts!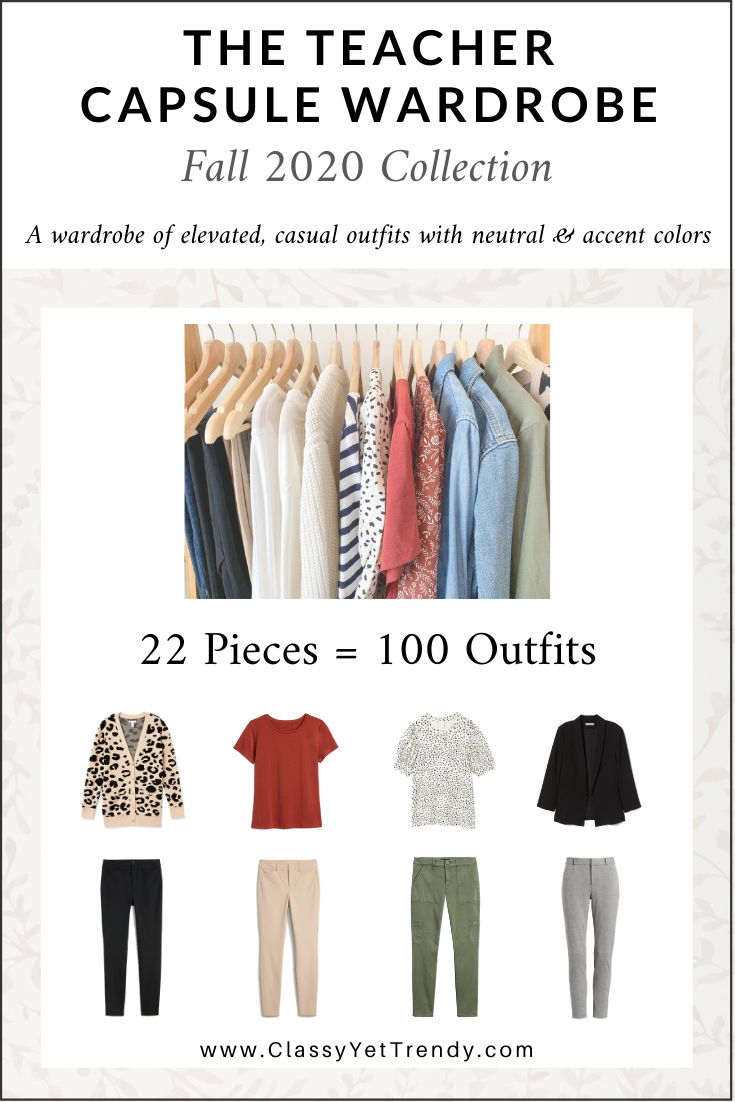 What Did I Buy?
The Anniversary Sale is when I buy my most of my core closet essentials that I use in my own capsule wardrobes! I buy essentials like tees, jeans, sweaters, cardigans and shoes. If there are any clothes or shoes in my wardrobe that need replacing, the sale is the perfect opportunity to buy quality-made items at lower prices.
I bought MANY items in this year's sale: tops, cardigans, sweaters, loungewear, shoes and tops. The reason I bought so many is that I will be doing a try-on session that I will share in the next few days! I love doing try-on sessions as it lets you all see what the clothes look like and how they fit. The collage below shows several items I bought that will be shipped to my house tomorrow, plus there is more in my order that I couldn't fit on the collage!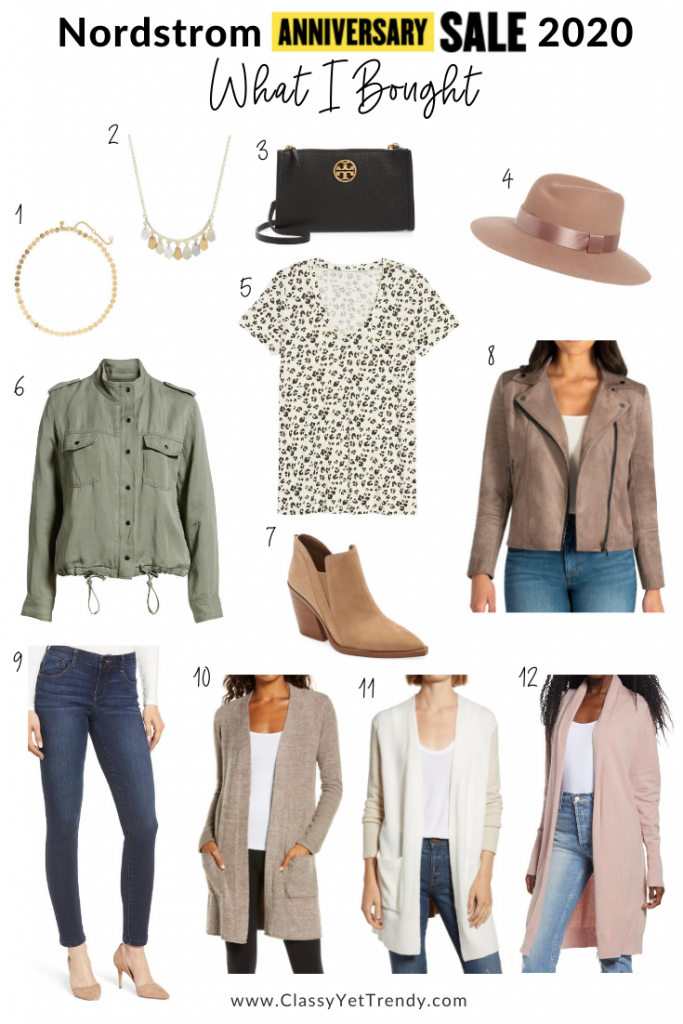 Shop The Post:
1. Madewell Disc Chain Necklace – I just love the small discs on this necklace and it comes in gold and silver. I bought the gold tone one.
2. Sydney Charm Necklace – This Kendra Scott necklace is so unique and I love the mix of silver and gold charms along the bottom. It comes in gold, silver and mix.
3. Carson Zip Top Crossbody Bag in "black" – I bought this crossbody as well as the Carson Convertible Crossbody Bag in "black" (the brown is such a pretty color too). I was on the fence about which one to buy, since they are nearly similar in size so I thought I would try both, plus you all will get to see what they look like too! The Zip Top bag has a stationary shoulder strap and a zipper across the top, whereas the Convertible bag has a gold chain that slides on the top of the bag, making it either a shoulder bag or a crossbody, plus it has a flap closure.
4. Satin Trim Wool Hat in "tea rose" – Wool hats were on trend last Fall season and they are set to be trending again this Fall. I don't have a wool hat so I'm excited to add this one to my closet!
5. Rounded V-Neck Tee in "ivory-black animal dot" – This was one of the first items I put on my Wish List because the pattern is so darling! I had a leopard print tee in my Fall 2019 capsule wardrobe that I wore so much it started fading, so I will be adding this one to my Fall 2020 capsule.
6. Collins Military Jacket in "sage" – I really like the soft green color of this jacket and thought I would try this one. I like that it kind of looks like a utility jacket and I like the shorter length.
7. Gradina Block Heel Bootie in "tortilla suede" – This is a popular pair of booties in the sale and I'm excited to try these.
8. Quilted Panel Faux Suede Moto Jacket in "buff" – I know a few fellow bloggers that recommend this jacket, so I am trying it too. It is only $76.90 on sale!
9. Dark Wash Ab-Solution Skinny Jeans – I have been needing a pair of dark wash pair of jeans so I ordered these. They are available in Regular and Petite sizes.
10. CozyChic Long Cardigan in "heather cocoa" – This cardigan looks so soft and comfy. It is also available in bisque and black colors.
11. Kent Colorblock Cardigan – This Madewell cardigan is exclusive to Nordstrom and I'm excited to try this one! I'm usually not fond of cardigans with patterns but being this one has all-neutral colors, it will go with lots of tops in my closet.
12. Cozy Long Cardigan in "pink adobe" – I love Nordstrom's dusty pink color "pink adobe" and can't wait to try this one on. This cardigan is only $39.90 on sale!
You may also like:
How To Start A Capsule Wardrobe: A 5-Step Visual Guide
Capsule Wardrobe 101: What Is A Capsule Wardrobe?
How To Clean Out Your Closet
10 Ways To Wear A Denim Jacket
If Items You Want Are Sold Out…
I see this happen in the anniversary sale every year. Some items in the sale are overwhelmingly popular and naturally sell out, but if you see an item that says it is sold out, keep checking back because there may be restocks from the retailers and there may be customer returns. I have checked an item and it will show that it is sold out, then a couple hours later will check again and there will be sizes available. Keep the item in your Wish List, then check periodically to see if it there is a restock.
Shop The Post:

More Items I Bought:

"Be on your guard; stand firm in the faith; be courageous; be strong. Do everything in love." – 1 Corinthians 16:13-14