9 Pieces = 30 Outfits Minimalist Capsule Wardrobe
See how to mix and match 3 tops, 3 bottoms and 3 pairs of shoes for a total of 30 outfits.
A few days ago, I shared on my Instagram @classyyettrendy several favorite pieces I have been wearing that are in my own Fall capsule wardrobe. I folded the tops and bottoms and layed them out, then added the shoes to make a flaylay. I took the photo and realized it was a mini capsule wardrobe! As I started visualizing how the pieces could mix and match with each other, I came up with many outfit combinations. I thought I would share this with you all, since you may like this mini capsule as well!
Here is the link to my Instagram post and here are the 9 pieces…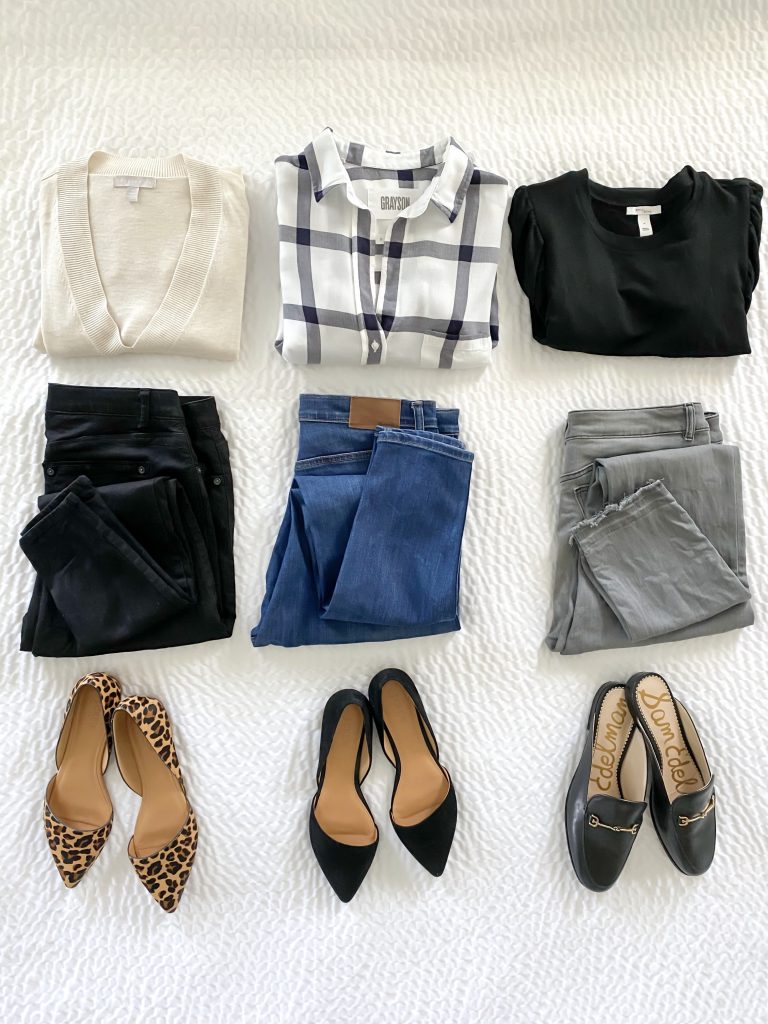 V-Neck Ivory Sweater (exact): This sweater is so soft and the v-neck creates an elongated look. The tunic length comes just past my hips, so I can wear it with jeans or pants and also can wear it with leggings. A crewneck sweater like this one can also work in this capsule.
2. Plaid Shirt (exact): Use code "LEANNEBLACKMON" for $25 off your order at Grayson.com! This soft plaid shirt in neutral colors works well in this capsule. The simple design provides detail and also coordinates with all the bottoms in this capsule. Here is a budget-friendly plaid shirt in a similar pattern.
3. Black Puff Sleeve Tee (exact): This black tee with the puff sleeve detail elevates this top for a more dressy look. Puff sleeves are trending, whether they are a short sleeve tee or a long sleeve sweater. Here is a similar black puff sleeve top and a black puff sleeve sweater.
4. Black Skinny Jeans (exact): I call these Wit & Wisdom jeans the "magical" jeans because they make you look 10 pounds lighter, they fit perfectly and they hold their shape all day! I have several Wit & Wisdom jeans in my closet and included 3 pairs of Wit & Wisdom jeans in my Fall 2020 capsule wardrobe. I included skinny jeans, but you can use your preferred jeans style. Dressy Substitution: Black Ankle Pants
5. Blue Skinny Jeans (exact), also here for petite, plus and tall: These jeans are my favorite color tone. I love Madewell jeans because they have such a variety of styles, color tones and they fit great too. Dressy Substitution: Dark wash straight jeans
6. Gray Skinny Jeans (exact in regular hem): I love gray jeans since they give a different look than blue jeans or black jeans. Love these budget-friendly gray jeans! Dressy Substitution: Gray Ankle Pants
7. Leopard Pattern Flats (exact): I love these d'Orsay style of the these flats and the leopard pattern is gorgeous! The brown and black colors in the pattern makes it a statement shoe, yet is still neutral so it coordinates with many pieces in your closet.
8. Black Flats (exact): These d'Orsay flats are the same style as my leopard ones above, but are a suede material. Both pairs of shoes are comfortable and the design of the shoe, plus the pointy toe gives a dressy look, so you can wear them dressy or casual.
9. Black Mules (exact): Mules are a lovely shoe to wear, nearly all seasons of the year. I love the look of these black mules since they look like a loafer. I also love these black mules with croc detail for only $25!
What Makes This Capsule Wardrobe Work
All these pieces are in neutral colors, so they all coordinate nicely with one another! Plus, the color tones are both light and dark, providing contrast making it easy to create outfits.
For a capsule wardrobe to work, you want to have mostly core closet essentials in it. Core closet essentials are an important to a wardrobe as they can easily mix and match with one another. So what is a core closet essential? It a piece of clothing that is usually neutral colored, has either a simple pattern or is a solid color and is considered a classic and timeless piece. The majority of these clothes and shoes are core closet essentials. If you have these 9 essentials from this post in your closet, you can make 30 outfits!
You can also use this mini capsule wardrobe as a travel capsule! Just pack these pieces in your suitcase and you will many outfits while you are traveling in the Spring or Fall. If it gets cool where you are traveling to, just add a jacket and you are good to go!
These majority of the pieces shown are just a few included in the capsule wardrobe collection, Simplified Style®: A Year-Round Core Closet Essential Capsule Wardrobe.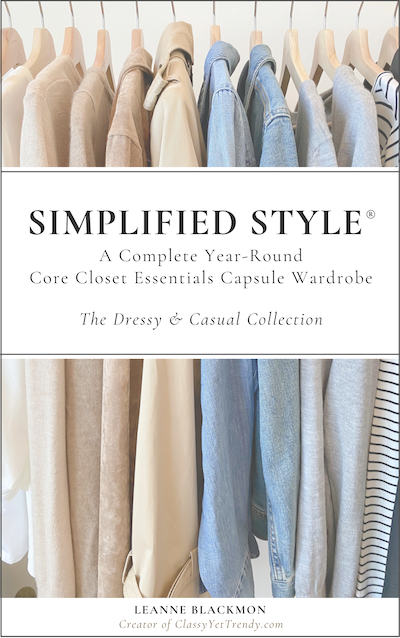 Here are 30 outfit combinations you can get from these 9 pieces…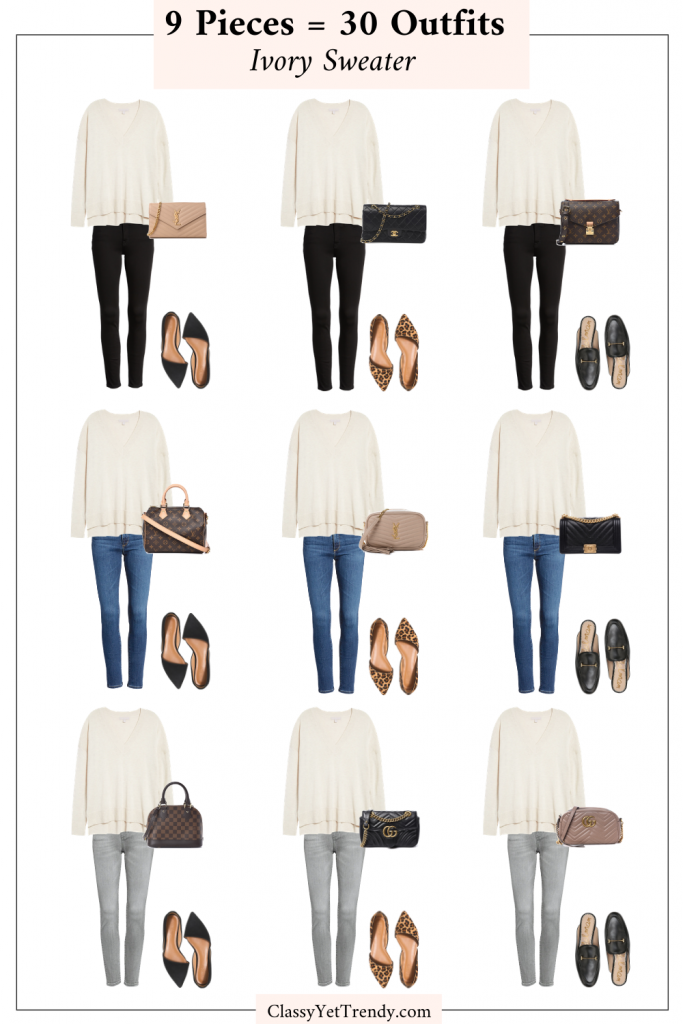 Row 1 (left to right):
Outfit 1 – V-Neck Ivory Sweater / Black Skinny Jeans / Black Flats / YSL Chain Wallet Bag (similar budget bag)
Outfit 2 – V-Neck Ivory Sweater / Black Skinny Jeans / Leopard Pattern Flats / Chanel Classic Flap Gold Hardware Bag (similar budget bag)
Outfit 3 – V-Neck Ivory Sweater / Black Skinny Jeans / Black Mules / Louis Vuitton Pochette Metis Bag (similar black crossbody bag / similar brown crossbody bag)
Row 2 (left to right):
Outfit 4 – V-Neck Ivory Sweater / Blue Skinny Jeans / Black Flats / Louis Vuitton Speedy 25 Bandouliere Monogram (similar top handle bag)
Outfit 5 – V-Neck Ivory Sweater / Blue Skinny Jeans / Leopard Pattern Flats / YSL Matelasse Camera Bag (similar camera style bag)
Outfit 6 – V-Neck Ivory Sweater / Blue Skinny Jeans / Black Mules / Chanel Boy Black Bag (similar black chain bag)
Row 3 (left to right):
Outfit 7 – V-Neck Ivory Sweater / Gray Skinny Jeans / Black Flats / Louis Vuitton Alma BB Bag (similar top handle bag)
Outfit 8 – V-Neck Ivory Sweater / Gray Skinny Jeans / Leopard Pattern Flats / Gucci Matelasse Marmont Mini Black Bag (similar black chain bag)
Outfit 9 – V-Neck Ivory Sweater / Gray Skinny Jeans / Black Mules / Gucci Small Matelasse Marmont Nude Bag (similar nude chain bag)
Shop the Outfits: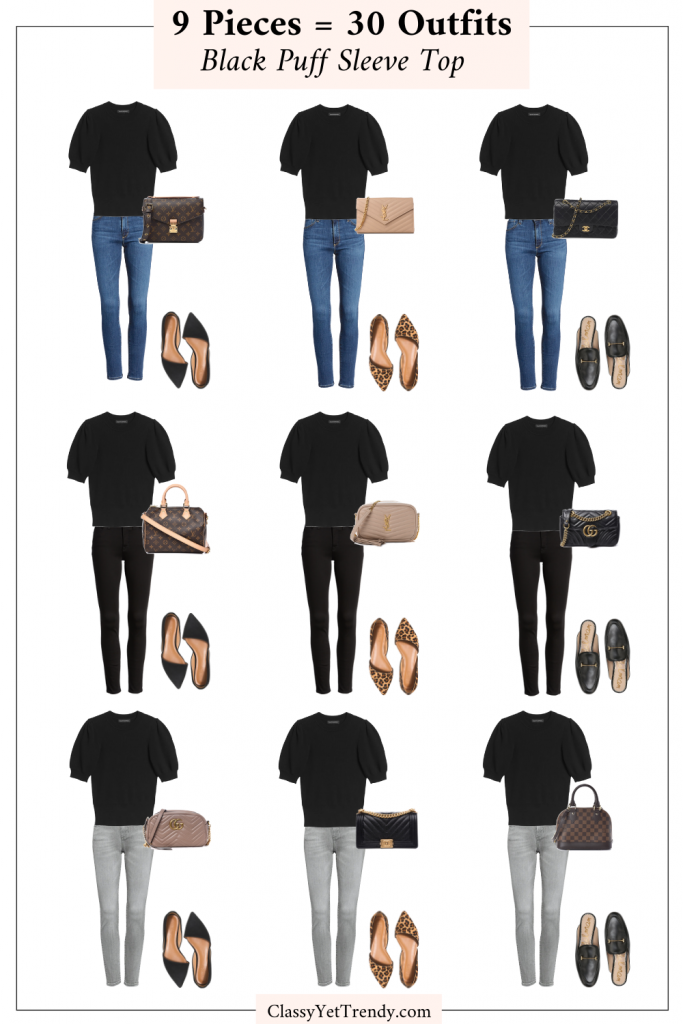 Row 1 (left to right):
Outfit 10 – Black Puff Sleeve Tee / Blue Skinny Jeans / Black Flats / Louis Vuitton Pochette Metis Bag (similar black crossbody bag / similar brown crossbody bag)
Outfit 11 – Black Puff Sleeve Tee / Blue Skinny Jeans / Leopard Pattern Flats / YSL Chain Wallet Bag (similar budget bag)
Outfit 12 – Black Puff Sleeve Tee / Blue Skinny Jeans / Black Mules / Chanel Classic Flap Gold Hardware Bag (similar budget bag)
Row 2 (left to right):
Outfit 13 – Black Puff Sleeve Tee / Black Skinny Jeans / Black Flats / Louis Vuitton Speedy 25 Bandouliere Monogram (similar top handle bag)
Outfit 14 – Black Puff Sleeve Tee / Black Skinny Jeans / Leopard Pattern Flats / YSL Matelasse Camera Bag (similar camera style bag)
Outfit 15 – Black Puff Sleeve Tee / Black Skinny Jeans / Black Mules / Gucci Matelasse Marmont Mini Black Bag (similar black chain bag)
Row 3 (left to right):
Outfit 16 – Black Puff Sleeve Tee / Gray Skinny Jeans / Black Flats / Gucci Small Matelasse Marmont Nude Bag (similar nude chain bag)
Outfit 17 – Black Puff Sleeve Tee / Gray Skinny Jeans / Leopard Pattern Flats / Chanel Boy Black Bag (similar black chain bag)
Outfit 18 – Black Puff Sleeve Tee / Gray Skinny Jeans / Black Mules / Louis Vuitton Alma BB Bag (similar top handle bag)
Shop the Outfits: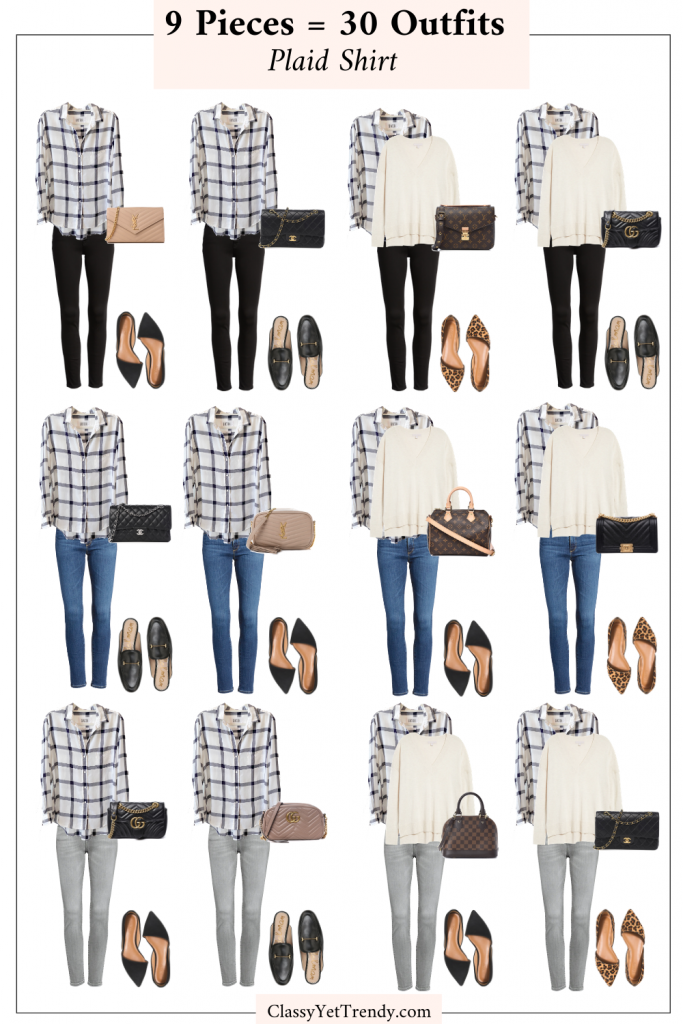 Row 1 (left to right):
Outfit 19 – Plaid Shirt / Black Skinny Jeans / Black Flats / YSL Chain Wallet Bag (similar budget bag)
Outfit 20 – Plaid Shirt / Black Skinny Jeans / Black Mules / Chanel Classic Flap Gold Hardware Bag (similar budget bag)
Outfit 21 – Plaid Shirt / V-Neck Ivory Sweater (wear over the shirt) / Black Skinny Jeans / Leopard Pattern Flats / Louis Vuitton Pochette Metis Bag (similar black crossbody bag / similar brown crossbody bag)
Outfit 22 – Plaid Shirt / V-Neck Ivory Sweater (wear over the shirt) / Black Skinny Jeans / Black Mules / Gucci Matelasse Marmont Mini Black Bag (similar black chain bag)
Row 2 (left to right):
Outfit 23 – Plaid Shirt / Blue Skinny Jeans / Black Mules / Chanel Classic Flap Silver Hardware (similar black chevron bag)
Outfit 24 – Plaid Shirt / Blue Skinny Jeans / Black Flats / YSL Matelasse Camera Bag (similar camera style bag)
Outfit 25 – Plaid Shirt / V-Neck Ivory Sweater (wear over the shirt) / Blue Skinny Jeans / Louis Vuitton Speedy 25 Bandouliere Monogram (similar top handle bag)
Outfit 26 – Plaid Shirt / V-Neck Ivory Sweater (wear over the shirt) / Blue Skinny Jeans / Leopard Pattern Flats /
Row 3 (left to right):
Outfit 27 – Plaid Shirt / Gray Skinny Jeans / Black Flats / Gucci Matelasse Marmont Mini Black Bag (similar black chain bag)
Outfit 28 – Plaid Shirt / Gray Skinny Jeans / Black Mules / Gucci Small Matelasse Marmont Nude Bag (similar nude chain bag)
Outfit 29 – Plaid Shirt / V-Neck Ivory Sweater (wear over the shirt) / Gray Skinny Jeans / Black Flats / Louis Vuitton Alma BB Bag (similar top handle bag)
Outfit 30 – Plaid Shirt / V-Neck Ivory Sweater (wear over the shirt) / Gray Skinny Jeans / Leopard Pattern Flats / Chanel Classic Flap Gold Hardware Bag (similar budget bag)
Shop the Outfits:
"Love the Lord your God with all your heart and with all your soul and with all your mind and with all your strength. The second is this: 'Love your neighbor as yourself. There is no commandment greater than these." – Mark 12:30-31