Our Nashville Anniversary Vacation & Talbots and J. Crew Try-On Session Reviews
This past week my Hubby and I went to Nashville, Tennessee to celebrate our anniversary! June 3rd was our 10 year anniversary so we wanted to go on a vacation to celebrate it. I shared a few photos of our trip a few days ago on my @classyyettrendy Instagram account.
During our trip, we stayed at the Margaritaville Hotel in downtown Nashville. The hotel is a couple of blocks down from the Country Music Hall of Fame Museum and Broadway (where there are several bars and restaurants), so we were able to easily walk to those places. We ate several of our meals at the hotel and also ate at Jason Aldean's Kitchen restaurant. Try the Waffle Cornbread with the whipped honey butter; it's delicious and is gluten-free! I have a wheat and gluten allergy, so I liked that they had several gluten-free dishes on their menu. The only a couple of things I didn't like about the hotel: the pool bar at the hotel played music until 11:00 at night (the first night they left the music on all night, ugh!) and their regular restaurant is closed several nights during the week, plus they don't serve breakfast. The hotel does have a Starbucks inside, which quick serve breakfast items like breakfast sandwiches and oatmeal (but if you have a wheat/gluten allergy, you don't have many choices there at Starbucks).
The day of our anniversary, I took this photo of my Hubby and me when we sat down at our table at JWB Grill in the hotel. We ate a delicious meal on the patio while listening to a singer play his guitar and sing in the restaurant.
I took one outfit photo of what I wore while on our trip. I usually take photos of what I pack for our trip and take a photo everyday of my outfits, but since this trip was for our 10 year anniversary, I unplugged from surfing my phone and being present on social media. I packed several pieces from my own Summer 2021 capsule wardrobe and took with me on our vacation. The hotel had a darling full length wall mirror that looked was shaped like a canoe, so I took an outfit photo in front of it! This is the outfit I wore when we walked around the city and toured the country music hall of fame museum and walked up and down Broadway.
Outfit Details:
Vintage Cotton Beach Rose Tee
Seamed Twill Wide Leg Crop Pants
Avarcas Pons Sandals in "tan" color
Transport Crossbody Bag I have had this bag for YEARS and still love it!

While we were in Nashville, we went to The Mall at Green Hills. I LOVE that mall and have been there a couple of times. They have lots of my favorite stores, including Nordstrom, J. Crew, Madewell and Loft! There were a few things I was looking for, especially at J. Crew and Madewell. I bought this Vintage Cotten V-Neck Tee in the "frosty olive" color, these White 7″ Chino Shorts and this Leopard Pattern Umbrella. I had been wanting this Leopard Strap to go on my Zip Top Transport Crossbody bag, so I bought the leopard strap.
Talbots Try-On Reviews
As we were walking by Talbots, their front display caught my eye! Their mannequins in the front display of the store were wearing several of their beautiful blue new Summer collection, especially the Split Neck Linen Shift Dress, so I walked in to see what other clothes they had. Well, that led to me to trying on several dresses, two pairs of pants and two tops! I took photos of everything I tried on and am sharing them in this post. See the end of the post to find out what I purchased!!! Oh, and here is a page with all of Talbots New Summer Dresses (I'm letting you all know ahead of time…you might find a dress or two you may like!)
For size reference, I am 5'9″ in height. For tops, I typically wear a size Medium or Large, depending on the brand and style of the top. For bottoms, my normal size is a size 10 / 30 waist. My shoe size is a 9 medium width.
In all the photos, I am wearing my Sam Edelman Gala Leopard Pattern Sandals (included my own 29-Piece Summer 2021 Capsule Wardrobe), Kendra Scott Elisa Gold Necklace in "abalone shell" and my older Kendra Scott Gold Cuff Bracelet (nearly identical Elton Iridescent Drusy style).
Now through June 13, Talbots is having a Buy One Get One 50% off sale!
First, I tried on this Striped Linen Tiered Maxi Dress (size 8, too tight). Please ignore my leopard sandals; I didn't want to stand bare foot on the floor! My usual size at Talbots is a Medium/size 10. They didn't have a size 10 in this dress, so I tried on an 8. It fit, but was a bit tight around my waist. I loved the blue striped on the crisp white background of the material. The tiered bottom and the tie waist belt adds a bit of texture that makes the dress gorgeous! The length of this dress is more of a midi length than maxi, so it's just the right length.
The next dress, this Split Neck Linen Shift Dress (I tried on a size 12, which was slightly big) is the dress in the front window of the store that caught my eye as we were walking by! Ya'll, the blue chambray color of this dress is GORGEOUS and the photo doesn't do it justice! They didn't have a size 10, so I tried on the size 12. I thought the dress would be great to wear to church AND on vacations this Summer. Just add a pair of heels to wear to church or out to eat OR add a pair of sandals to wear on vacation. Since it is a sleeveless dress, you can also wear a cardigan, kimono or denim jacket as a light layer. The dress on the mannequin in the front of the store had on a size 10, so I bought it!
I liked the next dress, the Ruffle Trim Ikat Dress (size 10), but the bright blue pattern was a bit too bold for my fair complexion, but I did love how it fit! The split neck has a button that you can fasten or leave open. The dress is a fit and flare style, so it will look great on many body shapes. There is an elastic waist which accentuates your waist.
I really liked the next dress, the Side Tie Striped Shift Dress in "Maliblue" (size Large). It also comes in a "Sage Brush" green color, which is also pretty! This dress is easy to put on, since it is a pullover and the side tie breaks up the direction of the stripes and adds interest to the dress. This dress can be versatile: wear it casually by itself with sandals or sneakers and a denim jacket OR dress it up a bit with a slim white cardigan and heels. I would have bought it, but I already have a similar blue striped dress, but with smaller stripes.
This Poplin Fit & Flare Dress in the "indigo" color (size Medium) is such a cute dress! It also comes in "bright papaya", but is limited in sizes. The skirt on this dress is a tiered style and is a midi length. The top is a t-shirt style making this dress very comfy! Plus, it includes a tie waist belt. You can't go wrong with a solid navy dress and I recommend this one! I already have navy dress I bought last year. I was hesitant on putting this one back on the rack, but I knew I didn't need two solid navy color dresses.
The color of this Cotton Classic Tee in "blue sky" (size Medium) caught my eye! It is a cornflower blue color, which has always been a favorite of mine. It is a crew neck style and the length falls at the hip, with a straight hem, so it looks great untucked, fully tucked in or a front tuck like I did in the photo below. The sizes on this color are limited, but this tee comes in many other colors to choose from. It also comes in a V-Neck Style with lots of colors to choose from on that one as well. I also tried on these White Linen Wide Leg Crop Pants (size 10). They also come in a navy blue color and have a drawstring waist. These would be cool to wear in the Summer since they are linen. I am looking for a pair of lightweight white pants for my Summer capsule, since it's getting a bit too warm to wear my white jeans. Since I already have my Green Drawstring Seaside Pants and my Beige Drawstring Old Navy Pants, I didn't buy these. I am looking for a white pair of pants with either a zipper closure or a slip-on pair instead.
Ok. I really LOVED these White Linen Straight Leg Crop Pants (size 10) and was going to buy them, but when I looked at the care tag inside the pants it said "dry clean only". I like to wash all my clothes and avoid trips to the dry cleaners, so I didn't buy them. BUT, on the product page, it says "Machine Wash", so I'm not sure if that is correct or if they mislabeled the pants I tried on. These pants are lined, but the lining feels cool, so I think they would be great for the Summer. Plus, they are a great length and has a bit more elevated style to them with the hook and zipper closure!
This Woven Hem Tee (size Medium) is just darling! It is a peplum style so it's a bit more elevated than just a regular white tee. It comes in white (I'm wearing), "indigo", "patio red" and "rich flax". The peplum bottom on the white is more transparent than the top half. This is top so pretty! I'm wearing the top with my Old Navy Black Linen Pants.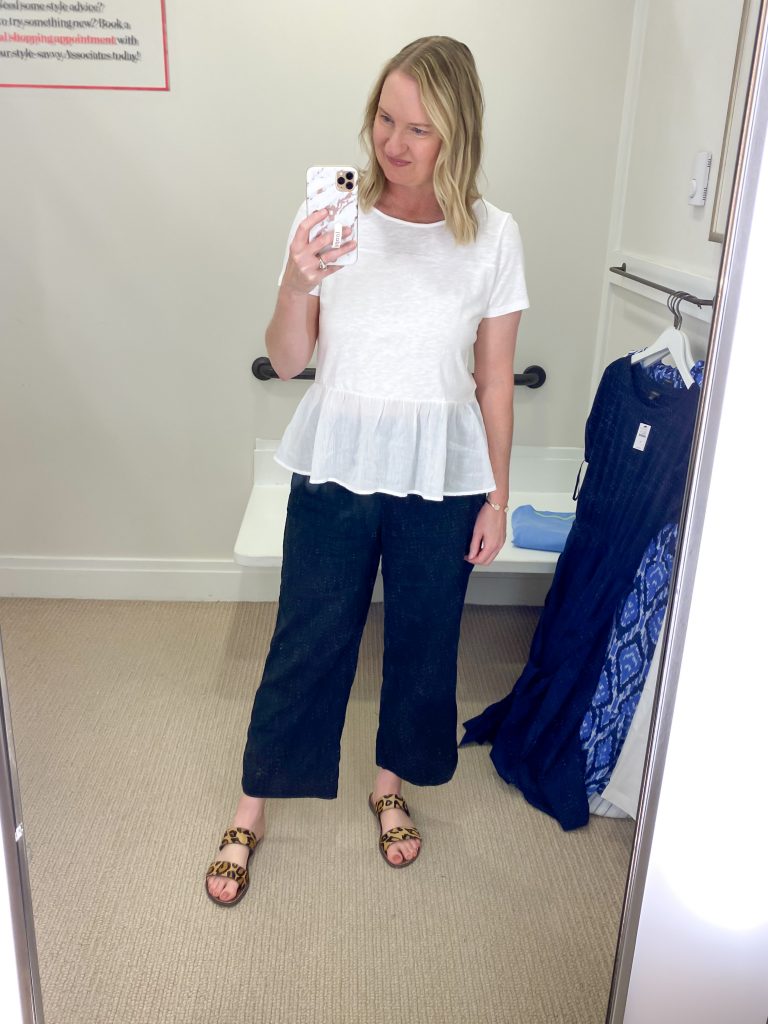 What I Bought From Talbots:
I loved everything that I tried on from Talbots and am so glad I went in the store! I would have bought nearly everything, but my wallet thanks me that I didn't, ha ha! I only bought two things from Talbots…the Split Neck Linen Shift Dress and the Cotton Classic Tee in "blue sky". I'm going to add the blue tee to my Summer capsule wardrobe and replace my tie front chambray top, since I think the blue tee will be more versatile with the bottoms in my capsule.
Shop The Talbots Try-On:
J. Crew Try-On Reviews
I went to J. Crew to buy a pair of their white twill shorts. I found those in the store and also tried on a few things while I was there. The lighting was terrible in the dressing room, so I apologize for the shadows on the outfits. See the end of this section to see what I bought!!!
First, I tried on the 7″ White Chino Shorts (size 10) with this Chambray Swing Tank (size Medium). They both fit great! The material on these chino shorts is so soft and I like the longer 7″ length. This Chambray Swing Tank is included in both the Essential Summer 2021 Capsule Wardrobe and the French Minimalist Summer 2021 Capsule Wardrobe. I really like the shirred neckline and the tie closure on the back.
I saw this Ruffle Trim Chambray Top (size Medium) and tried it on along with these Pull-On Camp Shorts in the "pale cypress" color (size Medium). The ruffle detail around the neckline and along the edge of the arm openings are so feminine and pretty! The arm openings were a bit longer on me though. I love the soft olive color on these shorts! They are a lighter olive color, leaning more toward a deep sage color and is so pretty for the Summer.
I tried on this Classic-Fit Chambray Shirt (size Medium) with the Pull-On Camp Shorts in the "pale cypress" color (size Medium). I already have a short sleeve chambray shirt in my closet, but wanted to see how this one fit. This shirt has gathers at the top of the shoulders which gives the shirt a feminine look.
They had a pair of the Chambray Seaside Pants (size Medium), so I had to try these on! I have these pants in the "distressed fatigue" color in my own Summer 2021 capsule wardrobe, LOVE them and wear them often! I have been wanting an olive green tee and found this Vintage Cotton V-Neck Tee in "frosty olive" (size Medium). The medium was a tad bit slim so I bought a Large. They also have the Vintage Cotton Crewneck Tee in "frosty olive" if you prefer a round neck style.
I saw these Chambray Pull-On Camp Shorts (size Medium) and added this Linen Crewneck Tee in "frosty olive" (size Medium). This tee has the same fit as the vintage cotton tees and the linen material gives it a nice drape. I absolutely loved the style and color of the chambray camp shorts so I bought them!
The last piece I tried on are these White Linen Wide Leg Pants (size Small). They didn't have a Medium in the store, so I tried the small to see how they looked, although they were a bit too tight around my hips. They have a drawstring elastic waist and are slightly cropped, which looks great with your Summer sandals. These pants come in several other colors including pink, flax, navy and a gorgeous pale cypress color! I recommend these pants! I'm also wearing the Vintage Cotton V-Neck Tee in "frosty olive" (size Medium).
What I Bought From J. Crew:
I bought the 7″ White Chino Shorts, Linen Crewneck Tee in "frosty olive" and the Chambray Pull-On Camp Shorts. I went in the store to buy the white chino shorts and wasn't expecting to also buy the chambray shorts and the olive tee, but I couldn't pass those up.
Shop The J. Crew Try-On:
I hope you enjoyed the try-on session reviews and thank you for reading this post!
A Bit Of Inspiration For Your Day:
"And God is able to bless you abundantly, so that in all things at all times, having all that you need, you will abound in every good work." 2 Corinthians 9:8