How to Wear A Shirt Jacket "Shacket" 4 Ways
The Shirt Jacket or "Shacket" is very much on trend this Fall! I'm seeing a lot of fashion influencers wearing them on Instagram. Shirt Jackets come in different patterns and colors, with plaid being the most popular pattern and cream being the most popular solid color.
I have received a few emails from subscribers who needed to know how to wear a shirt jacket and how they are different from a flannel shirt, since they look very similar.
The shirt jacket looks like a flannel shirt because of the style, but a shirt jacket is made of a thick material, which is more bulky than a flannel shirt. The standard length of these jackets come just to your hips, but I have seen them as long as mid-thigh length. I wasn't going to add a shirt jacket to my closet, but I caved in and bought this Plaid Cozy Shirt Jacket in the "off white plaid" color (I bought the size Large). When it arrived in the mail, I was impressed at how well it fit and it does indeed feel "cozy" as its name implies. I can see me wearing this shirt jacket to a couple of Fall Festivals I want to go to as well as football games!
A shirt jacket is a great layer to wear this Fall, but if a shirt jacket isn't your style, your wardrobe staples are classics and are always in style, like a leather jacket, utility jacket, quilted vest or quilted jacket (also love this one!), to name a few.
HOW TO WEAR A SHIRT JACKET
A shirt jacket is easy to style. Because it has a casual vibe, it looks great with jeans or leggings, but you can also dress it up a bit for an elevated casual look with pants, a top and dressy boots or flats.
The Plaid Cozy Shirt Jacket in the "off white plaid" color from Abercrombie I'm wearing is limited on sizes (since they had a sale recently), so keep checking back for restocks. I found several other shirt jackets that you may like…
The first outfit would be great to wear to a football game, out to eat with friends or on the weekend shopping! The long sleeve tee, jeans and casual sneakers are comfortable to wear all day and the shirt jacket will keep you warm while being outside. You may already have a white long sleeve tee, dark wash jeans and casual sneakers in your closet as these are wardrobe staples, making this the easiest outfit to put together. I have these perforated sneakers (I'm wearing them below) and these Veja Campo Sneakers in my own Fall capsule wardrobe; they are both comfy straight out of the box and have worn them each all day with no issues! These sneakers, which are a budget buy, and would also look great with this outfit!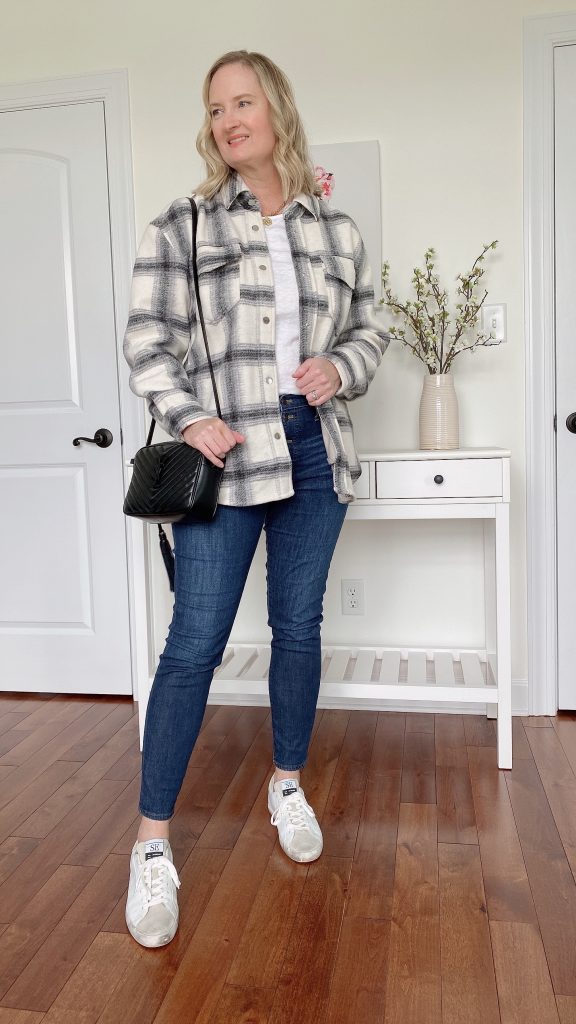 My Outfit Details:
White Long Sleeve Artist Tee / Dark Wash Button Jeans
Plaid Cozy Shirt Jacket in the "off white plaid" color / White Casual Sneakers
Halo Gold Earrings / Gold Coin Necklace
YSL Lou Black Camera Crossbody Bag / shop it preowned here / love this RM crossbody bag!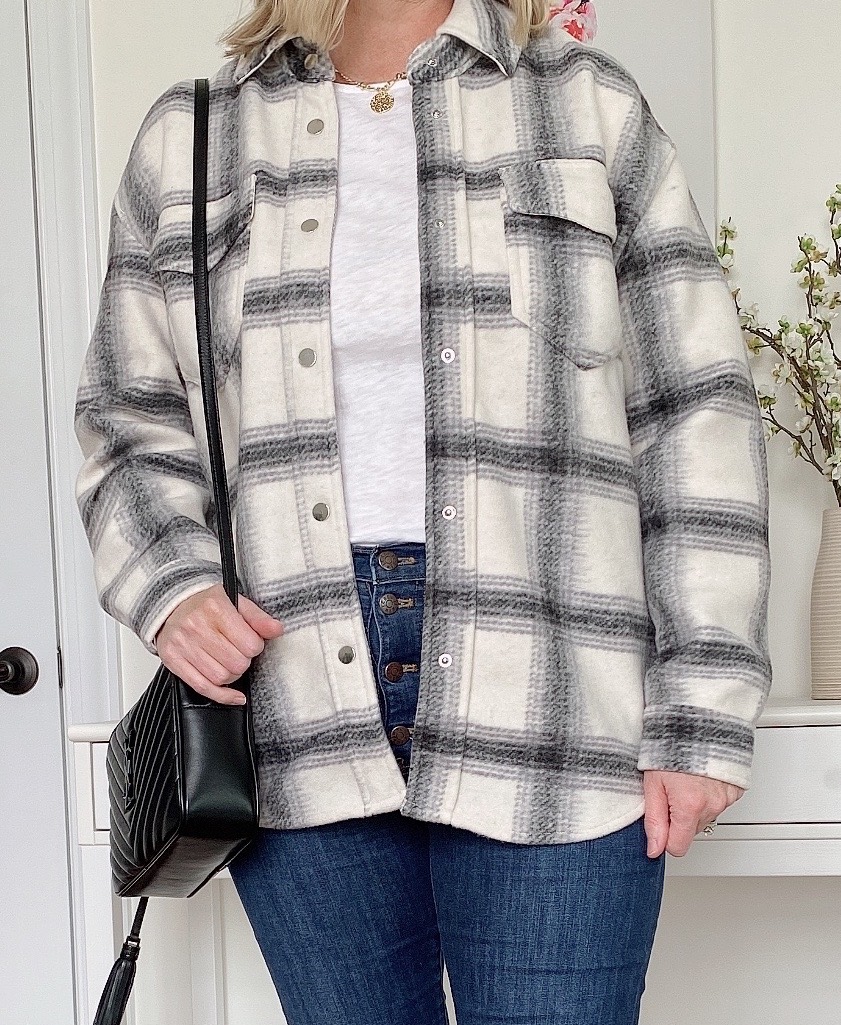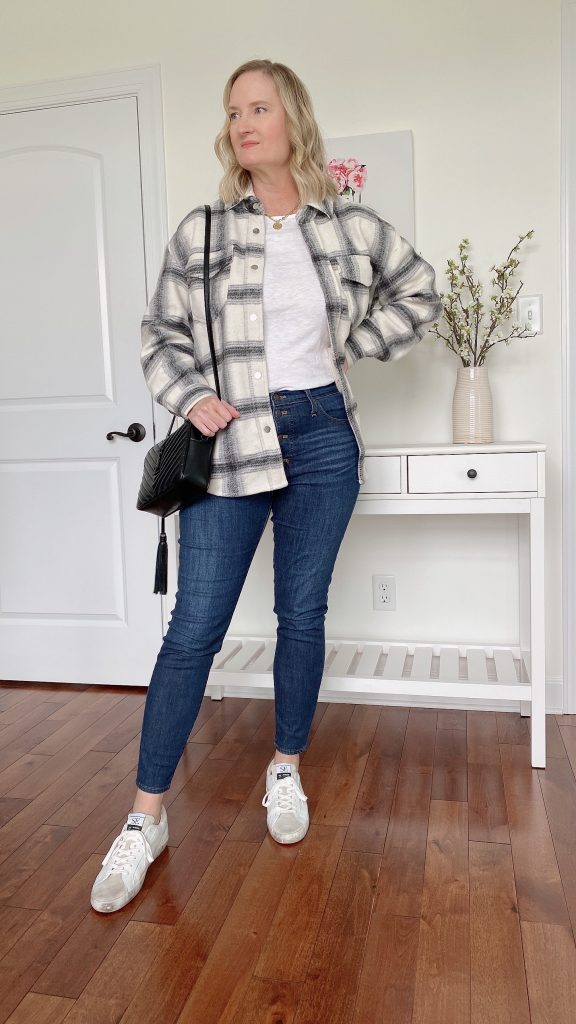 I created four outfit collages of different ways to wear a shirt jacket. Since the shirt jacket is a neutral color pattern, you can wear other neutrals or colors with it!
Outfit Collage #1 is the outfit I am wearing above in the photos (I'm wearing the exact white tee, shirt jacket and sneakers and similar jeans from my Fall capsule). I included this Black Flap Crossbody Bag that is a budget buy, plus this Gold Pendant Initial Necklace!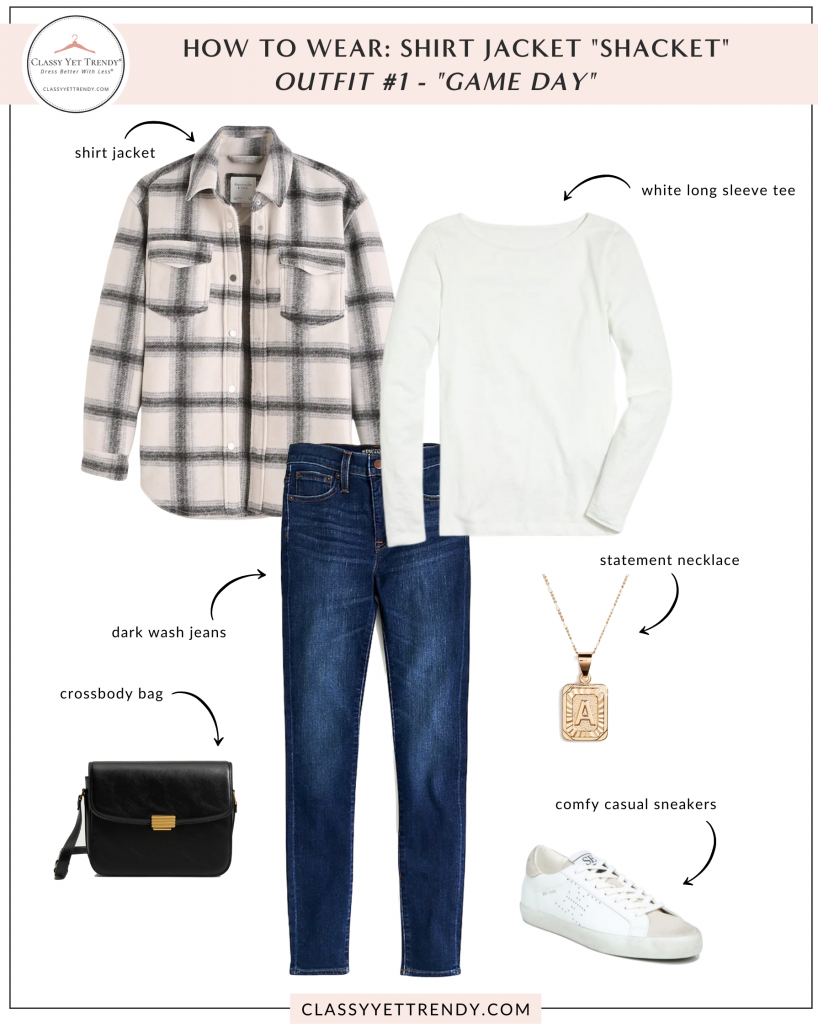 Outfit Details:
This outfit includes this neutral color bodysuit, but any neutral or color top would work with this outfit! I included a pair of these black skinny jeans in J. Crew Factory's signature stretch. I personally love J. Crew Factory's signature stretch jeans! I am wearing a dark wash pair of them in the photos above! While they are skinny jeans, they have some stretch to them to make them very comfortable. These are nice looking Lace-up Boots at Madewell. They don't seem clunky like some combat boots and I bet they would be great to wear this Winter. They come in black and brown colors. This Buckled Flap Saddle Bag is gorgeous, is a budget buy and is currently on sale at the time I am writing this post.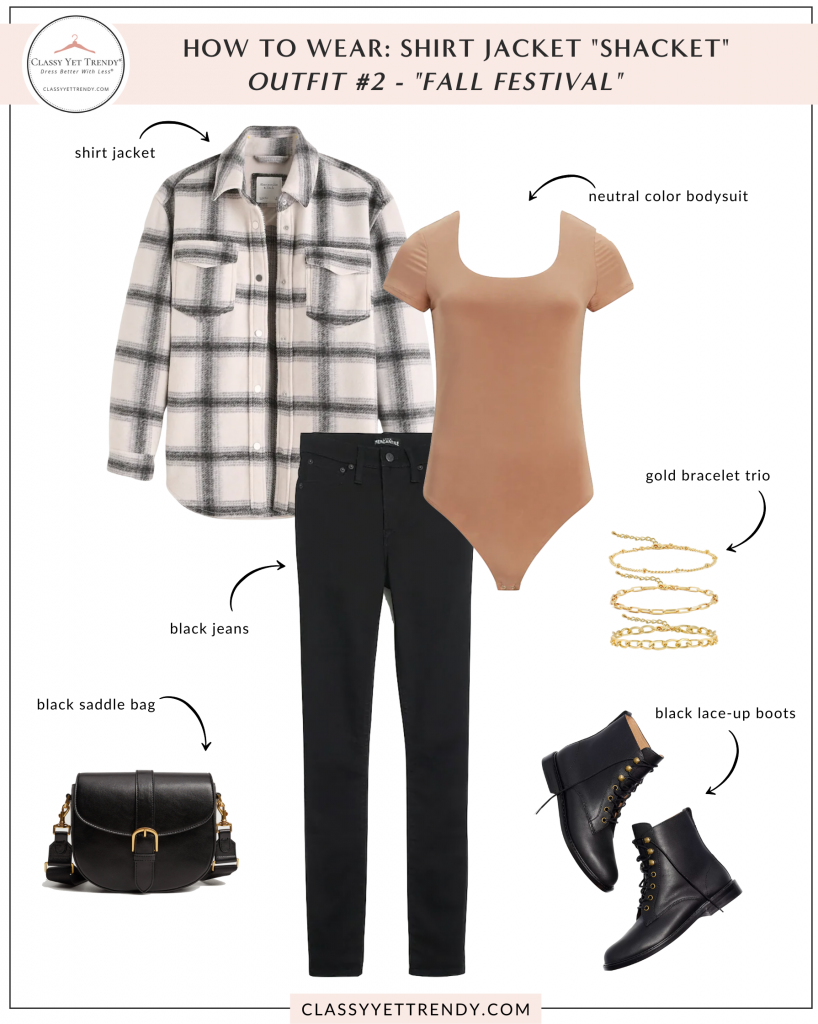 Outfit Details:
If you like athleisure style, here is an athleisure outfit to wear with the shirt jacket which includes this Black Long Sleeve Tee, these High Waist Black Leggings and these Adidas Edge Lux Sneakers. Add a pair of these Silver Halo CZ Stud Earrings (I have a gold pair of these and love them!) and this Rebecca Minkoff Black Edgy Look Backpack.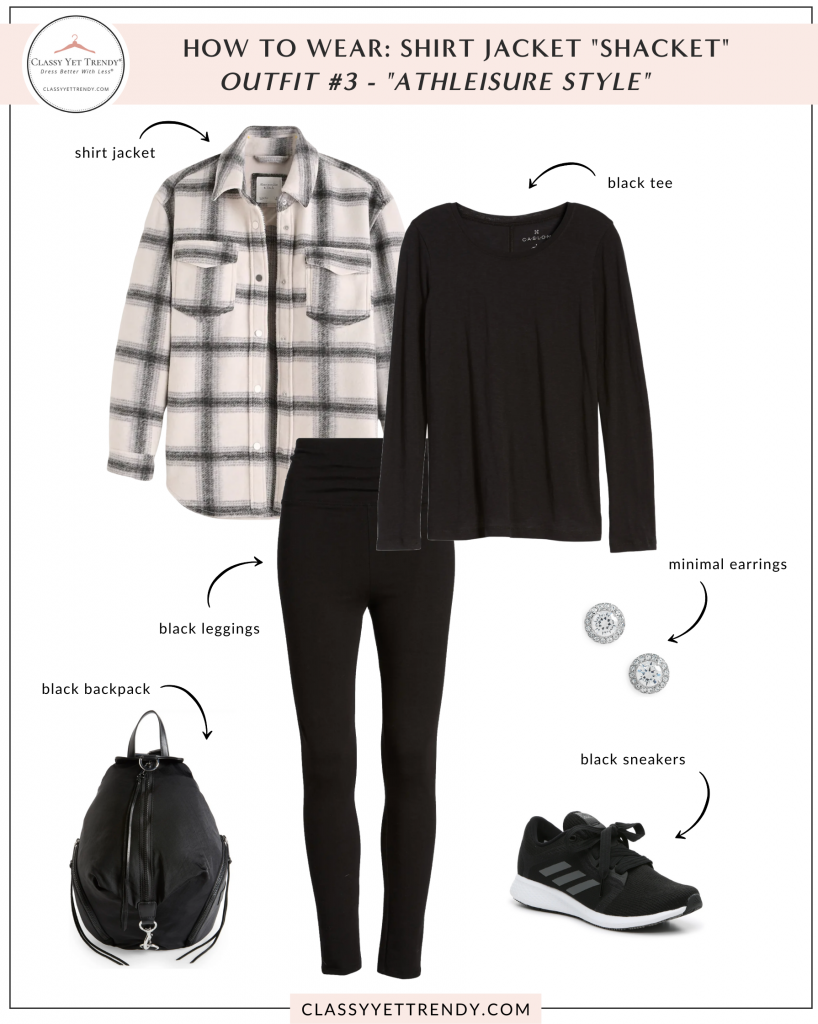 Outfit Details:
Here is another way to wear this shirt jacket, with this Ribbed Mockneck Puff Sleeve Sweater, these Slim Boyfriend Jeans and these Black Heeled Boots. Add this Gold Bracelets Set and this Chain Suede Leather Bag to complete the outfit.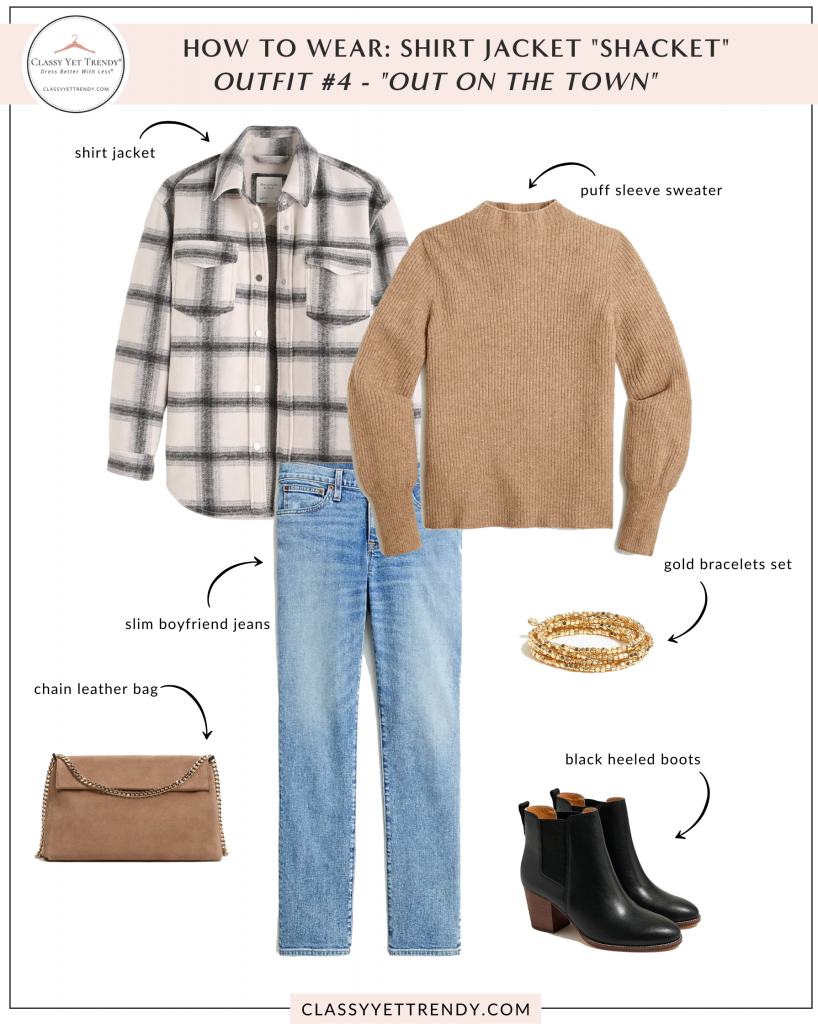 Outfit Details:
I hope you enjoyed this post!
Thank you for visiting the Classy Yet Trendy blog!
A Bit Of Inspiration For Your Day:
"Let love and faithfulness never leave you; bind them around your neck, write them on the tablet of your heart.: – Proverbs 3:3