Outfits Diary Instagram: September 2021
On my Instagram account, I share outfits that I wear from my capsule wardrobes as well as share tips and resources on capsules wardrobes. My Instagram profile is @classyyettrendy, so if you are on Instagram, click the "Follow" button on the App to see my posts.
To shop my Instagram posts, you can either click on "Shop My Instagram" on the menu located at the top of this page or your can follow this link…
I'm currently using my Fall Classic Neutral Capsule Wardrobe. I enjoy wearing neutral colors, so my capsule wardrobe includes black, white, gray, beige, tan and chambray.
I created my neutral colors capsule for my own closet based on my best-selling capsule collection, Simplified Style®: The Dressy & Casual Collection – A Year-Round Core Closet Essentials Capsule Wardrobe. In this capsule collection, there are 400+ outfit combinations for every season of the year, outfit calendars and more!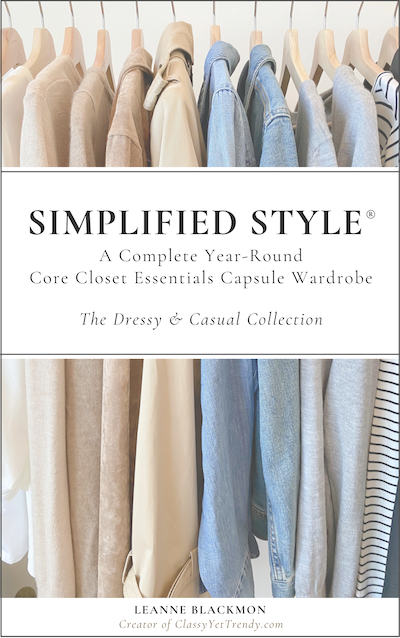 Have you jumped on the shirt jacket or "shacket" trend this season? It's a popular trend this Fall and looks great with jeans, pants and leggings. I told myself that I wasn't going to buy a shacket, but I saw this Abercrombie & Fitch Plaid Wool-Blend Shirt Jacket and I caved in! It comes in several colors and also like the "cream check" color. I paired it with my black puff sleeve tee (similar) and either these Wit & Wisdom Gray Jeans (also love these gray jeans) and Veja Campo Sneakers or these Blue Stovepipe Jeans (regular or curvy – I bought the curvy, which is made for hourglass body shapes!) and these ankle boots. I also linked a few other similar shirt jackets below!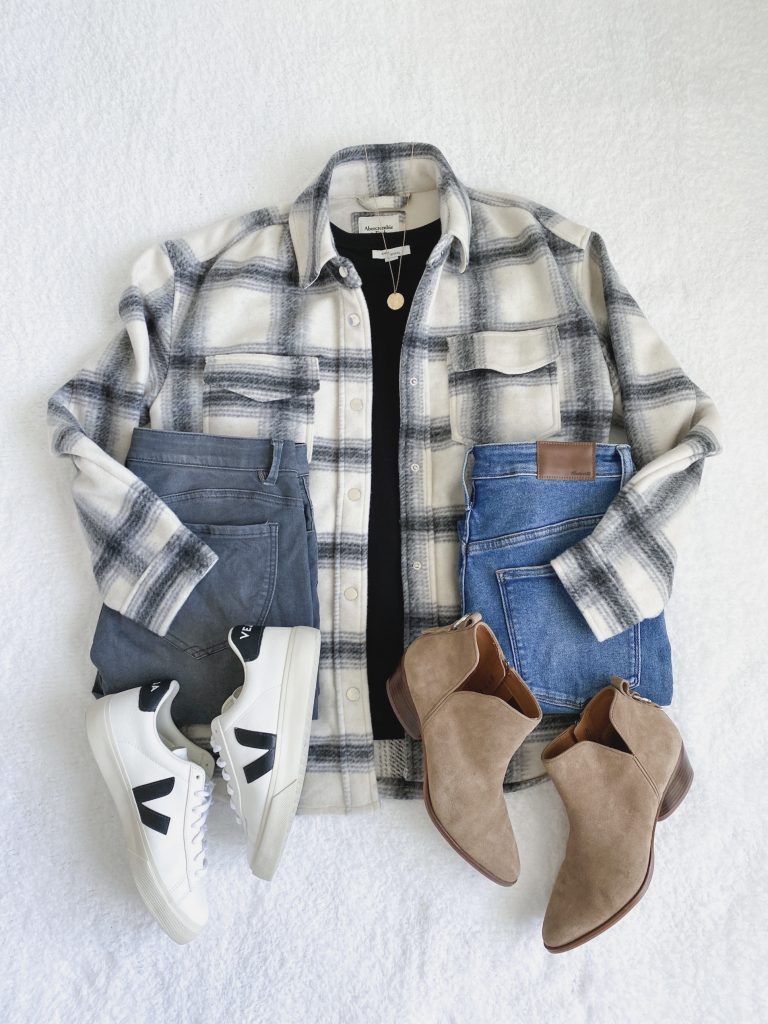 Photo Details:
Lilysilk had reached out to me for a collaboration a few weeks ago and I tried this Cashmere V-Neck Sweater in the "greige" color (size Medium). Use my code "CLASSY12" for 12% off your order at Lilysilk.com. I absolutely love this sweater and added it to my own Fall capsule wardrobe. The cashmere material is SO soft and it is washable too! The fit is perfect and the color is so pretty in person.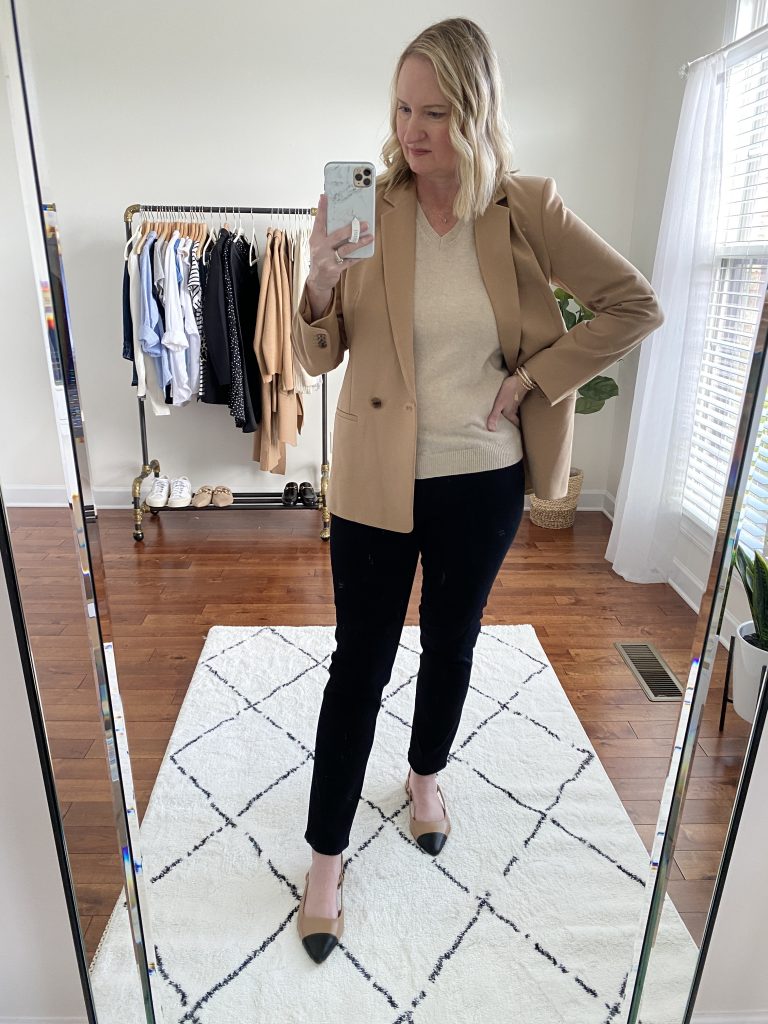 Photo Details:
Here are the same jeans I'm wearing above but paired with a Target white v-neck tee, this Anine Bing utility jacket and Sam Edelman loafers in the "saddle" color. This utility jacket was a splurge, but I love how it fits and the material is soft. A few other utility jackets I recommend are this Graham & Spencer utility jacket and this Kohls utility jacket.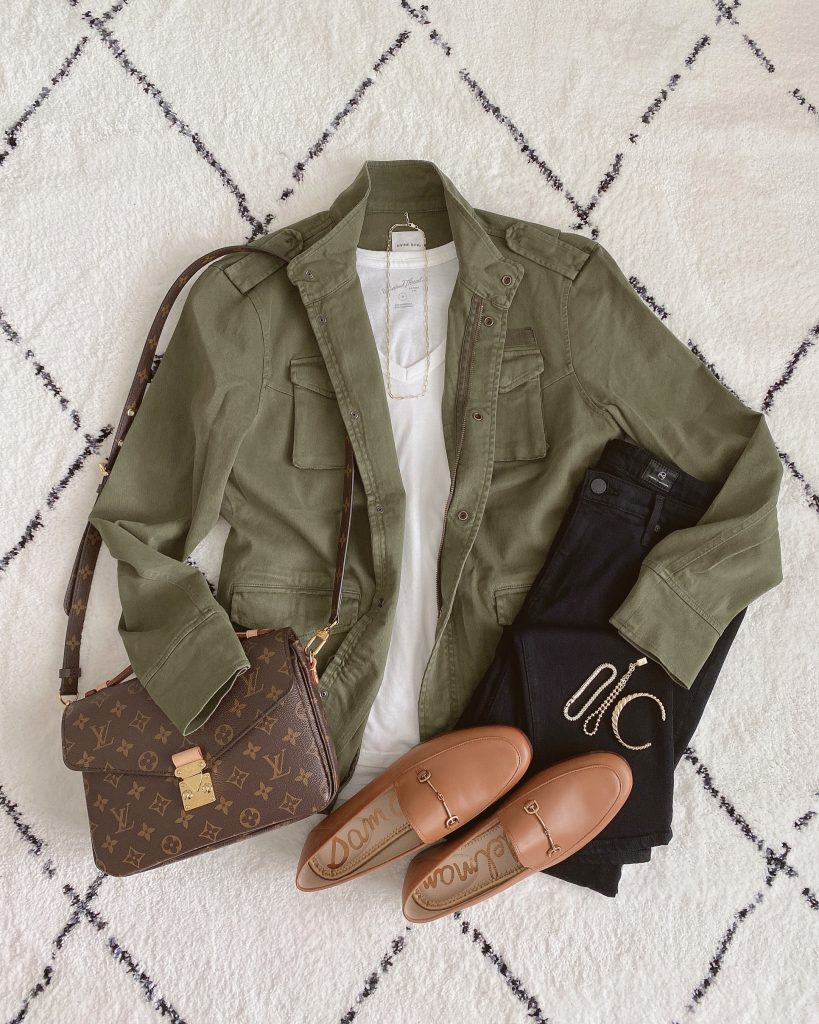 Photo Details:
The 6 pieces below will make 8 outfits! You can add two layers, like a jacket, blazer or a cardigan for even more outfits! Items shown are the Lilysilk Cashmere V-Neck Sweater in the "greige" color, J. Crew Factory striped tee, AG Black Cigarette Jeans (also love these J. Crew Factory black jeans), AG Blue Cigarette Jeans (also love these J. Crew Factory blue jeans), Gucci Brixton Black Loafers (also love these Gucci dupes) and Veja Campo Sneakers.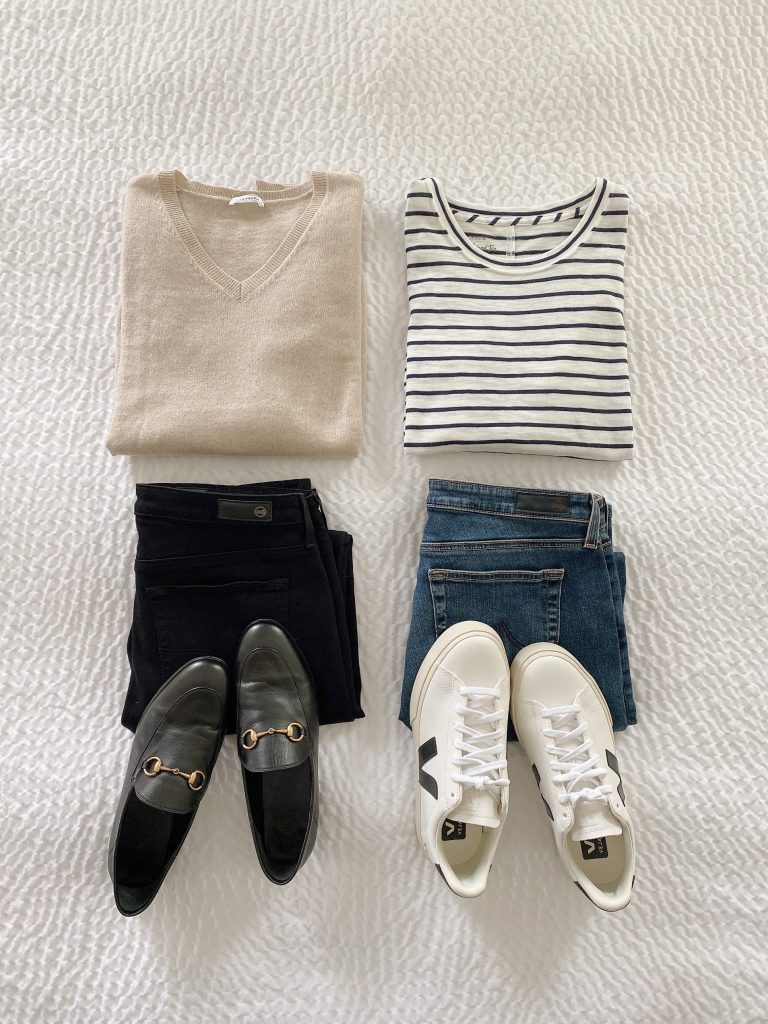 Photo Details:
Shoes lineup from my own Fall capsule wardrobe. They are all neutral tones, which are my personal favorite and what I prefer to wear. I received a question as to why there are no heels or tall boots in my own Fall capsule wardrobe. I work at home (I work full-time on ClassyYetTrendy.com), so I dress casual everyday and I enjoy wearing mostly sneakers and flats. Plus, I've never really enjoyed wearing heels. My favorite style is "elevated classic casual", which includes tees, shirts, cardigans, sweater blazers, jeans and pants.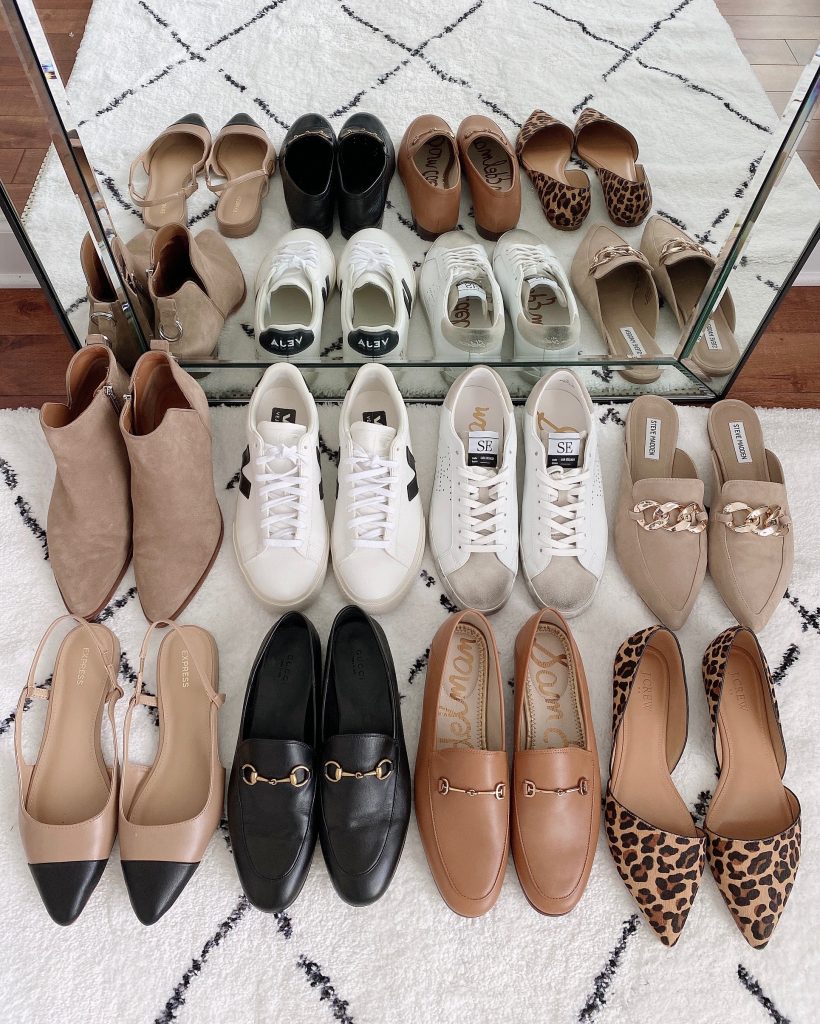 Photo Details:
My husband and I went on a trip for a few days to the Smokey Mountains (see the full blog post here, with what I wore during our trip). See the photo below of what I packed. We also went there last year in June and we spent most of our time outdoors and rode our bikes in Cades Cove. For this year's trip, we both wanted to just get away for a few days and relax, ride around and see the mountains, go out for supper and relax at the cabin we rented. For the tops, I packed my Striped Girlfriend Tee, White Girlfriend Tee, Ivory Crewneck Lightweight Sweater, Black Jeans, Gray Jeans, Blue Jeans, Olive Utility Jacket, Khaki Sweater Blazer (this year's style), Black Loafers (Gucci-inspired loafers here) and Distressed Sneakers <- love these Golden Goose inspired sneakers! I mixed and matched the pieces I packed to create 4 outfits. You could use this travel capsule for a week's worth of outfits! If you needed to wash anything during your trip, you can take a small bottle of laundry detergent and either wash the pieces in the hotel sink or in the washing machine if you are staying in a cabin. Hang them to dry and they will be dry and ready to wear the next day!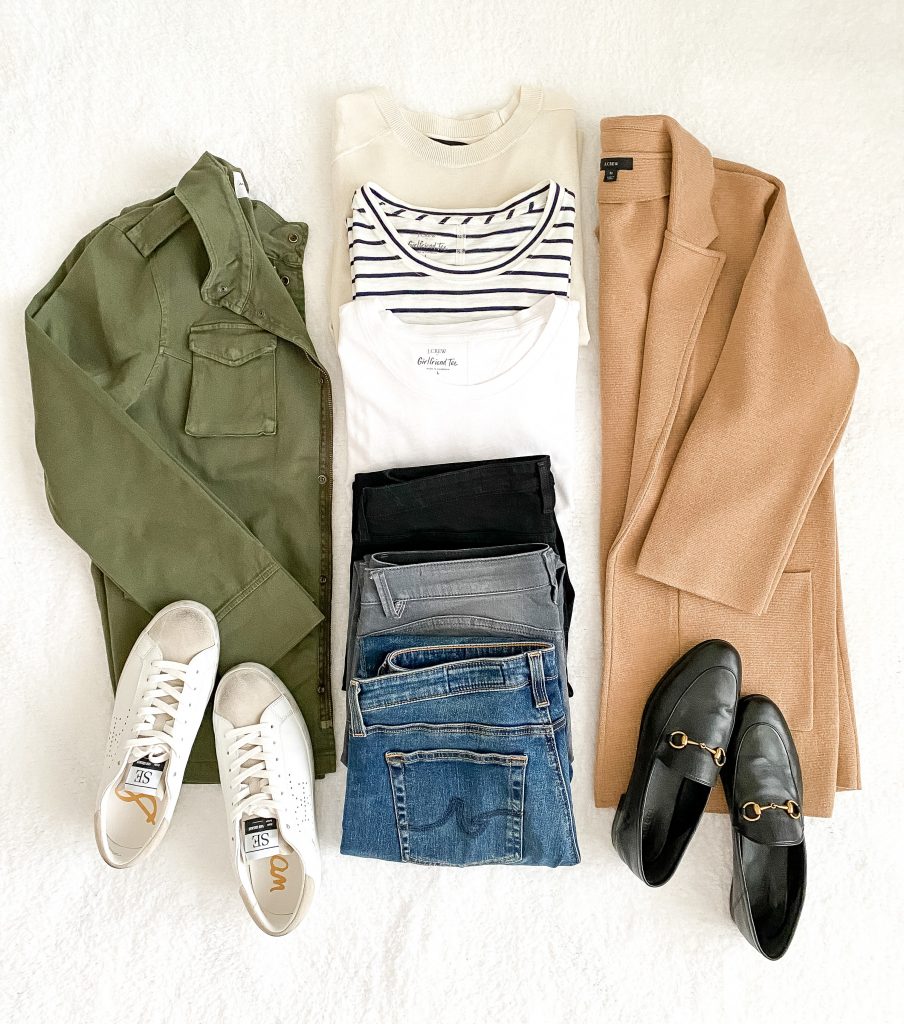 Photo Details:
These are all favorite layers for this Fall season! Mostly all are classic and timeless pieces. The shirt-jacket is a trending layer this Fall and you'll see many fashion influencers wearing a shirt jacket or "shacket" on Instagram. I bought the one shown below, Abercrombie's Plaid Wool-Blend Shirt Jacket in the "off white plaid" color. Shop the pieces below…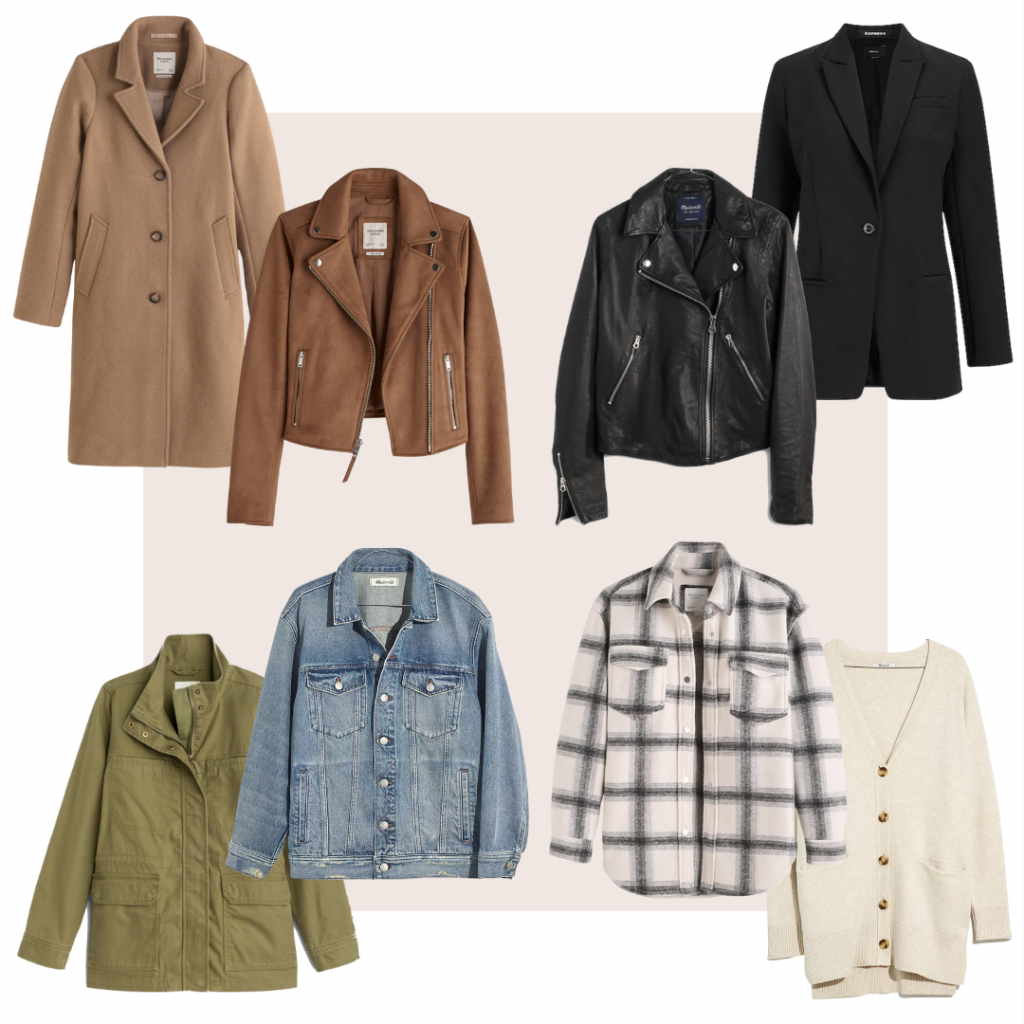 Photo Details:
When I was building my Fall capsule wardrobe for my closet, I wanted to add a top with a neutral pattern. I wanted a leopard pattern tee, but could not find one. When we were on our trip in the mountains a couple of weeks ago, I went in Old Navy and at the front of the store was a display of their Luxe tees, which included this Luxe Short Sleeve Tee in the "white animal print" color (I bought a size Medium). Oh My Gosh ya'll! Why have I not discovered these tees sooner? They are SO SOFT, are made of a stretchy material that drapes beautifully and the neckline looks great with layers, plus it was only $18! I'm wearing the tee below with my Khaki Sweater Blazer (this year's style), High Rise Stretchy Skinny Button Jeans, Finn Chain Mules and Louis Vuitton Damier Ebene Speedy 25 Bandolier which I bought from Fashionphile. I also bought this Samorga bag organizer in the red color so that the bag holds its shape and helps protect the inside of the bag from wear and tear. I highly recommend Fashionphile for preloved designer bags! I have bought and sold bags through them and I trust them with authentic bags, plus they have fast shipping, pack their bags well for shipment and are so easy to buy and sell through.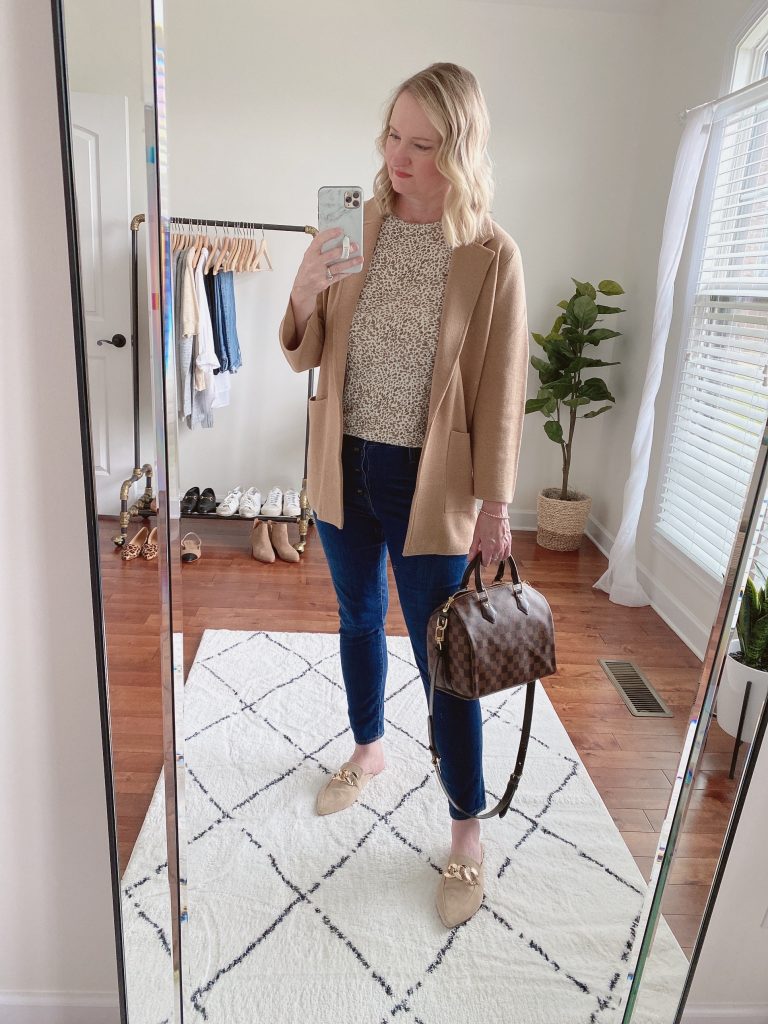 Photo Details:
I discovered this Levi's Ex-Boyfriend Denim Jacket a few weeks ago from a YouTube Denim Jacket Review video by Emily Mariko. This is the "soft as butter" color and I bought the size Large (I usually wear Large in jackets). It has the same material combo as my ABLE Merly Denim Jacket, but the Levi's jacket has no distressing. Being that is an "ex-boyfriend" style, it has a wider cut throughout the body and sleeves. This makes it easier to wear thick sweaters and sweatshirts underneath, yay!
Denim jackets often get mixed opinions because most all of them out there are so stiff (100% cotton) and short (hem stops at the waist), but nope, not this jacket. The length is slightly longer than the traditional denim jacket, which falls at my hips (I'm 5'9″ for reference). The key to having a denim jacket that you LOVE TO WEAR is if it includes Lyocell in the material. Lyocell make the denim easy to move around in and the denim feels like butter! This Levi's Ex-Boyfriend Denim Jacket will be a denim jacket I have in my closet for years to come!
I paired the denim jacket with my Silk-blend Short Sleeve Sweater in the "hthr natural" color, Wit & Wisdom Black Ankle Pants (sold out / similar), Leopard Flats (sold out / similar) and Polene Numero Un Bag in "trio camel" color. Shop the Mejuri bracelet here -> https://mejuri.pxf.io/5bAGNN and Shop the Mejuri earrings here -> https://mejuri.pxf.io/6bA1Zq.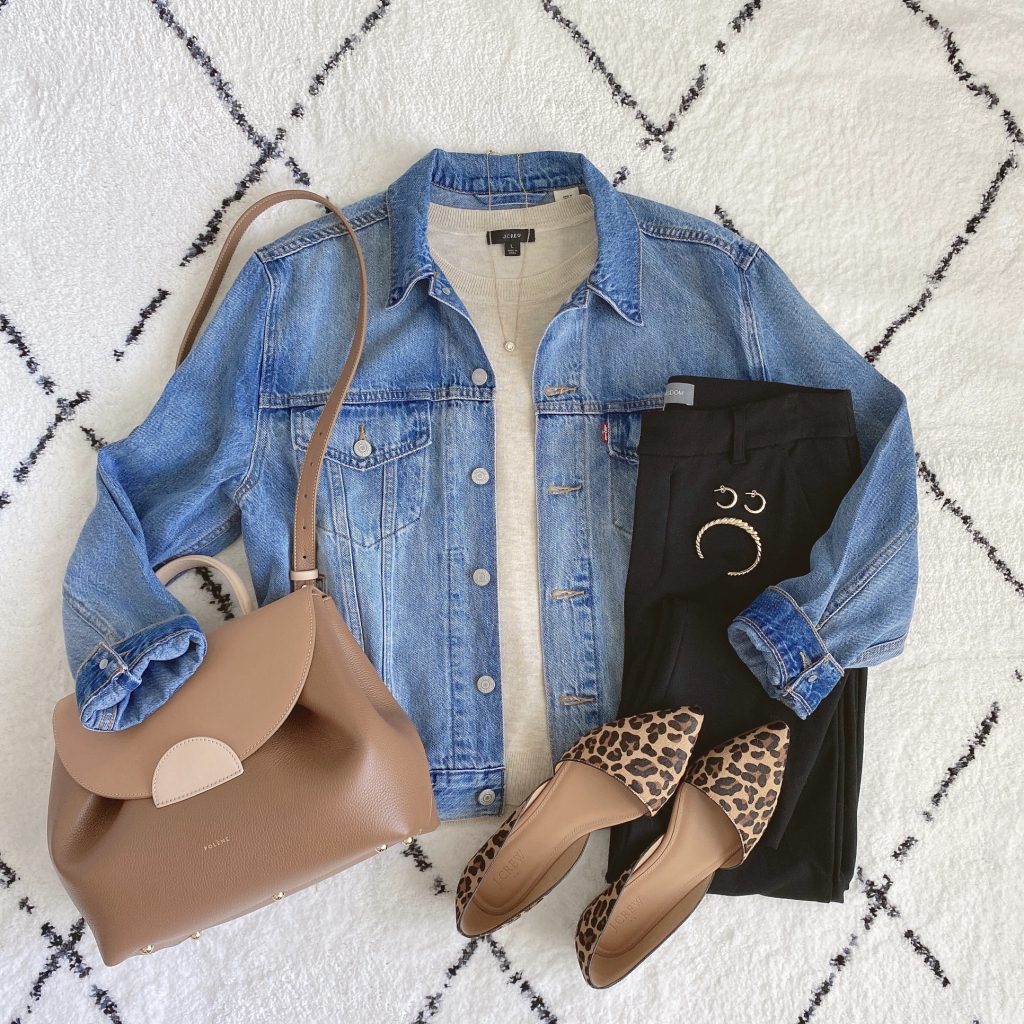 Photo Details:
The other day when I wore this outfit, it was cool outside all day, so I was glad to wear the cardigan! Don't you just love wearing layers in Fall? I do! I bought this Caslon Open Gray Cardigan in the Nordstrom Anniversary Sale and it's nearly sold out. If you are needing a gray cardigan, I recommend this Old Navy one, this Lands End one and this Banana Republic one. I'm wearing my cardigan with my J. Crew Chambray Shirt (sold out / similar), Black AG Cigarette Jeans, Black Gucci Loafers (Gucci-inspired loafers here) and YSL Lou Black Camera Bag (also LOVE this Rebecca Minkoff Crossbody bag).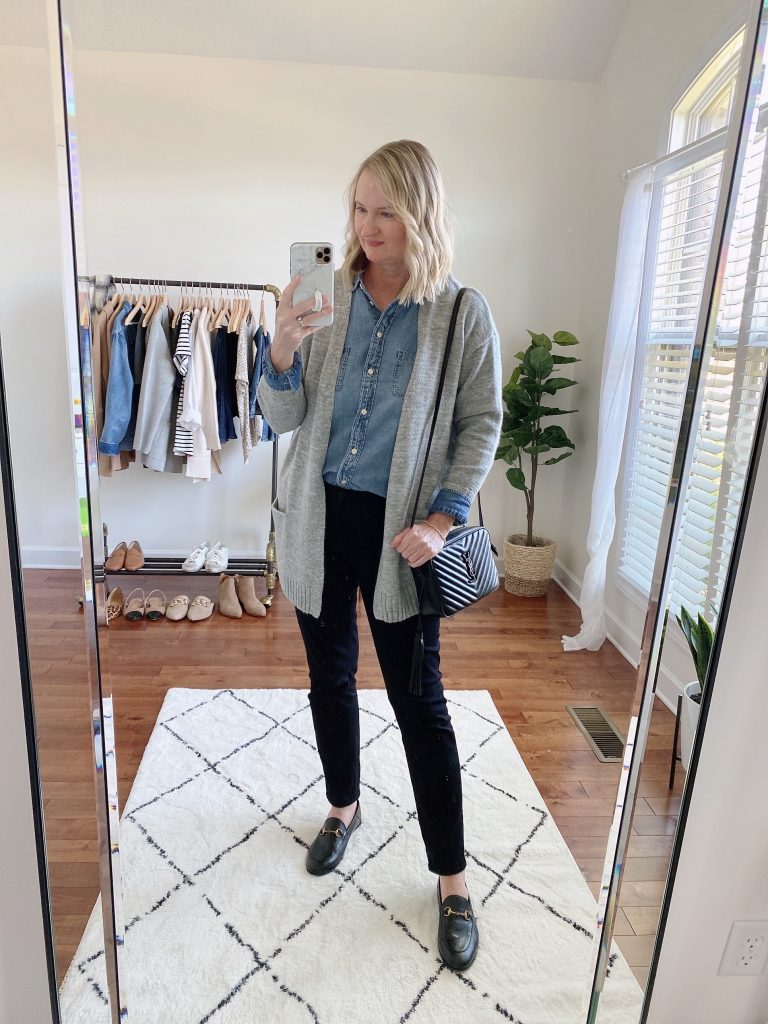 Photo Details:
I hope you enjoyed this post!
Thank you for visiting the Classy Yet Trendy blog!
A Bit Of Inspiration For Your Day:
"Truly I tell you, if you have faith as small as a mustard seed, you can say to this mountain, 'Move from here to there,' and it will move. Nothing will be impossible for you."" – Matthew 10:20