Nordstrom Anniversary Sale 2022: Favorite Bags & Accessories
The Nordstrom Anniversary Sale is going on now! All Nordstrom Cardholders can shop! The Anniversary Sale is when Nordstrom brings out a ton of new fall styles and immediately marks them down so you can get both wardrobe staples and new trends for the season at big discounts before the fall season even begins. This annual sale is different than retailer traditional sales. Instead of items being marked down as the season ends, NEW items are discounted before the season even begins!
FYI, all of my #NSale 2022 posts can be found under the NSALE 2022 tab at the top of ClassyYetTrendy.com. (If browsing on your phone, tap the 3 lines at the top, for the dropdown menu.) As I add new posts, they will be added to that tab.
If you use a capsule wardrobe, the colors of these bags will coordinate well with so many of your outfits. My favorite colors of bags to wear with my capsule wardrobe outfits are taupe and black. I have found over the years that taupe and black go with so many outfits, no matter the season! I had to include the straw tote since it is beach and pool season! This bag will hold a lot, plus it is a beautiful bag.
If you have an Apple Watch, these Michele Apple Watch Bands in white/rose gold and black/gold are beautiful!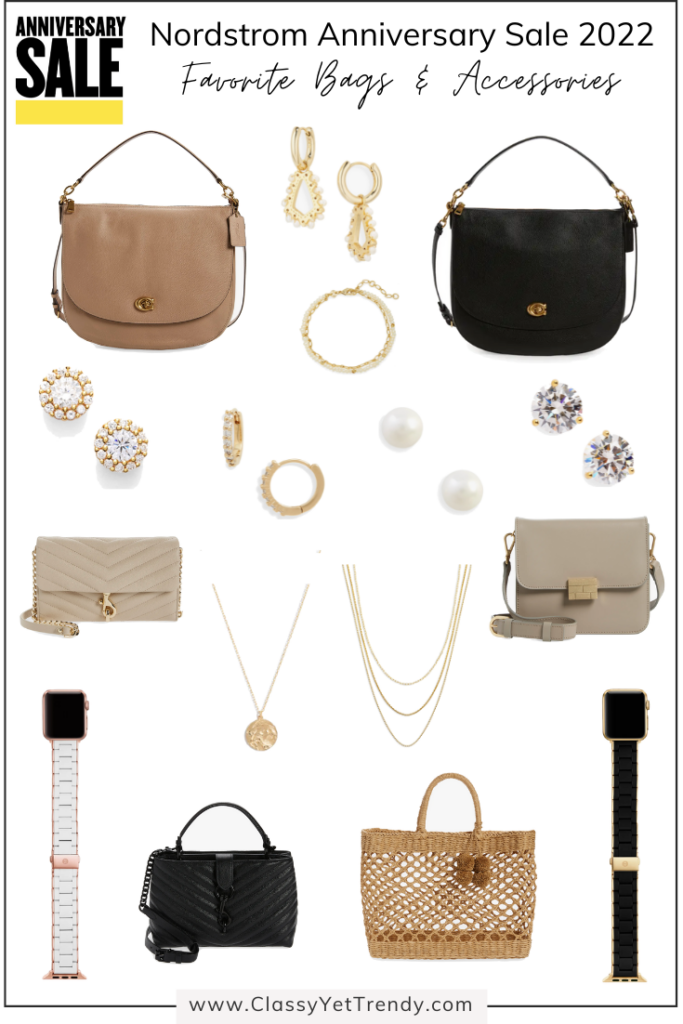 Shop The Bags & Accessories:

What I Ordered
Coach Pebbled Leather Shoulder Bag "Taupe" Color – This is my most favorite bag in the sale! I ordered it in the Taupe color and it such a gorgeous color! I have been looking for a hobo style shoulder bag for a while and was so glad to see this one included in the sale. I actually had trouble choosing between the taupe and black color! I'm waiting on the rest of my order to arrive and will be doing a try-on session in a few days, so you will be seeing this bag again. The taupe color will coordinate with all your outfits being that it is a light neutral color. Snatch this one up before it sells out!
In looking at the LTK analytics to what is selling the most, many of you have bought this bag too!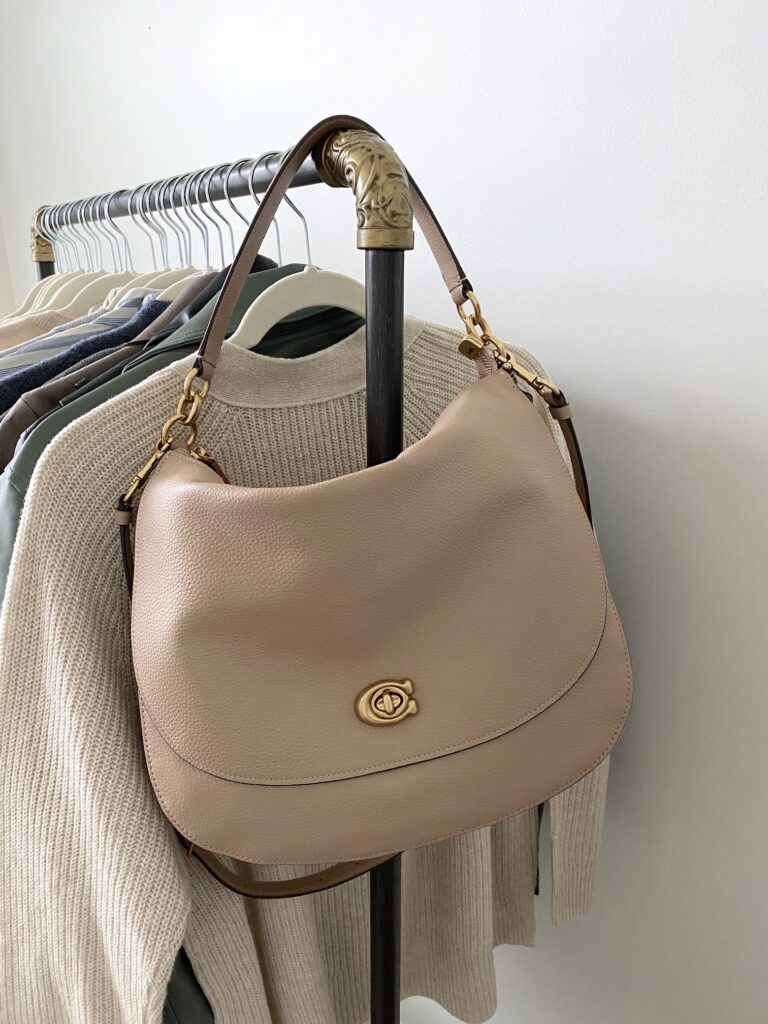 Kendra Scott Camry Drop Earrings – I love the combination of the light gold and delicate pearls and they are so delicate!
Kendra Scott Camry Layered Bracelet – I had to buy the beautiful matching bracelet! It is a combination of a gold link bracelet and a delicate pearl bracelet.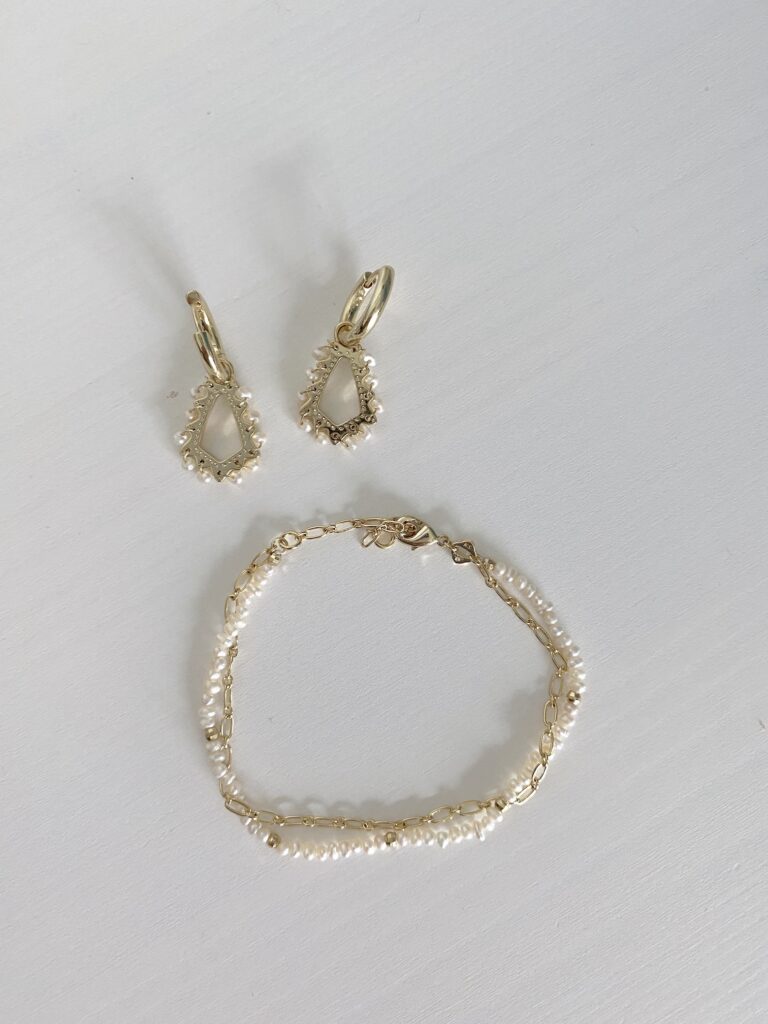 Molten Pendant Necklace – I'm waiting on this necklace to arrive with the rest of my order. This will be a lovely and minimal necklace to wear daily.
What I Have & Love
I have jewelry from Nordstrom that I bought in the past and I wear these several times a week!
Gold Plated CZ Small Stud Earrings – These are a beautiful pair of minimal earrings to wear daily and are only $30.90 in the sale! I wear these earrings and the pave earrings I mention below more than any other earrings I have!
Gold Pave CZ Stud Earrings – These are a tad bigger than the other studs I have. I love wearing these and you will see them linked in many outfits I wear.
What Are The Dates Of The Anniversary Sale?
June 29: Online Preview Begins
July 6: Early Access Begins for Icon Status Cardholders
July 7: Early Access Begins for Ambassador Status Cardholders
July 9: Early Access Begins for Influencer Status Cardholders
July 15: Sale Opens to the Public
July 31: Sale Ends and Prices Go to Full-Price
See the chart below for the dates to shop: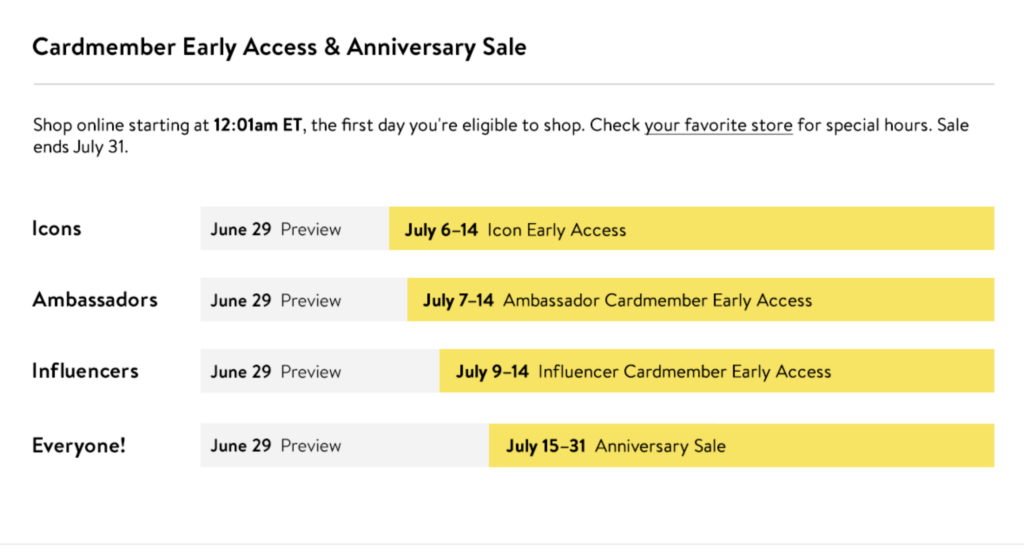 Shop The Bags & Accessories:

"Teach me to do your will, for you are my God; may your good Spirit lead me on level ground." – Psalms 143:10