Women's Simplified Style:
The Dressy & Casual Year-Round Capsule Wardrobe
New Edition!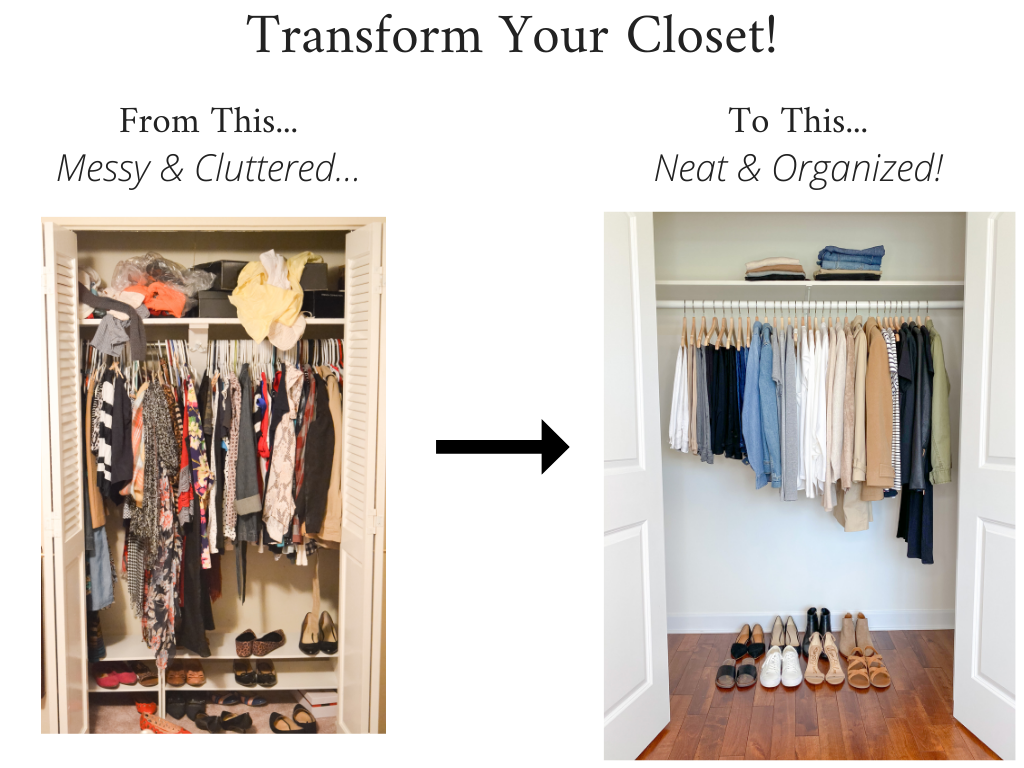 IS YOUR CLOSET FULL OF CLOTHES,
BUT YOU HAVE NOTHING TO WEAR?
YOU NEED…
Simplified Style®:
The Dressy & Casual Collection
A Year-Round Core Closet Essentials Capsule Wardrobe

A
Complete

 Wardrobe For An Entire Year
& Includes All Core Closet Essentials 
OVER 35,000 CAPSULE WARDROBE E-BOOKS SOLD!
See the Frequently Asked Questions section below for commonly asked questions.

Includes

Regular

-size

Shopping Sources
Plus and Petite sizes NOT included
$34.99

See the Frequently Asked Questions section below for commonly asked questions
(including sizes availability)

Does Any Of This Sound Familiar?
Your Closet Is Packed Full Of Clothes, But You "Have Nothing To Wear".
You have lots of clothes, but it's difficult to find what you need to wear and get dressed on time.
It Takes Too Much Time To Get Dressed Everyday.
You find yourself changing clothes at least a couple of times until you find "the right outfit".
Unsure How To Look Polished And Put Together. 
You know there's a better way to get dressed and look flawless.
You're tired of throwing away money on trends that won't last. 
You want to have a wardrobe you will love to wear and is classic and timeless.
Did You Raise Your Hand To Any (Or All) Of The Above? Good.
You Are SO In The Right Spot.
SAMPLE CONTENT…
Visual Guide & Shopping Sources: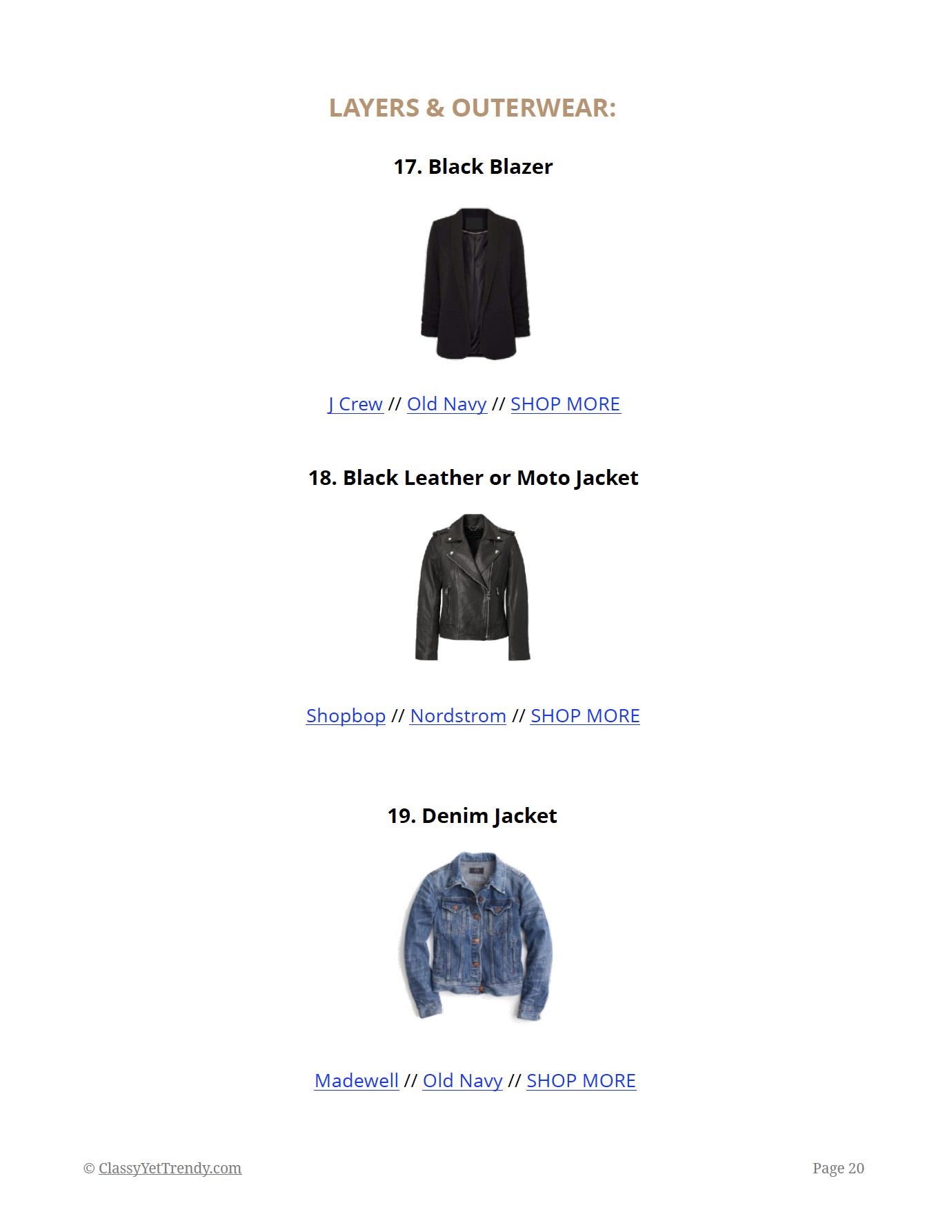 A Few

Spring

Capsule Wardrobe Outfits: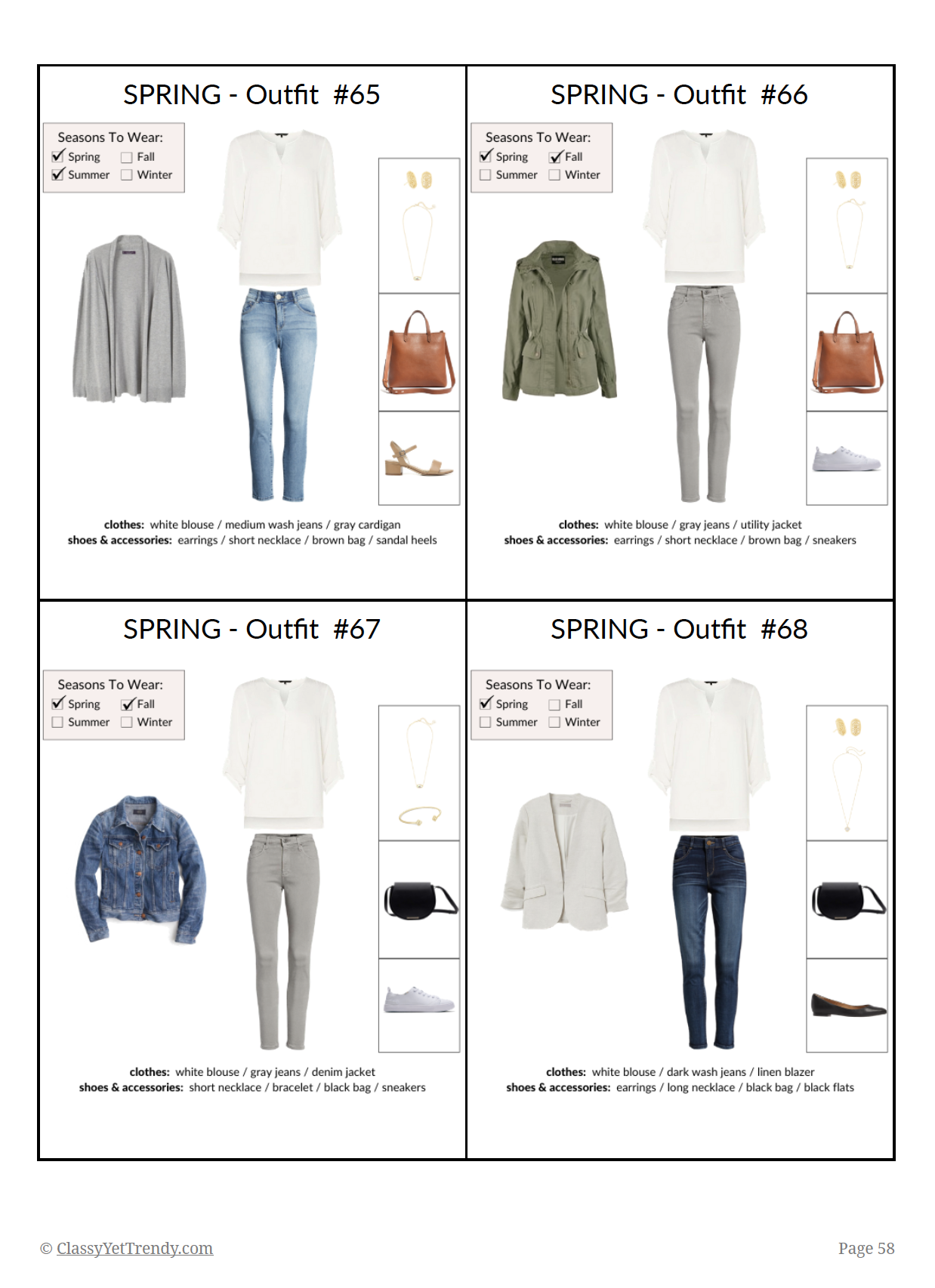 A Few

Fall

 Capsule Wardrobe Outfits: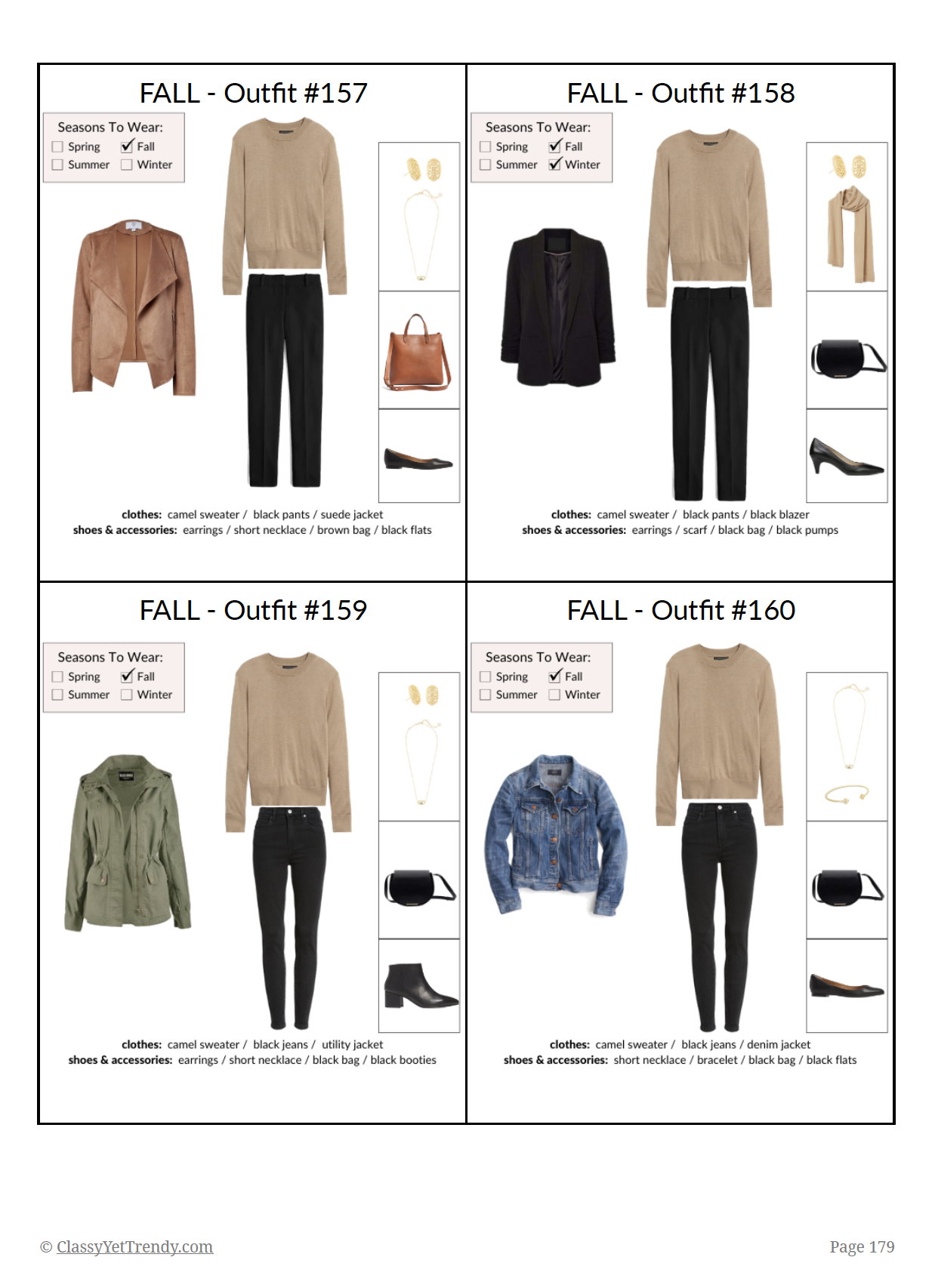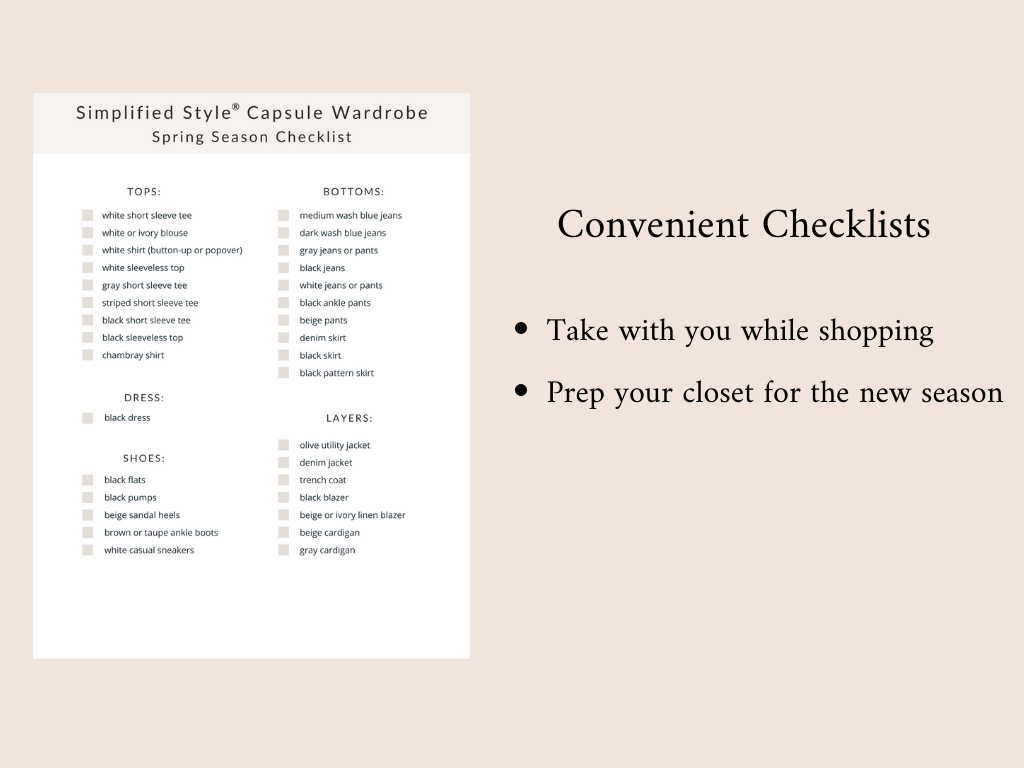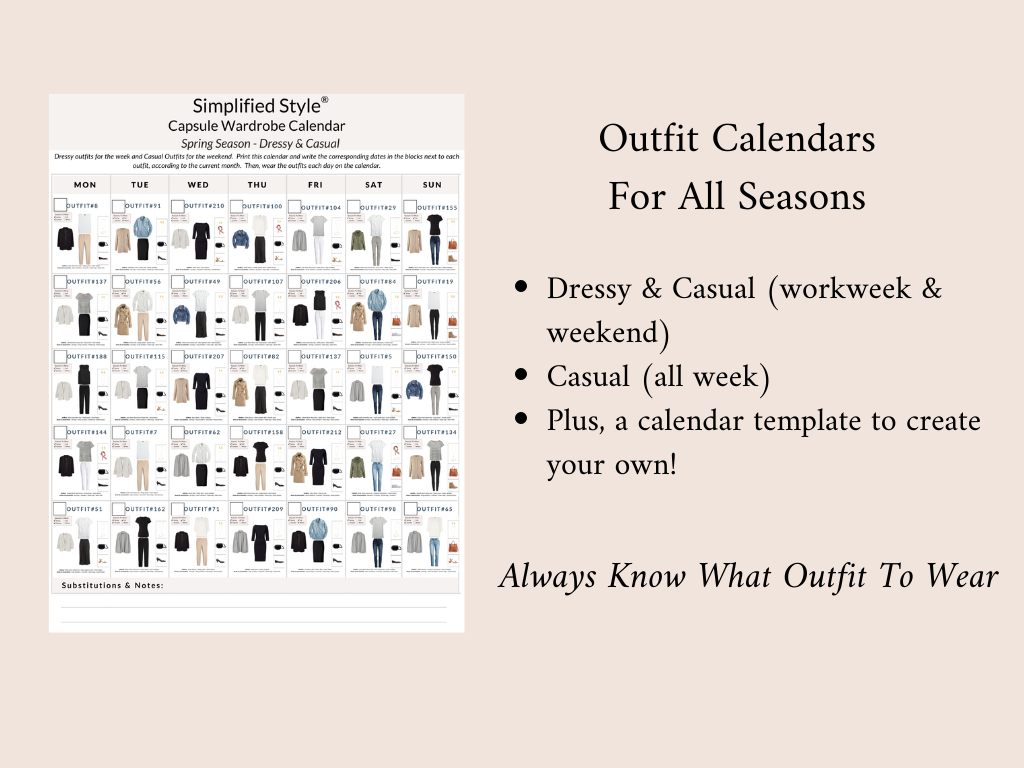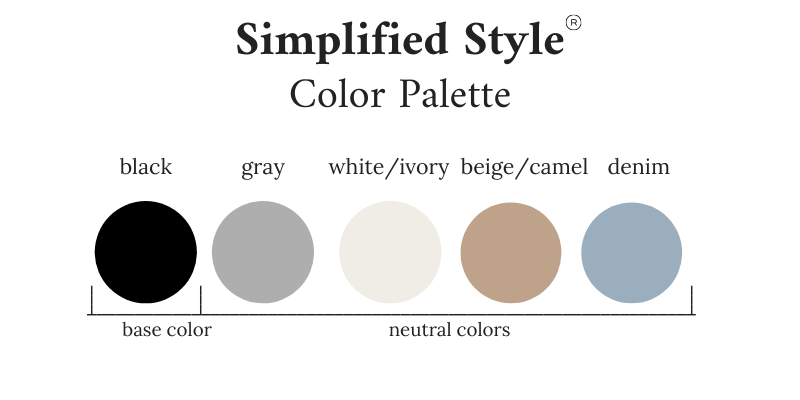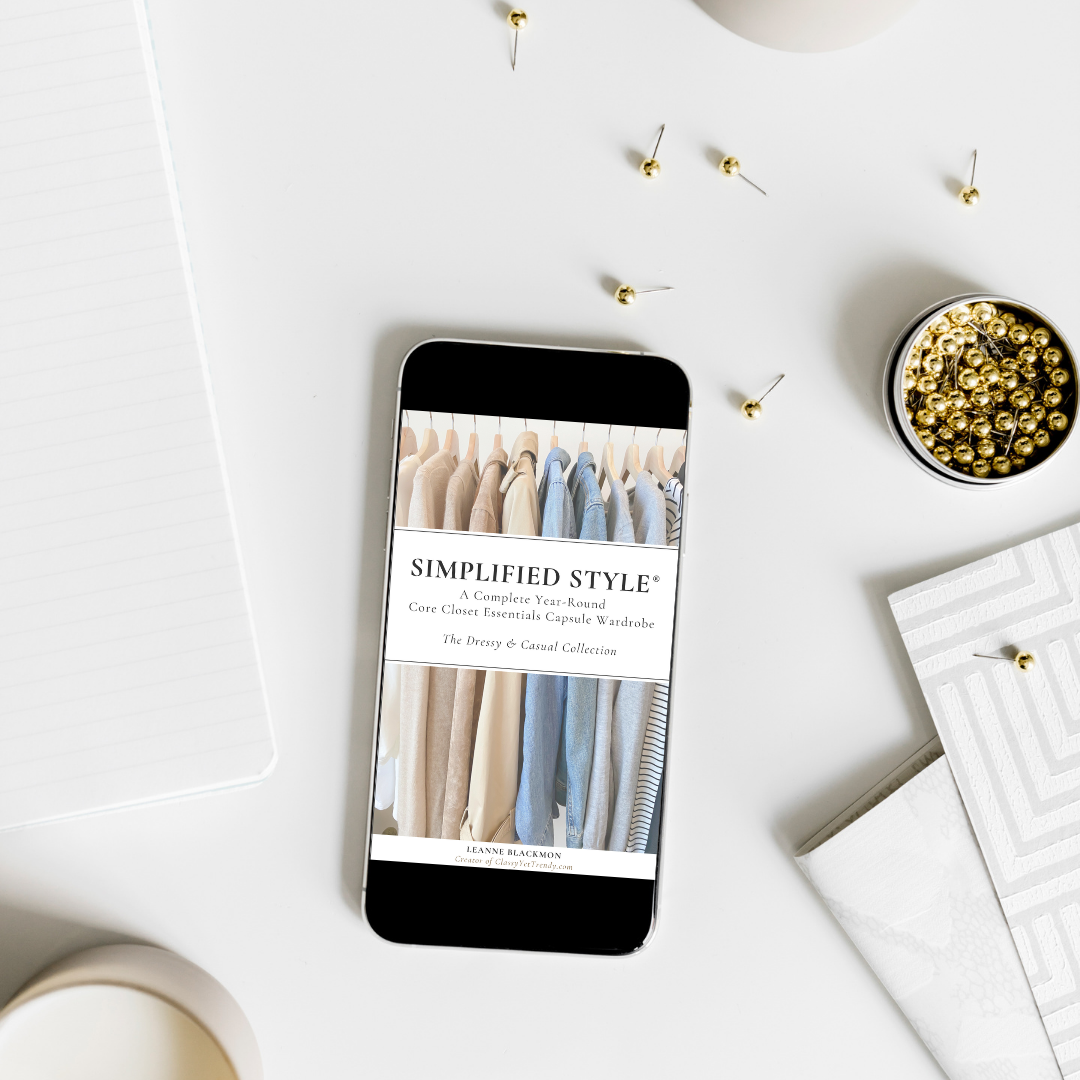 WHAT IS THE "SIMPLIFIED STYLE"® E-BOOK?
Simplified Style: A Year-Round Core Closet Essentials Capsule Wardrobe®
IS A 246-PAGE E-BOOK THAT INCLUDES:
*49 Core Closet Essentials To Use For Your Capsule Wardrobe
* A GUIDE TO Create Your Capsule Wardrobe FOR YOUR CLOSET
* Core Closet Essentials IN Regular-Size Shopping Links
* A Year-Round Wardrobe Checklist
* Wardrobe Plans & Checklists for ALL 4 Seasons
* Travel packing guides for ALL 4 Seasons
*
Over 450 Outfit Ideas

for an

Entire Year

(casual & dressy outfits)
* DRESSY/CASUAL & CASUAL OUTFIT CALENDARS FOR ALL SEASONS
* BLANK OUTFIT CALENDAR TEMPLATE TO CREATE YOUR OWN
* How To EXPAND This Wardrobe FOR EVEN MORE OUTFITS
* & MORE!
CLICK HERE to see a list of all pieces included in Simplified Style®!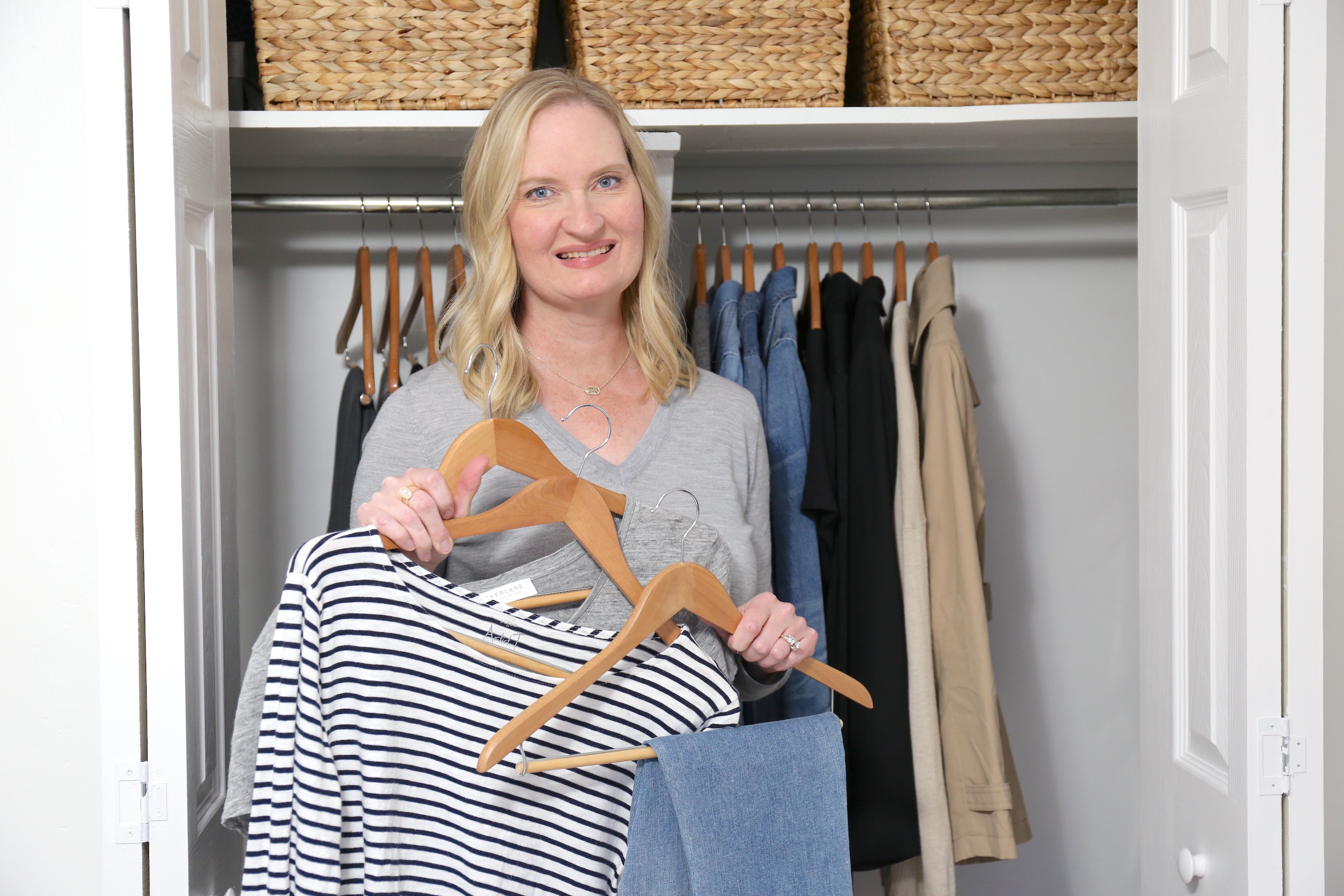 Just a few years ago my closet was packed full of clothes, but I felt like I had nothing to wear.  Why?
Because I had too  many  clothes with different patterns and shapes and they didn't mix well.
It was difficult to put together an outfit.  I felt I had to keep buying clothes to be able to have an
outfit to wear.  I was frustrated and stressed!  One day I had enough of my unnecessary
spending on clothes and knew there was a better, less stressful way of getting dressed.
I simplified my wardrobe by having a certain number of clothes and shoes
that would coordinate with one another.  Now, it takes me half the time to get dressed everyday!
This capsule wardrobe concept has worked for me and I'm confident it will work for you too!
I used to spend $1,000 to $2,000 every year on clothes and shoes.  Now, I only buy a few pieces a year.
Are you ready to have confidence, get dressed quickly, have many outfits at your fingertips
AND save money each year? You're just one click away from your own capsule wardrobe!
 What Others Say About The Capsule Wardrobe eBooks
"Thank you!  LOVE THE e-BOOK!  I've purchased a few others from you and now have most of the items in this one.  It really does make getting ready easier.  Keep up the good work!  😀 – Rhonda M.
I discovered your capsule guides earlier this year and this concept has made a huge difference in my life.  Having the year-round layout is going to be awesome.  I just wanted you to know how much you have blessed me these last few months and I look forward to another level of organization and feeling good about myself too! – Brenda V.
The Simplified Style Book is the best fashion investment I have ever made. I use it almost every night as I plan the next day's outfit. And now that I have all the pieces, I don't shop haphazardly anymore and that saves me so much money and buyer's remorse! – Rhonda B.
I do buy some of the more colorful pieces from your other books to mix in, and I do appreciate that you make those available on your blog.
I absolutely love the Simplified Style Capsule eBook. I can easily adapt each outfit for my office job. I can also stop chasing trends and rest within my own style preferences. Thank you for making this possible! – Gina B.
I love this product! Its beauty is its simplicity.  I have used it to create my own "career wardrobe."  As an elementary music teacher, I can't wear jeans, but I have to sit on the floor all day.  Most career capsules are not helpful!  It was easy to sub in dress ankle pants for the jeans and nicer tops for the tee's in the capsule.  Of course, I use the casual outfits as well!  I especially love that since the capsule pieces are all neutral, I can keep all my "accent color" pieces rather than feeling like I have to go buy new ones.  Thank you so much for a wonderful product! – Rhonda B.
I recently purchased Simplified Style e-book and I want to applaud you for including "Investment" choice options.  This is what sets you apart from other capsule type blogs/vlogs/etc.  The Investment choices allow me to buy items I will wear for years, and look better while wearing them.  My lifestyle needs clothes that are a bit more upscale.  Thank you, Thank you, Thank you for including this option.  I recently bought a cashmere turtleneck from Brooks Brothers (never in a million years would have thought to shop there) and am over the moon with the quality.  I discovered your website/blog a few months ago and would like to thank you for teaching me so much.  I am much more organized and have loved several of the items that I have purchased. I have also studied other 'capsule' type blog/vlogs and yours is the most comprehensive.  – Nancy N.
Thank you very much for putting together the Simplified Style capsule – it is just what I have been wanting!  It is classic and versatile, with easy to find items at the price point that works in my budget.  I can add my own personality in the accessories to make it my own.  This will make my daily thought about what to wear much easier so that I can focus my energy on other things and feel confident that I am "put together" while going about my day.  – Amy H.
I use Simplified Style but adjust my colors with the seasons similar to the essential ebooks. Looking forward to reaching a year of building my wardrobe. Just a few items to add then I can focus on replacing with quality pieces over time. I never would have known where to start without Leanne's guidance! – Angela B.
"This eBook is exactly what I needed! I get dressed so much faster now.  I've always had trouble coordinating my clothes, but your outfits guide makes it simple for me now.   Thank you!" – Christy P.
Are you ready to transform your closet?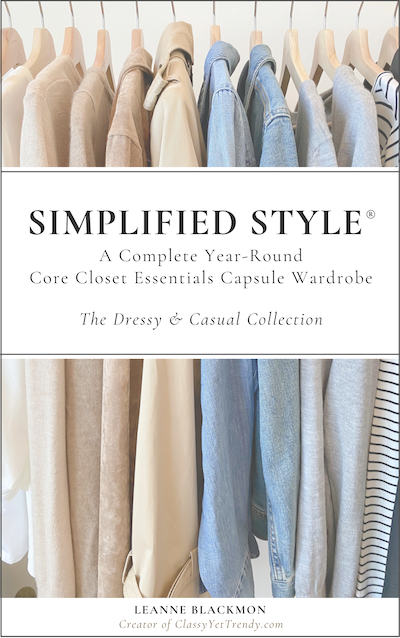 $34.99


See the Frequently Asked Questions section below for commonly asked questions
(including sizes availability)
FAQ (Frequently Asked Questions)
These are a few answers to commonly asked questions about the E-Book. If you have any other questions, please feel free to CONTACT ME HERE.
Will I have to spend a lot of money on new pieces?
Nope! These capsules include only basic essential pieces, most you may already have in your closet!  For any pieces that you will need, I'll share with you an online site where you can search for 1,000s of clothes, shoes and accessories at dozens of retailers!  If you don't have any of the pieces in the wardrobe and are on a budget, consider shopping for these at your local consignment shops, thrift stores, on poshmark.com or thredup.com.
Where do I shop for some of the pieces?
For each piece in the capsule, there are Regular-Size shopping links (Plus and Petite sizes are NOT included).  I refer only reliable sources such as J. Crew Factory, J. Crew, Loft, Madewell, Nordstrom, Old Navy, Target, etc.
What sizes does each piece come in?
Regular sizes range on average from XS to XL. Please check the item's sizes available on the retailer's site for each shopping link.  We apologize, but Plus and Petite size shopping links are NOT included due to retailers limited production or shipping delays from the effects of Covid.
I Don't live in the U.S.  Can I still use this eBook?
Check with the shopping sources linked to see if they offer shipping to your location.  SOME PRODUCTS IN THE CLOTHES, SHOES AND ACCESSORIES SHOPPING LINKS MAY NOT BE AVAILABLE OUTSIDE THE UNITED STATES.
What if a suggested item doesn't work for me?
You may substitute for another similar piece.  You can customize this wardrobe to fit your lifestyle!  For example, you can substitute the black jeans for a pair of grey pants, white jeans for white pants, any of the shorts for more skirts, the possibilities are endless!
What if I want to use a different color than one in the capsule collection?
If you would rather substitute clothes with a particular color in the capsule, you can omit those items and use another color in your capsule. You can use similar styles that you may already have in your closet.  The eBook explains how to do substitute the base color black.
How do I receive Simplified Style®?
Once you pay for the e-book you will receive an email which contains your download link, so that you can download your e-book. If you don't receive the email containing your download link, please contact me at classyyettrendy@gmail.com and I will make sure you receive your e-book!
What will I receive?
You will receive an eBook in digital format that is loaded with a step-by-step guide to show you how to create a capsule wardrobe, a guide of suggested clothes and shoes to include in your capsule, checklists, visual outfits guide, travel packing guides for all seasons and more.  All the capsule wardrobe eBooks are in PDF format, which can be read on any computer or device.
May I share this eBook with my friends and family?
You are not allowed to share this eBook.  By purchasing this eBook, you may keep and use this eBook, and print it too, for your personal use.  You may save it to your computer or device for easy access.  Any distribution, whether in electronic or printed form is a copyright violation.
Are the products all the shopping links exactly like the items shown in the eBook?
Each item in the eBook is a representation of the style to be used in the capsule wardrobe.  Some or all the products in the shopping links will be similar to, but may not be exactly like the item shown, since each retailer's product is slightly different.  For example, if a piece shown in the eBook is a white button up shirt, some or all the products in the shopping links underneath the white shirt may not look exactly like the white shirt shown, but all the shopping links contain the best selected styles for that particular piece.
What if my size is not available in shopping links?
Sometimes retailers will sell out of a size in their products.  This may be temporary or permanent.  Unfortunately, this is beyond our control.  We update this eBook quarterly to refresh the shopping links.  If this happens between updates, we recommend using shopstyle.com to search for alternate pieces.  There is a link underneath each piece in the capsule to "SHOP MORE", which will give your more shopping options.  PLEASE NOTE: OFF-SEASON PRODUCTS MAY HAVE LIMITED SIZE AVAILABILITY (For example, if it is the Winter season, shorts and warm weather skirts may have limited sizes available at retailers).
Refunds and Exchanges Policy:
Your satisfaction with the Products is important to us. However, because of the extensive time, effort, preparation and care that go into creating and providing the Products, and because the products are in digital format, we have a no refunds or exchanges policy. Unless otherwise provided by law, you acknowledge that we do not offer refunds or exchanges for any portion of your payment for any of the Products and no refunds or exchanges will be provided to you at any time. By using and/or purchasing the Products, you understand and agree that all sales are final and no refunds or exchanges will be provided.