How To Wear Layers In The Summer
A reader of the blog sent me an email last week saying that she wanted to add a couple of layers to her Summer outfits, but didn't know which ones to buy.  That's a great question, as it is sometimes difficult to know what layer to add, while still keeping cool in the hot temperatures.
Adding a layer to your outfits make your outfit interesting!  It can add texture, color and makes your outfit look complete.  Layers are sometimes called a "3rd piece", being that the top and bottom are the 1st and 2nd pieces, then the layer is the 3rd piece to an outfit.
There are several types of layers, like a blazer, utility vest, cardigan and even a kimono!  Layering in the Summer can be difficult since it can get really hot outside!  Depending on the weather where you live, it can be humid, which intensifies the hot temps, or you may have mild Summers.
The 4th capsule wardrobe eBook of the Summer season is coming soon…The Stay At Home Mom Capsule Wardrobe: Summer 2018 Collection.
A
kimono and denim vest

will be featured in the eBook!

The Stay At Home Mom eBook will be the last one to be published for the Summer season.  Due to my daughter starting her chemo and radiation treatments later this week, I won't be able to publish the Athleisure and Menswear Summer eBooks.  We have had so many prayers and kind words from everyone, thank you!

Here are a few layers you can add to your Summer outfits, while keeping cool at the same time:
1. Kimono
This is a fun layer to wear and is versatile too!  You can wear this piece with a tee and shorts, or dress it up with a skirt and blouse.  You can even wear it as a swimsuit cover up at the beach or pool!  You can opt for a patterned floral kimono like this one or this beautiful Summery yellow one.  I'm loving this gorgeous fuchsia printed one and for you curvy ladies, this floral kimono comes in 2 colors.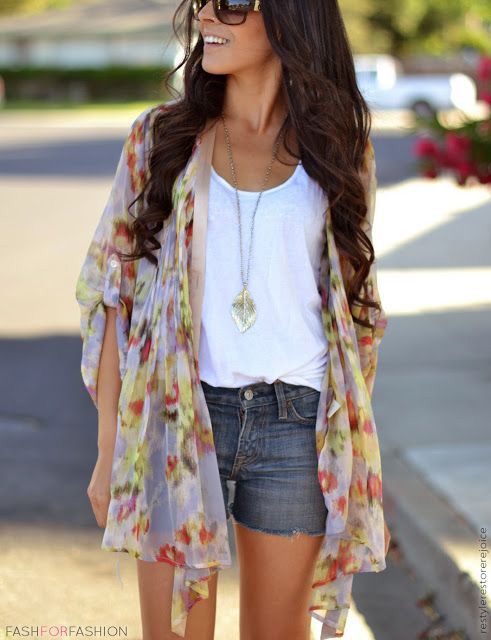 2. Linen Blazer
Linen blazers are great to wear in the warm months as the fabric breathes easily and they are lightweight.  This linen-blend blazer in "soft black stripe" is a great budget buy under $40!  This linen boyfriend blazer comes in 5 colors and is available in Regular Size and Plus Size (3 colors) too!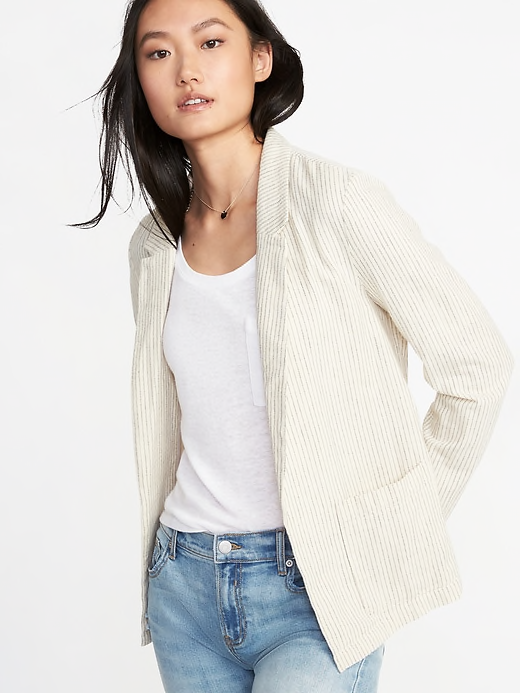 Linen-blend Blazer in "soft black stripe"
3. Short Sleeve Cardigan
In the cooler months a cardigan is core closet essential that can be worn with almost any outfit.  A short sleeve cardigan is also versatile as you can wear it with shorts, jeans, pants, skirt and a dress too!  This lightweight cotton-blend cardigan comes in 3 colors and is under $30!  This cardigan is featured in several of the 100 outfit ideas from The Workwear Capsule Wardrobe: Summer 2018 Collection!
Outfit #8 from The Workwear Capsule Wardrobe: Summer 2018 Collection
4. Denim Vest
Just like a denim jacket, a denim vest is a great layer to add to your outfits.  This Madewell jean vest is a great investment piece.  This Universal Thread denim vest is under $25 and comes in Plus-Size too.  I'm loving this longer denim utility vest, that looks great with dresses and pants.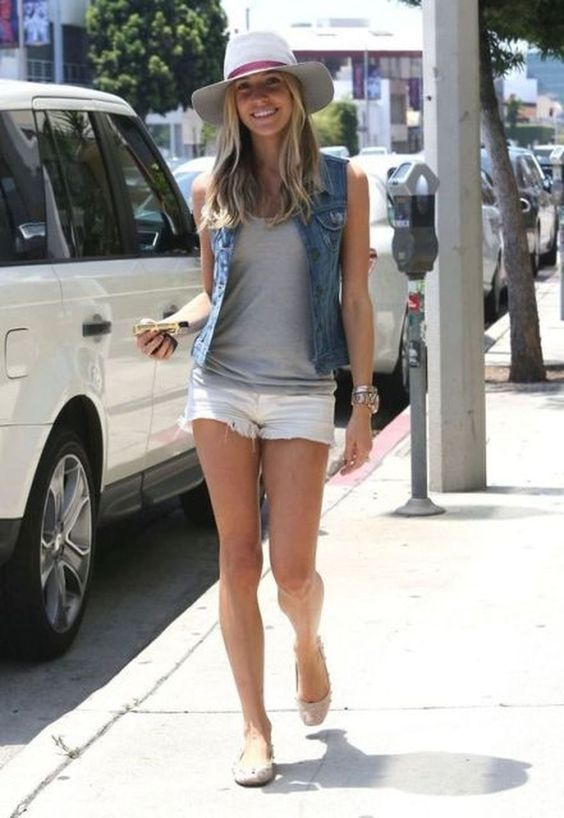 What are your favorite layers to wear in the Summer?  Are there any you have recently added to your wardrobe?