I'm putting myself up to a closet challenge…the 10 x 10 Challenge!  You might be thinking what is a 10 x 10 Challenge?  It is where you wear 10 items for 10 days.  You only wear those 10 items for 10 straight days.  I have seen these challenges on other blogs and they not only look fun, but it is a way to really test your capsule wardrobe to see if it works for you and your lifestyle.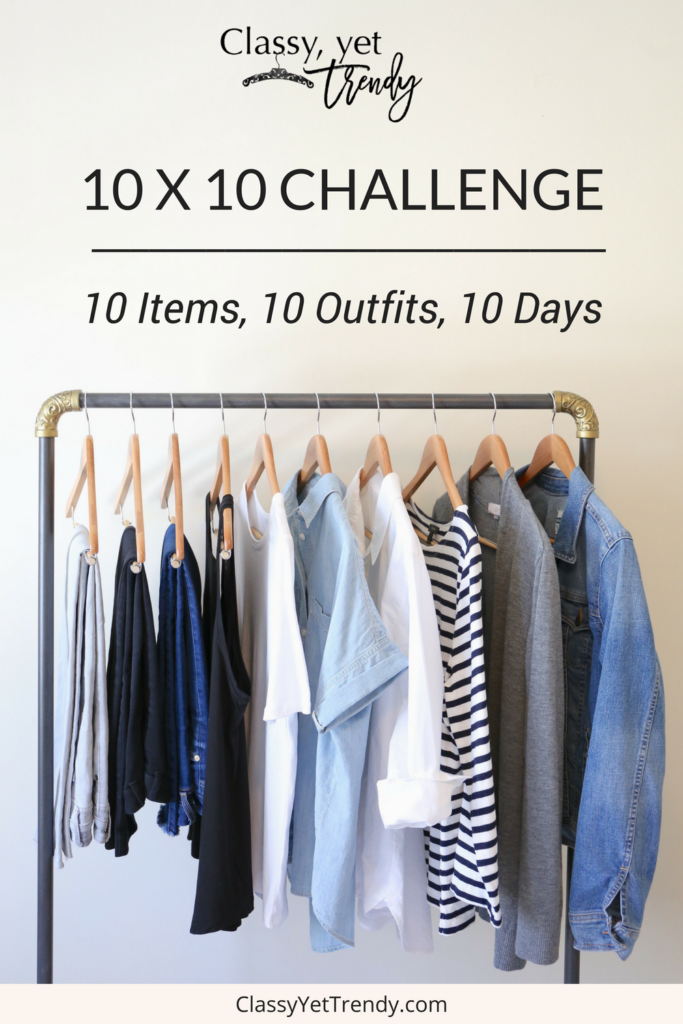 Since I already use a capsule wardrobe that has a limited number of pieces in my closet, wearing just 10 items for 10 days won't be so hard…right?  I have never done one of these challenges, so I hope I can make it through 10 straight days!  We're going on a road trip for a few days this week, so this is just in time to test my packing skills too!  I already had these ten items in my Spring capsule wardrobe.  I picked these items because they are 1) basic essentials, 2) are mostly neutral colors and 3) all the colors coordinate well.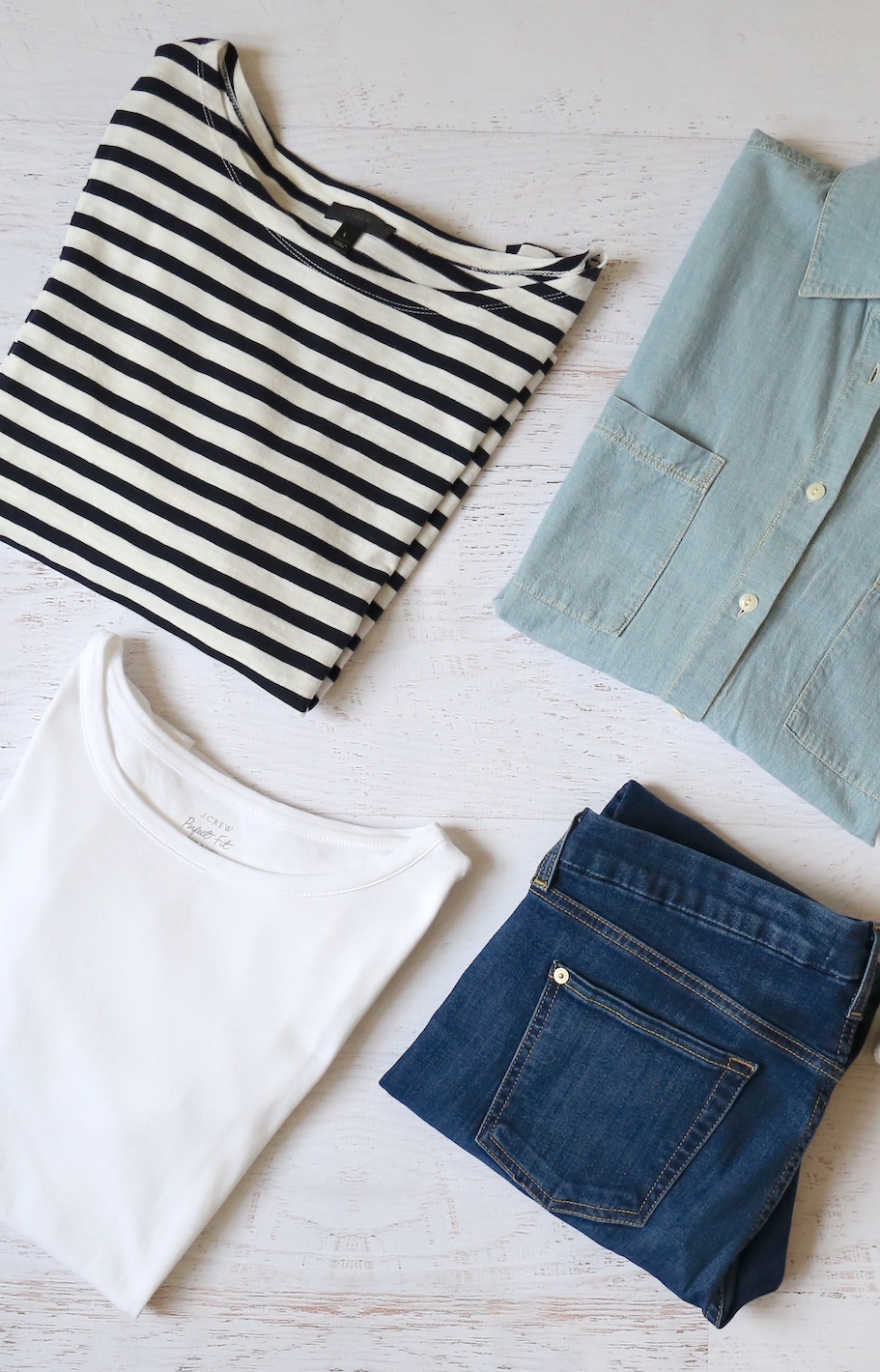 If you are interested in starting your own capsule wardrobe, but have no idea where to begin, my Capsule Wardrobe e-Books can show you how to create a capsule wardrobe, from start to finish.  Each e-Book is devoted to a style that would be perfect for you: The Essential (dressy and casual capsule that includes basics and colors), The French Minimalist (dressy and casual capsule that features mostly neutrals), The Stay At Home Mom (all-casual capsule featuring comfortable clothes and shoes) and Workwear (an all dressy capsule for the business workplace).
If you want to do a 10 x 10 Challenge, here are a few guidelines:
Pick any 10 items from your closet (you can use just clothes, or you can omit 2 clothing items and add 2 pairs of shoes)
Make sure all 10 items can create several outfits
Wear just those 10 items for 10 straight days
When you do a 10 x 10 challenge, it really tests your wardrobe to see if it is really working for you.  You know you have a good solid wardrobe, if you can create several outfits from a limited number of clothes.  A capsule wardrobe is like a 10 x 10 challenge, except it has more pieces.
I've been using a capsule wardrobe for over 2 years now, and it has saved me $1,000's every year!  You wouldn't believe how much money I used to spend on clothes.  I used to go on a shopping trip, come home and bring in several bags of clothes.  I would use my credit card and spend frivolously, running up my debt.  I would add clothes to my closet that I didn't need and that wouldn't coordinate with my clothes I already had.  I was in a cycle that luckily stopped, all because I chose to make a positive change in my life and try out the capsule wardrobe system.
During the first year of using a capsule wardrobe system, I discovered that I would shop because I was either bored or stressed.  I had developed a habit that increased my debt, increased stress in my life and I had little confidence because of how I dressed.  Having a capsule wardrobe has completely changed how I buy clothes.  I shop with purpose and choose the items I add to my closet wisely.  I used to buy clothes because I thought they were pretty and gave little thought as to how I would actually wear them.  Now, when I shop, it is because I'm either adding an investment piece to my closet that will coordinate well with several other items or I replace an item that is worn.
I'm so passionate about capsule wardrobes, that I have devoted Classy Yet Trendy to capsule wardrobes: how to create them, how to wear the items in a capsule wardrobe and new trendy items that work well with a capsule wardrobe.  I even publish capsule wardrobe e-books every season to help other women get dressed quickly, look great and save money with a capsule wardrobe.
When you are picking out your clothes for your 10 x 10 Challenge, remember to:
Use mostly basic essentials (white shirt, tee, jeans, black or navy pants, solid color skirt, solid color blouse, etc)
Use mostly neutral colors (black, white, gray, beige or navy)
Make sure all the clothes coordinate with one another, so you can create several outfits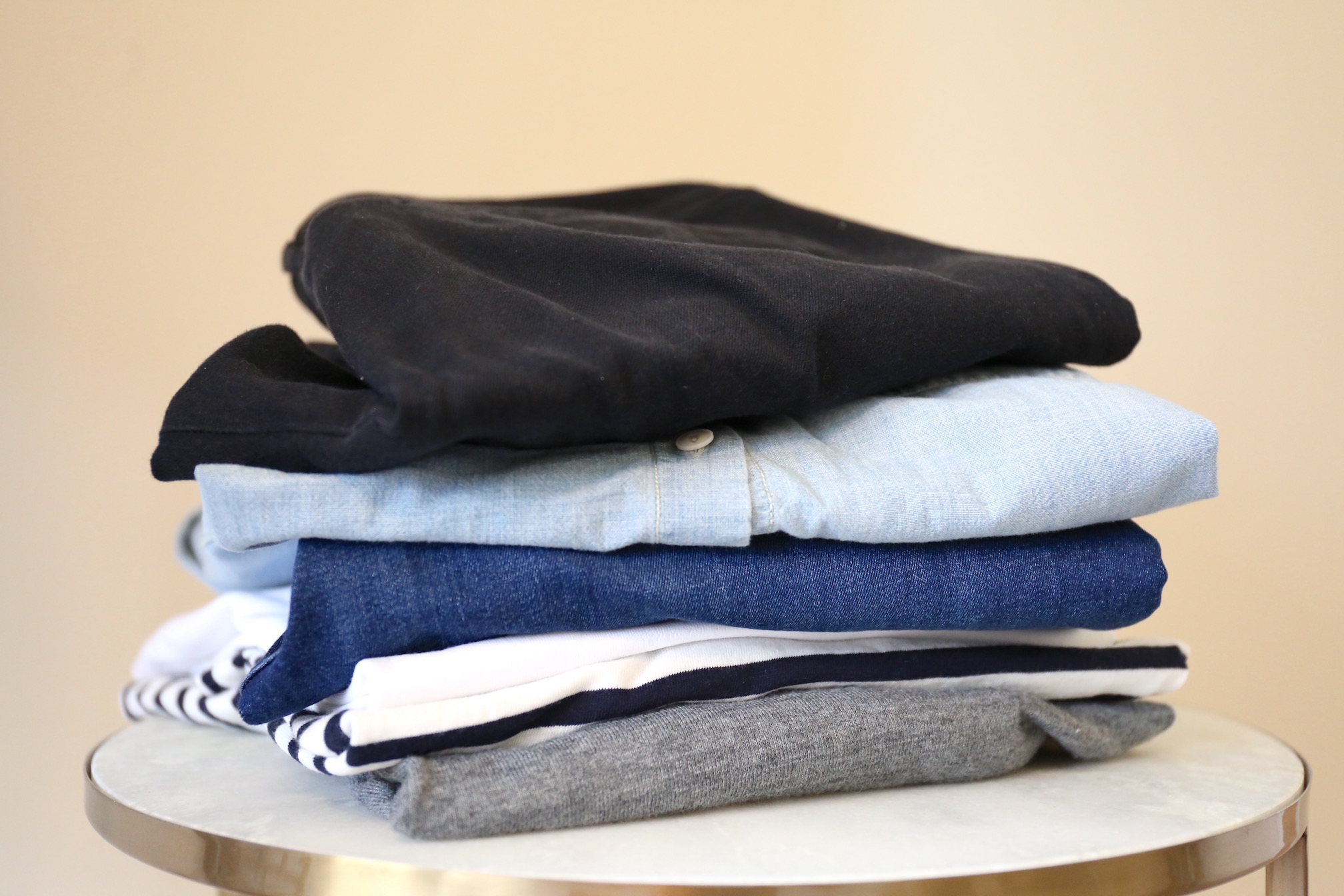 For this 10 x 10 Challenge, I chose these items from my capsule wardrobe:
5 tops
2 layers
3 bottoms
I work at an office job during the week, so I chose the items to wear to work and that I could wear on the weekends.  I checked the weather forecast for the next 1 1/2 weeks to make sure all they would be comfortable to wear fittingly for the weather.
Here's what items I chose:
Tops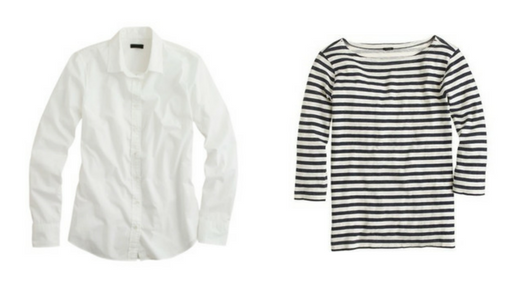 You can find the tops here:
black tank / cute ruffle hem style!
Layers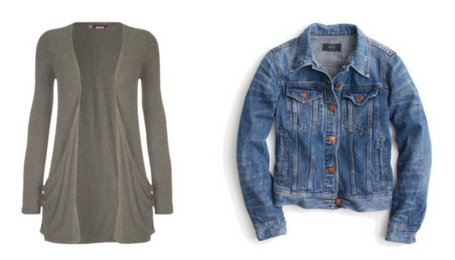 You can find the layering items here:
Bottoms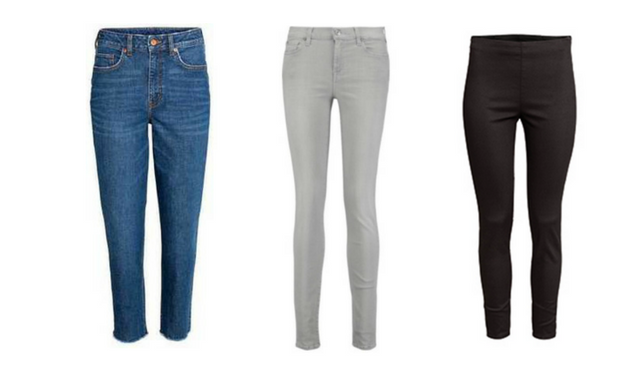 You can find the bottoms here:
gray jeans (raw hem DIY by me!)

I'll be shared my 10 x 10 challenge outfits on Instagram!  Check out my 10 x 10 outfit photos here on Instagram.
Here are a few other capsule wardrobe/mixable wardrobe bloggers that I highly recommend:
Caroline, from Un-fancy
Lee, from Style Bee
Anuschka, from Anuschka Rees
Audrey, from Putting Me Together 
Are you currently doing a 10 x 10 challenge or planning to?
Share your comments below and even a link to your Instagram below if you are posting your outfit on Instagram as well.