A Week of Winter Outfits Using Wardrobe Staples
Do you need a few outfit ideas to get you through the week? I created 7 outfits, an outfit for each day of the week, using several wardrobe staples from my own Winter capsule wardrobe!
What Are Wardrobe Staples?
Wardrobe staples are versatile pieces that you can wear in different outfits and can easily mix and match with one another. They are classic and timeless basics that never go out of style. I often refer to wardrobe staples here on Classy Yet Trendy as "core closet essentials", since they are considered to be essential core foundations pieces of a capsule wardrobe!
You can easily add trending pieces to wardrobe basics to create fresh and different outfits!
Do you need to know what wardrobe staples to have in your closet?
Get your copy of Simplified Style® here!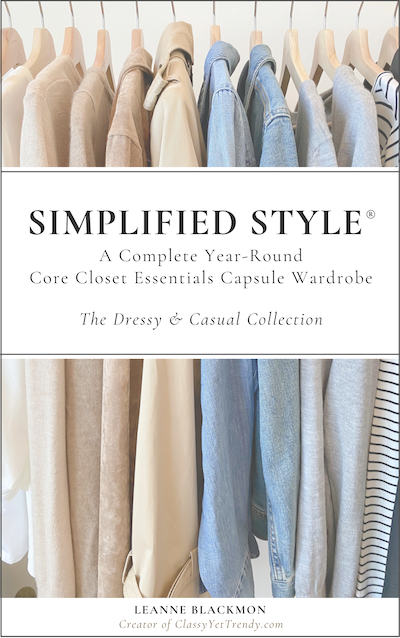 The Outfits
Mostly all of the pieces in these outfits are in my own closet and are in my own Winter Capsule Wardrobe! I also included my handbags and accessories that I wear often. To recreate these outfits for yourself, you don't have to have these exact pieces. You can use similar pieces in your closet that you already have. If you are needing these pieces for your closet, you can shop the exact or similar pieces in this blog post.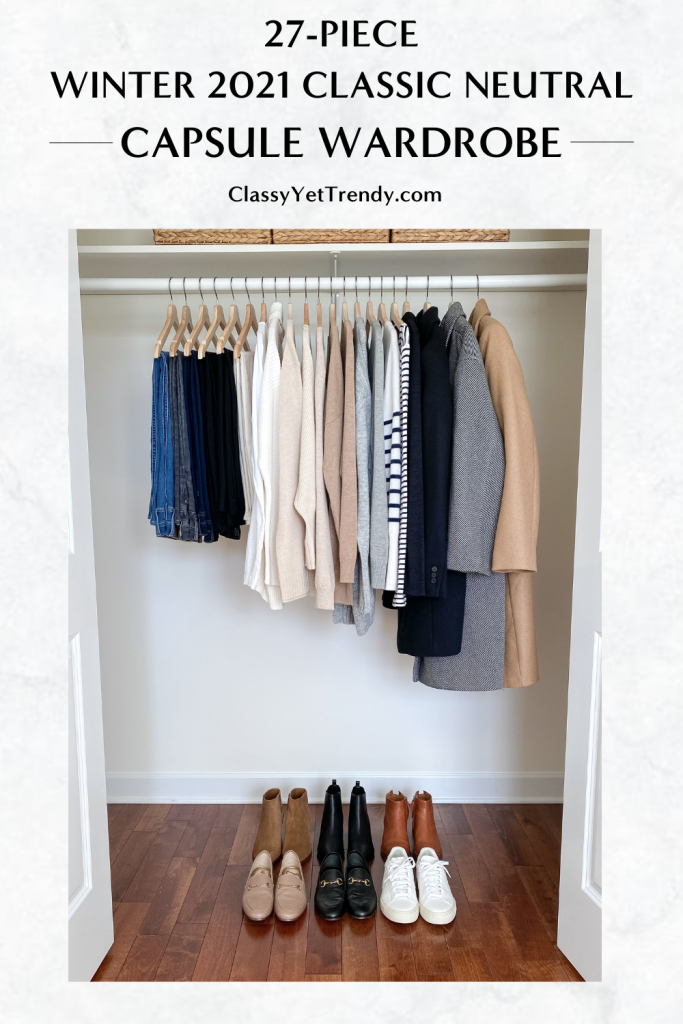 Outfit #1
I started putting this outfit together by first choosing the coat. I knew I wanted to build this outfit around this gorgeous camel coat! It's the Zara camel coat (Zara is not available through rewardStyle, so I linked two other beautiful coats below). I added this v-neck cashmere sweater, black jeans (mid-priced black jeans option) and black ankle boots. This black flap bag by DeMellier London is a brand I discovered recently. They have minimal-style, modern design bags, so if you want a bag without a logo, I recommend this brand. I ordered the Vancouver bag in the "black smooth" color and am waiting on it to arrive. They have a few other colors in this bag, including gorgeous toffee and camel colors!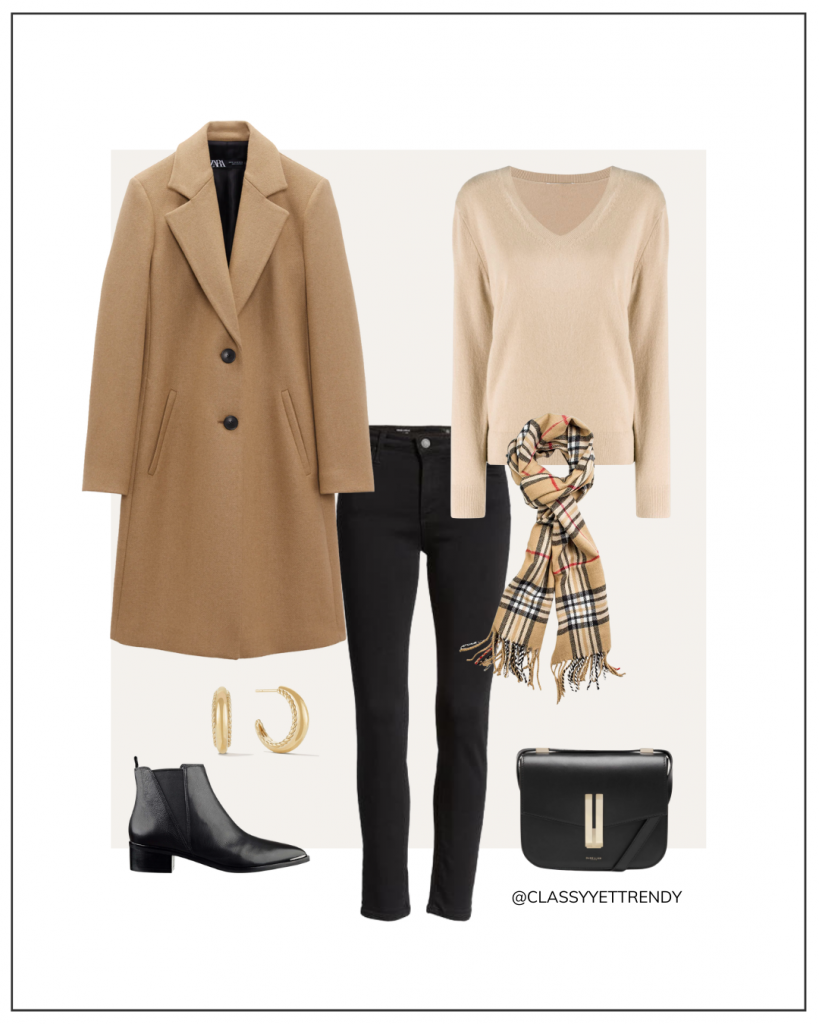 Outfit Details:

Outfit #2
This outfit includes black, white and a bit of denim! The striped sweater (similar style) has the look of a striped tee, but will keep you warm. I added these button-fly medium wash jeans (also love these jeans), black wool coat and black loafers (love these loafers too).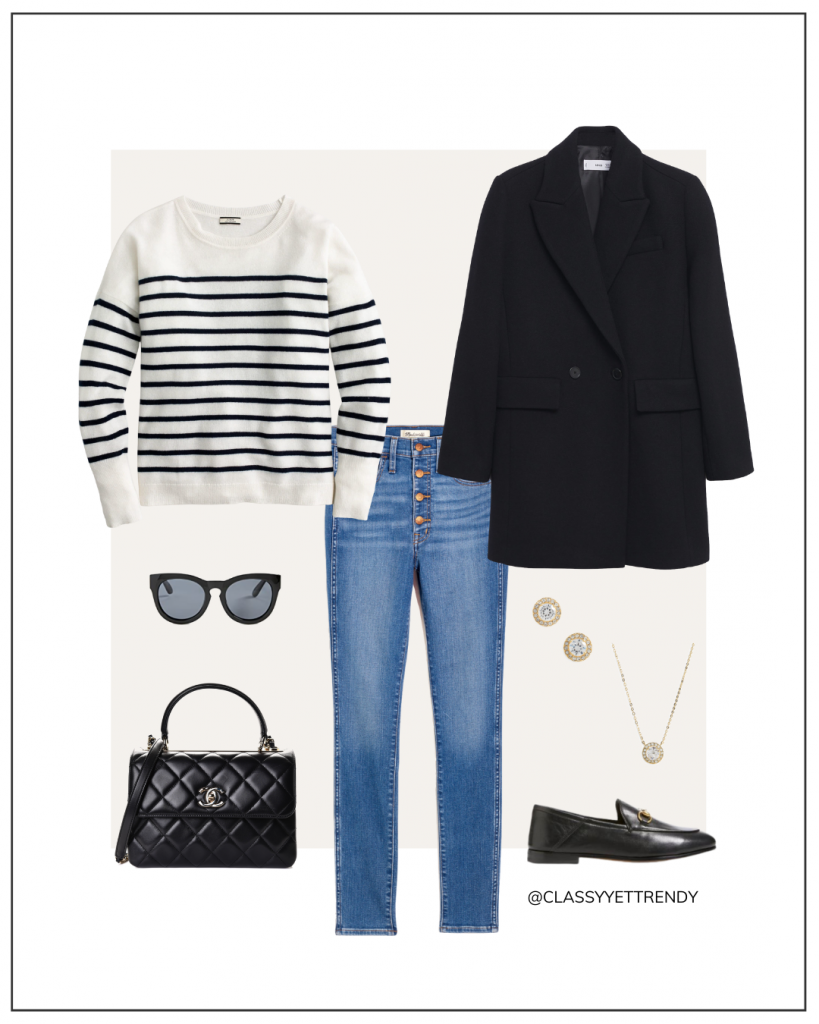 Outfit Details:

Outfit #3
This camel plaid scarf gives this outfit a pop of color! I have had this scarf for several years and love wearing it. It is so soft and has a Burberry-inspired design! You can wear this camel button-down cardigan over this black mockneck ribbed tee and add black pants and brown suede ankle boots.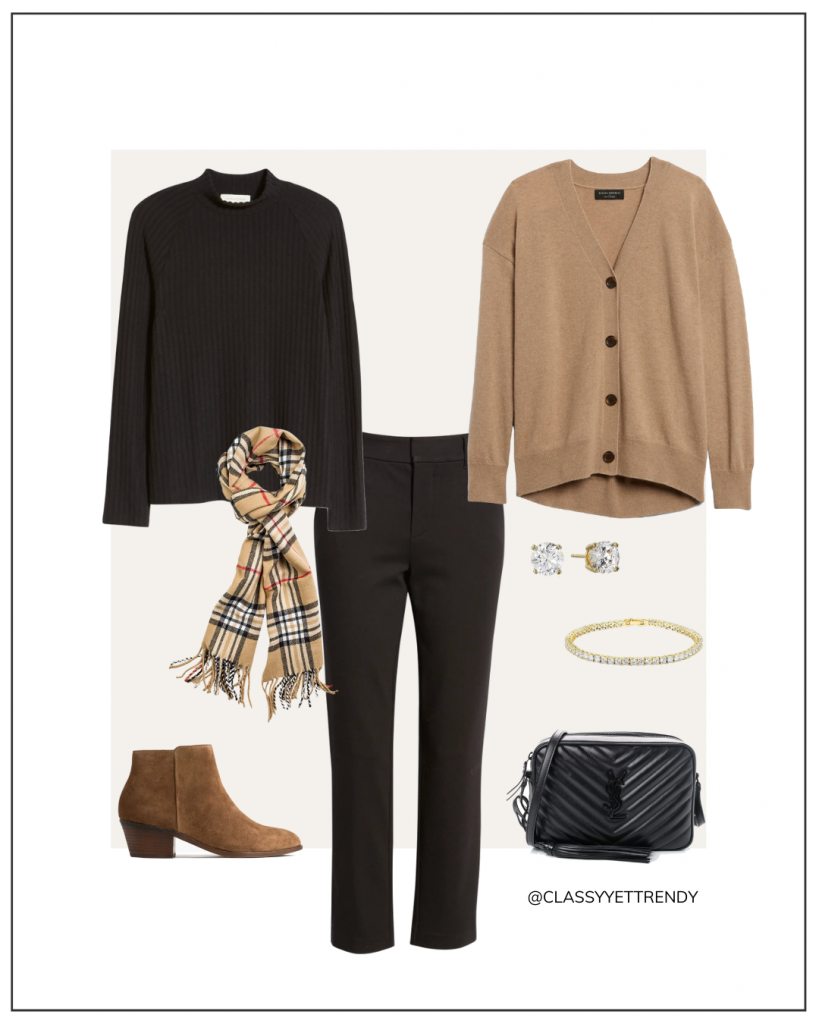 Outfit Details:

Outfit #4
The textures of this wool tweed coat and this camel plaid scarf takes this all-neutral color outfits up a notch. This oatmeal color sweater is a great piece to coordinate with any piece in your closet and these cognac color boots provide a rich color for your outfit. These dark gray jeans (similar style) will go with so many styles of tops.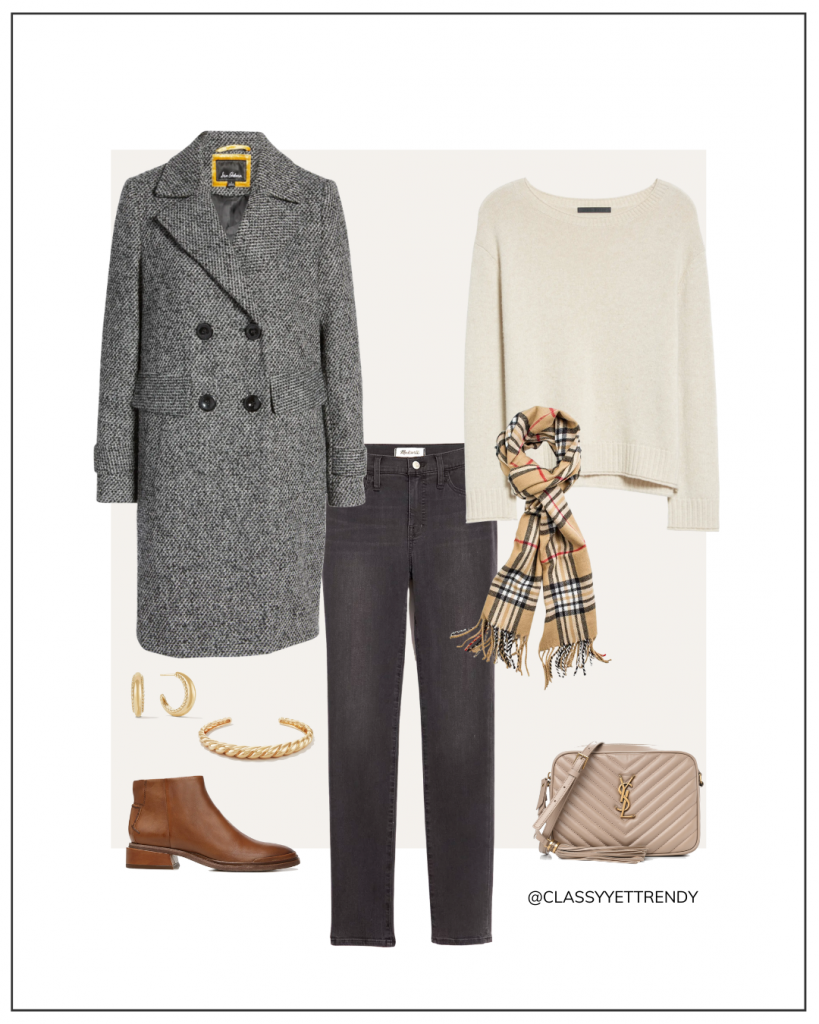 Outfit Details:

Outfit #5
This textured gray cardigan (similar style) and gray wool and cashmere scarf will keep you warm, but you can always wear a coat over the cardigan if you need an extra layer. Wear them over this striped long sleeve tee, dark wash jeans (see me wearing these jeans in this blog post) and add a pair of Veja Campo sneakers. The bag is the Polene Numero Un Nano in the "camel" color.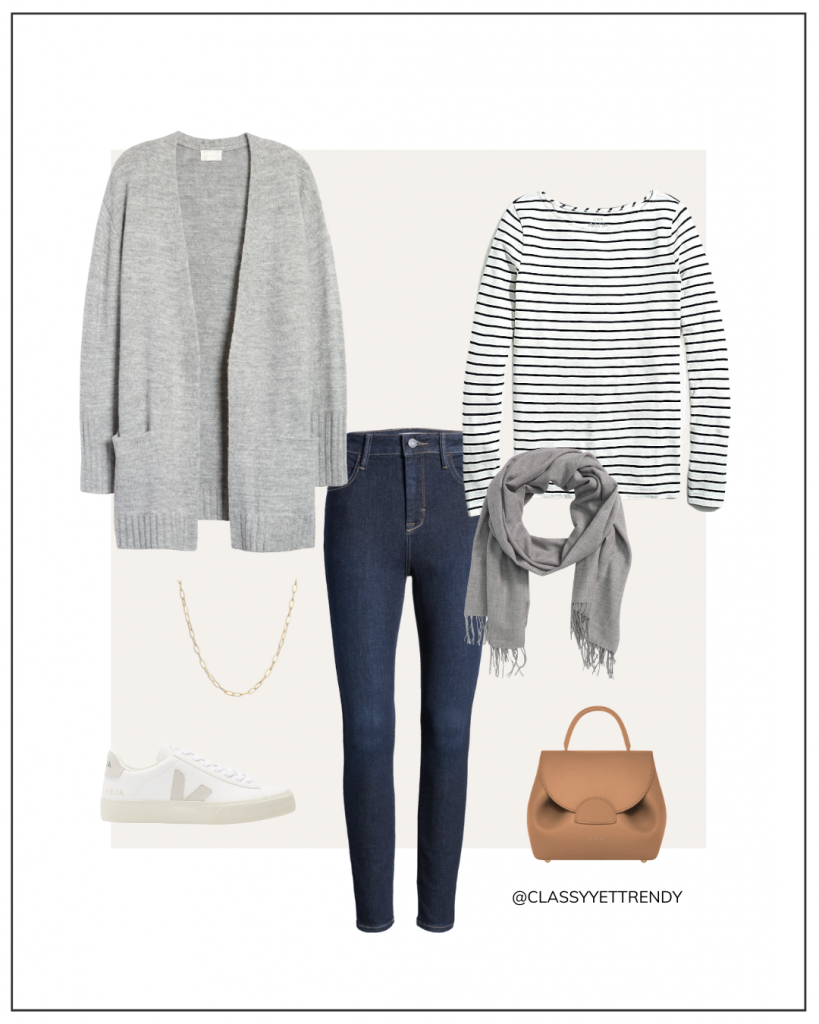 Outfit Details:

Outfit #6
This Zara camel coat, camel sweater (similar style) and ecru color jeans are all similar tones of colors. The black loafers (love these loafers too), black Chanel bag (also love this bag) and black plaid scarf (similar) all add a different color tone to the outfit.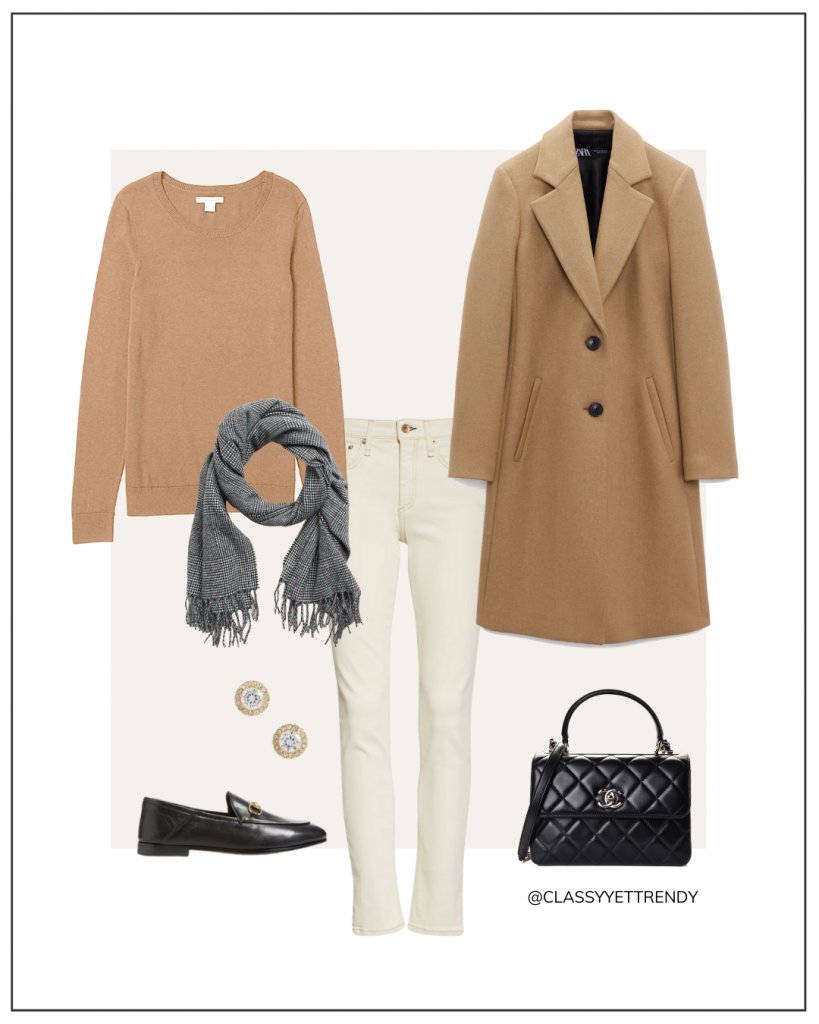 Outfit Details:

Outfit #7
A black and gray outfit with a bit of denim: a gray v-neck sweater, black wool coat, dark wash jeans (see me wearing them in this blog post) and black ankle boots.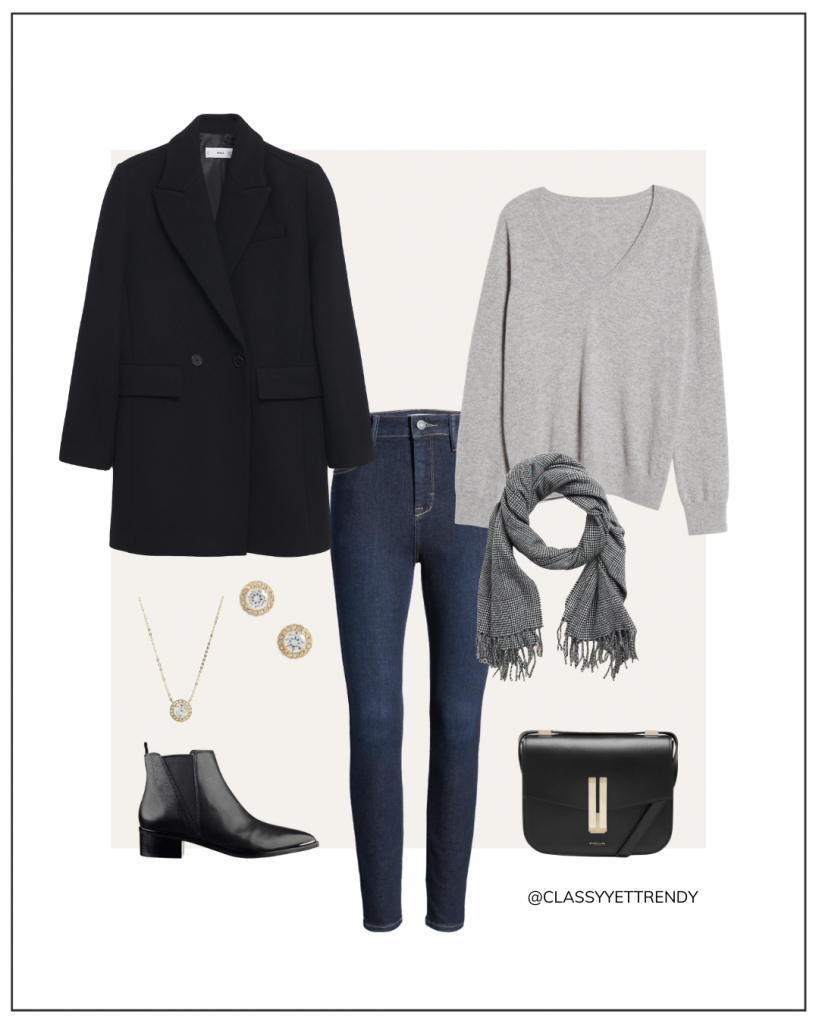 Outfit Details:

I hope you enjoyed this post!
Thank you for visiting the Classy Yet Trendy blog!
A Bit Of Inspiration For Your Day:
"Give thanks to the Lord, for he is good; his love endures forever." – 1 Chronicles 16:34