How to Clean Out Your Closet
Is your closet packed so full of clothes that it is difficult to find the pieces you need to get dressed on time? It's not easy to get rid of clothes that we think we might need later, but if you have a lean closet, you will find the pieces you need to get dressed quickly and feel great about the way your closet looks!
As you are cleaning out your closet, you will have 4 piles: Toss, Donate, Sell, Keep. Toss an item in the trash if it is stretched, ripped, stained or faded. Put the Donate items in the Donation Box and/or Garbage Bags if they are slightly worn but still wearable. Sell items that are in excellent condition but no longer are your style or that do not fit in your capsule wardrobe. Keep items that fit in your personal style. Hang the "Keep" items in your closet and/or store the off season clothes in storage bins and place in either side of your closet out of the way.
What You Will Need
Donation Box and/or Garbage Bags
Grab a cardboard box or a garbage bag to place your Donate items in. Take to your local thrift store and receive a donation slip to use as a tax deduction!
The Detox Your Closet Worksheet
Use the Detox Your Closet worksheet to help you decide on what to toss, donate, sell or keep. Download and save your Detox Your Closet worksheet here.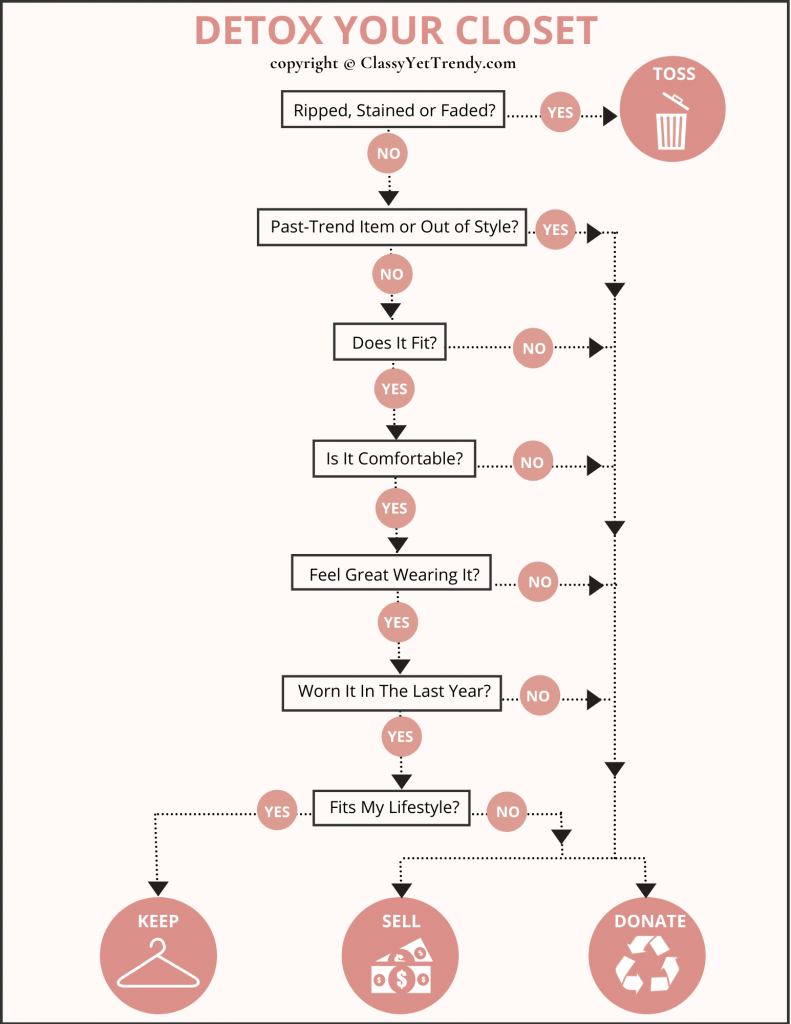 You may also like:
What Is a Capsule Wardrobe?
How To Start A Capsule Wardrobe: A 5-Step Visual Guide
How To Create a Core Closet
How to Build A Travel Capsule Wardrobe
Travel/Mini Capsule Wardrobe Ideas
As you go through the Detox Your Closet worksheet, ask yourself these questions for each item in your closet:
1. Is it a past-trend item or it is out of style?
Trends come and go, so if there are any clothes and/or shoes that were a trend that won't be coming back anytime soon, go ahead and either sell or donate these if they are in good condition. You don't want to have these hanging in your closet and taking up space.
2. Does it fit?
Does the item still fit right? Is it too tight or too loose? Sometimes we keep an item if it is a smaller size than what we are wearing, because we hope to fit in it someday. When it comes to your wardrobe, what's important is to wear what you can now.
3. Is it comfortable to wear?
Don't you just love those clothes that are so comfortable to wear? They may be so soft that you'll want to wear them all day. If it is a plush cardigan, it is perfect to wear on a crisp, Fall day. If a top is light and airy, you love wearing it on a hot Summer day. You'll want to avoid fabrics that are stiff and itchy, as those are the ones that tend to be the most uncomfortable.
4. Do I feel great wearing it?
If you feel great wearing a piece, you'll want to wear it over and over. Also, because you feel great wearing it, it may give you a bit of confidence too! If an item makes you feel great when you wear it, you'll want to wear it in several outfits!
5. Have I worn it in the last year?
If you have tucked an item in the back of your closet, because you think you may wear it again, chances are you won't. Even if an item still has the tags attached, doesn't mean you'll wear it. Only keep the items that you wear within a year and get rid of the others.
6. Does it fit my lifestyle?
If you no longer work in a corporate environment, but now work in a business casual setting, chances are you won't need all those business suits or dressy blouses. If you have a career now and don't need all those jeans in your closet, it's time to cleanout those unwanted items. Toss, donate or sell the items you aren't wearing now to make space for the clothes that you need for your lifestyle.
Prep Your Closet For a Capsule Wardrobe
Now that you have cleaned out your closet, you can go a step further and use a capsule wardrobe! See How To Start a Capsule Wardrobe: A 5-Step Visual Guide to create your capsule wardrobe. When you use a capsule wardrobe, your closet will automatically be neat and organized, you will have the clothes and shoes you will need for an entire season, plus you can get dressed quickly and look great!
A Myth About A Closet Cleanout To Use A Capsule Wardrobe
If you are starting to use a capsule wardrobe system in your closet, you may think you have to get rid of everything in your closet and start over. No, do not get rid of everything! You can follow the chart above to do a closet cleanout to prep for a capsule wardrobe, but you'll probably need several of your existing clothes and shoes for your capsule.
You may also like:
The 10 Item Wardrobe (Makes 48 Outfits)
9 Pieces / 10 Outfits (French Minimalist Style)