How To Build A Travel Capsule Wardrobe
When you go on a vacation, does it seem like you overpack? Do packing it all in a big suitcases to hold everything? Do you pack complete outfits to wear on the entire trip?
If you use a capsule wardrobe for your closet, you are already a step ahead in packing for a vacation. You already know that core closet essentials are the foundation of a capsule wardrobe and that they can mix and match to give you dozens of outfits! If you don't use a capsule wardrobe, find out more with, "Capsule Wardrobe 101: What Is A Capsule Wardrobe?".
If you have no idea where to begin to build a travel capsule wardrobe, scroll down and see the step-by-step guide below. If you need a travel capsule already prepared for you, see the Travel Capsules category for several ideas.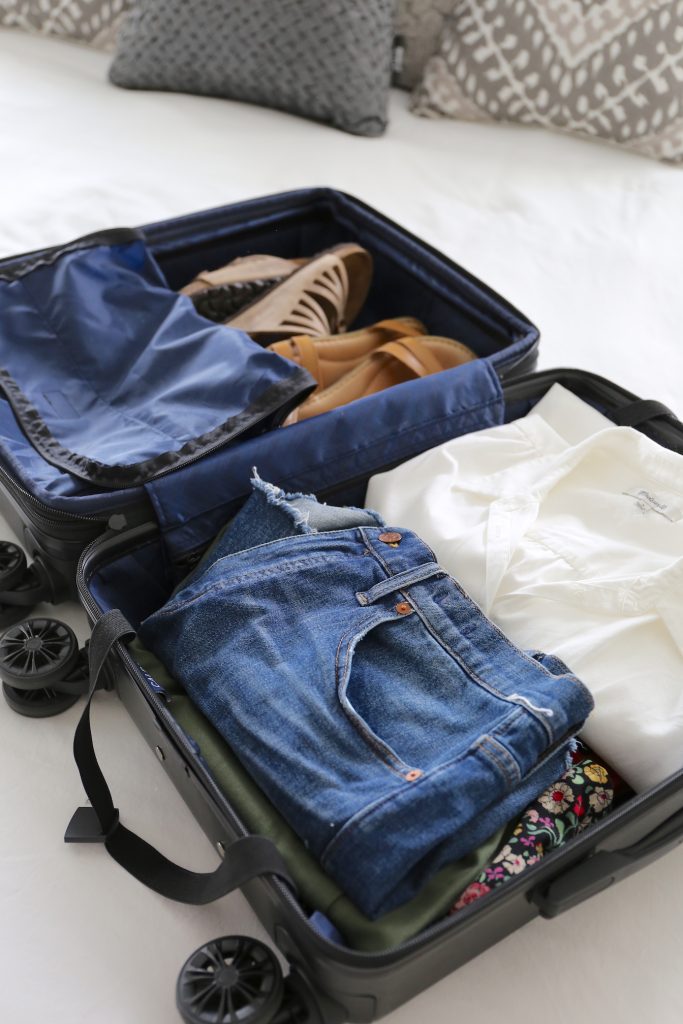 Step 1. Plan
Find out the Weather Forecast for your destination
Is it going to be hot or cold? Sunny or Rainy? The type of clothes you pack will be determined by the weather, so pack accordingly.
Clothes Fabric/Material
If you will be traveling to a hot climate, be sure to pack clothes made of cotton or linen, as those fabrics breathe well in warm temperatures and will keep you cool. If a cold climate is where you will be traveling to, you may want to pack a few items made of wool to hold in the warmth.
Activities
Are you going to be sightseeing and doing a lot of walking, attending special events or traveling for work? You can pack only casual clothes, only dressy clothes or a mix of both depending on your activities of your trip.
"Dress Like the Locals"
Find out how the residents of your destination dress to blend in. Dressing in attire that stands out may attract attention of pick-pockets and possible thieves, which you don't want! Research how the locals dress on Google or Pinterest to find out more.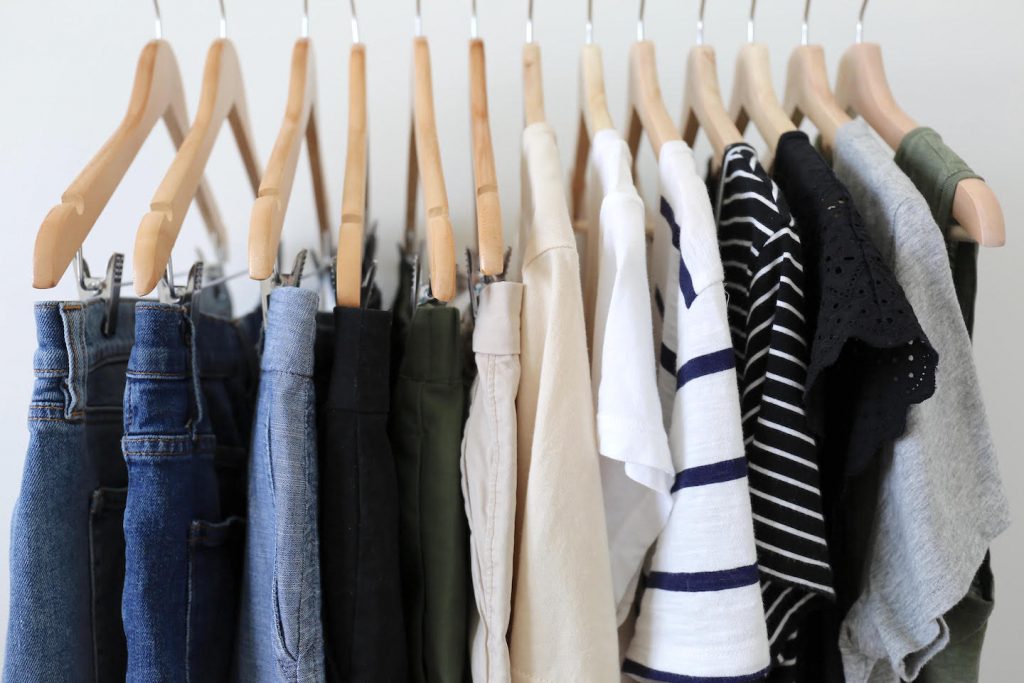 Step 2. Clothes
Pack Core Closet Essentials
Rely on your core closet essentials to build your travel capsule wardrobe and you will have endless outfit possibilities! What are core closet essentials? They are neutral color, basic essentials that are classic and timeless and never go out of style. They are, for example: blue jeans, black pants, black skirt, white/gray/black tee, white blouse, denim jacket, utility jacket, black flats, etc. See the Capsule Wardrobe Starter Kit for 35+ core closet essentials you can choose from when you pack for your trip. The Capsule Wardrobe Starter Kit contains several pieces from the Simplified Style®: A Year-Round Core Closet Essentials Capsule Wardrobe E-Book. Simplified Style® includes all the neutral-color basic essentials you will need for a capsule wardrobe, a wardrobe plan for each of the 4 seasons of the year, Over 400+ Outfits, plus more!
TIP: Never pack complete outfits, but Pack Individual Items instead.
Packing complete outfits (a top and bottom and/or layer) can lead to overpacking. When you focus on packing individual items (X number of tops, X number of bottoms, X number of layers, etc) you will have the most outfit possibilities because they will ALL coordinate!
Use Neutral Colors
Make sure to pack clothes in mostly solid, neutral colors, like Black or Navy, Gray, White, Beige, Tan or Camel. Just like in creating a full capsule wardrobe (see "How To Start A Capsule Wardrobe: A Step-By-Step Visual Guide"), use Black or Navy as your Base Color when building your travel capsule, so all your clothes will coordinate!
Adding Accent Colors or Patterns (Optional)
Take your Travel Capsule up a notch by adding 1 or 2 accent colors. Or, if you want to add a pattern to the mix, add only 1 top or bottom as the pattern piece. This is optional! If you are packing only clothes with neutral colors, you can add color to your travel capsule with a scarf, belt or jewelry!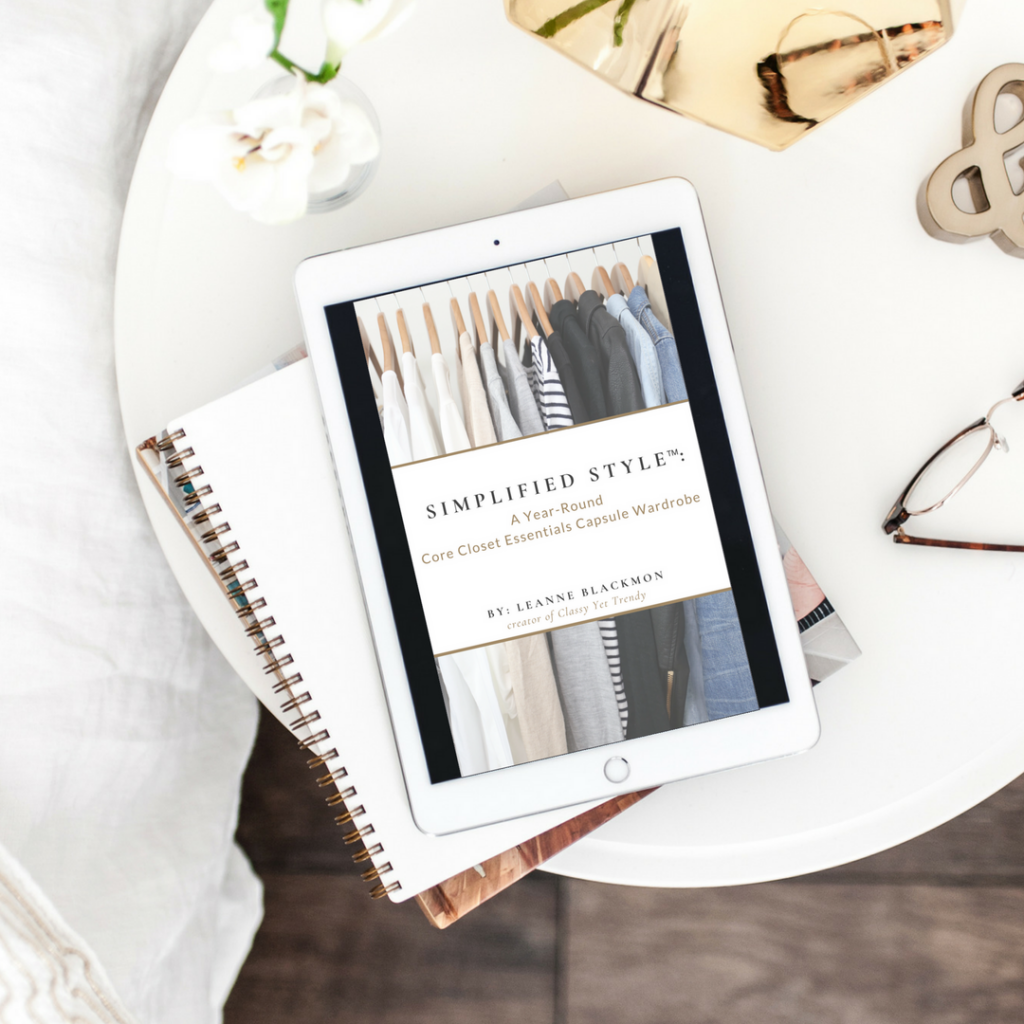 Step 3. Shoes
Wearing the right kind of shoes on your travels is very important! You want to wear shoes that not only look great but are comfortable for walking. Here are some recommended styles of shoes that are appropriate for activities on a trip.:
brown strap sandals (sightseeing – warm weather)
black slip on sneakers (sightseeing – warm weather)
nude block heel sandals (events/dinner – warm weather)
black pumps (business trip events – warm or cool weather)
black or nude loafers (sightseeing/dinner – warm or cool weather)
black or taupe booties (sightseeing – cold weather)
black or brown tall boots (sightseeing – cold weather)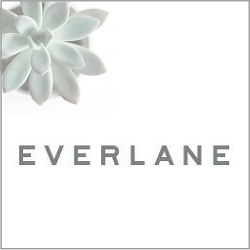 What To Wear On The Plane
You can wear one of your outfits from your travel capsule wardrobe (to save room in your suitcase) and pack the rest of the capsule in your carry-on suitcase! Plus, you can wear the same outfit on the flight back home. An example of a comfy outfit to wear on the plane: jeans, tee, cardigan or utility jacket and a pair of flats or sneakers.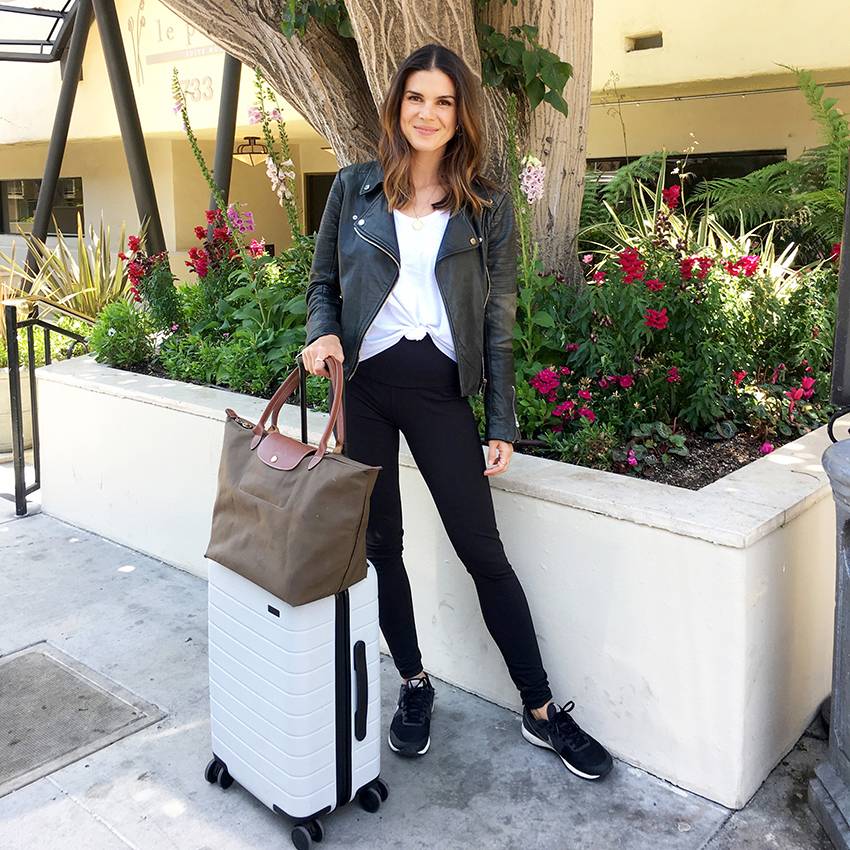 You may also like:
How To Start A Capsule Wardrobe: A 5-Step Visual Guide
Travel/Mini Capsule Wardrobe Ideas
How Many Items To Pack
Count the number of days on your trip, including the days to and from your destination. That's how many days you will pack for. As a rule of thumb, the longer the trip, the less you want to pack to make room in your suitcase.
Use the Universal Packing List below to pack for the number of days on your trip. Feel free to adjust accordingly. Using the packing list below is the most efficient way of packing for your trip using the minimum amount of clothes you will need. You may or may not need to wash any clothes you pack, depending on your laundry preference, how many days of your trip and the climate you are traveling to (see "Laundry Consideration" below). For example: a top can be a t-shirt or blouse, a bottom can be pants, jeans, shorts or skirt and a layer can be a denim jacket, utility jacket, vest, cardigan, etc.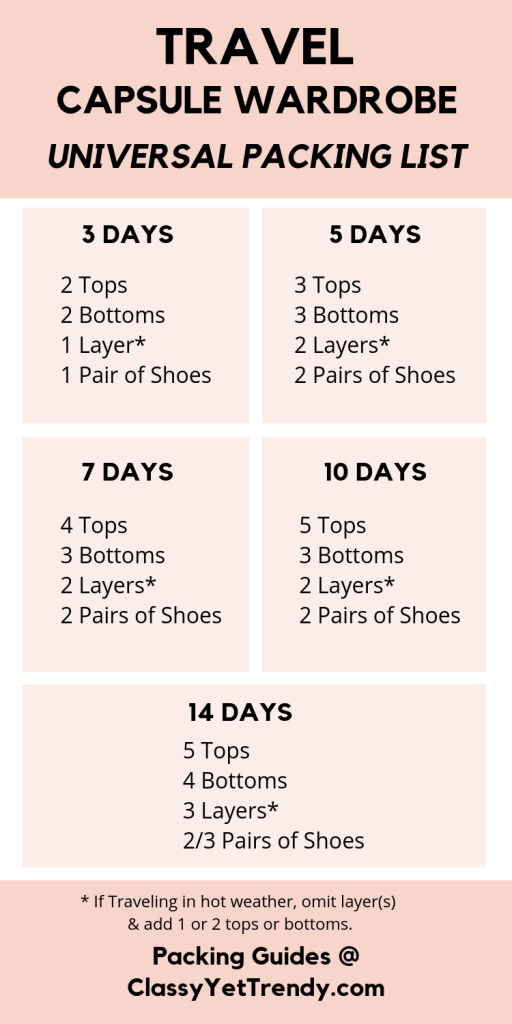 Outerwear
Whether you are traveling to a cold environment or one with just a chill in the air, you will want to pack a coat (insulated parka) or a light jacket (utility jacket, insulated vest or rain jacket). If you will be flying to your destination, you can save room in your suitcase by wearing it on the plane if it is approximately the same temperature as the place you will flying from. Delta Airlines lists a jacket as a "freebie", meaning you are free to carry it on the plane with you. If your coat or jacket is easily packable, you can always pack it in your suitcase with your travel capsule wardrobe. A great coat to wear for the Winter that you can roll up and pack in your suitcase is an Insulated Parka like this one.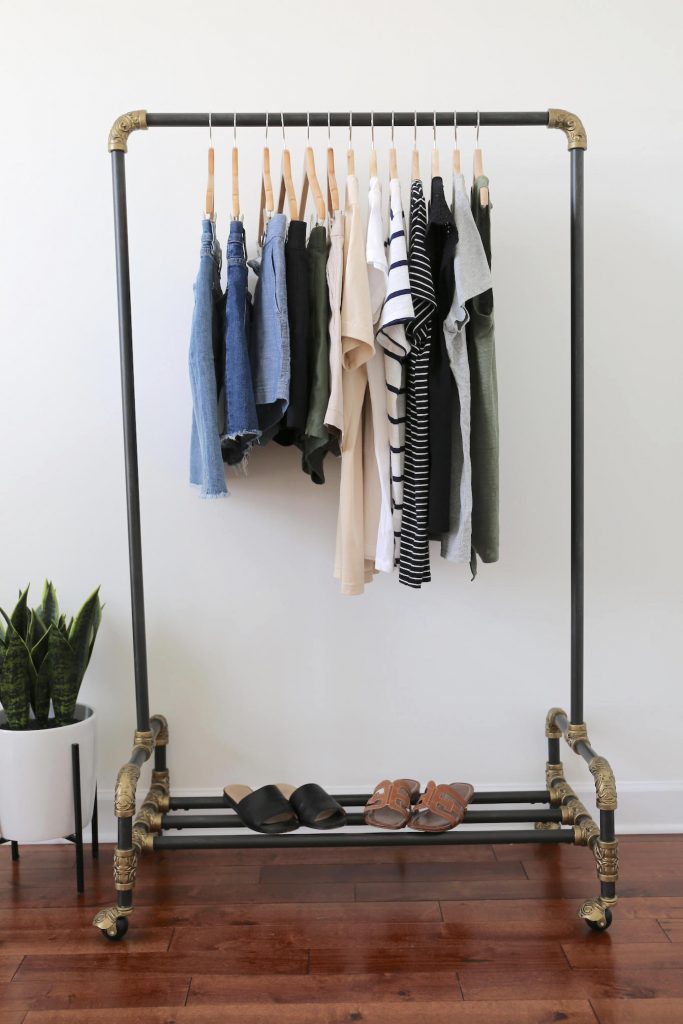 Step 4: Accessories
You don't want to overpack your suitcase with accessories since you can use accessories repeatedly throughout your trip. You can pack these accessories and/or wear them on the plane to save room in your luggage/tote/handbag:
Crossbody Bag – This type of bag can be worn as a shoulder bag or crossways over your chest. If you get one with handles, you can also carry it like a handbag. If you have one with a zipper and no outside pockets, it will keep thieves and pickpockets away, and also wear it across your chest to be secure. This Small Transport Crossbody comes in black or brown so it will coordinate with all your outfits!
Scarf – Cashmere scarves are not only soft, but they are warm too, especially in cold climates.
Bandana – These are great to wear in the Summer as an alternative to jewelry. You can also tie one on your handbag/crossbody handle to add a pop of color!
Mix & Match Jewelry (such as Kendra Scott) – Pick up to 2 necklaces, 2 pairs of earrings and a bracelet all in the same jewelry tone (gold, silver or rose gold) so they all coordinate.
Hat – Either wear it on the plane or pack a "packable hat" in your suitcase. Straw hats are great to wear in the Spring and Summer and Wool hats are best for Fall and Winter.
Beanie – If you are traveling to a cold climate be sure to pack a beanie in a neutral color, like black or gray to coordinate with all your outfits.
The Necessary Extras
"Carry-On" Suitcase
By bringing your suitcase with you on the plane, you can avoid the extra time and money checking in your luggage. Plus, by keeping your suitcase with you prevents the possibility of lost luggage! Just as the name implies, this small-sized suitcase meets the standard airline bag requirements to be allowed to carry onto the place and stored in the overhead compartment above your seat. If you will be traveling via a plane to your destination, be sure to check with your airline to make sure your suitcase is compliant. See Delta Airlines Carry-On Rules to find out more information on what items you can bring on the plane with you.
Pack like a pro and travel in style with this 5-Piece Luggage Set with Carry-on Suitcase, Tote and Packing Cubes (6 colors available) from world traveler TV host Samantha Brown.
These are great carry-on suitcases to pack your travel capsule wardrobe:
Tote To Carry On The Plane
Most airlines, like Delta Airlines, allows a carry-on suitcase and a purse on the plane. If you want to carry your crossbody on the plane, but also need to pack some items for the plane trip, you can carry on a tote. You can put all your necessities (wallet, passport, phone, lipstick/lip balm, earbuds, computer, eyemask for the naps on the plane, scarf/bandana and your crossbody in the tote. Be sure to check with your airline to find the dimension restrictions of the bag you can bring on the plane. Here are some totes and crossbody bags to take with you on your trip:
Packing Cubes & Other Organizers
When you pack your clothes in your suitcase, do they tend to shuffle around and get wrinkled? You need to use packing cubes! This budget-friendly 3-Piece Packing Cube Set will keep your clothes organized for easy packing in your carry-on suitcase. Pack like a pro and travel in style with this 5-Piece Luggage Set with Spinner, Tote and Packing Cubes (6 colors available) from world traveler TV host Samantha Brown.
If you like to pack convenient travel-size toiletry containers, you store them in this Toiletry Bag that easily expands into a hanging bag. If you need a makeup bag, this Tumi Nylon Cosmetics Case is a bit of a splurge, but it will help keep your makeup in its place while traveling.
Laundry While Traveling
If you need to freshen up your clothes while on your trip, you can pack a small, packable container of laundry detergent and wash any pieces in the sink in your hotel room, then hang to dry! When building your travel capsule wardrobe, avoid packing dry-clean-only items. This 6-Piece Travel Laundry Set contains everything you need to maintain clean clothes while traveling!
Travel Packing Checklist
Use the following checklist to help you pack for your trip (you may or may not need to pack all these items). Use the "Notes" section to add additional items to your list or write your travel schedule. You can also download the travel checklist here.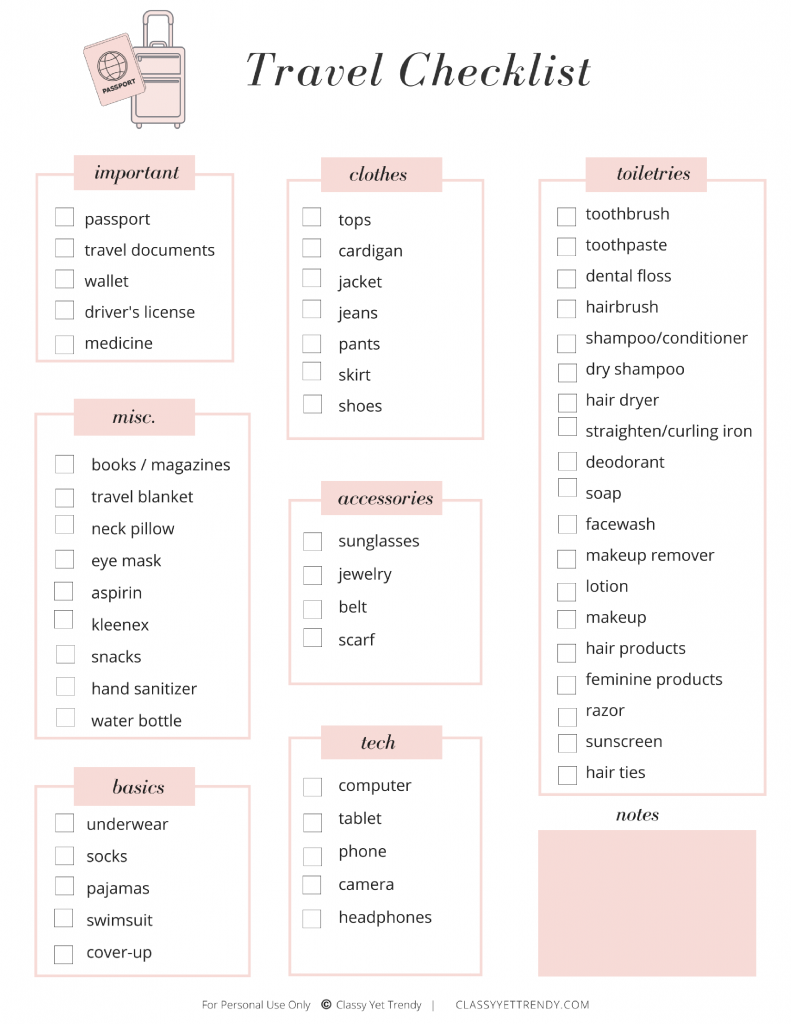 You may also like:
How To Start A Capsule Wardrobe: A 5-Step Visual Guide
How To Create a Classic Wardrobe
Travel Light With Core Closet Essentials
The 10 Item Wardrobe (Makes 48 Outfits)