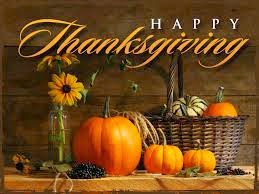 Happy Thanksgiving! Today I'll be with my family enjoying good food. I'm thankful for my family, my career, and of course, my blog! Thank you to all my readers for supporting my blog!
I hope everyone enjoys today.
If you're planning your Black Friday shopping list, be sure to see yesterday's post,
Being that I live in the South (Alabama), Southerners love comfort foods. Southern foods are typically casseroles and fried foods, but our family is more health conscious, so we limited those foods in our everyday diet. However, we like to splurge on Thanksgiving and enjoy a few traditional Southern dishes!
I'd like to share today's Thanksgiving menu:
Appetizer
Relish tray (cheddar and pepper jack cheese squares and sweet and dill petite pickles)
Entree
Roasted Turkey
Sides
Cornbread Dressing
Whole Cranberry Sauce
Sweet Baby Carrots (flavored with Brown Sugar)
Southern Green Beans infused with Bacon (my daughter's favorite)
Green Bean Casserole
Roasted Brussel Sprouts
Macaroni and Cheese
Creamed Potatoes
Corn Casserole
Deviled Eggs
Sweet Potato Casserole
Brown 'n' Serve Rolls
Desserts
Pecan Pie
Pillsbury Funfetti Cupcakes with Frosting
Cranberry Congealed Salad