Capsule Wardrobe Outfit (Trendy Wednesday Link-up #72)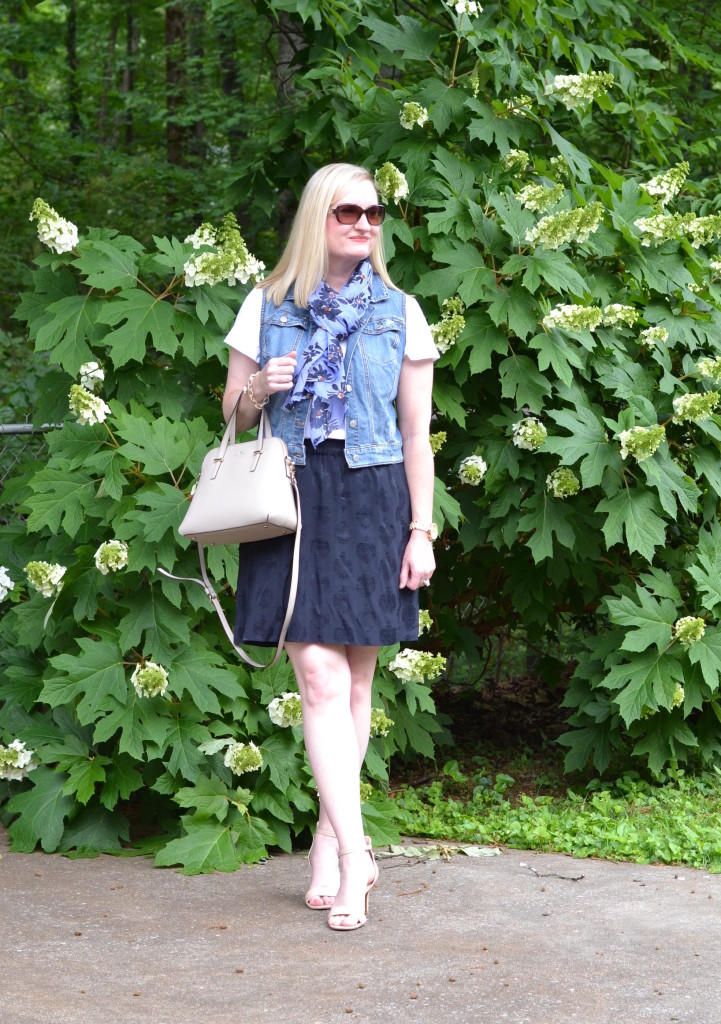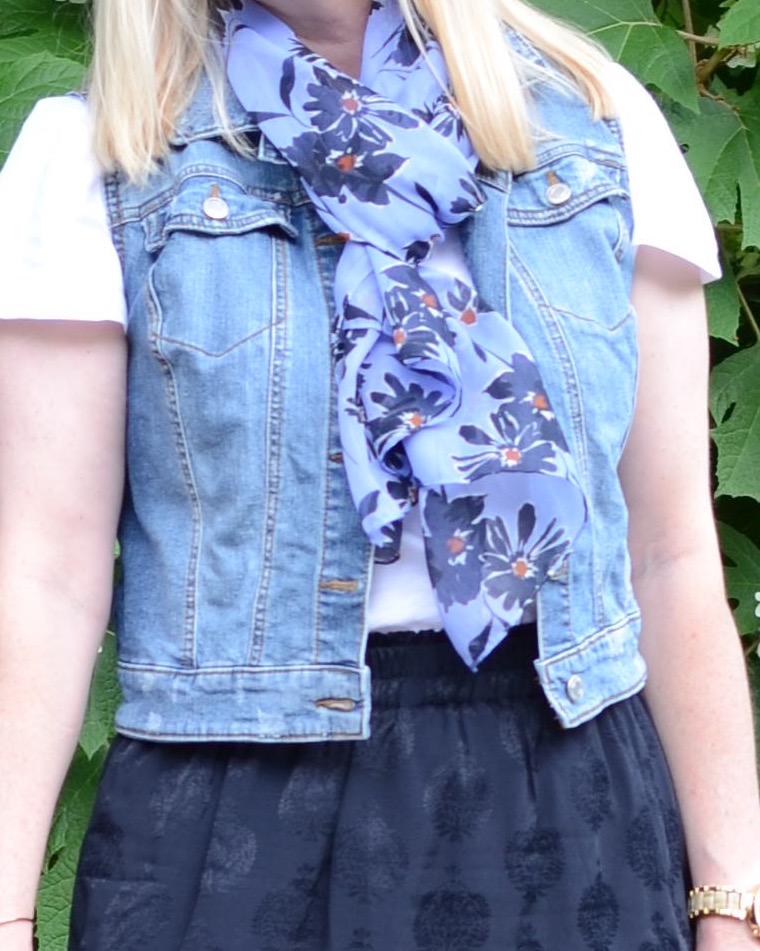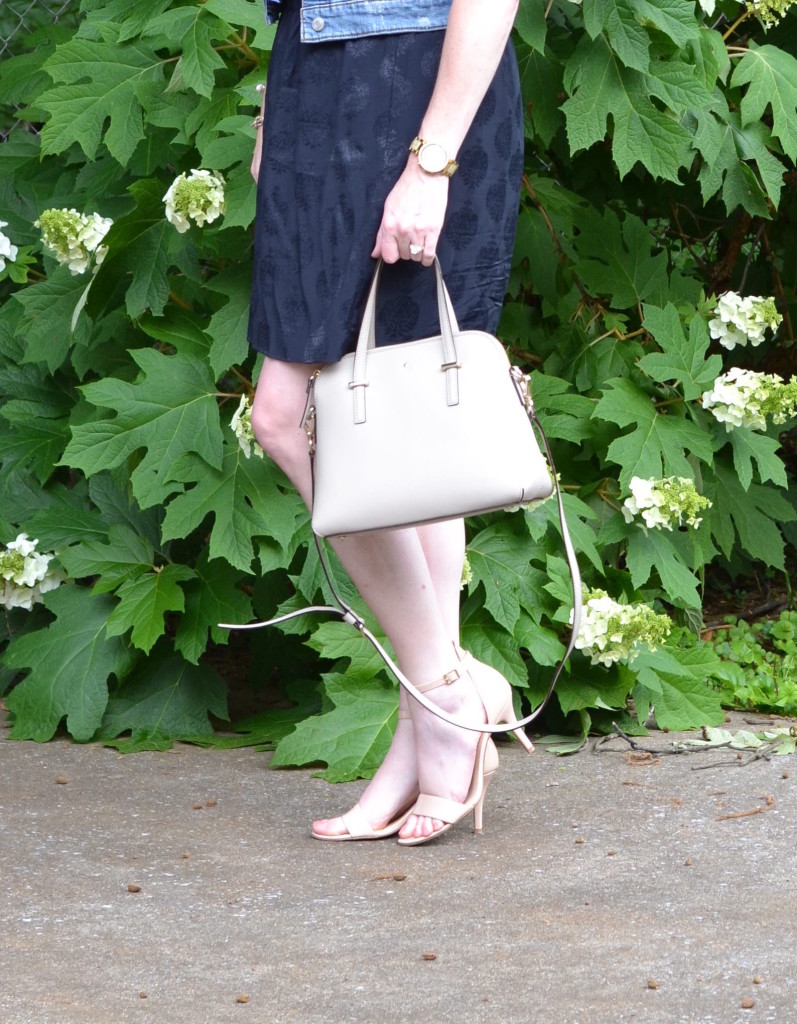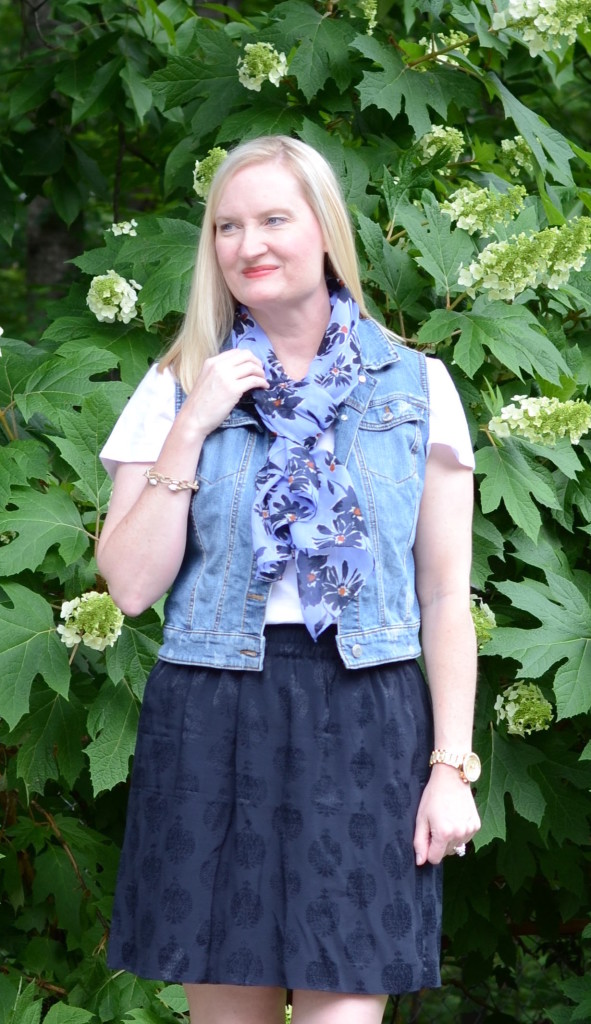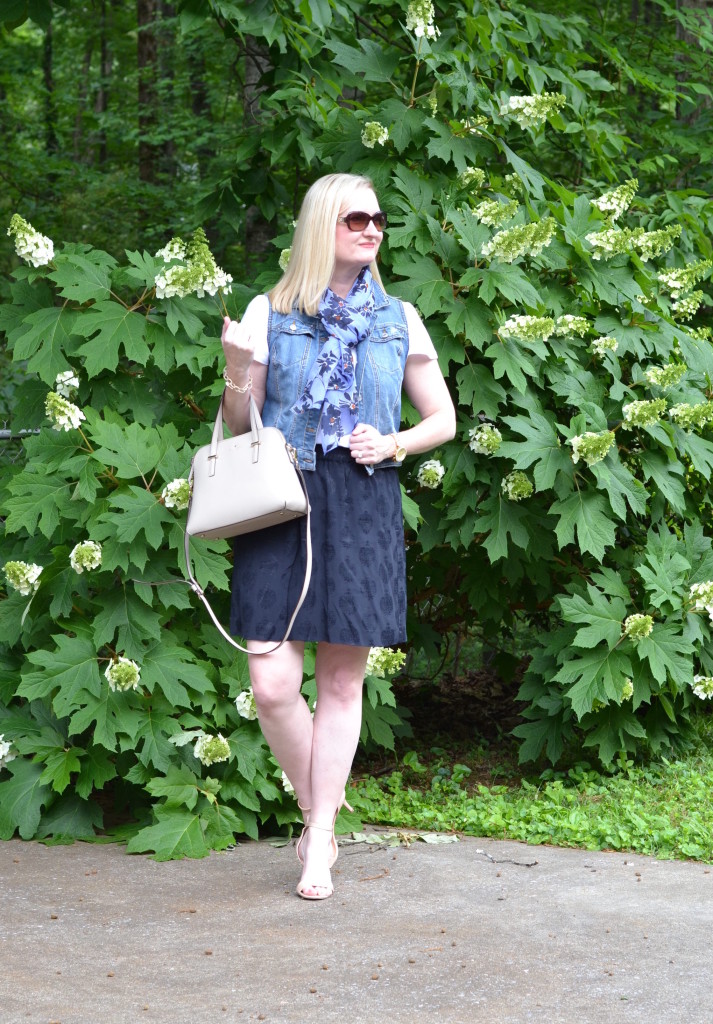 Outfit Details:
white tee
denim vest
navy floral scarf
navy skirt
Michael Kors Parker watch
pave link bracelet
faux-marble cuff bracelet (love this one!)
Kate Spade Maise bag
nude sandal heels
Shop The Post:
Today's outfit  is almost identical to Outfit #62 in my new E-Book, The Essential Capsule Wardrobe: Summer 2016 Collection.  Outfit #62 features a white top with blue embroidered detail.  Instead of wearing that top, I added a white tee, the denim vest and the navy floral scarf from the E-Book.  I just added the new E-Book in the Online Shop Sunday.  I started on it a few weeks ago, but I took my time researching all the outfit possibilities, which pieces would look best, and making sure all the sources of where to buy the pieces had plenty in stock.  It takes a lot of time composing my capsule wardrobe e-books, but I absolutely love it, and enjoy hearing all the positive feedback from those of you who get as much fun and enjoyment of creating your capsule wardrobes from the e-books!
When I wrote my first capsule wardrobe e-book, the Winter 2015 version, I took a chance in putting my idea out there to see if anyone would be interested in the concept…a convenient e-book that you could take with you anywhere, all the pieces shown in the capsule wardrobe with lots of shopping sources, plus so many outfits already put together so you can get ready faster.  The idea took off and now many people ask when the next one will be available!  I absolutely love helping everyone, showing how they can get dressed quickly, plus save lots of money by keeping spending at a minimum.
In the E-books, I tell my story of how I started my own capsule wardrobe in 2014.  All my life I bought clothes, not knowing really how to "create" an outfit.  When I bought clothes, I would buy a complete outfit.  I would always wear the pieces I bought together.  Soon, I got tired of wearing the same old outfit over and over, but it was the only way I knew how to dress myself.  Then, two years ago, after I had started this blog, I stumbled upon a Pinterest pin about a "capsule wardrobe".  After doing lots of research, the rest is history.
You're going to LOVE the Summer Capsule Wardrobe E-Book!!!
It incorporates classic, closet staples that will last several seasons (and will wear for several years too).
Plus, I've added a few FUN pieces!
Check it out in my E-Book Shop and have fun creating your capsule wardrobe!

The two featured bloggers from the last linkup are:


1.  Please follow your Host 
2. Link up to 5 posts: 
it can be about fashion, style, beauty or lifestyle

(linkup to your blog post and not your main page)
3. Please include a link back to this post or place my linkup button in your post.
4.  Now, add your post(s) below!  I hope you enjoy the linkup and enjoy meeting other bloggers!
Each week I feature 2 bloggers from the previous link,
so link-up your blog posts for your chance to be featured!