Instagram Lately (Trendy Wednesday Link-up #114)
Last week was so busy for me that I didn't get to write a full blog post for the Trendy Wednesday link-up!  The company I work for is getting ready to open another grocery store, so I've been busy setting up bank accounts, obtaining about a dozen state and federal licenses, setting up merchant accounts, and just about everything related to that which is associated with opening a new business.  I'm still busy this week, but I haven't had to travel anywhere so far this week.
I wanted to share with you the latest that I've posted on my Instagram account @classyyettrendy.  I'm excited about my new Daniel Wellington, watch!  It's the Petite Melrose mesh strap watch in Rose Gold, as here worn by Kendall Jenner. Use code CLASSYYETTRENDY at checkout for 15% off your Daniel Wellington order!  Stay tuned, I'll have a full blog post about the watch tomorrow!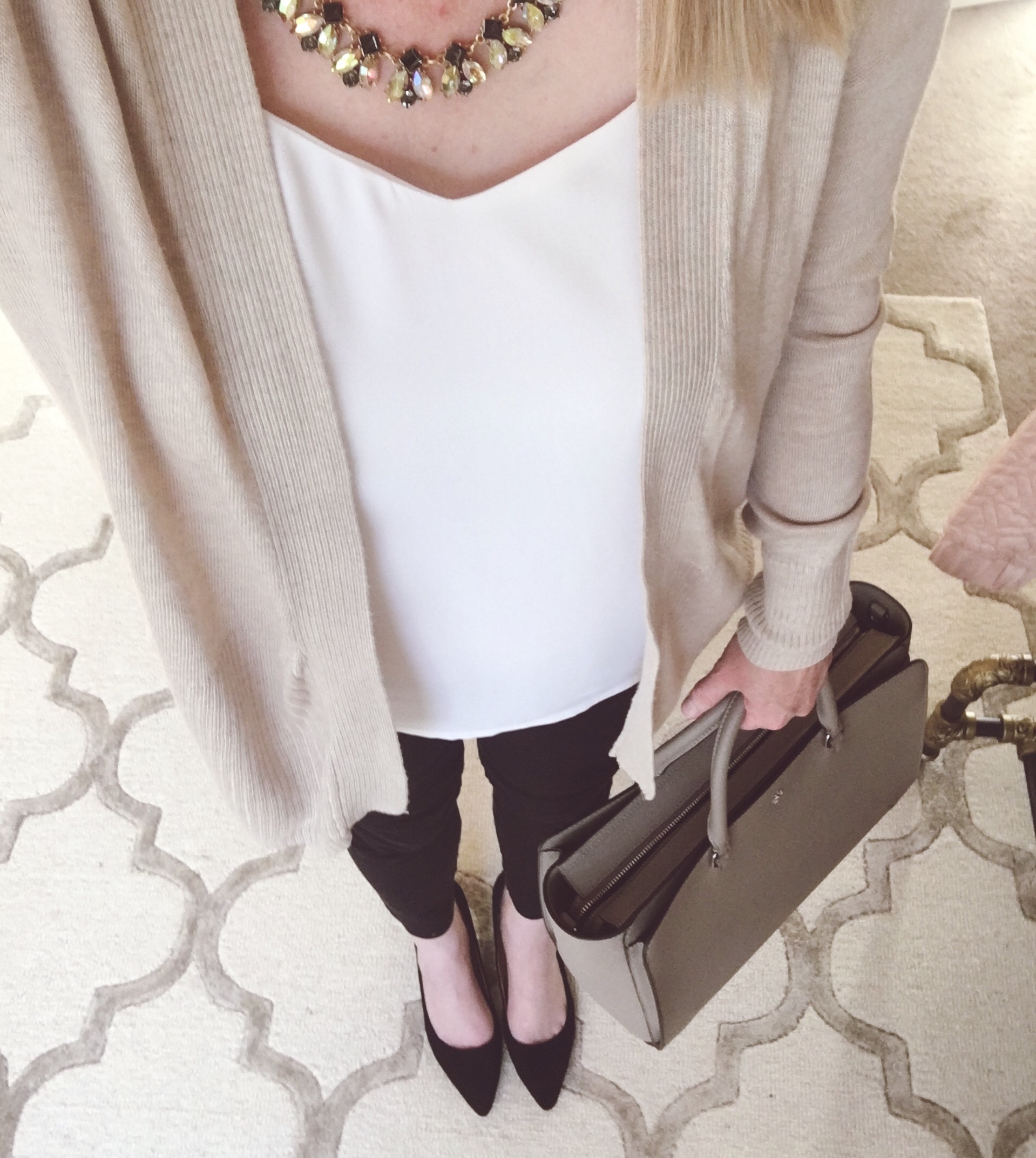 Photo Details:
white barcelona cami
beige cardigan (similar, similar)
"bee" crystal necklace (similar color)
gold stud earrings
black ankle pants
taupe handbag
black suede kitten heels
I got dressed in less than 5 minutes with this outfit!  All the pieces were in my capsule wardrobe.  We had budget meetings that day and I felt put together and professional-looking with this outfit!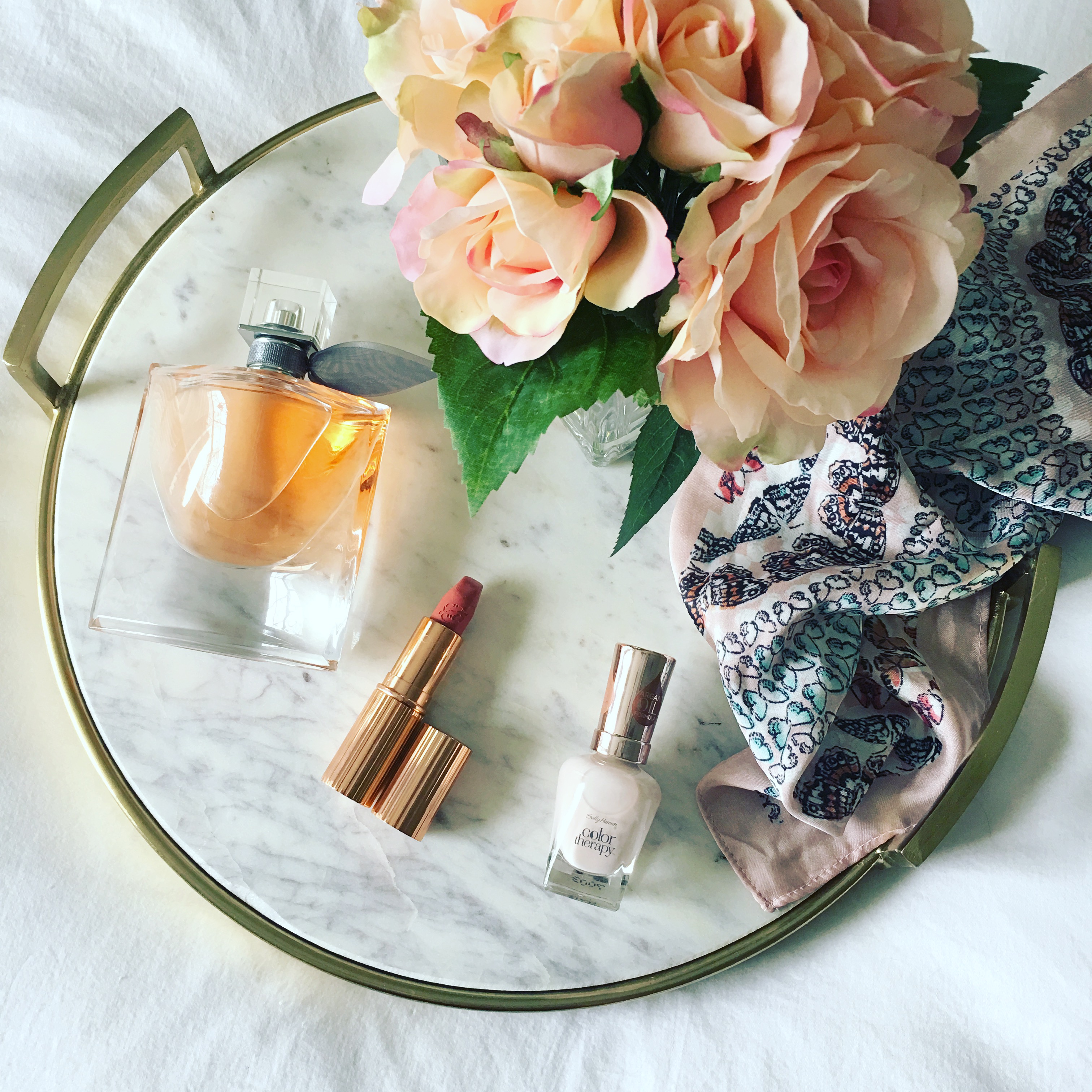 Photo Details:
marble and gold tray
scarf
perfume
lipcolor
nail color
I bought this marble and gold tray at Target a couple of weeks ago.  I had seen it online and loved it.  It was on sale at the time for $70!  It's super heavy but is beautiful in person.  I also bought the matching table (similar round version, square version) the same day.  This nail color is wonderful!  And, I've been using this lipcolor for a few weeks now and it's my favorite.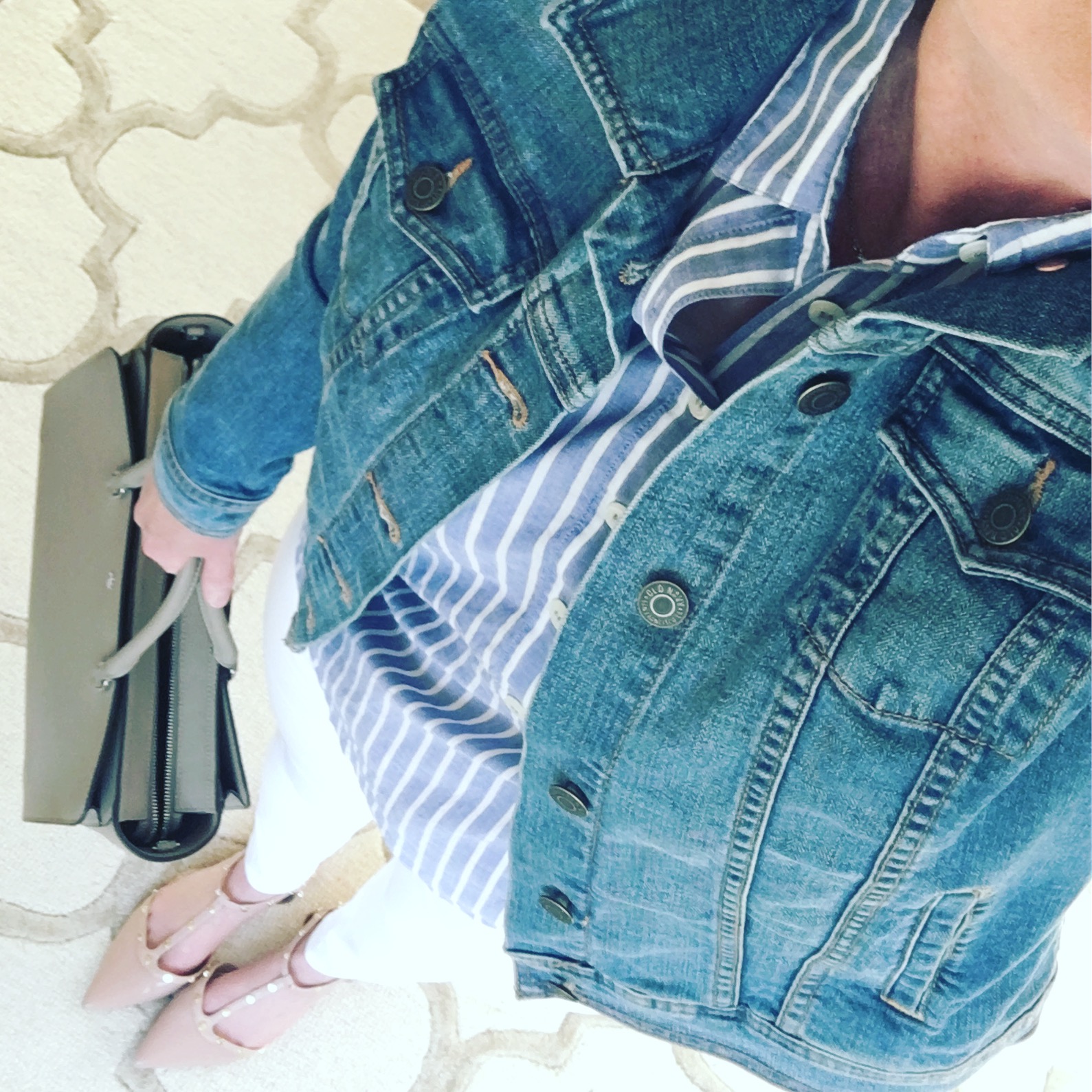 Photo Details:
striped blue popover shirt (this year's version)
denim jacket (light wash version)
pave bar necklace
white skinny jeans (my favorite! only $59)
taupe handbag
blush ankle strap flats (similar in "blush patent")
Everything in my outfit is from previous seasons.  All the pieces are in my capsule wardrobe for the spring.  The denim jacket is the oldest item.  It's an Old Navy purchase from about 4 years ago and still going strong!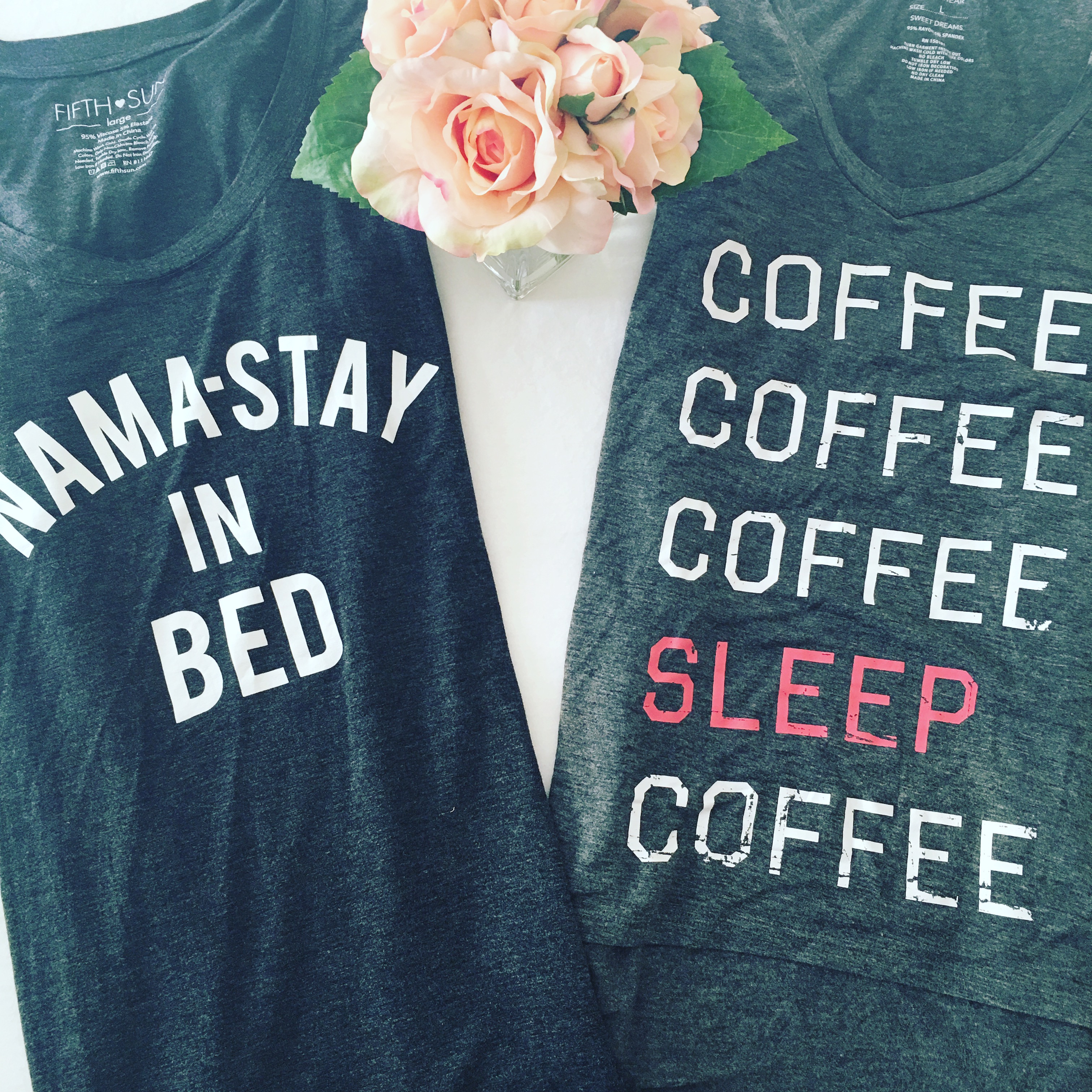 Photo Details:
"Nama-stay in bed" tee
"Coffee, coffee, sleep, coffee" tee (similar)
"Boss Chic" tee (not shown)
A few pieces of my loungewear/sleepwear needed to be replace, so the other day when I stopped by target I saw these tees and just HAD to get them.  They are super soft!  Don't you just love the sayings on them?  Pair them with leggings like these I bought and they are perfect for weekend relaxing.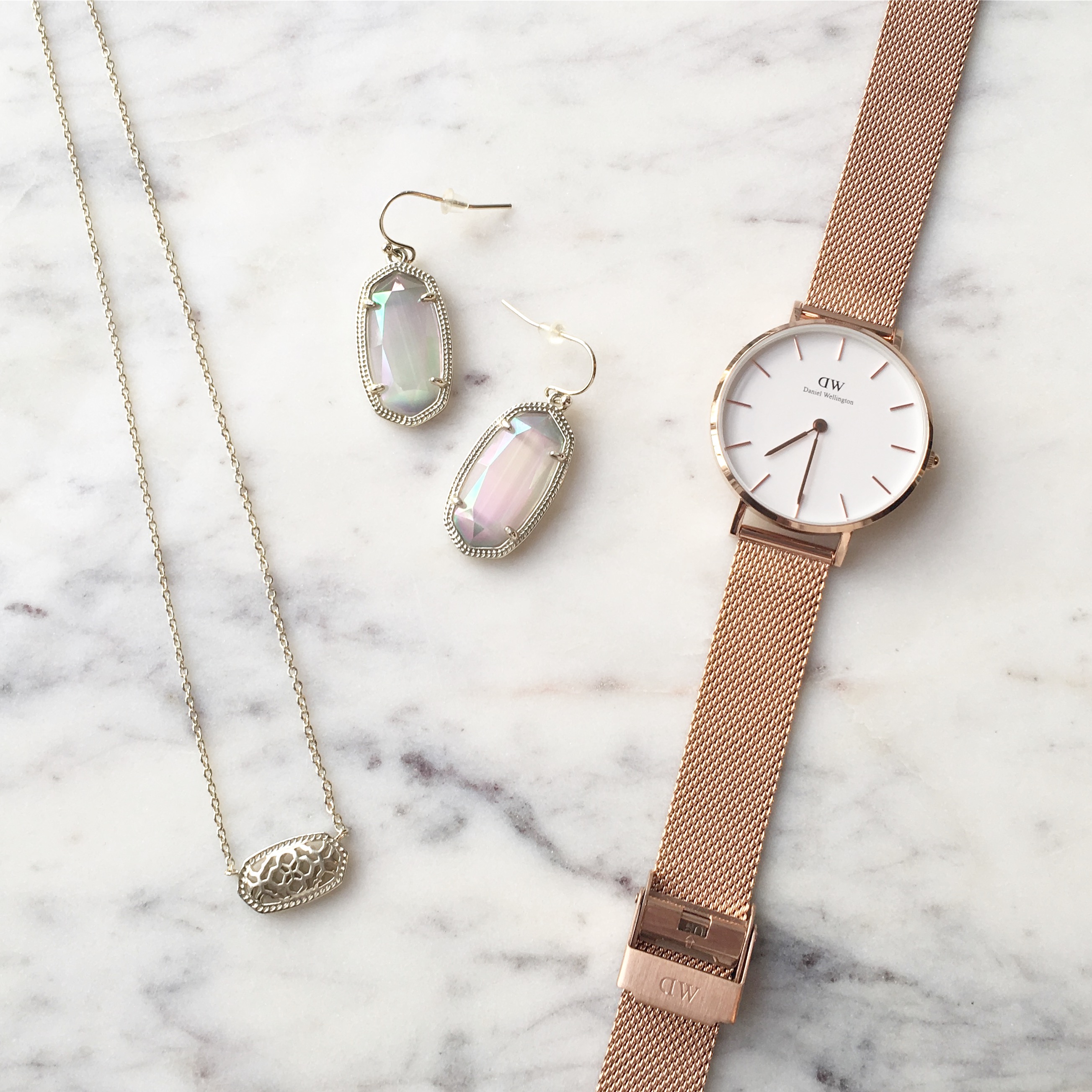 Photo Details:
Kendra Scott earrings
necklace
Daniel Wellington Classic Petite Melrose watch
Use code CLASSYYETTRENDY at checkout for 15% off your order!
 I've had these earrings for 2 years and they are still one of my favorites.  This Kendra Scott necklace arrived with my Nordstrom order yesterday.   I had been wanting a delicate necklace like this one for a while.  I love it!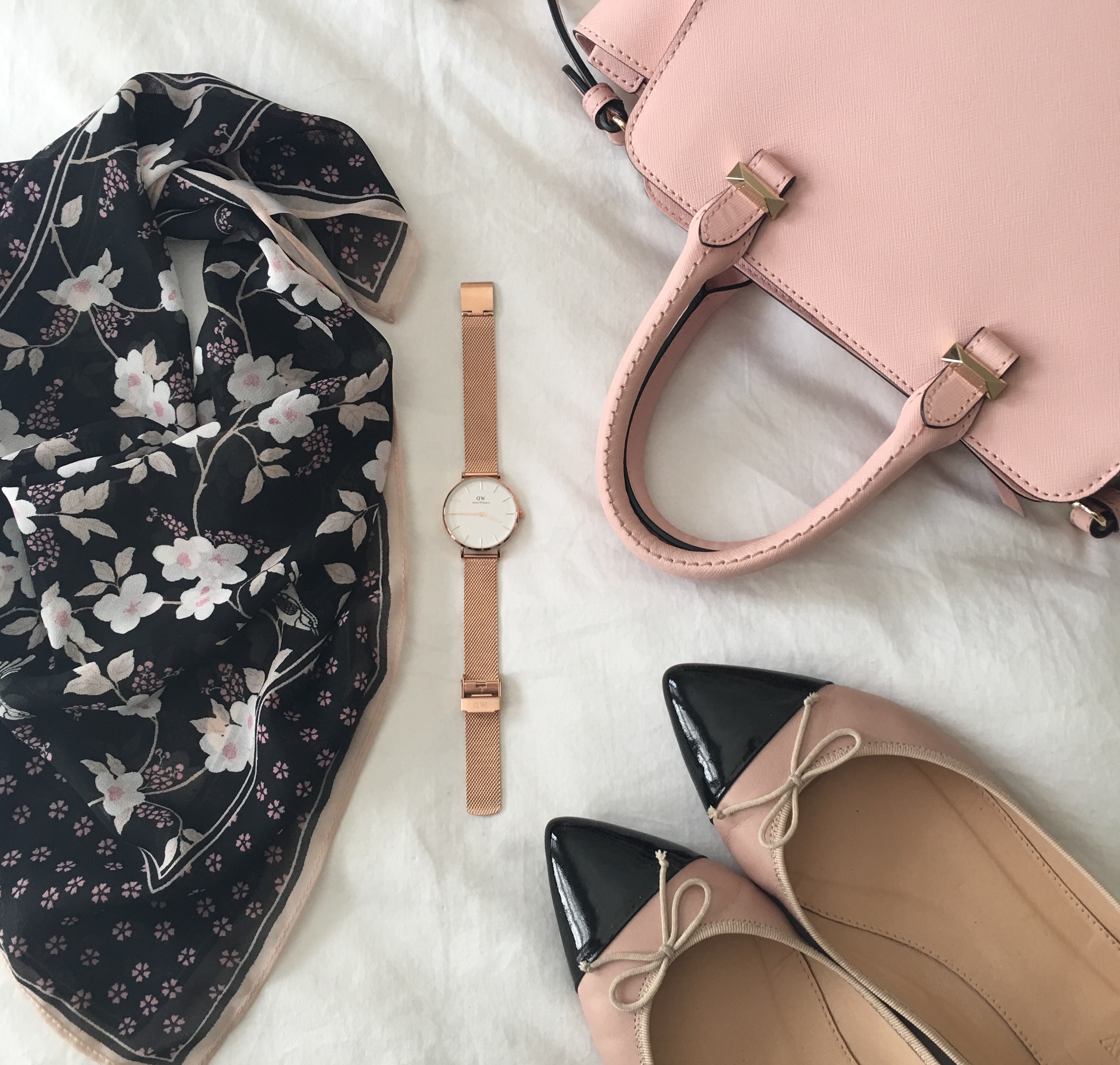 Photo Details:
Daniel Wellington Classic Petite Melrose watch
Use code CLASSYYETTRENDY at checkout for 15% off your order!
pink handbag (this year's similar version, also love this one! and this one!)
black/blush floral scarf
blush/black flats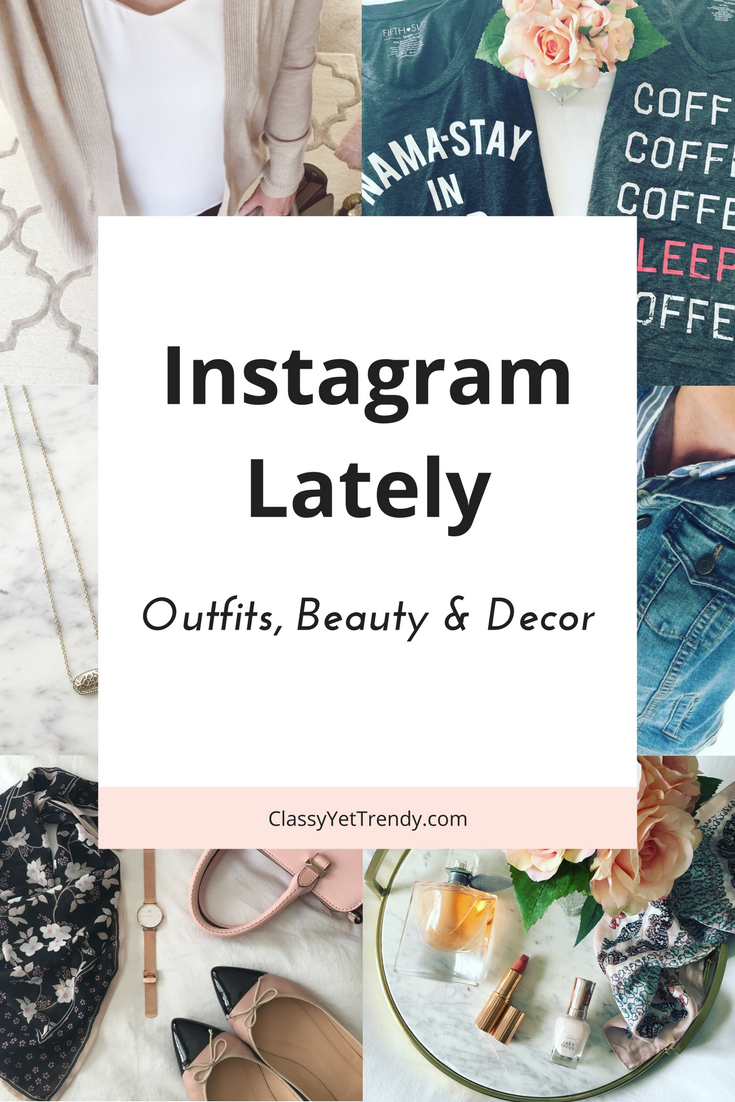 Recent Blog Posts You May Like:
ESPADRILLES: 4 WAYS TO WEAR THE SPRING TREND
CREATE A WORKWEAR CAPSULE WARDROBE ON A BUDGET: 10 SPRING OUTFITS
PACKING GUIDE: SPRING BREAK AT THE BEACH
10 SPRING ESSENTIALS EVERY WOMAN NEEDS IN HER CLOSET

The two featured bloggers from the last linkup are: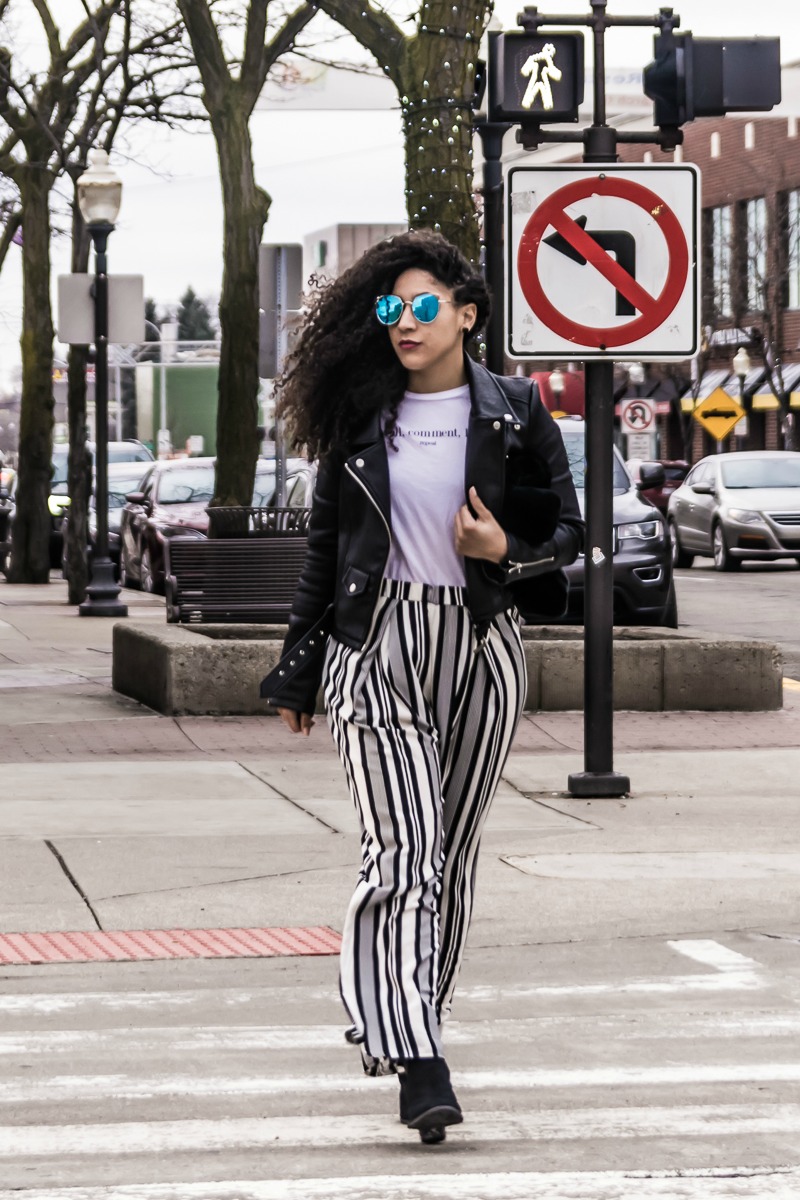 1.  Please follow your Host 
2. Link up to 5 posts: 
it can be about fashion, style, beauty or lifestyle

(linkup to your blog post and not your main page)
3. Please include a link back to this post or place my linkup button in your post.
4.  Now, add your post(s) below!  I hope you enjoy the linkup and enjoy meeting other bloggers!
Each week I feature 2 bloggers from the previous link,
so link-up your blog posts for your chance to be featured!