Spring Essentials 50% Off Sale
Get all the Spring Essentials on your shopping list at the J Crew Factory 50% Off Sale!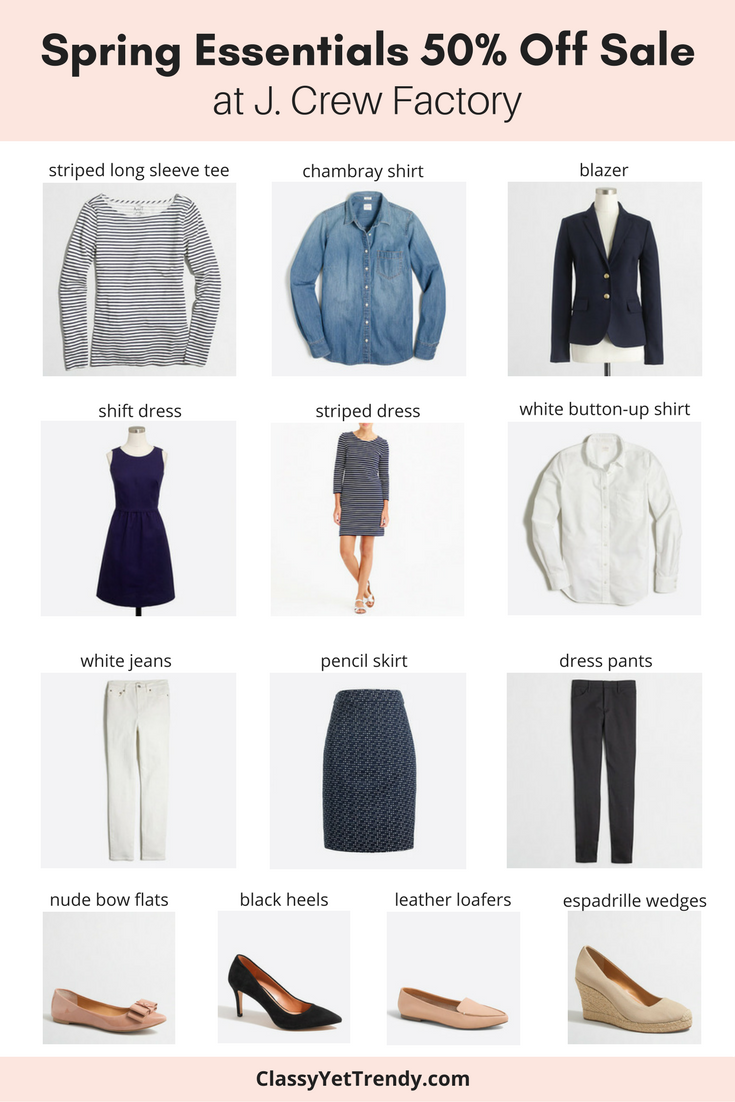 The Spring Essentials:
When I need to replace a worn item in my closet, I like to shop when items are on sale, especially when they are 50% off!  Every so often J. Crew Factory has a sale like this one.  Now is the time to mark off those items on your shopping list by getting them at this 50% off sale.
I have been shopping at J. Crew Factory for a few years.  It's one of my favorite stores for these reasons: 1) their clothes are well made, 2) their styles are classic and timeless, 3) their clothes are great investments and last for years, 4) the clothes and shoes fit well and 5)they have great sales a few times a year.  It's easy to build a capsule wardrobe with essentials from J. Crew Factory.  If you're interested in starting a capsule wardrobe, but don't know where to begin, each of my e-books in the Capsule Wardrobe E-Book Store shows you step-by-step how to create your own capsule wardrobe, the clothes and shoes for that capsule, dozens of outfit ideas, plus much more!
I had a chambray shirt similar to this one for a few years.  It still looked brand new when I gave it to my daughter for her to add to her closet.  I replace it with a chambray shirt from J. Crew last fall.  I have two pair of J. Crew Factory jeans in my capsule wardrobe currently.  This is the darker pair.  I can't find the lighter pair online, but I bought them both in the store last fall.  I've had this navy gingham shirt for about 3 years now and it's just as beautiful as the day I bought it.  And, that's just a few items I have from J. Crew Factory !
Hurry!  This 50% off sale ends February 19 at 11:59pm ET.