The Summer 2017 Trends Report
Summer is here…the season for laying by the pool, going on vacation and spending time outside enjoying the summer weather!  Several trends are in the stores and they are gorgeous this year!  There are ruffles, ties, and other clothing accents that are very feminine this season.  Having several basic essentials in your closet is a necessity, but adding a couple of trends to your wardrobe makes your outfits pop!
A few trends that are especially popular this summer are off-the-shoulder tops and cold shoulder tops.  Cold shoulder tops were popular this past spring, and they are staying this summer too.  You're sure to love off-the-shoulder tops, as they will keep you cool during the hot and humid span of summer.  If you're not a fan of those types of tops, try wearing ruffle tops or flutter sleeve tops.  These types of tops are so feminine looking!
Tie tops offer a less-trendy look while keeping your outfit looking interesting!  The tie feature of the top is at the waist, either in the front or on the side.
If you're not sure about spending money on trends, go for a more conservative trend, like a flutter sleeve top or side tie top.  A simple, small ruffle hem top is sure to last several seasons, while still looking on-trend this summer too.
A few shoes that are on-trend this summer are espadrilles, lace-up sandals and slide-in sandals.  Espadrilles were showing up everywhere in the spring and have carried over to the summer.  Lace-up sandals are beautiful to wear this season; they look perfect with skirts and shorts.  Slide-in sandals are a simple, minimalist-looking shoe that coordinates well with almost everything.
Tassel accessories are popular again this summer.  Last summer, tassel necklaces and earrings were all the rage.  All kind of earrings with tassels and fringe earrings are on-trend this season.  Wearing trendy accessories is an inexpensive way to stay on-trend, while staying within your budget.
Bandana scarves were popular in the spring and they are still popular this summer.  They are an alternative to wearing heavy jewelry in the summer, as the material is soft and cool, but still provides a color accent to your outfits.
An accessory that is HOT this summer are Straw Bags.  Straw totes and clutches were "in" last year, but this year is the design of a "straw handbag".  This straw handbag has been so popular, it is currently sold out!  An unusual handbag that has been popular among bloggers is the wooden ark-shaped handbag.  This style is different than your usual handbag!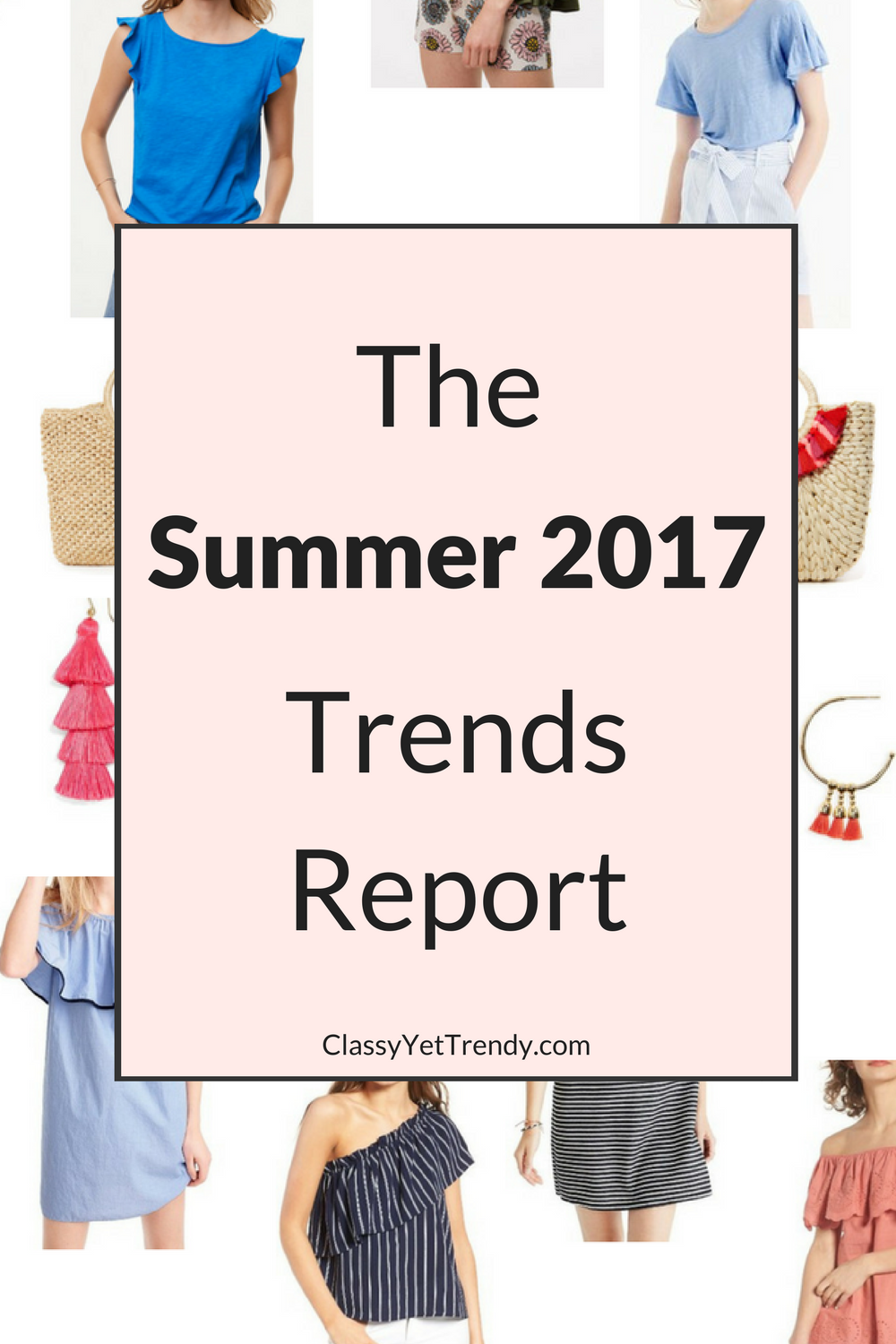 With each new season, Pantone releases their color chart, full of popular colors!  I usually follow this fashion industry color chart to include a few of those accent colors in my Capsule Wardrobe e-Books.  One of my e-books, The Essential Capsule Wardrobe Summer 2017 Collection features clothes inspired by a couple of Pantone colors in the chart below.
Pantone's Spring/Summer 2017 Colors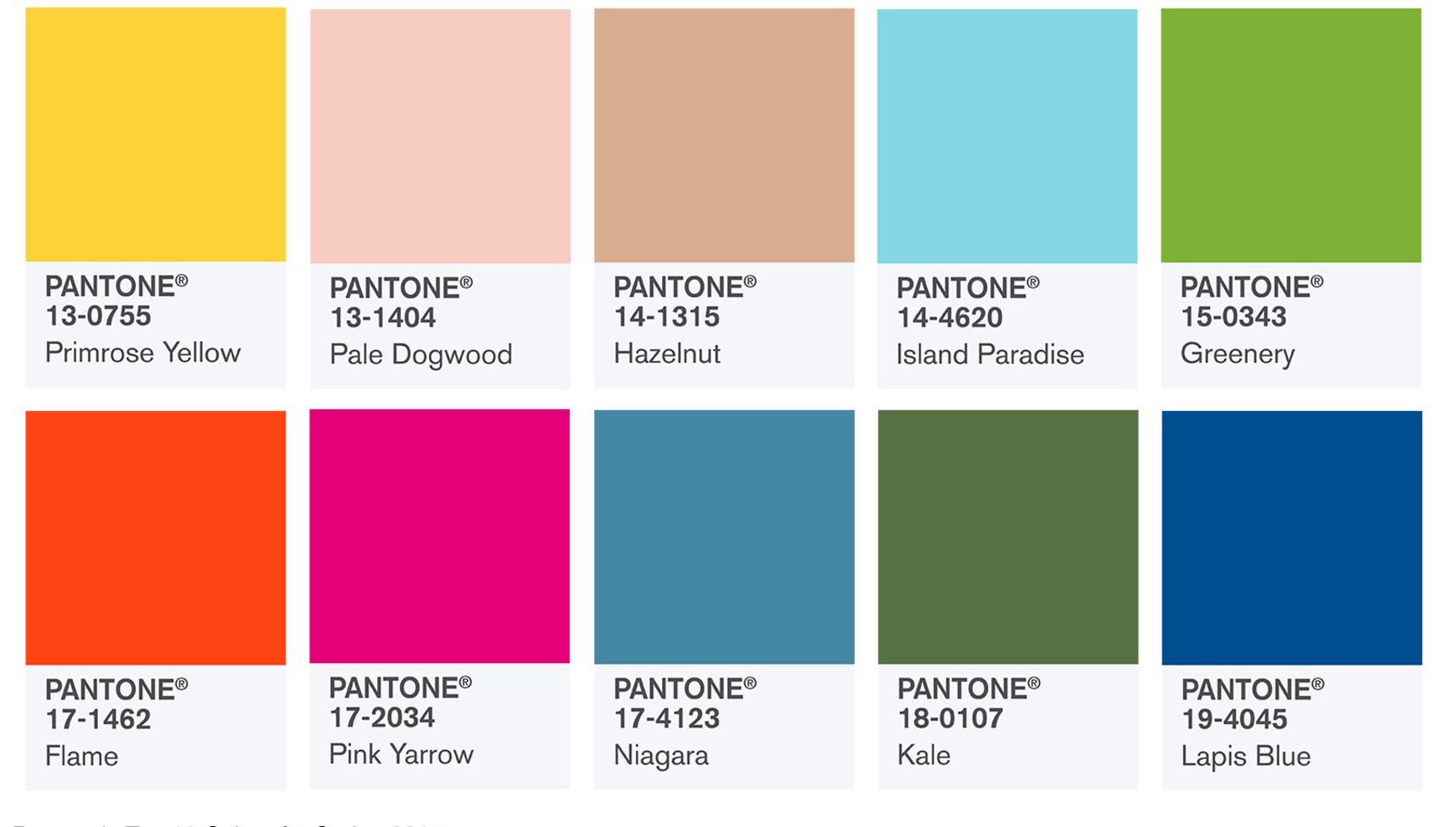 Do you want 100 Outfit Ideas from just 26 Items in your closet?
Do you want to get dressed quickly?
Do you want to save $1,000's a year?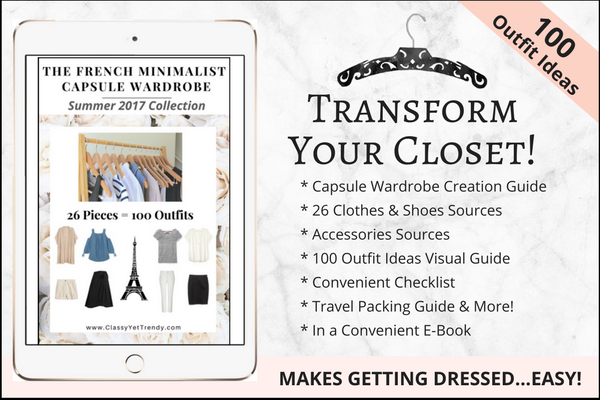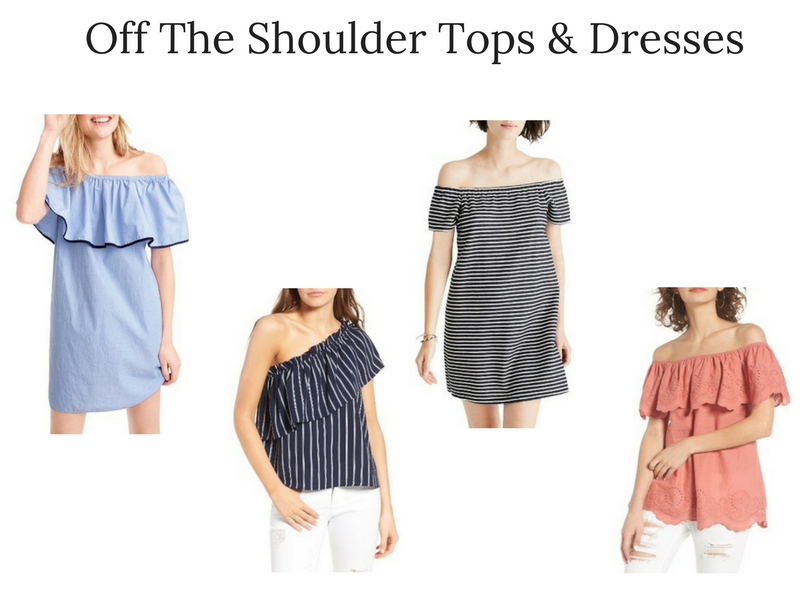 Shop all  off-the-shoulder tops
Left To Right:
blue dress | striped top | striped dress | ruffle top
Off The Shoulder tops and dress have a fresh, feminine look!  You'll find this look in an array of both solids and patterns.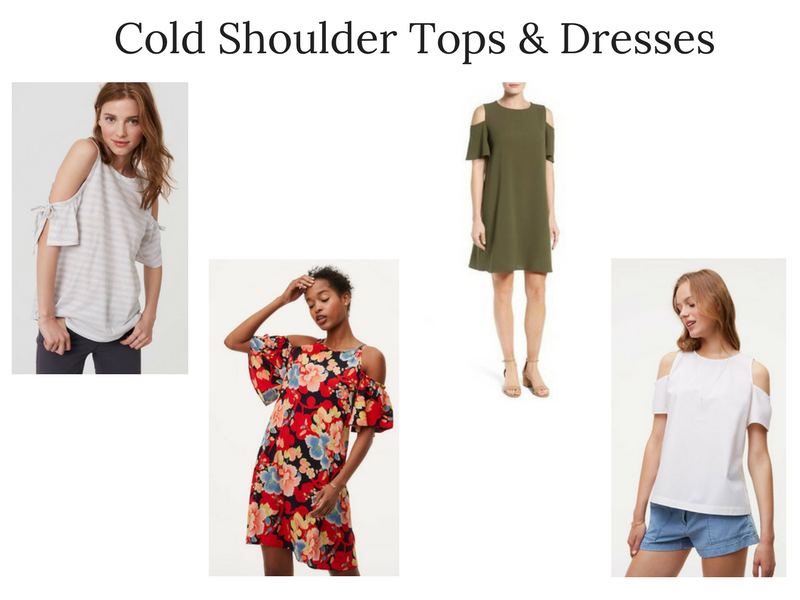 Shop all cold shoulder tops
Left To Right:
striped top | floral dress | olive dress | white top
This floral dress will fit perfectly in your summer wardrobe!  You can wear this white cold shoulder top with just about anything in your closet.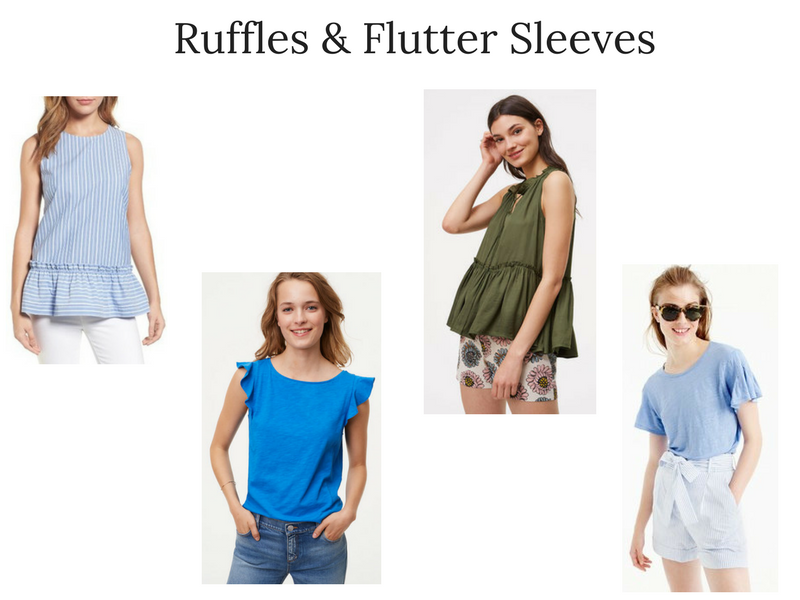 Left To Right:
striped top | blue top | olive top | light blue top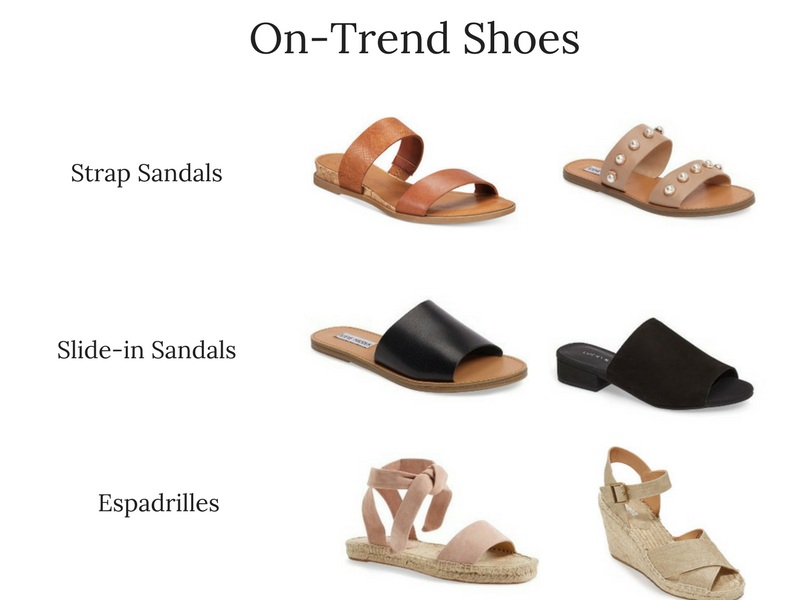 Shop all slide-in sandals
Shop all lace-up sandals
Shop all espadrilles
Left To Right:
top row:
brown sandals | embellished sandals
middle row:
black flat sandals | block heel sandals
bottom row:
pink sandals | wedge sandals
Whether you favor strap sandals, slide-in sandals or espadrilles, add a pair of these on-trend sandals and your outfits will be complete!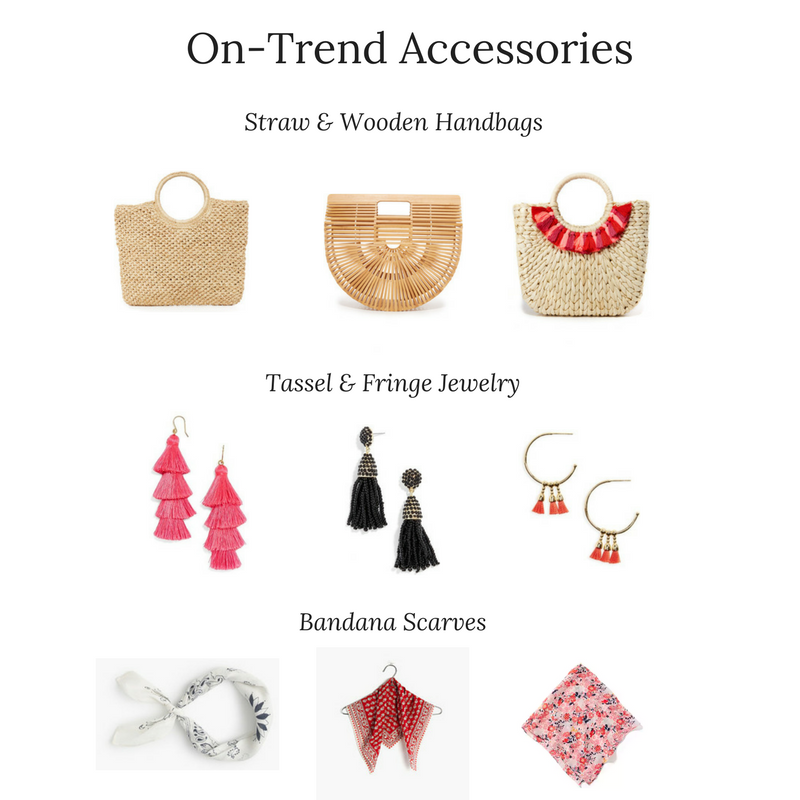 Left To Right:
top row:
round handle handbag | wooden handbag | tassel straw handbag
middle row:
fringe earrings | beaded tassel earrings | tassel hoop earrings 
bottom row:
white/navy scarf | red scarf | floral scarf

What trends are you adding to your closet this Summer?