Cable and Plaid (Trendy Wednesday #145)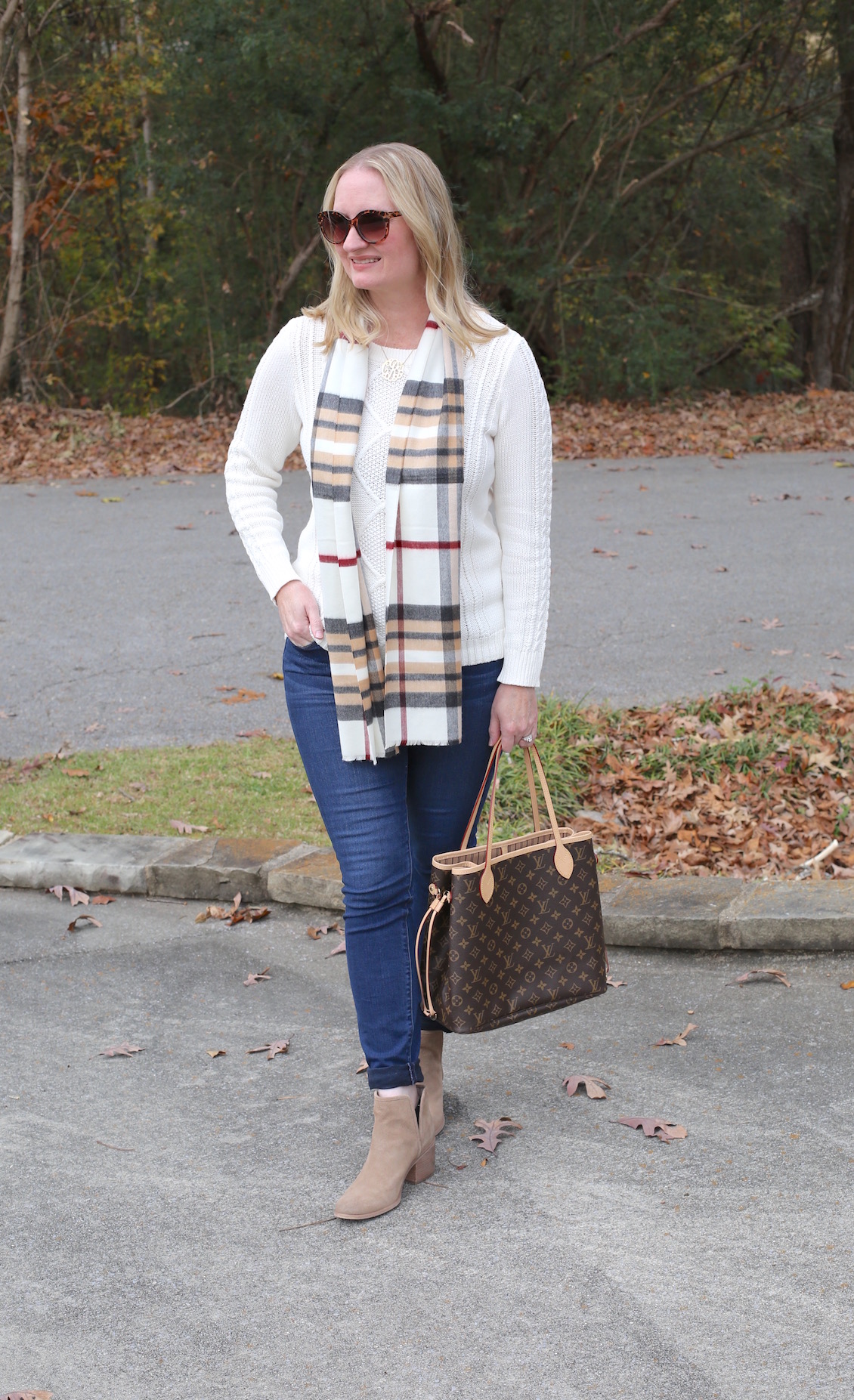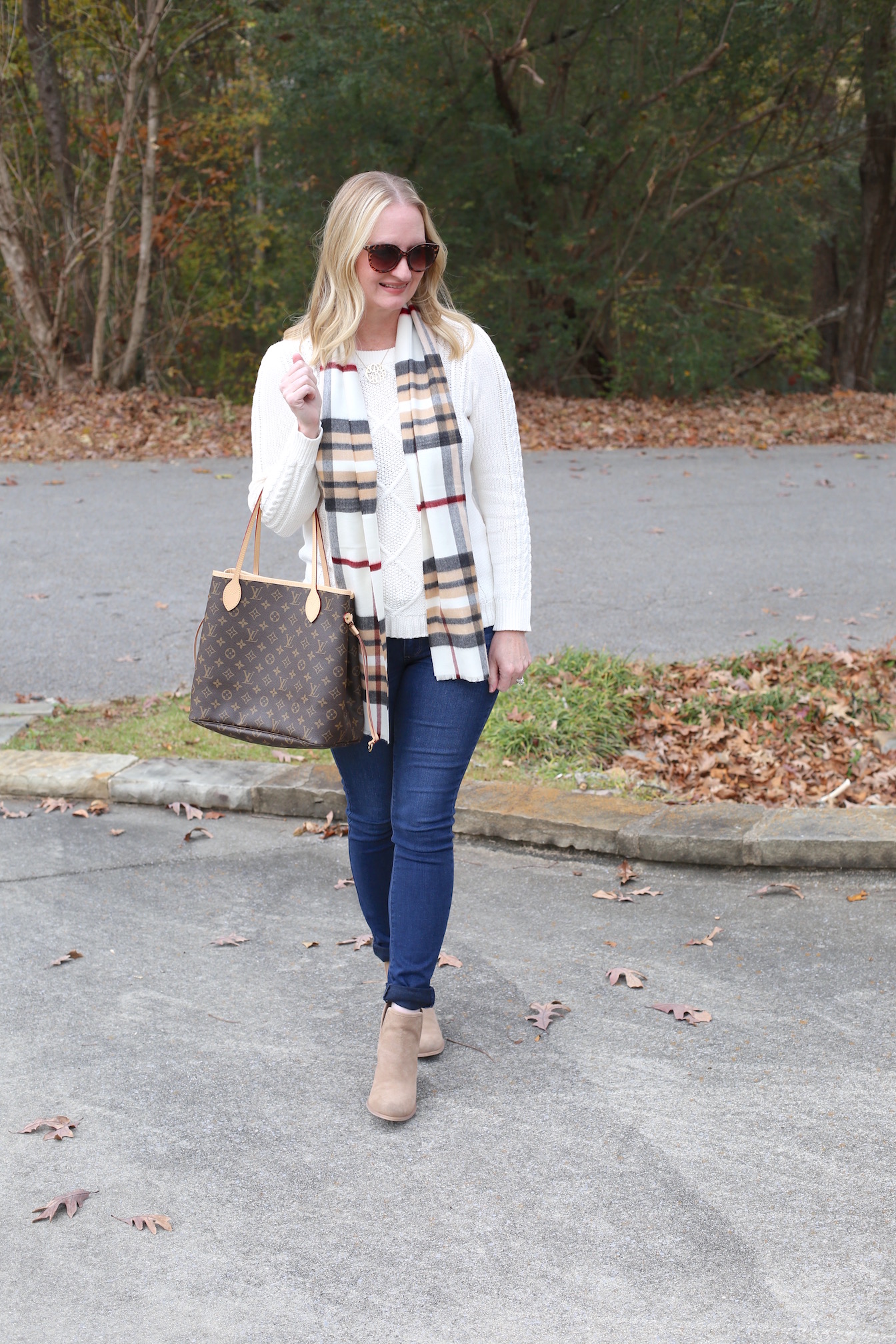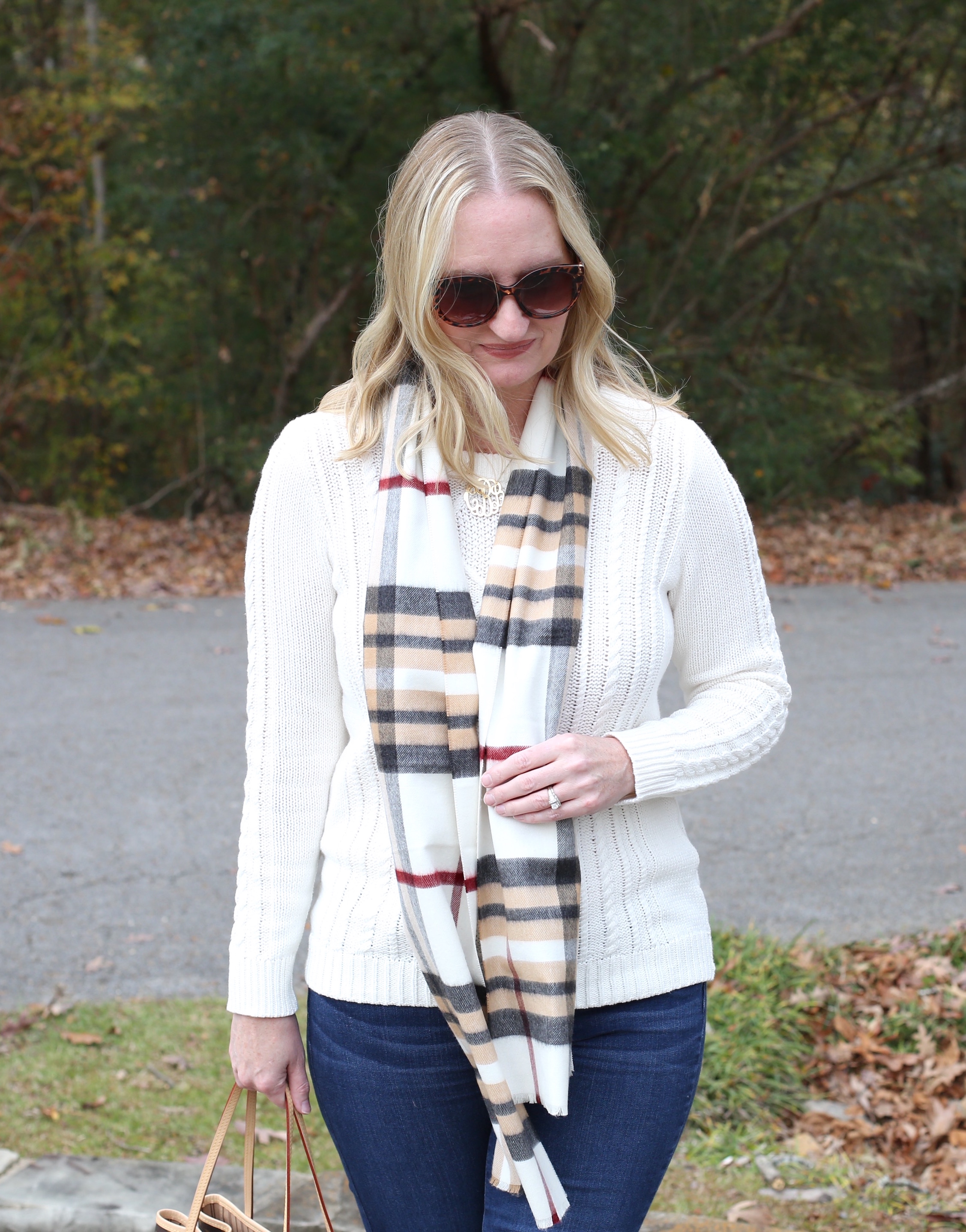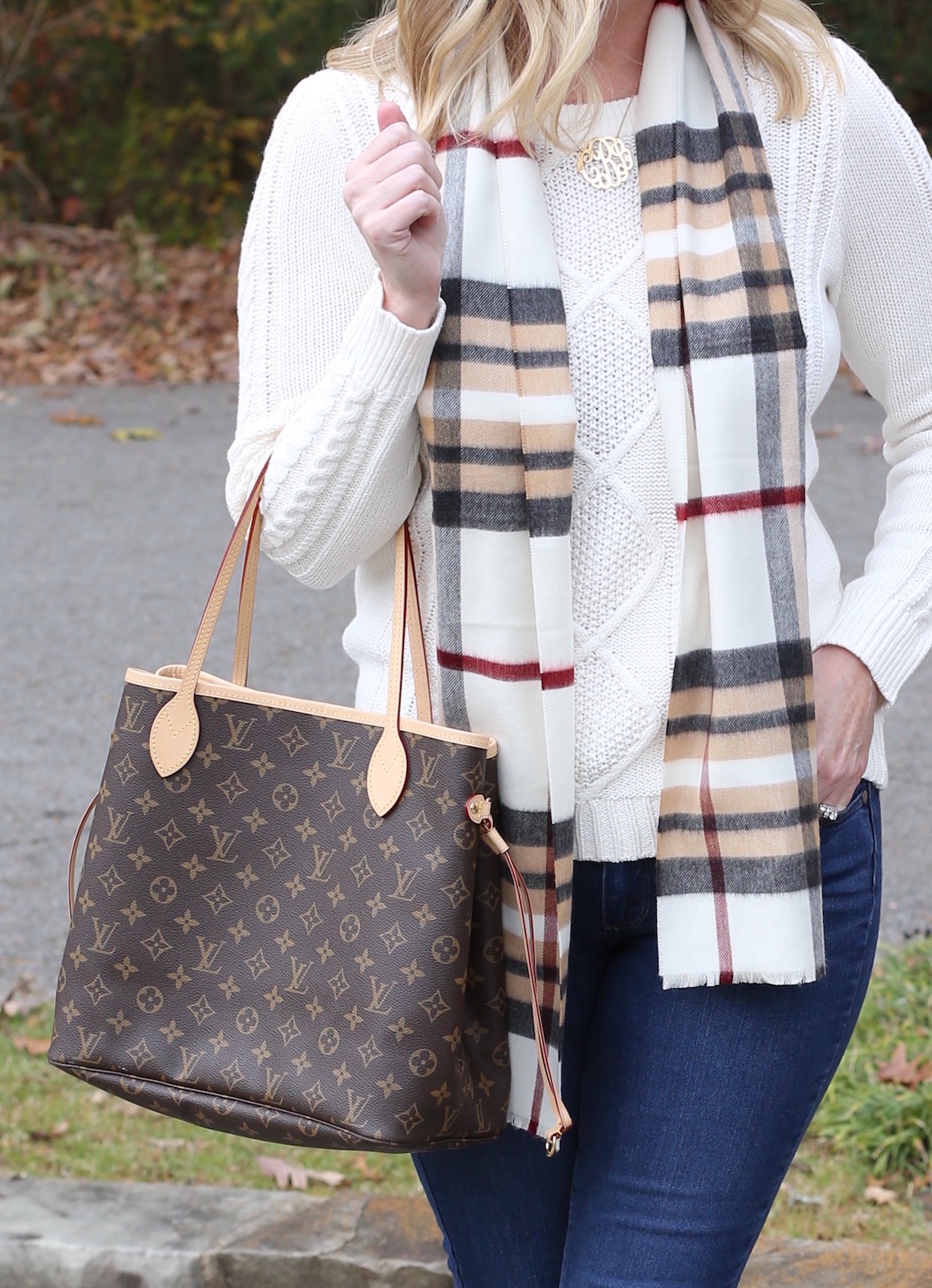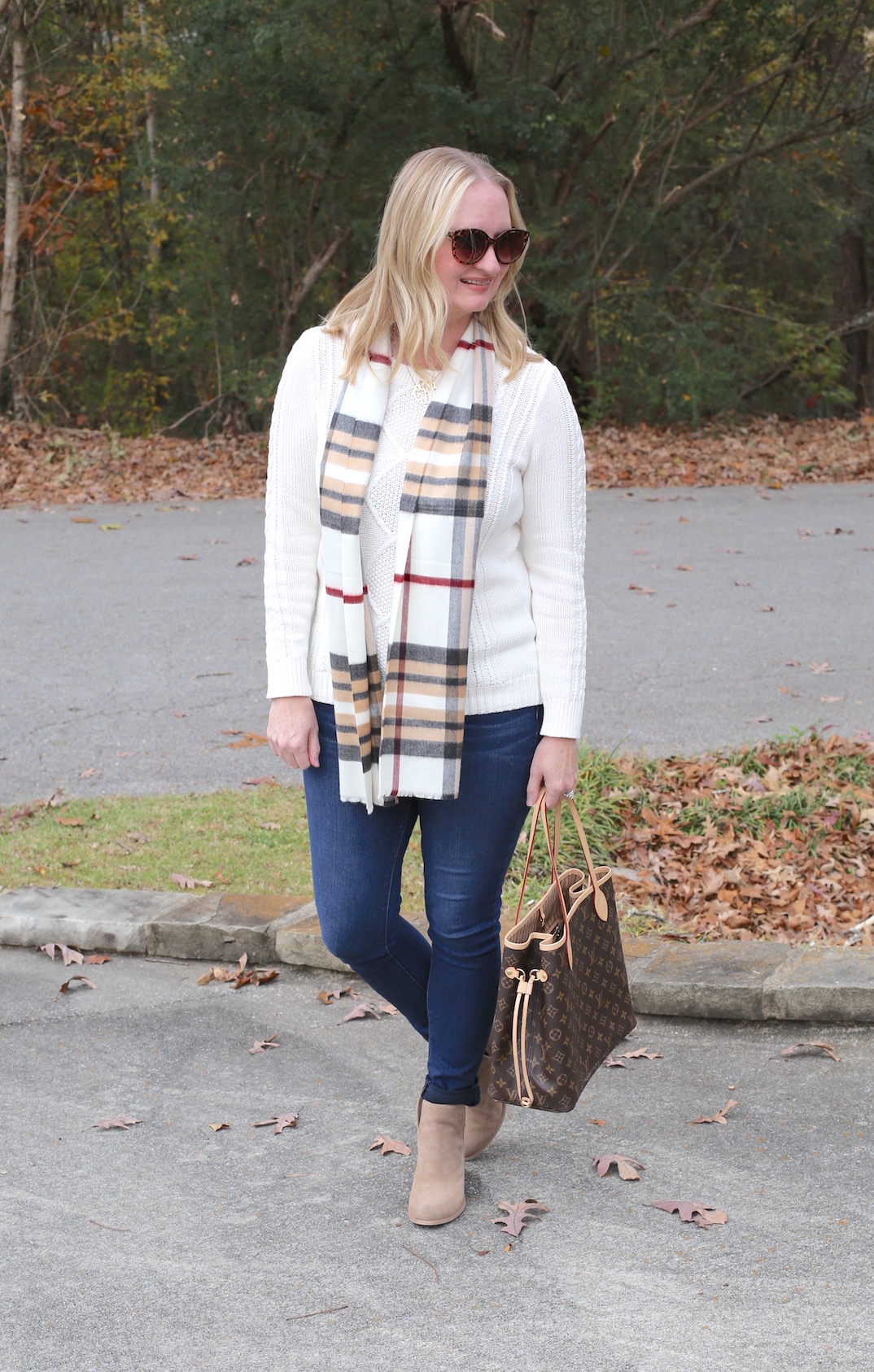 Outfit Details:
cable sweater  (plus-size)
plaid scarf (similar), also love this one and this one!
gold filigree earrings
initial necklace
sunglasses (similar)
Neverful MM tote
skinny jeans  (plus-size)
taupe booties (exact), also love these boots and these boots too!
I switched to my Winter capsule wardrobe last weekend.  The weather turned colder, so I thought I would go ahead and change over my capsule wardrobe.  For this Winter capsule, I know more about what types of clothes to wear.  I had a bit of trouble figuring out what to put in my Fall capsule wardrobe.  Since I work at home now, I wear all casual clothes, but I still want to look nice when I pick up my daughter from school and when I run errands.  When I was in the planning stage of my Winter capsule, I kept my new lifestyle in mind and the types of clothes I needed to wear everyday.
Since I'm cold natured, I like to wear sweaters, skinny jeans, leggings and cozy tops.  I bought this cable sweater I'm wearing above from Old Navy a couple of weeks ago.  This is a great neutral sweater that's a classic piece and is only $35!  I'm very pleased with this cable sweater, as it's not bulky and you can layer a top underneath like this one or wear it alone under a peacoat like this one.  You can't go wrong with a good cable sweater for your capsule wardrobe.   These jeans I'm wearing are about 3 years old, but I still love them and they look great.  I ordered these AG Legging Ankle Jeans from Shopbop and they arrived yesterday.  The pair I ordered from the Nordstrom Anniversary Sale back in July arrived last week from backorder, but they were too small.  Shopbop had the size I needed and they fit perfectly.  I see why these jeans get great reviews…they fit perfectly and they even make me look slimmer, yea!  The outfit I'm wearing is similar to Outfit #64 in The Essential Capsule Wardrobe: Winter 2018 Collection eBook.  I omitted the faux fur vest and switched the handbag and scarf.  You can get your copy below and Transform Your Closet and turn 23 clothes and shoes into 100 outfits!  It's a complete wardrobe that will last you all Winter!  You may already have several of the clothes and shoes in your closet already.  In 2 years, over 12,000 capsule wardrobe eBooks have been sold!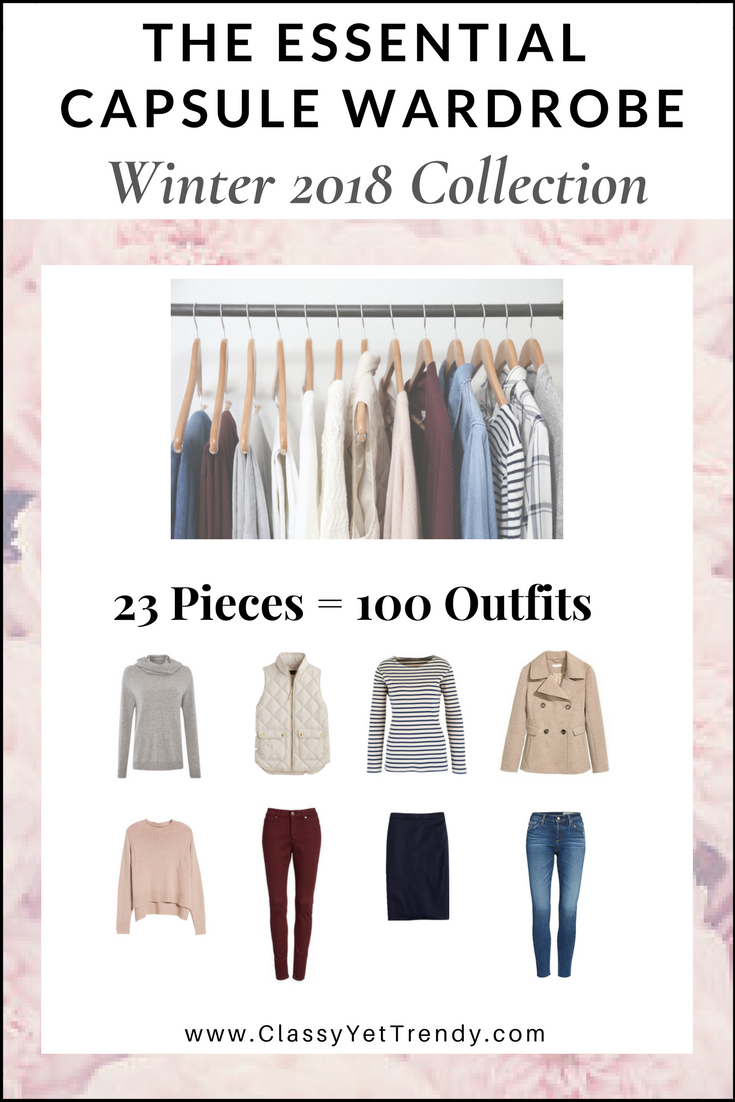 As I was sorting through my clothes for Winter, I made sure to pull these clothes out of my storage bins first.  I found that I needed a few casual tops for the Winter, so I made a list of the ones I wanted and bought them in the Black Friday sales.  Speaking of Black Friday sales, I bought a plaid scarf similar to this one, Friday at the local Belk store.  I love to wear scarves in the cold months.  They not only keep you warm, but add a bit of color and texture to your outfits.  I also like this metallic plaid scarf which comes in three colors and this plaid blanket scarf that also comes in three colors.

Other posts you may like:

The two featured bloggers from the last linkup are:


1.  Please follow your Host 
2. Link up to 5 posts: 
it can be about fashion, style, beauty or lifestyle

(linkup to your blog post and not your main page)
3. Please include a link back to this post or place my linkup button in your post.
4.  Now, add your post(s) below!  I hope you enjoy the linkup and enjoy meeting other bloggers!
Each week I feature 2 bloggers from the previous link,
so link-up your blog posts for your chance to be featured!