My Capsule Wardrobe Journey (Trendy Wednesday #119)
In June, I will have been blogging for 3 years!  I can't believe time has gone by so fast.  It seems like yesterday I was just setting up my blog on Blogger and learning more about how to use my first DSLR camera.  I've learned so much about blogging, especially about how to make money from it!  I love blogging about fashion and style, creating graphics and publishing my capsule wardrobe e-books.  It's my passion and what I truly love to do.
In my three year journey of blogging, the way I look at clothes has changed.  When I first started blogging, I started learning about "capsule wardrobes".  Although, I still had the mindset of "buy what I like on a whim".  I would see clothes that I liked and I would buy them without knowing if I would keep them, if I would grow tired of them or if they would match more than one item in my closet.  Luckily, I purchased several pieces that I still have today, as they were well-made and go with several other pieces in my closet.  I did get some clothes from a couple of companies on the internet that sells inexpensive clothes.  When  I received them, they were cheaply made, the material was not of good quality and they just didn't fit right.
In the photo below, that used to be my closet when I started blogging…yikes!  Yep, that used to be my closet!  I snapped this photo just before I emptied my closet and experimented with my first capsule.  I'm glad I took the photo.  It's a reminder that I DON'T want my closet to look like that again!  I share this photo alongside a neat closet photo on every capsule wardrobe e-book sales page in my Capsule Wardrobe e-Book Store.  I used to keep everything in my closet.  I had too many clothes with too many patterns.  I had so many clothes in my closet that I couldn't find anything to wear.   See this blog post where I talk about how to save $1,000 a year with this closet method.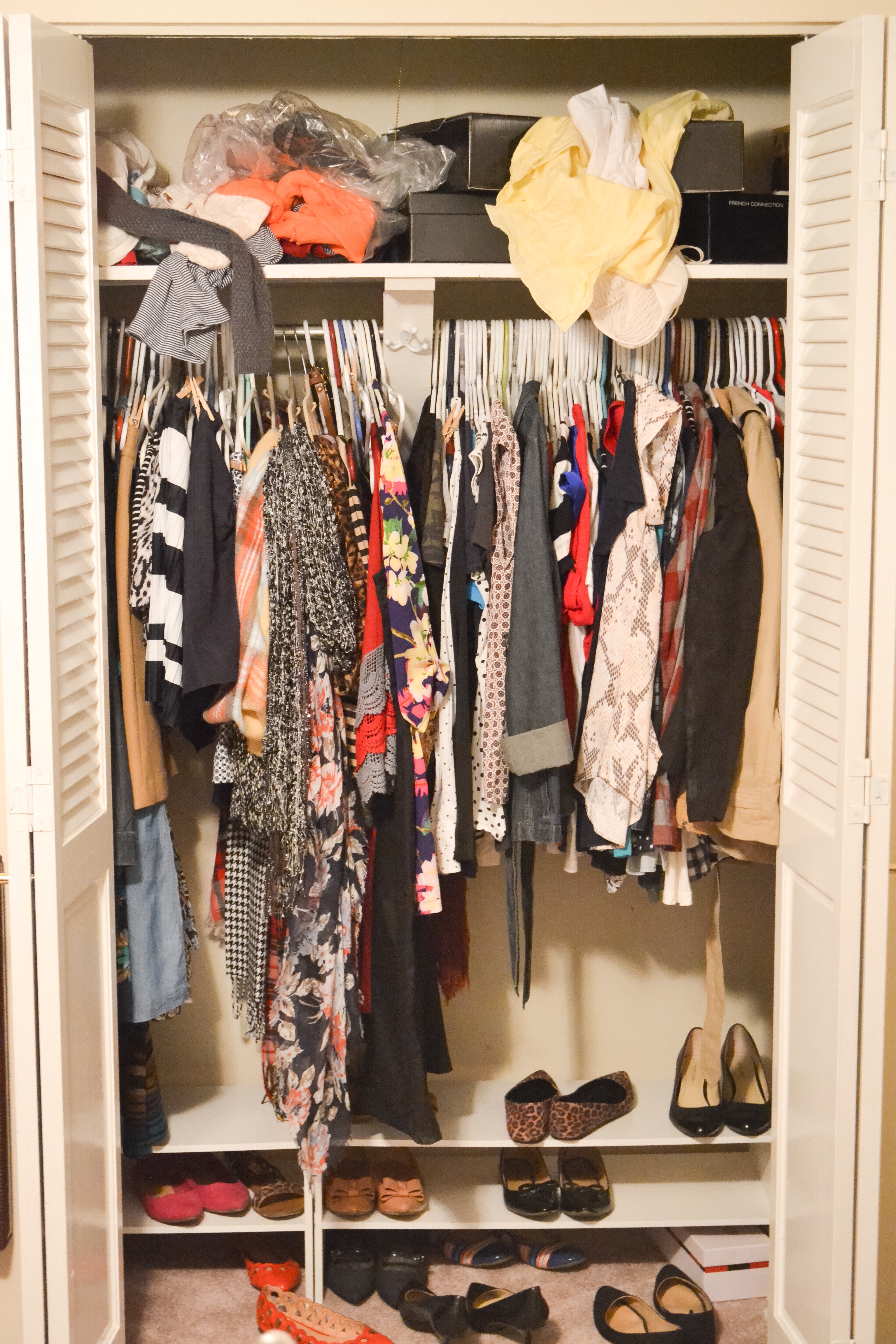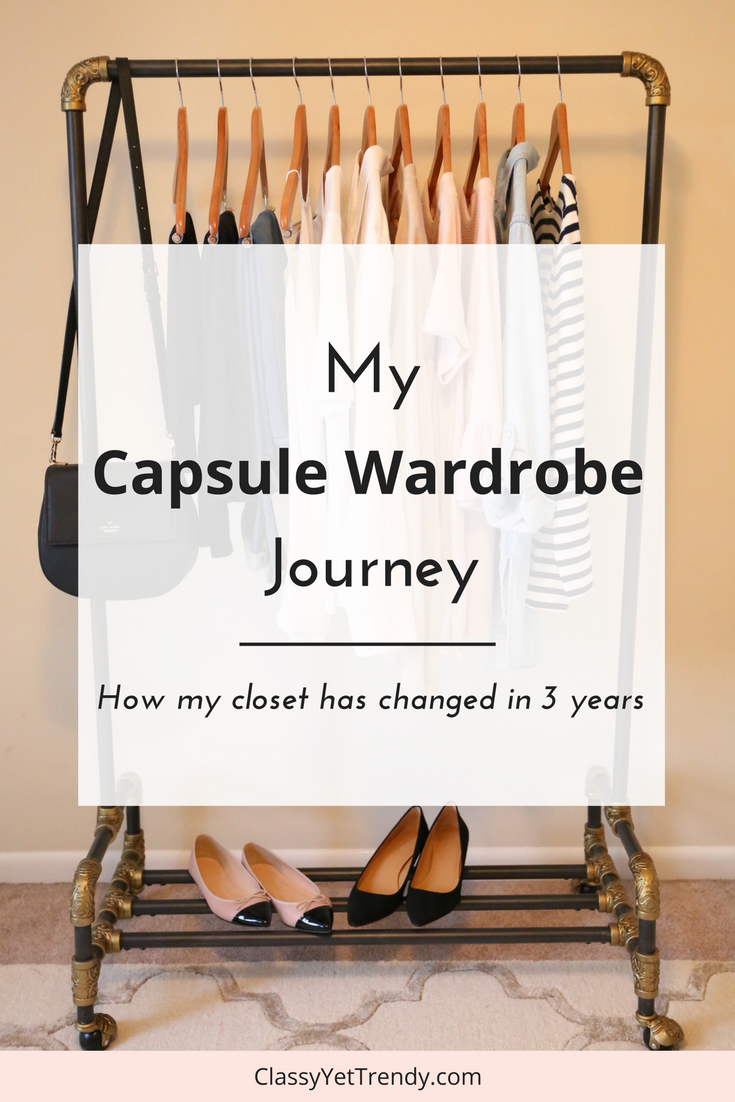 Year: 2014
Here's one of the first outfits I wore when I started blogging.  A navy striped skirt with a navy tee.  I still have the skirt and it still looks great!  I bought it from J. Crew Factory.  I bought the tee from a thrift store.  I wore it many times, but I eventually had to donate it from too much wear.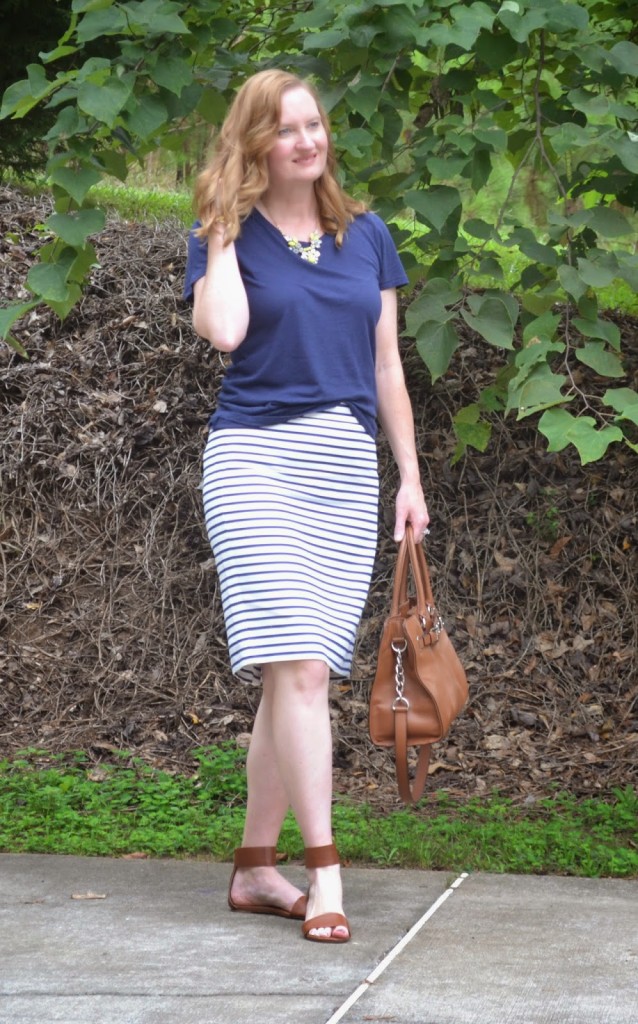 Similar Outfit Items:
navy tee
striped skirt
ankle strap sandals
brown satchel
When I started utilizing a capsule wardrobe, my whole way of thinking about clothes changed.   I would look in my closet and it was neat and tidy, how refreshing!  I started feeling better about myself because I could find everything in my closet and in turn was getting dressed faster.  I felt like a weight had been lifted off my shoulders because I felt less stressed getting dressed.  I started wearing the right clothes for me, that I felt great in.  I started receiving compliments about how great I looked.  I was spending way LESS on clothes and I LOVED everything I was wearing.  My life had changed for the better!
Here's an outfit I'm not too proud of from October 2014.  It's a trendy, "dressed up sweatshirt".  I bought it because I thought it was pretty, but I only wore it with black jeans.  I spent about $40 on it, but I was limited as to what it would coordinate with.  Needless to say, I grew tired of and I don't have it anymore.  Lesson learned.  But, I wore the jeans so many times that they faded.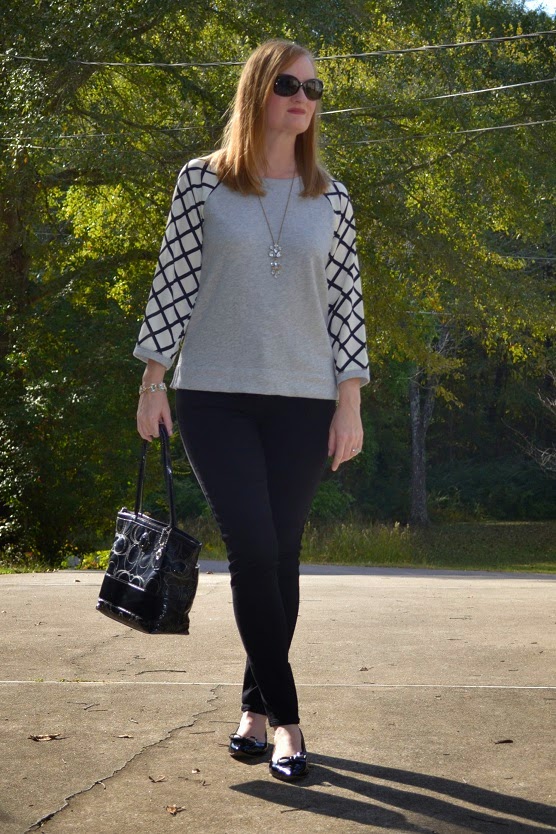 Similar Outfit Items:
black jeans
black satchel
black bow flats
Year: 2015
In the photo below, from 2015, the way  I bought clothes had changed.  I was shopping with purpose, buying not only what I liked, but making sure each purchase would coordinate with at least 3 other items in my closet and making sure the items were well-made and would last for years.  Even though the dress below consists of a pattern, I've worn it several ways in multiple seasons.  Below, I'm wearing it with a denim vest, but I also have worn it with with a beige cardigan, a utility vest and an olive utility jacket.  I still have all the pieces in this outfit today!  Find out more about this outfit in the Dress, Vest and Rivets blog post.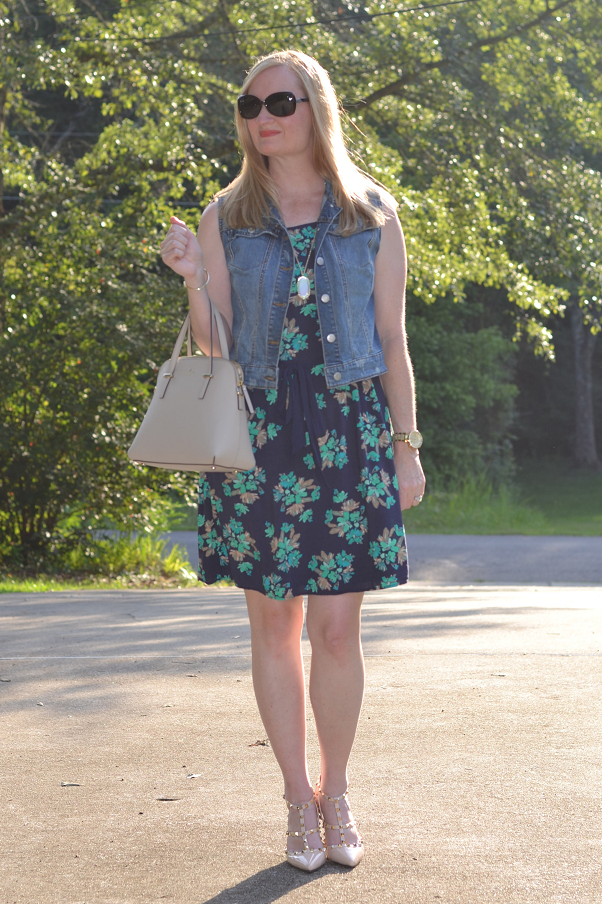 Similar Outfit Items:
sleeveless patterned dress
denim jacket
Kate Spade bag
rivet heels (limited sizes available)
Kendra Scott necklace
Year: 2016
 The photo below is from last year, June 2016, "Neutral Palette".  This is when I discovered my love for clothing styles with solid colors and simple designs.  They are truly timeless clothes that I love to wear!  The top is linen and I found it at Urban Outfitters when I was shopping with my daughter one weekend.  I had been looking to add a cold shoulder top to my summer capsule and found this one when I was least expecting it.  The ivory beige color is beautiful, the fabric is gorgeous and is well-made.  I'll be adding it to my summer capsule again this year.  I still have the jeans, faux leather tote and these wedge espadrilles, that I will be wearing again this summer season.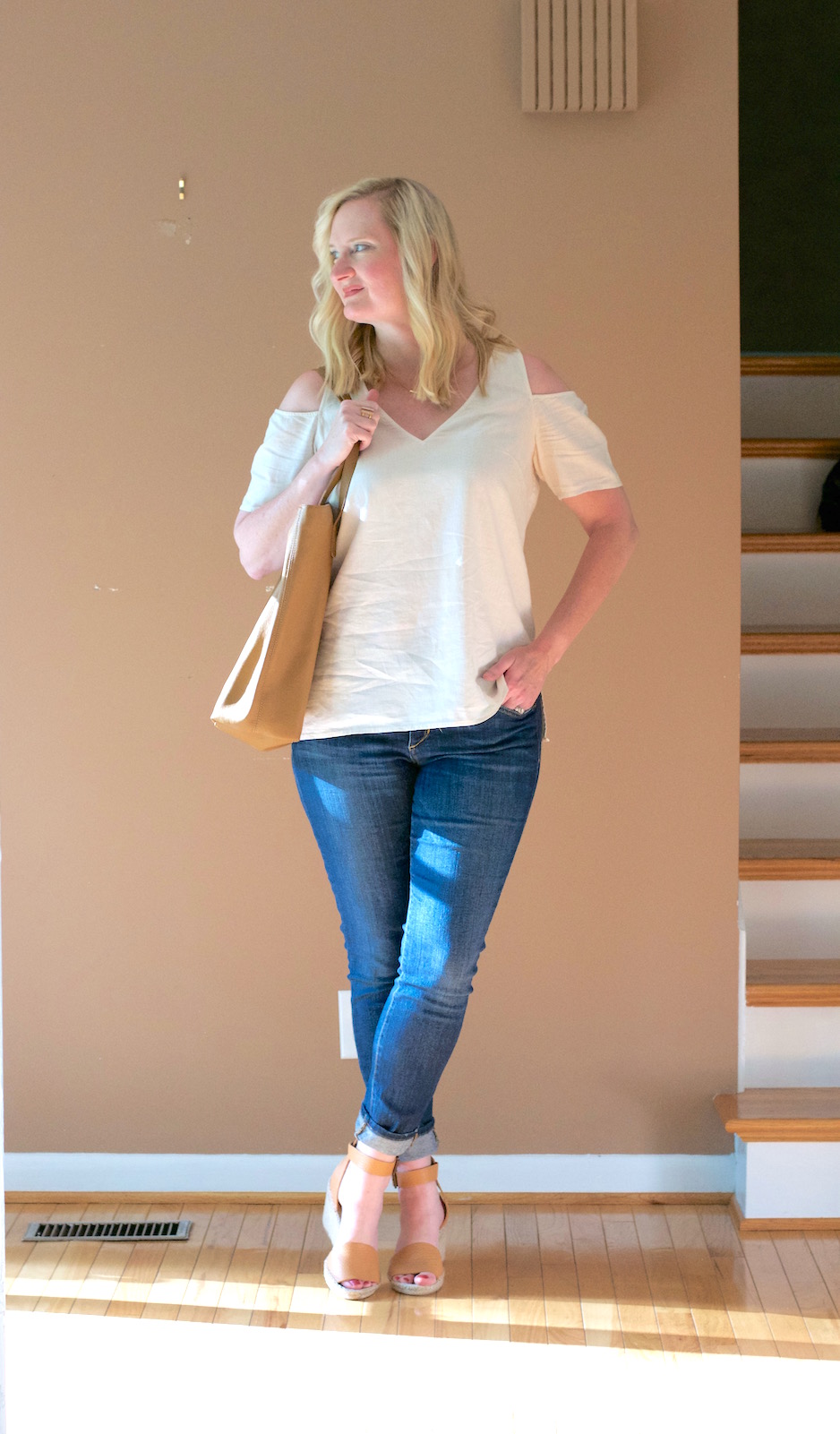 Similar Outfit Items:
ivory cold shoulder top
ankle jeans
faux leather tote | real leather tote
wedge espadrilles
Year: 2017
I think I have come full circle with using a capsule wardrobe system.  A few weeks ago I did an experiment, a "10 x 10 Challenge", and put part of my spring capsule wardrobe to the test.  I chose 10 items and wore just those items 10 different ways for 10 days.  Find out more about it in this blog post, "10 x 10 Challenge".  Find out how I wore those 10 items for 10 days in this post, "10 x 10 Challenge: What I Wore In 10 Days".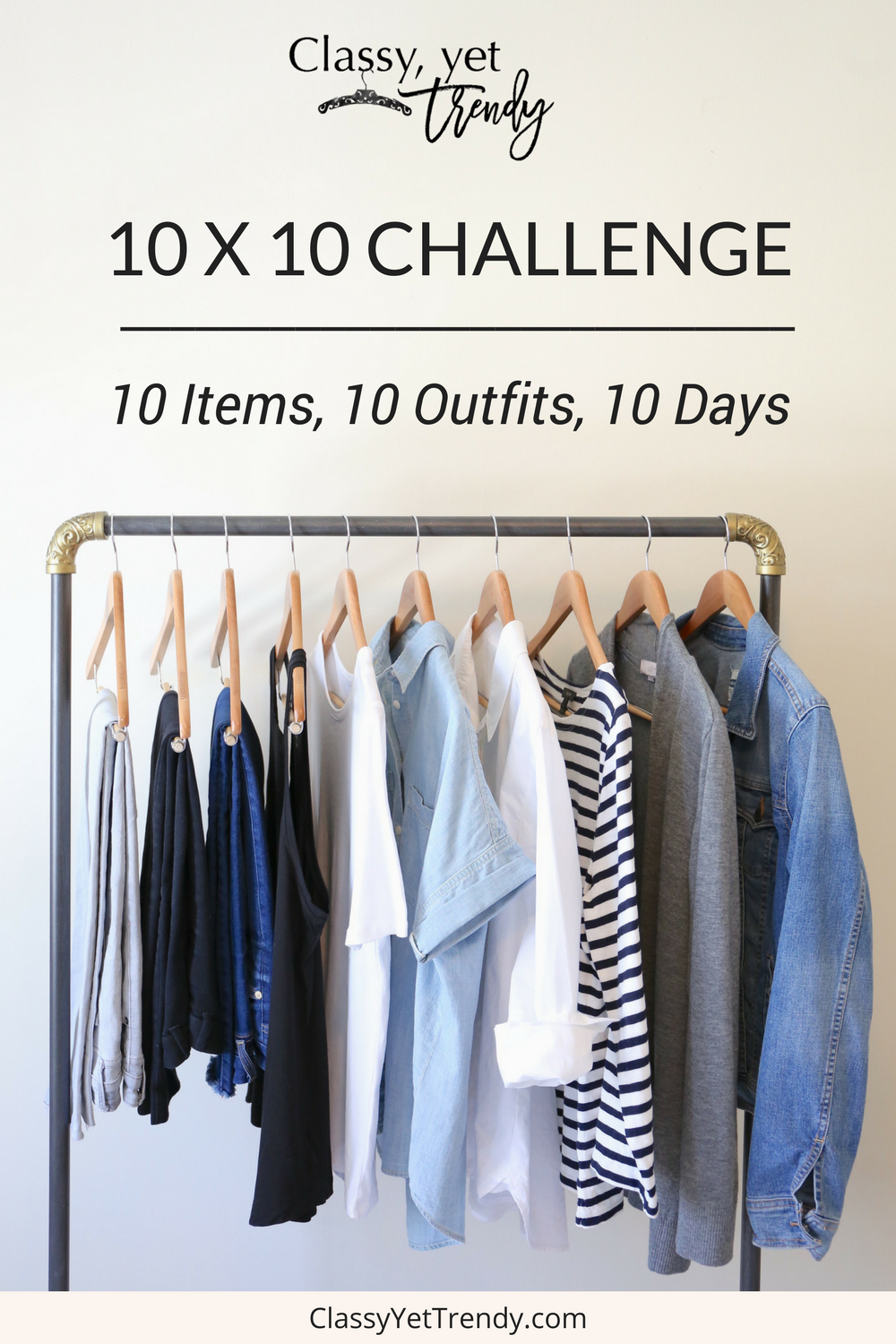 Here's a recent post where I'm wearing basic essentials, but I make the outfit more interesting by adding colorful accessories.  I added this white short sleeve top and frayed hem jeans to my spring capsule this year.  I'll be wearing this short sleeve top in my summer capsule as well.  See my outfit details in this blog post, "Frayed Hem Jeans and Central Shirt".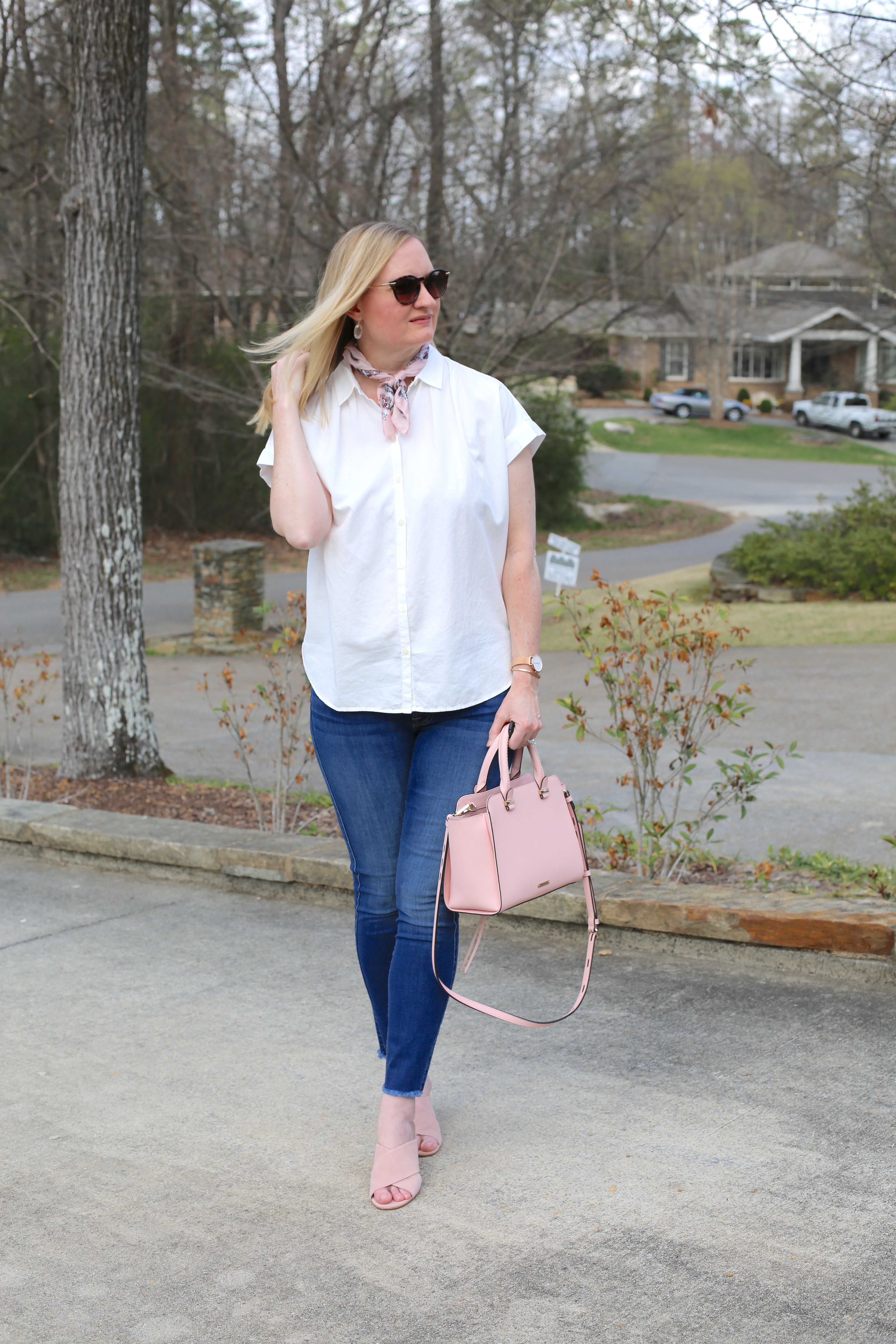 Similar Outfit Items:
white courier shirt
frayed hem jeans
blush slide in pumps
bandana scarf

I'm content with the clothes in my closet and love to wear every one of them!  My clothes preferences has changed, along with how I shop for clothes.  I make more concious choices when shopping.  I buy less, but I feel like I now have more!
Has your closet changed over the years?  Has your sense of style changed?

The two featured bloggers from the last linkup are:


1.  Please follow your Host 
2. Link up to 5 posts: 
it can be about fashion, style, beauty or lifestyle

(linkup to your blog post and not your main page)
3. Please include a link back to this post or place my linkup button in your post.
4.  Now, add your post(s) below!  I hope you enjoy the linkup and enjoy meeting other bloggers!
Each week I feature 2 bloggers from the previous link,
so link-up your blog posts for your chance to be featured!