Face Masks To Coordinate With Your Outfits: Adult and Kid
With the Covid situation going on and some states having mandatory mask rules, it is necessary to have a good mask on hand. If we're gonna have to wear a mask, why not be fashionable too?! I have had several requests for face masks that will coordinate with your outfits. So, I'm sharing a few face masks I found that will match your outfits, or add color to your outfits, in both adult and kid sizes!
Just like putting together an outfit, neutral colors always coordinate well. If your capsule wardrobe has a black base, then black, white or gray will match. If your capsule has a navy base color, then a shade of navy or blue will look great.
First of all, let's talk about the styles of face masks and the effectiveness of how well they work to protect us from Covid. There are cloth, surgical and N95 (source: Johns Hopkins Medicine). I'll be sharing cloth masks that I have found readily available at retailers, which are washable and reusable. If you prefer disposable masks, here is a 50-Pack 3-Ply Disposable Masks that is an Amazon Choice.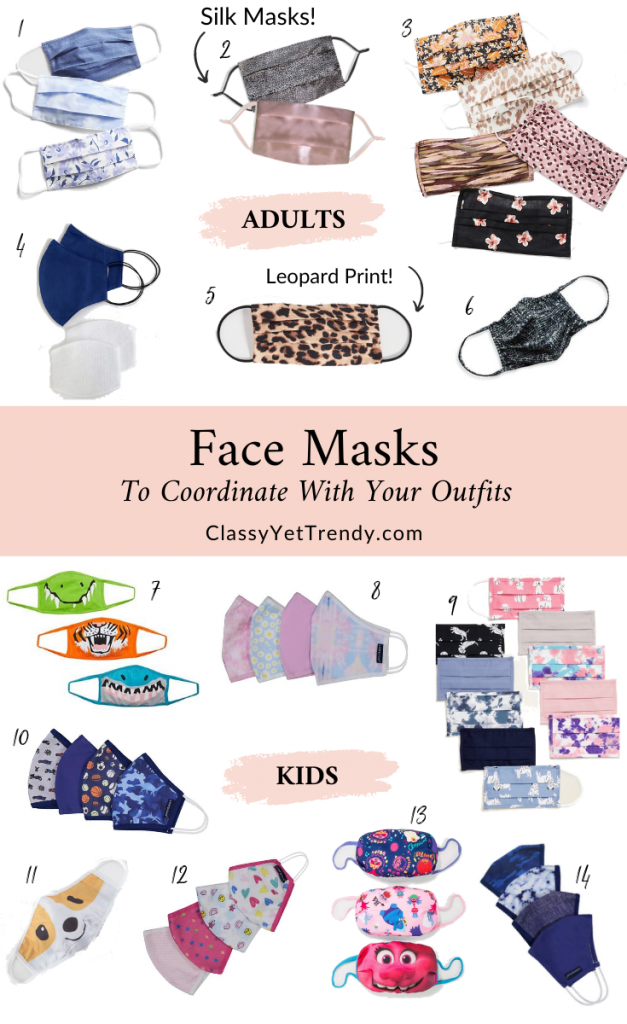 Shop The Collage:
1. 3-Pack Triple Layer Face Masks in "blue and purple floral" (Adult)
2. Slip Silk Mask (Adult)
3. Sanctuary 5-Pack Masks (Adult)
4. Marcellamoda 2-Pack Reusable Face Masks (Adult)
5. Leopard Print Mask (Adult)
6. Tweed Print Face Mask (Adult)
7. 3-Pack Dinosaur, Tiger & Shark Masks (Kid)
8. 4-Mask PInk Variety Pack (Kid)
9. 10-Pack Triple Layer Masks Set (Kid)
10. Andy & Evan 4-Pack Blue Set (Kid)
11. Corgi Reversible Mask (Kid)
12. Andy & Evan 4-Pack Pink Set (Kid)
13. Trolls 3-Pack Masks (Kid)
14. 4-Mask Blue Variety Pack (Kid)
Adult Masks
These 5-Pack Triple-Layer Cloth Masks that come in several colors and patterns. These are budget-friendly and are only $12.50! These are 100% cotton and are machine washable. This 4-pack Adult Face Masks includes all neutral colors with a black, gray, black/white stripe and leopard pattern masks. I like this 3-Pack Triple Layer Face Masks which is only $15, with favorite patterns being "green camo" and "pineapple blue". This Marcellamoda 2-Pack Reusable Face Masks includes 2 filters and are available in size S/M or L/XL, and are in a few colors including navy or black. For a luxurious feel, this Slip Silk Mask comes in 4 colors to choose from (I want one of these!). And, I LOVE the pattern on this Leopard Print Mask!
I have this Kendra Scott "White Print" 2-Pack Face Masks, which are made with a bendable nose piece. For every purchase of these masks, Kendra Scott donates one mask to a frontline worker!
Kids Masks
I found several masks for kids in cute patterns! From super hero patterns, like this TMNT 3-Pack and this Wonder Woman 3-Pack. If I was a kid I would be wearing this adorable Trolls 3-Pack Masks! If your little girl likes unicorns, rainbows and hearts, she will love this Little Blue House 3-Pack Masks. I'm sure all the little boys will like this 3-Pack Dinosaur, Tiger & Shark Masks.
There are also youth masks in cute colors and patterns as well. This 4-Mask Variety Pack comes in navy tones and also pink tones. Here is a 10-Pack Triple Layer Masks Set for kids in blue and pink tones.
Shop
Kids

Masks:

"Come to me, all who labor and are heavy laden, and I will give you rest." – Matthew 11:28