Trending Fall Color: Spice
Fall is in the air and the temps are getting cooler! When the weather starts changing, it's the time to start planning your closet for the next season. For those of you who use a capsule wardrobe, you may already have most of your core closet essentials, but you may need a few clothes in one or two accent colors. Every season there are certain colors that are popular and several retailers focus on those colors when they release their new season clothes.
Spice is a trending color for the Fall 2020 season. It was popular last year and it's back again this year. I'm seeing the spice color on clothes available in tones such as a light pumpkin, rust and a darker cinnamon.
The Fall 2020 capsule wardrobe season eBooks available in the Capsule Wardrobe eBook Store, which are complete wardrobe plans for the season and includes 100 outfit ideas, include clothes in a couple of accent colors. The Teacher Fall 2020 collection and the Stay At Home Mom Fall 2020 collection both include cinnamon and the Essential Fall 2020 collection includes spice.
A Complete Stay At Home Mom Fall 2020 Wardrobe…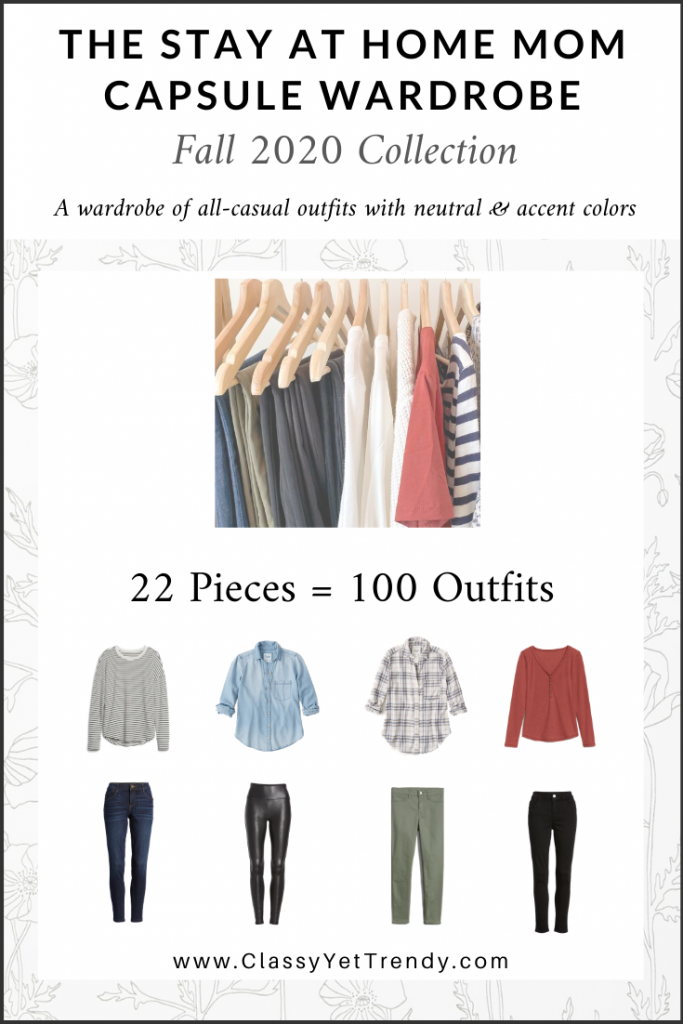 I found several pieces available at retailers in the Spice color you may like…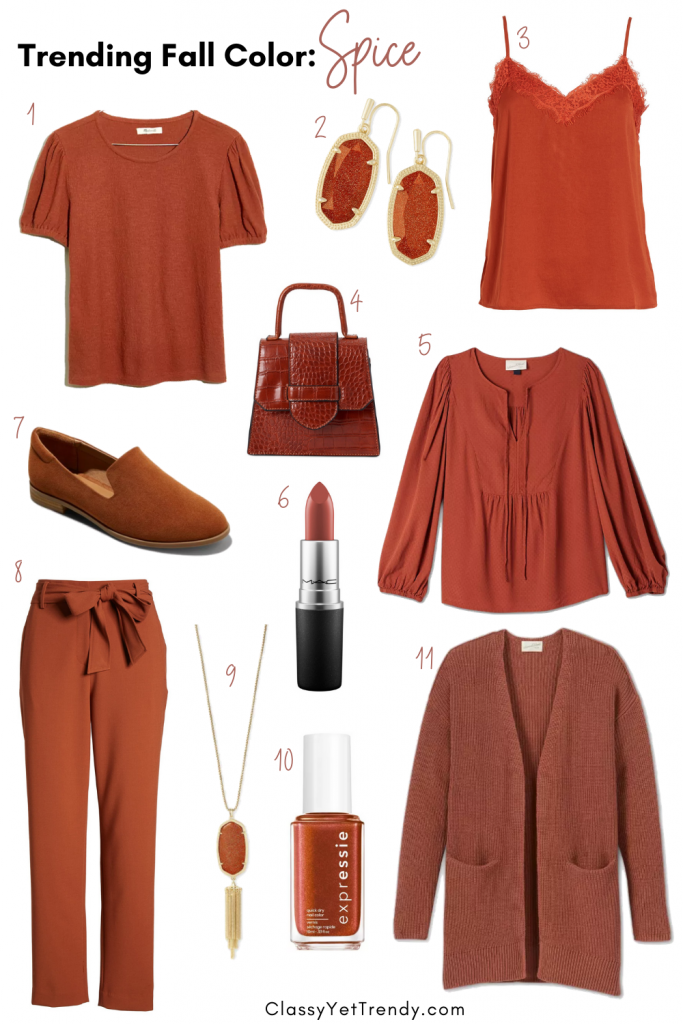 1. Jacquard Puff Sleeve Top – The puff sleeves on this top have just enough "puff" without being too big. The material has a nice jacquard texture and will look great underneath a denim jacket, utility jacket or suede jacket. This top is currently on sale for $39.50, with an additional 40% off for Madewell Insiders!
2. Goldstone Drop Earrings – These earrings in the Dani size are great to wear casually with jeans or leggings and you can also wear them with your dressy outfits. The goldstone color is a color perfect for the Fall season!
3. Lace Trim Satin Cami – Lace camisoles have been popular for the last two years. The lace detail looks beautiful underneath a longer length open cardigan and you can also wear them underneath a blazer or a shorter v-neck cardigan. This cami comes in 5 colors/patterns.
4. Top Handle Mini Crossbody Bag – Would you believe that this bag is at WalMart and is only $24.99?! It looks WAY more expensive than that! It's a versatile bag that you can carry by the handle, on the shoulder or as a crossbody.
5. Tie Front Peasant Top – When I saw this top I knew I had to include it in this post! The color is gorgeous and it's available at Target for only $24.99. It is such a beautiful top with the v-neck detail that you can tie or leave untied. This top also comes in 3 other colors.
6. Satin Lipstick in "Paramount" – MAC lipstick is one of my favorite brands. Their lipstick goes on smooth and the colors are beautiful.
7. Microsuede Loafers – Here is another budget buy as these loafers are only $24.99! These loafers will look great with jeans or pants and they have a rounded toe, making them more comfortable than a pointy toe loafer.
8. Tie Waist Twill Ankle Pants – These pants have a nice silhouette giving them a beautiful feminine look. You can wear these pants with the tie waist belt and it is removable. The "rust sequoia" color is gorgeous and is also available in "green ponderosa" and "black".
9. Goldstone Rayne Necklace – This is a classic gold tassel necklace that has been popular for a few years. Being a long pendant necklace, it looks beautiful with several outfits including a dress, sweater, cardigan, blazer or jacket. It also comes in 12 other colors to choose from!
10. Essie Quick Dry Nail Polish in "Misfit Right In" – Have you tried this nail polish yet? I bought this nail polish in two colors and OMG it dries in less than 5 minutes! I can't wait to wear the "Misfit Right In" color for the Fall season.
11. Open Pocket Cardigan In "Rust" – Target has SO MANY gorgeous clothes and shoes this season! This cardigan is only $25.00 and comes in 7 available colors. I absolutely love the rust color tone of this cardigan. You'll look great wearing this cardigan with a dress, jeans, pants or a skirt.
Shop The Post:
Shop More Spice Color Items:
"We wait in hope for the Lord; he is our help and our shield." – Psalm 33:20