Nordstrom Anniversary Sale 2022: Beauty Essentials I Own & Love
The Nordstrom Anniversary Sale #Nordstrom #NSale is going on now and ends July 31! The Anniversary Sale is when Nordstrom brings out a ton of new fall styles and immediately marks them down so you can get both wardrobe staples and new trends for the season at big discounts before the fall season even begins. This annual sale is different than retailer traditional sales. Instead of items being marked down as the season ends, NEW items are discounted before the season even begins!
FYI, all of my #NSale 2022 posts can be found under the NSALE 2022 tab at the top of ClassyYetTrendy.com. (If browsing on your phone, tap the 3 lines at the top, for the dropdown menu.)
I picked up a few beauty essentials in this year's sale. Here are a few beauty products and tools I use everyday…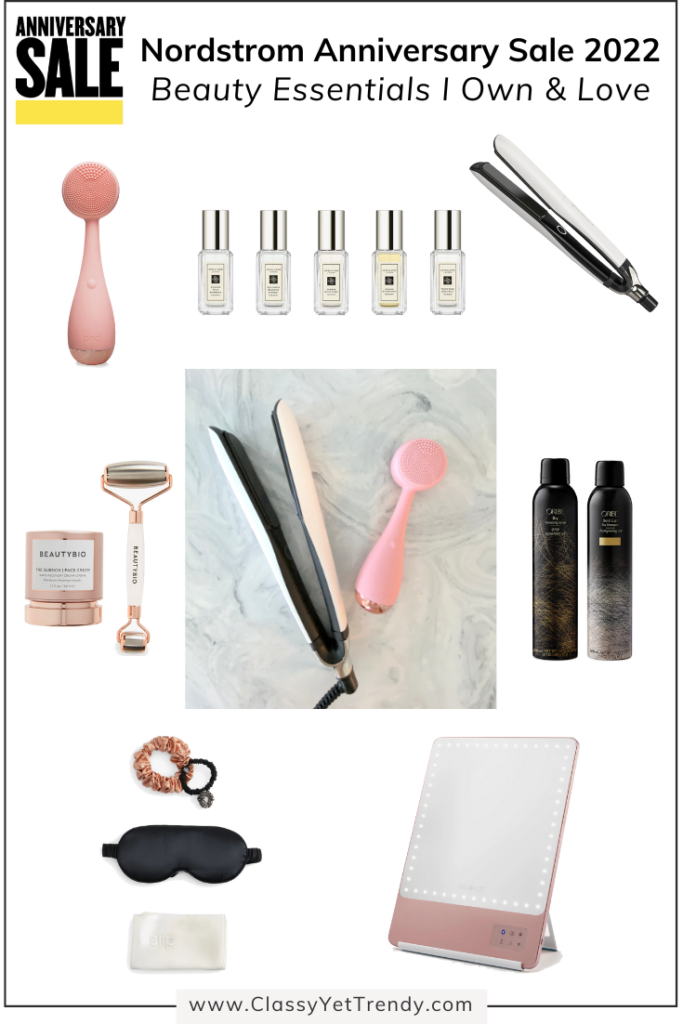 Jo Malone Fragrance Set – Jo Malone is my most favorite fragrance to wear and have been wearing their scents for several years. I am sensitive to some fragrances and can't wear some as they affect my sinuses, but I can wear Jo Malone fragrances. This set includes 3 fragrances I wear: Nectarine Blossom & Honey (my most favorite), Peony & Blush Suede and English Pear & Freesia.
PMD Clean Facial Cleansing Device gifted – I was kindly gifted this tool by PMD to try and review. I have been using it for over a week now and LOVE it! I remove my makeup, apply my facial cleanser, then turn on the tool on one of the four settings and use it on my face for a minute or two. Afterward, my face feels like it has been massaged and is clean. And, because it is made of silicone, it is odor-resistant, antibacterial and hypoallergenic.
Beautybio Cryo Facial Set – The roller in this set is naturally cool and feels good to my skin. I apply the Quench Rapid Recovery Face Cream, then use the roller to tighten my pores and gently massage the cream into my skin.
Slip Silk Discovery Set – I have bought the pieces in this set separately and love them all! Since I wake up early every morning, I like to take an afternoon nap to recharge. This mask blocks out the light and I go right to sleep! I wear Silk's hair bands when I wear my hair in a ponytail. And, I the silk pillowcase helps decrease aging signs, creasing and bed head.
GHD Platinum+ 1-Inch Styler gifted – Several years ago I had a GHD straightener when I used to straighten my hair and it lasted for years! So, I was excited when GHD kindly gifted this hair tool to try and review. I use it to straighten the ends of my hair after I curl it so my ends don't look frizzy. It heats up quickly and I love using it!
Riki Loves Riki Lighted Mirror – This is a bright LED mirror which includes magnifying and phone-clip attachments so you can do detailed looks or take selfies and videos—no filter needed. I have seen a few beauty influencers use this mirror, so I was excited to try it. I am impressed at the clear lighting on the mirror and helps me blend and apply my makeup better.
Oribe Hair Set – I have been using Oribe products since last year and love how gentle they are on my hair. I have fine texture hair, so I have to be particular of the products I use on my hair. I use Oribe's Texturizing Spray (in the set), Balm d'Or Heat Styling Shield (not in the sale) and Fine Hairspray (not in the sale). This set includes their Texturizing Spray and Dry Shampoo.
Shop The Post:

Thank you for visiting the blog!
A Bit Of Inspiration For Your Day:
"for it is God who works in you to will and to act in order to fulfill his good purpose." – Philippians 2:13