5 Ways To Style A Striped Tee
A striped tee is a classic and timeless piece to have in your closet. Every season I have a striped tee in my own closet; spring and summer months it is a short sleeve and the fall and winter it is a long sleeve. The most versatile striped tee is one that is either black and white or navy and white. A neutral color combo tee coordinates well with other neutral colors or with your accent color clothes and can be styled casual or dressy.
I shared these outfit ideas on my Instagram @classyyettrendy and I'm also sharing the post here on the blog! Follow along on Instagram @classyyettrendy for more outfit ideas and see what I wear from my own capsule wardrobe!
The striped tee in all the outfits is the Boden Breton Short Sleeve Tee in "ivory/black stripe". It also comes in "ivory/navy stripe", which will look lovely with your navy colors in your wardrobe. I had the "ivory/navy stripe" tee for several years, then a few years ago, Boden released the "ivory/black stripe" color, so I quickly bought that one. It's my most favorite striped tee and wear it often!
Outfit 1 – With White Jeans & Espadrille Wedge Sandals
To create this outfit with the Boden Breton Tee, I added these White Ankle Skinny Pants, which look like jeans, but the material is a soft cotton-mix. I have had these pants for several years and love wearing them. They aren't see through if you wear nude panties and are very comfy! I love these Espadrille Wedge Sandals and are new to my wardrobe this year. They have a 1 1/2″ heel, which is just right for tall women like me, and are very comfortable. I originally bought this Rattan Tote with Strap (similar) last year from Nordstrom, but found a similar smaller one on Amazon.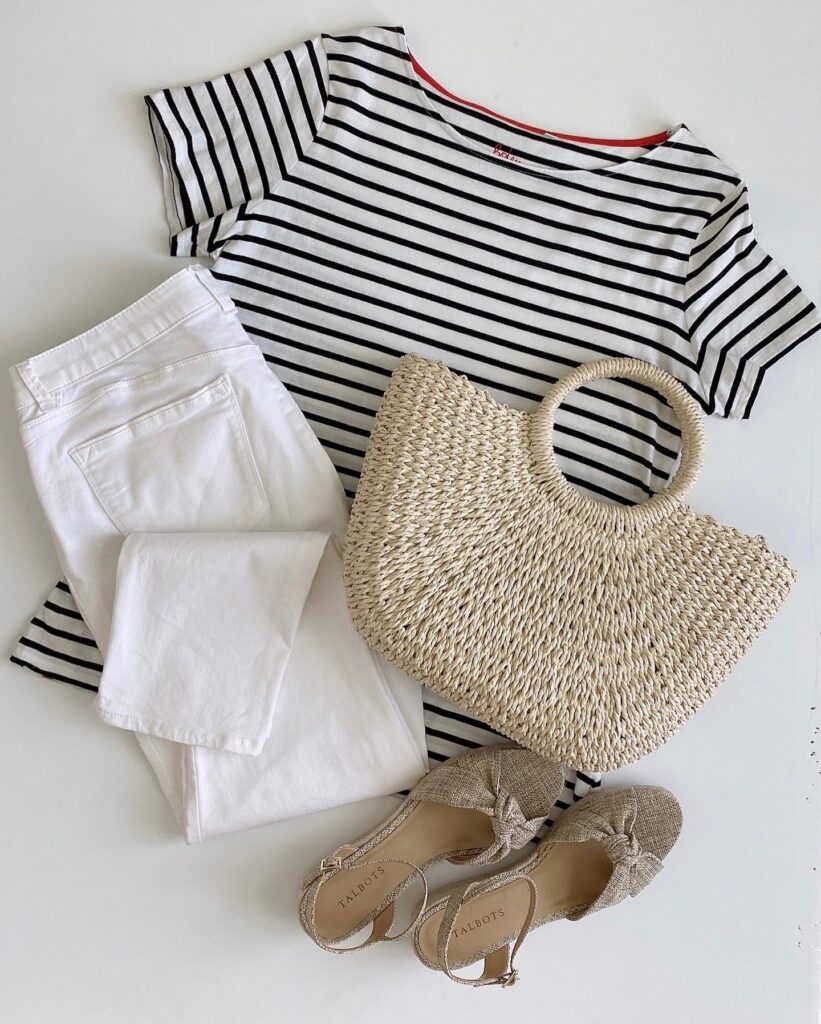 Shop The Outfit:

Outfit 2 – With Black Shorts & Birkenstock Sandals
I would wear this outfit on vacation sightseeing and eating a casual lunch outside! I enjoy wearing longer length shorts, like these Ann Taylor 6″ Black Shorts, which also come in white, beige and navy. I usually don't buy multiples of an item in different colors (other than the Boden tee), but I had been wanting this pair of white Birkenstock Birko-Flor sandals for a while and finally bought a pair on sale a couple of months ago. I loved them so much that I bought the black Birkenstock Birko-Flor sandals! I also added my Madewell Fedora Hat to the outfit.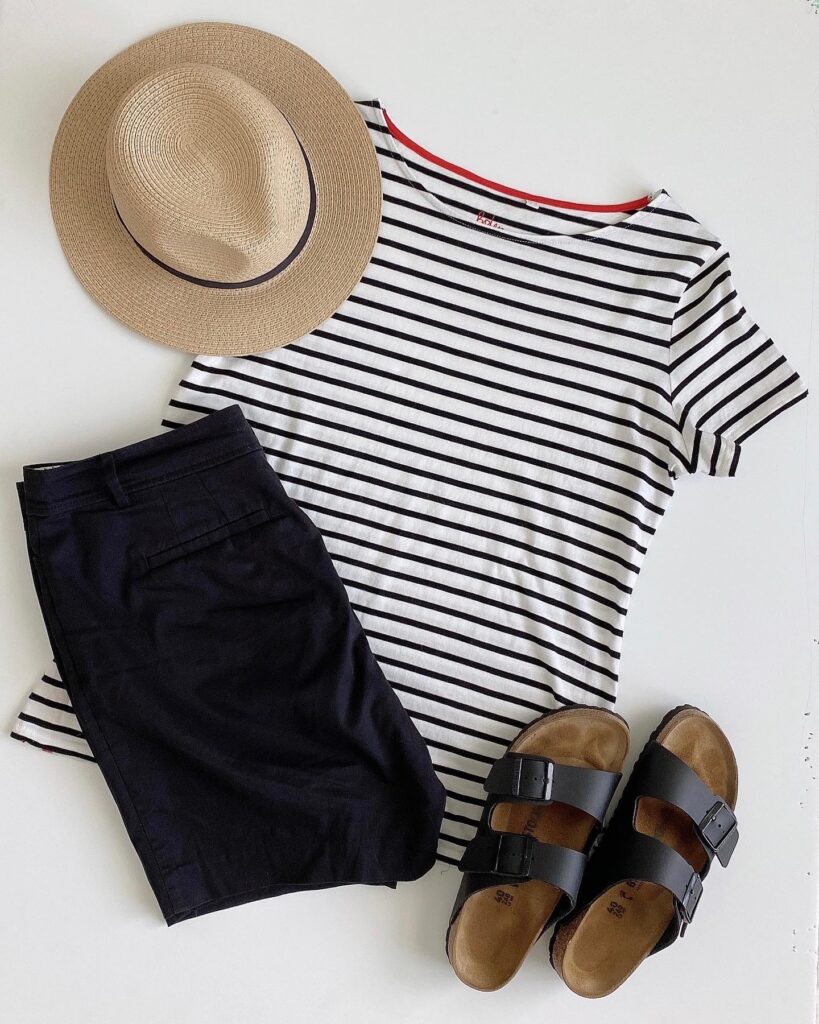 Shop The Outfit:

Outfit 3 – With Linen Pants & Huarache Sandals
I love the color, fit and style of these L.L. Bean Linen Pants! These are the oatmeal color and they also come in blue and pink colors. Yes, they do wrinkle some, but I don't mind as they are linen and keep me cool in the summer heat. I have had these Nisolo Huarache Sandals for several years and are one of my favorite shoes to wear. They are comfortable to walk in (with a small break-in period at first) and look great with all your casual Spring and Summer outfits with pants, shorts, skirts and dresses. My Nisolo Huarache Sandals are the "almond" color and they come in several other colors too! My bag is the Polene Numero Un Nano in the "camel" color. This little crossbody bag holds a lot and is great to wear shopping and traveling. I also love the black color!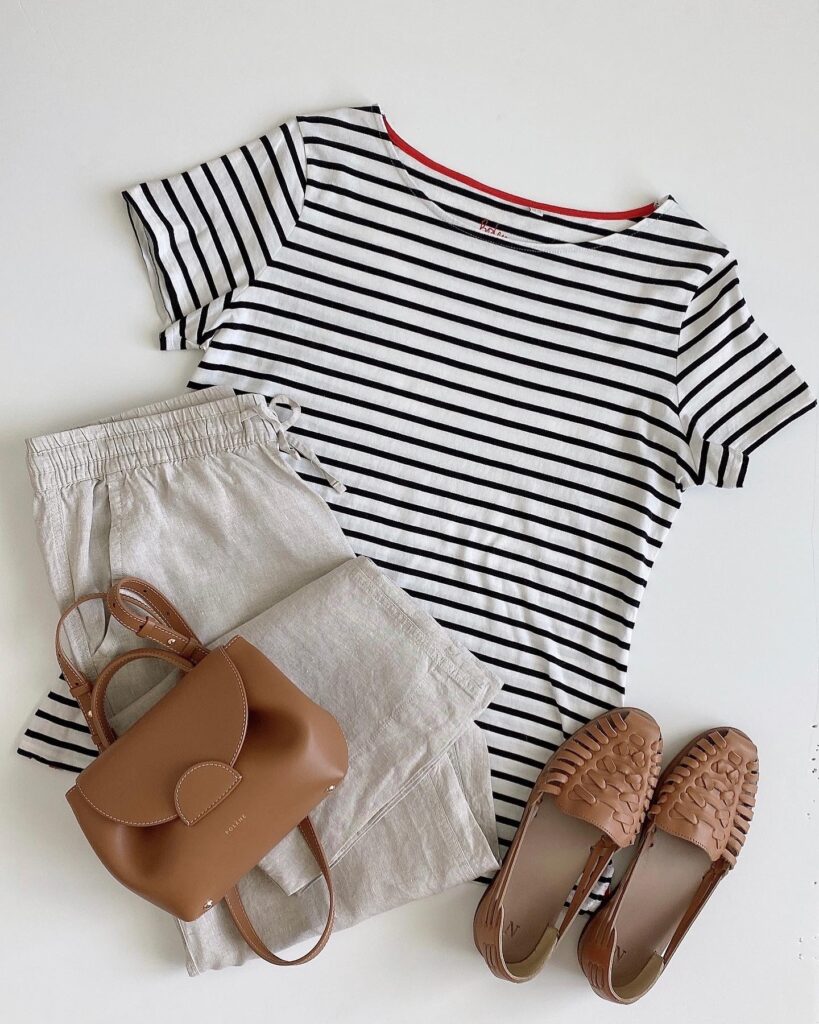 Shop The Outfit:

Outfit 4 – With Black Pants & Ballet Flats
An easy outfit to put together using your basic essentials: Black Pants (I also love these pants!) and Black Ballet Flats (also love these ballet flats). I added my DeMellier Vancouver Black Bag to dress up the outfit. You could also add this linen-blend blazer, button-front cardigan or this soft longer-length denim jacket as a layer.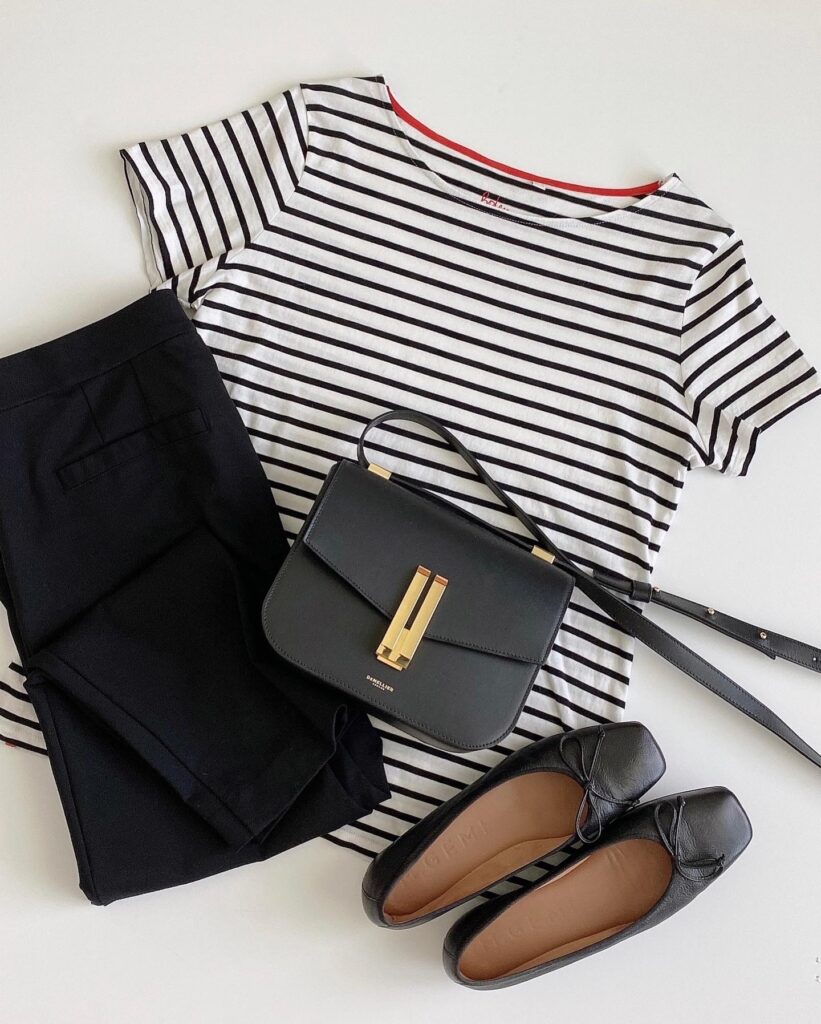 Shop The Outfit:

Outfit 5 – With Jeans & Casual Sneakers
Here is another easy, casual outfit to put together! I recently added these Mother The Dazzler Raw Hem Ankle Jeans to my closet, on sale in the Nordstrom Anniversary Sale. They are a slim jean, but not skinny and I love the soft and stretchy denim! These Veja Campo Sneakers are my most favorite sneakers! They are super comfy and I have walked in these all day many times. They are also leather, so they clean up easily. The cognac color of this Madewell Sydney Crossbody Bag in the "burnished caramel" color is so pretty! I love the minimalist look of this bag, the top handles and crossbody strap.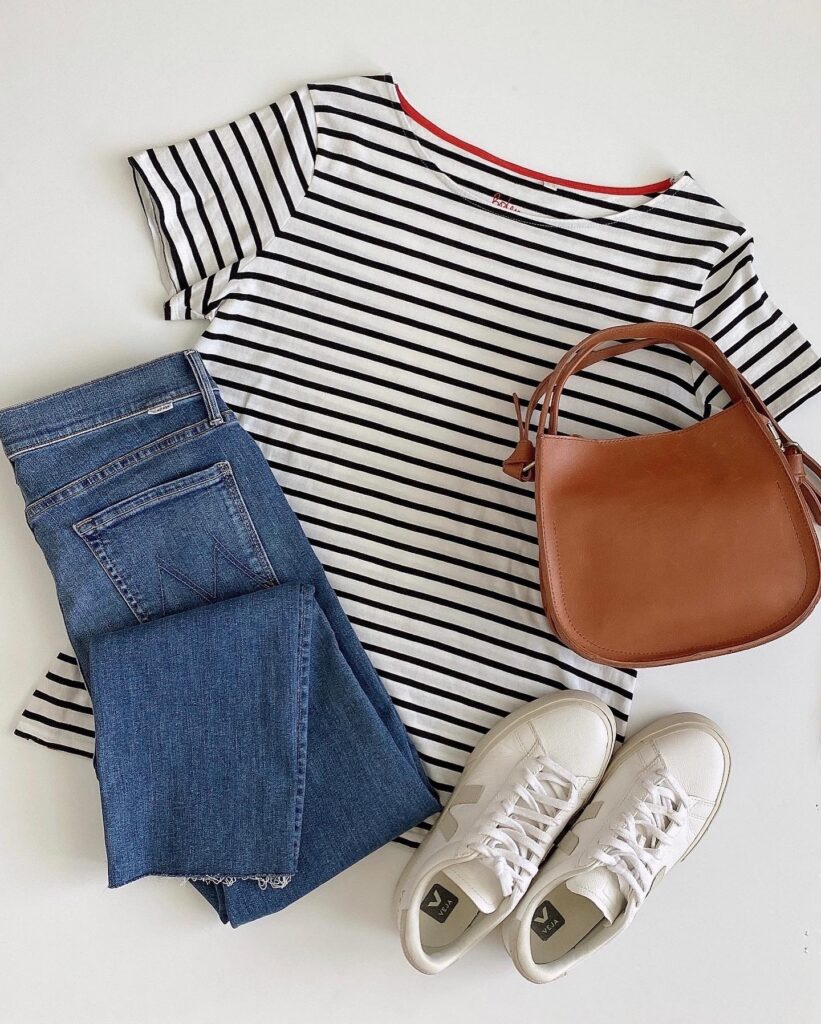 Shop The Outfit:

There are many other ways you can wear this Boden Breton Short Sleeve Tee. How are some ways you would wear it?
Thank you for visiting the blog!
A Bit Of Inspiration For Your Day:
"Humble yourselves, therefore, under God's mighty hand, that he may lift you up in due time. Cast all your anxiety on him because he cares for you." 1 Peter 5:6-7