Boy's Back To School 16-Piece Fall 2023 Capsule Wardrobe
It's about that time of year…Back To School for the kiddos! Have you started shopping for school supplies and new clothes for the school year?
In appreciation of my blog readers and social media followers, I have created a FREE 14-piece capsule wardrobe for Boys, sizes XS-XL. And, to make it easy for back to school shopping, everything is from J. Crew Factory, DSW and Old Navy, so you can buy a complete wardrobe from the convenience of your home! The prices are budget-friendly, so you can keep your spending at a minimum.
As you all may know, I publish several women's capsule wardrobe guides every season. Each capsule collection contains a complete wardrobe plan, all clothes and shoes that coordinate and 100 outfit ideas, a travel packing guide and more! What makes these wardrobe plans so functional, is that they include several core closet essentials that can be used over and over several seasons a year, saving you hundreds $$$ each year! Thousands of women use these wardrobe plans to get dressed easily and quickly everyday and love how their closets are neat and tidy.
I also created a Girl's Back To School 14-Piece Fall 2023 Capsule Wardrobe. See it HERE!
See all the previous year's Kids Capsule Wardrobes Here
Since all these clothes and shoes in this boy's capsule all coordinate, they will create more outfits in addition to the 6 outfits shown here.  You can add a few more tops, bottoms and/or layers in the same color palette to make even more outfits!  Just by adding a neutral color tee (like white, gray or navy), you can have even more outfits, plus those pieces will coordinate with all the pieces in the capsule. The base color of this capsule is Navy.
Everything in this capsule wardrobe can be found at J. Crew Factory, DSW and Old Navy
so you can shop online for everything from the convenience of your home!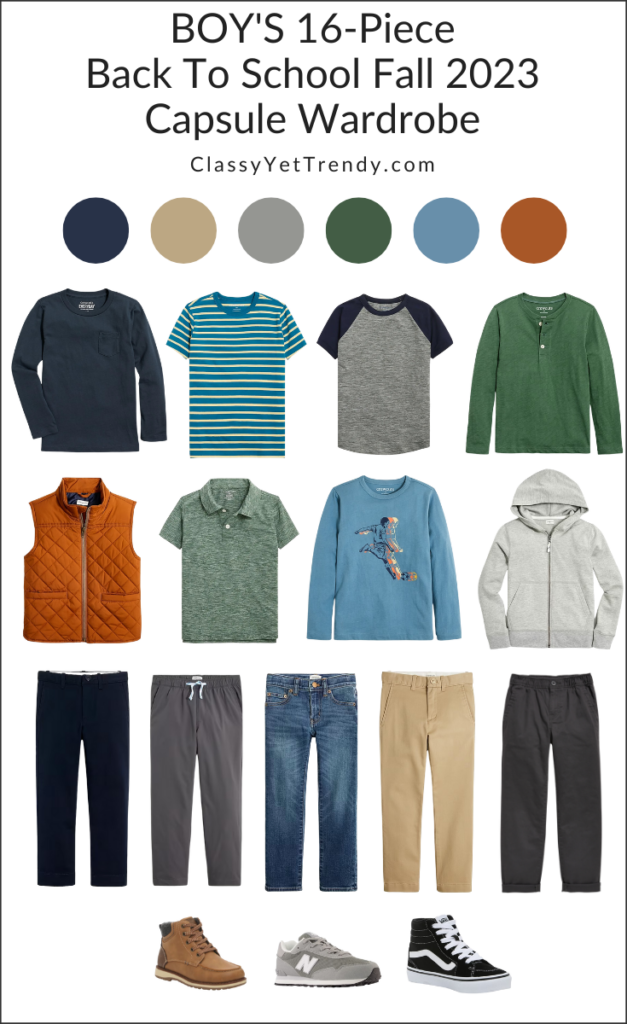 First Row:
blue long sleeve tee / blue stripe tee / gray&navy tee / green henley
Second Row:
quilted vest / green polo / blue graphic tee / gray zip hoodie
Third Row:
navy pants / gray drawstring pants / blue jeans / khaki chino pants / gray chino pants
Fourth Row:
brown boots / gray sneakers / black hightop sneakers
You may also like:
Girl's Back To School 14-Piece Fall 2023 Capsule Wardrobe
Summer Neutrals Mix And Match Outfits: 9 Pieces, 9 Outfits
10 Ways To Wear Black Linen Shorts
My 29-Piece French Riviera Casual Summer 2023 Capsule Wardrobe
If you are needing a women's or men's capsule wardrobe, all the available guides are in the Capsule Wardrobe Store! Each collection has all the clothes, shoes and accessories you'll need for the season. Included are 100 outfit ideas from just a few clothes and shoes, convenient shopping sources, a capsule wardrobe creation guide, a checklist, travel packing guide and more! Previous season capsules are discounted half price!
Here are 6 sample outfits made from the boy's capsule wardrobe. You can expand this capsule by including a few tops, bottoms and/or shoes either in neutral colors or using the accent colors in the color palette. See below for links to the accessories in the outfits!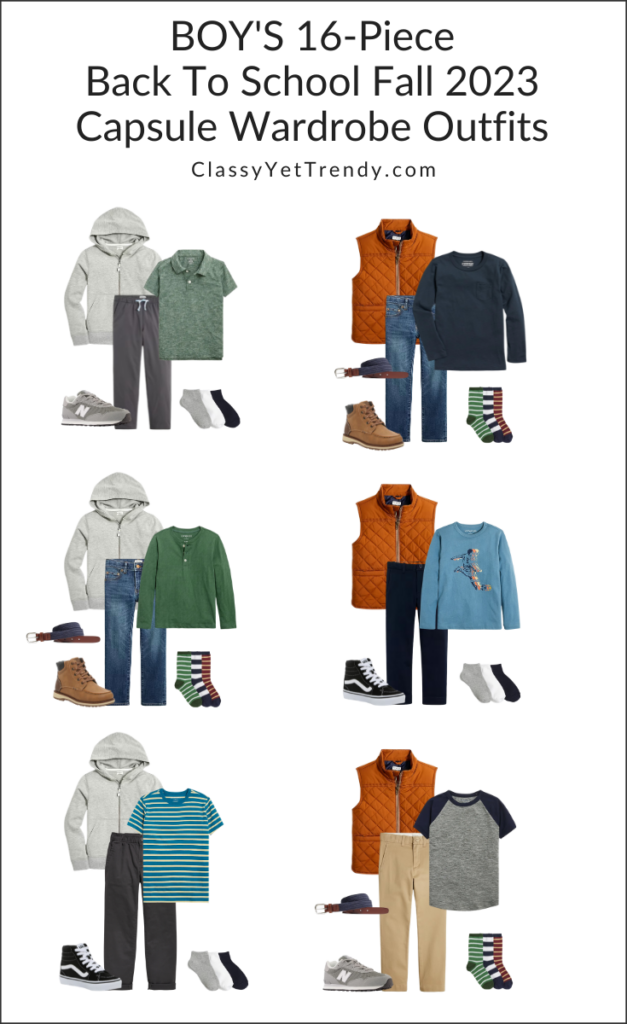 Shop the Clothes & Shoes:
Shop the Accessories:
Shop

ADDITIONAL

Clothes & Shoes for this capsule:
I hope your little ones have a fun and safe school year!


A Bit Of Inspiration For Your Day:
"Love the Lord your God with all your heart and with all your soul and with all your strength." – Deuteronomy 6:5