What To Wear On A Fall Sightseeing Day Trip
Thank you to Talbots and LTK for sponsoring this post! As always, all selections and opinions are my own.
Fall is here! The leaves are turning shades of red, yellow and orange and the temperatures are crisp and cool. I LOVE everything about the fall season: the cool weather, pumpkin patches, apple picking, day trips to sightsee all the fall scenery and most of all "sweater weather!"
A few days ago, my hubby and I went on a day trip to sightsee the fall scenery. While we were out, I bought a few pumpkins to decorate our front porch! Here in Alabama, our leaves are just starting to change colors and we enjoyed seeing all the fall scenery.
When it comes to shopping for sweaters, I always look to Talbots for the most beautiful selection. I love seeing Talbots New Arrivals! In my opinion, Talbots has the most sweaters to choose from in various styles and colors. You can build your outfit around your sweater, so if you are looking for pants, jeans or a skirt, Talbots has them! They also have layering pieces to wear underneath your sweater, so if it's too cool to wear the sweater by itself, but you don't want to wear a jacket, layering pieces like button-down shirts and long sleeve tees are a great option. This weekend, Talbots is having a Fall Fashion Weekend Sale where you get 30% off your purchase! The sale ends October 8.
For size reference, my height is 5'9″ and I weigh approximately 169 lbs. and have an hourglass figure. For tops, I typically wear a size Medium (10) or Large (12), depending on the brand and fit of the top (for slim-fit, I usually wear a Large). For bottoms, my normal size is a 10 or 12 (depending on the brand and fit of the bottom) OR a 30/31 waist, a 10-inch high rise fits my waist the best and a 28 inch inseam falls at my ankle. My shoe size is 9 medium or 40EU.
I found this Cable Knit Zip Collar Sweater in "Ivory" (size Medium) and wanted to build my outfit around this sweater. I had been looking for the style and color of sweater for a while and I absolutely love this sweater from Talbots! The sweater fabric is SO soft and it is versatile as you can wear the sweater by itself, add a layer underneath or wear it under a jacket! It comes in a few other colors as well!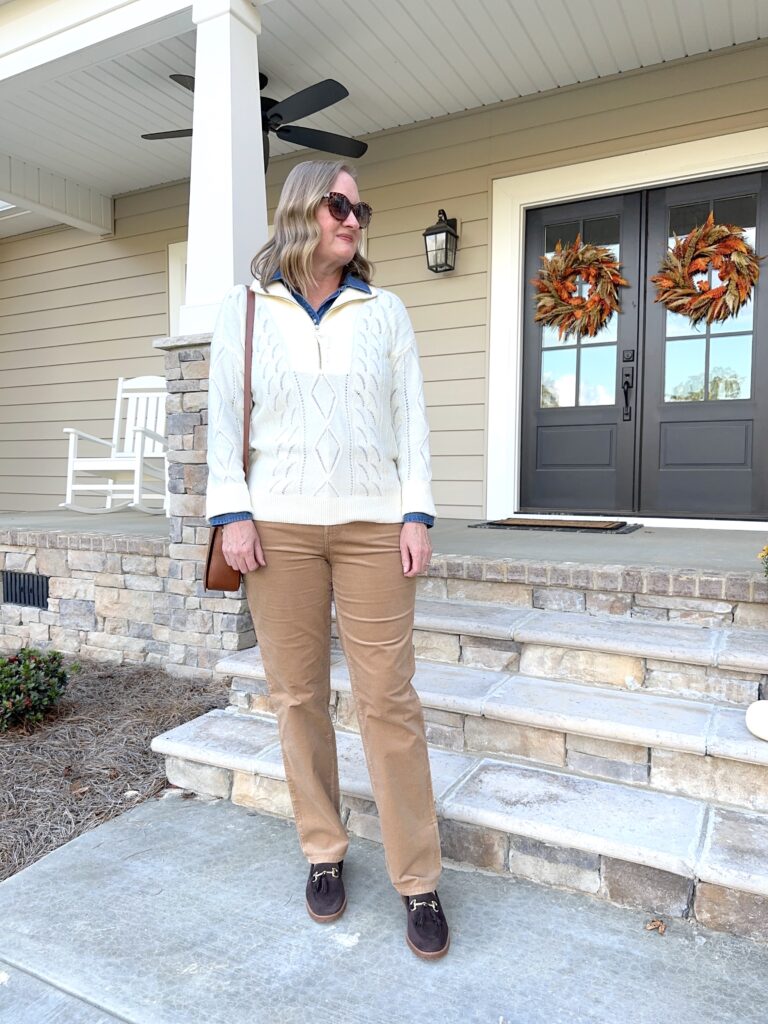 Shop The Outfit: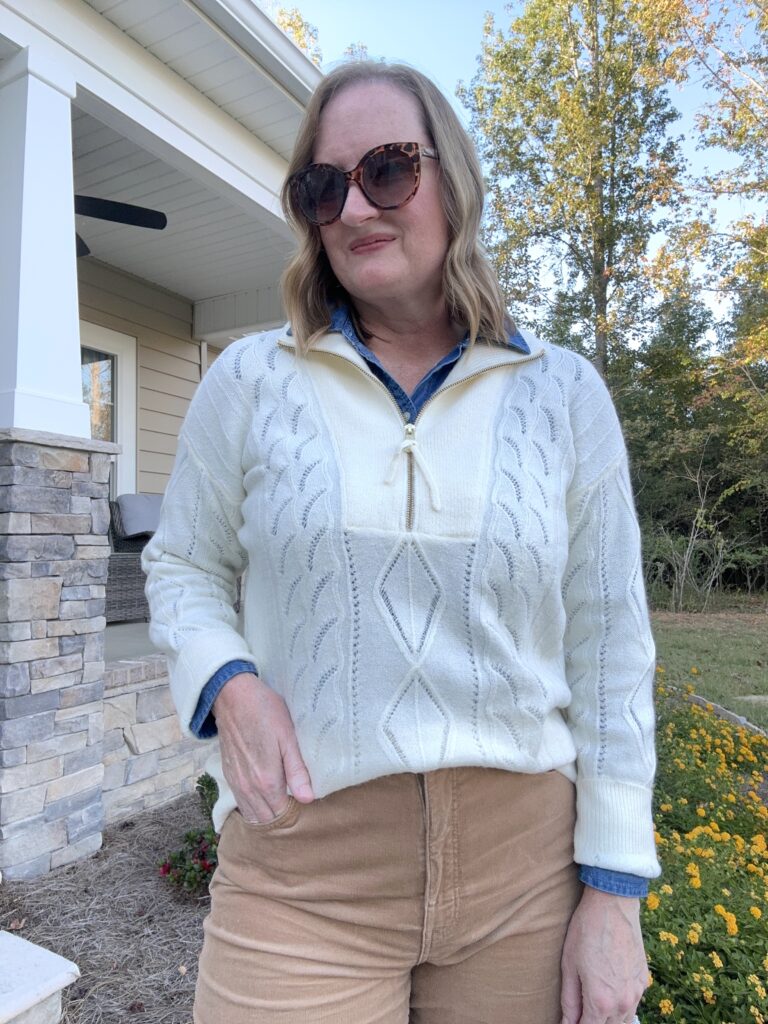 Another piece I have been looking for is a brown color of corduroy pants. I was so excited to find these Stretch Corduroy Straight Leg Pants in "Almond Buff" (size 12) at Talbots! I love the straight leg style and the color is a perfect shade of brown. They have a bit of stretch to them with the cotton/spandex fabric blend, so they move with you, and still hold their shape.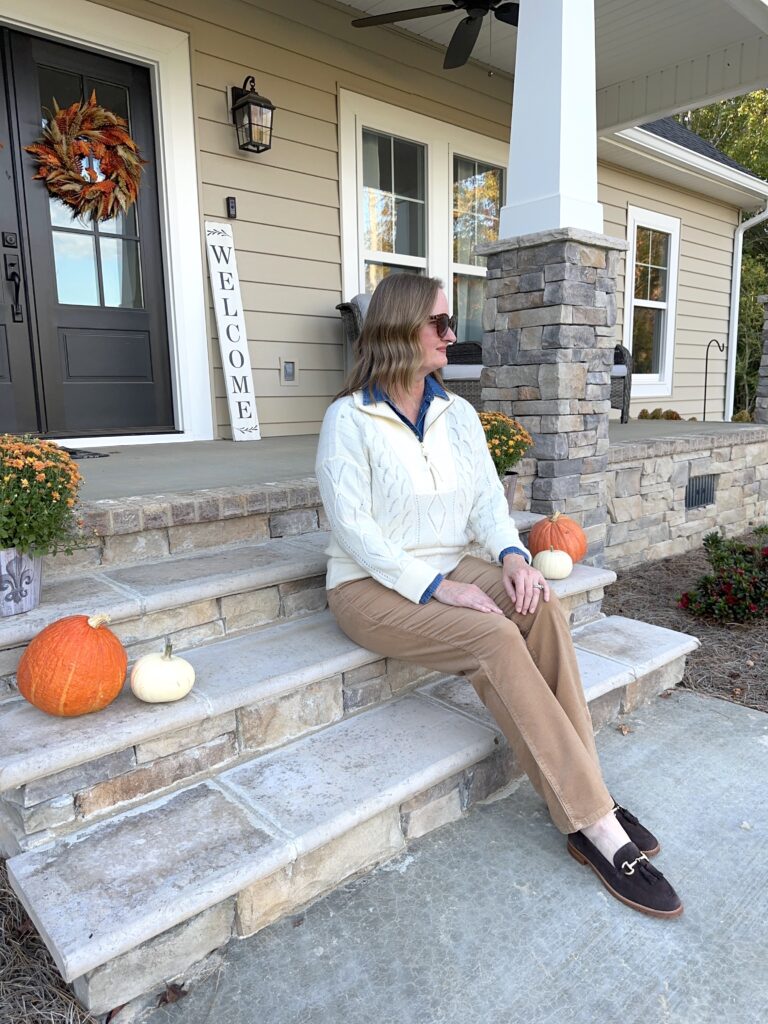 Since it was a bit cool that morning, I added my Talbots Denim Button Front Shirt in "Sapphire Rinse" (size Medium) I already had in my closet. I wore it layered underneath the sweater. Later in the day as the temperature warmed up, I took off the sweater and wore it draped over my shoulders! To complete my outfit, I wore these Cassidy Tassel Suede Loafers in "Dark Brown" (fits true to size, size 9)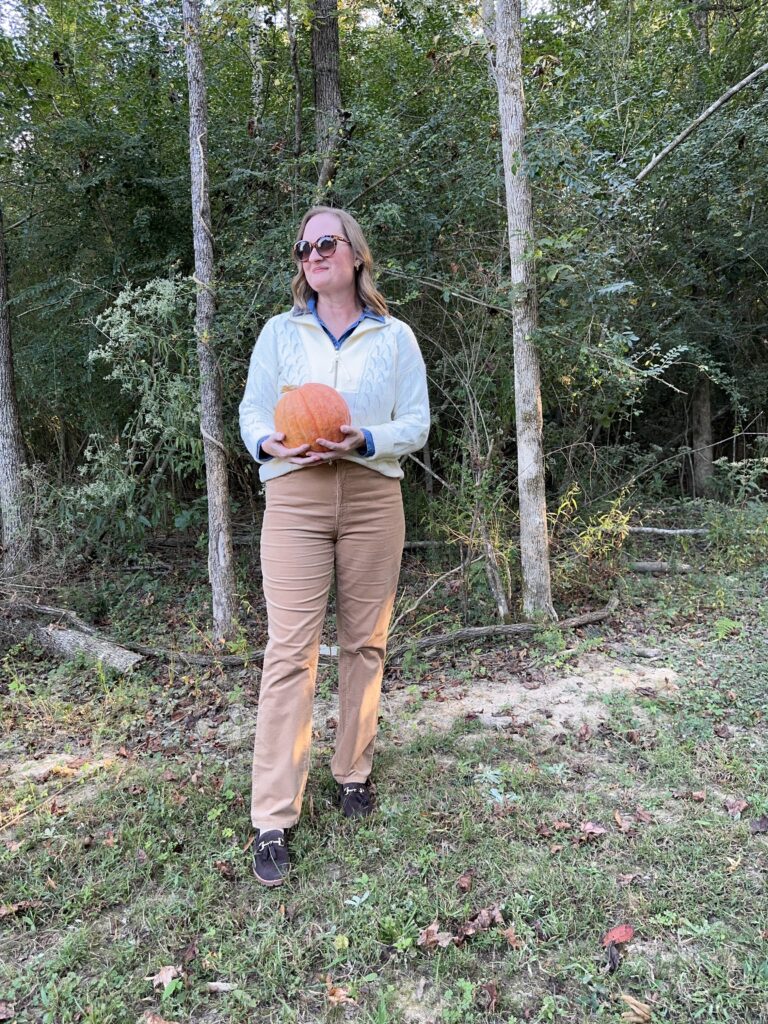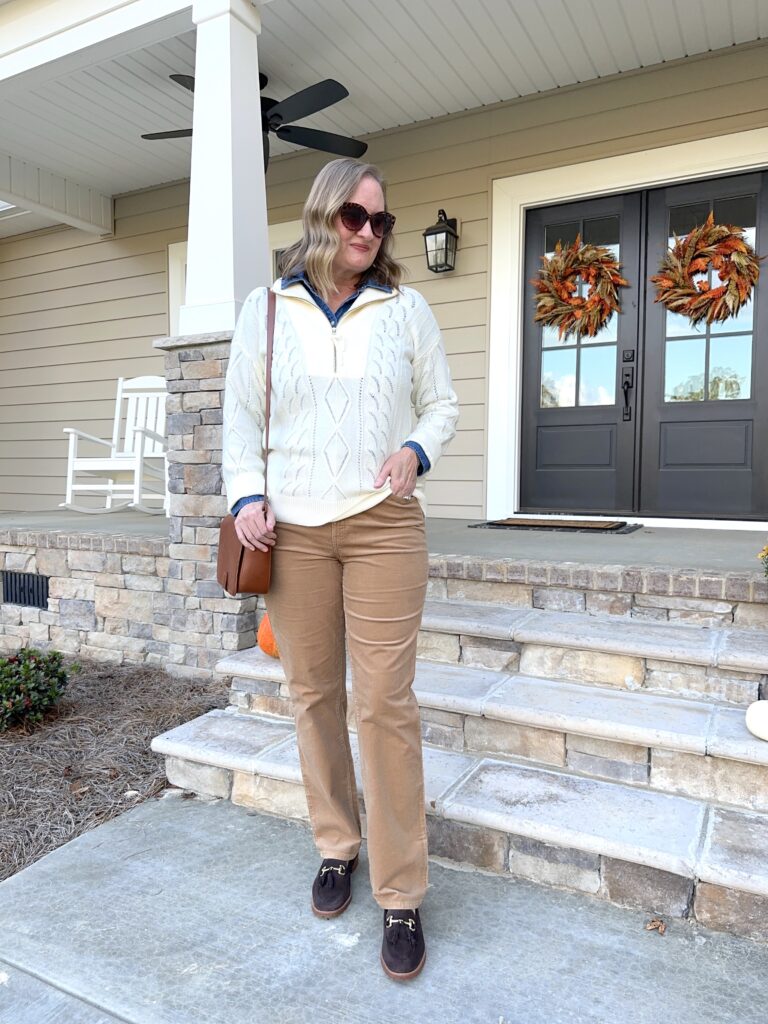 Shop The Outfit:
What is your favorite fall activity? What do you like to wear when you go?