It's been a while since I have done an Instagram Lately post, so I'm sharing a few of my Instagram posts here on the blog. My profile is @classyyettrendy, so if you are on Instagram, click the "Follow" button to see my posts.
To shop my Instagram posts, you can either click on "Shop My Instagram" on the menu located at the top of this page or your can follow this link…
You can also use the LIKEtoknow.it App to shop looks and videos created by thousands of global influencers and stylists
I use a capsule wardrobe every season in my closet so I always know what to wear, love what I wear everyday and have a neat and stress-free closet! You can choose from several styles of capsule wardrobes to use in your closet, in the Capsule Wardrobe eBook Store. For the Spring 2021 season, my own personal capsule wardrobe is based upon the French Minimalist Spring 2021 Capsule Wardrobe Collection.
Always know what to wear,
Love what you wear everyday,
Have an organized and stress-free closet…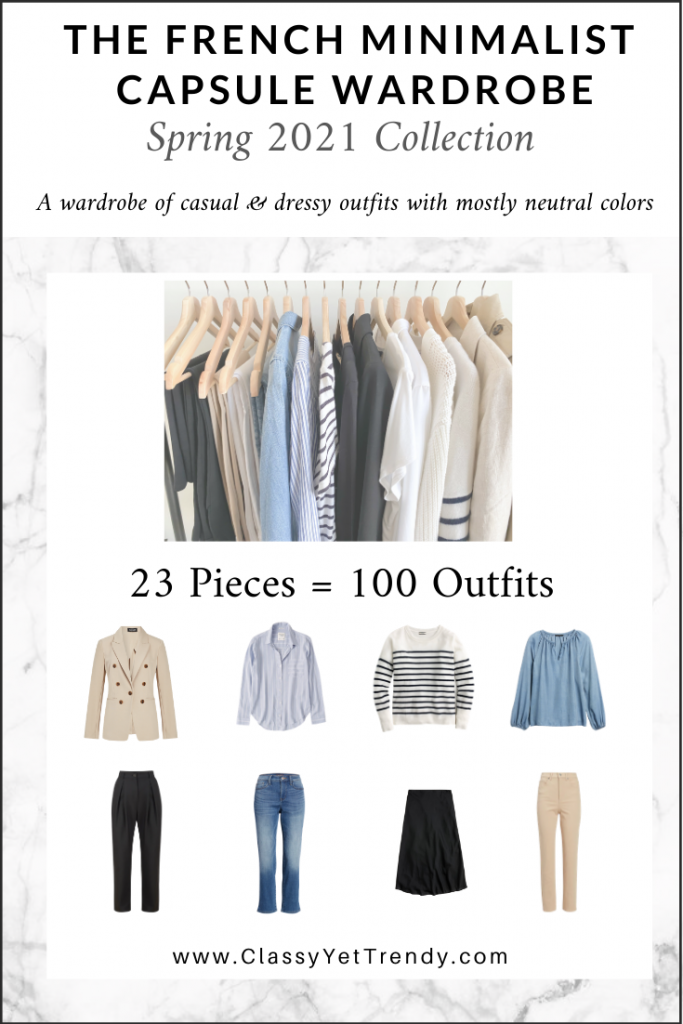 Let's look at a few posts I have shared on Instagram lately…
You may also like:
How To Create a Core Closet
Free Printable Capsule Wardrobe Season Planner
How to Build A Travel Capsule Wardrobe
In this post, I showed everything in my own Spring 2021 capsule wardrobe. I share details of every piece (with shopping links too!) in my capsule in this blog post, "My 30-Piece Spring 2021 French Minimalist Capsule Wardrobe".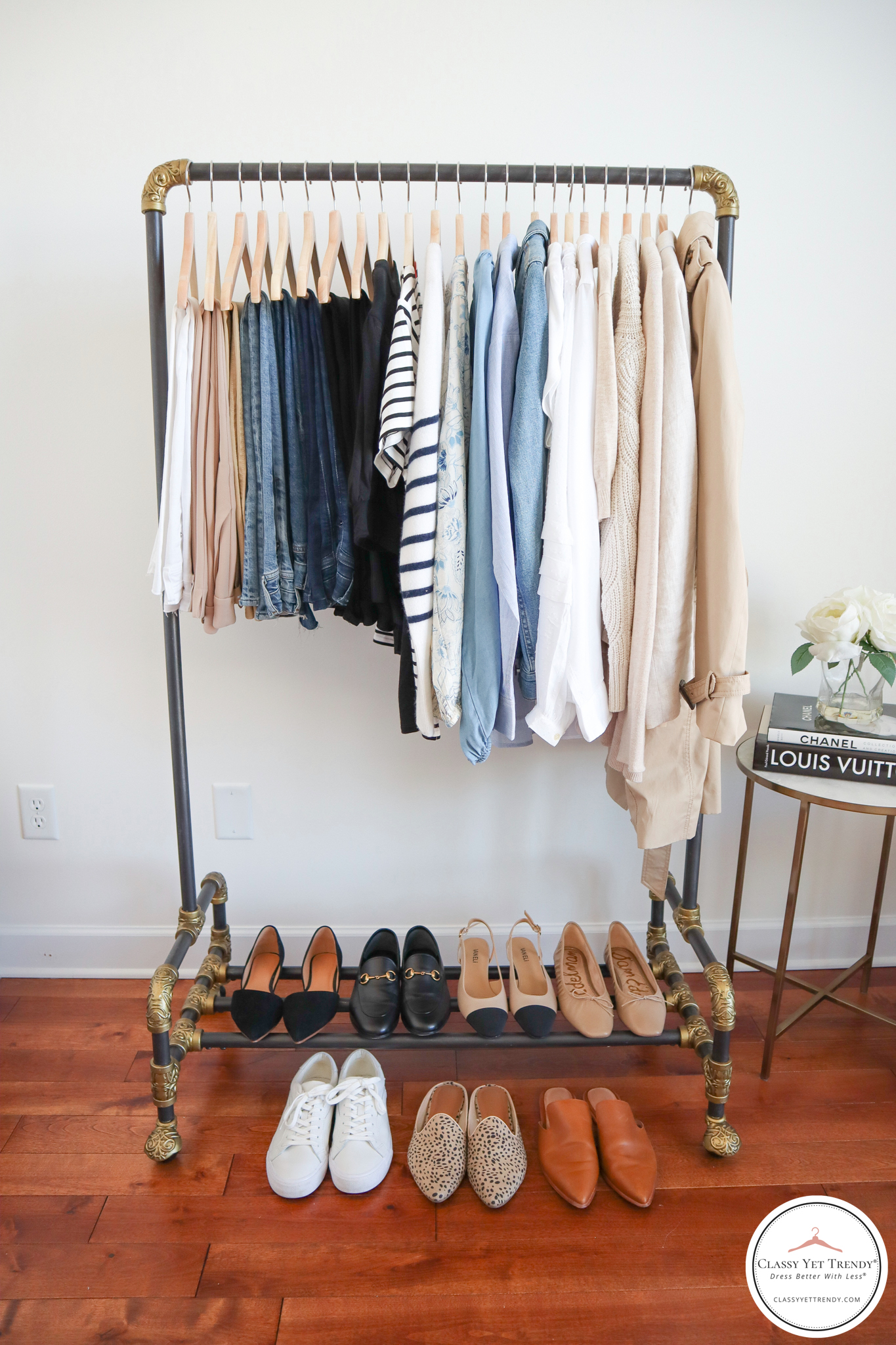 An outfit flatlay with the Pleated Sleeve White Blouse and the Straight Crop Jeans from my Spring capsule wardrobe. I added my Louis Vuitton Pochette Metis Monogram bag, Tory Burch Minnie tan flats, Sophiya Gold Link necklace and my Gold Pearl Hoop earrings (I purchased from Etsy).
Shop the Post on LIKEtoknow.it
I wore the outfit below to church a few weeks ago and took this short video and shared it on Instagram. Barty, my Ragdoll cat, wanted to be in the video, Ha! I'm wearing one of the tops I bought from Loft, the Ruffle Neck Dot Shell (see more in this Try-On post). I'm also wearing this Shawl Collar Open Cardigan in the "light heather gray" color, these Black Pants (a very similar pair here), my d'Orsary Black Flats, Silver Halo Earrings and Silver Halo Necklace.
Shop the Post on LIKEtoknow.it
You may also like:
How To Find Your Personal Style
How To Start A Capsule Wardrobe: A 5-Step Visual Guide
How to Start a Workwear Wardrobe On a Budget
If Joanna Gaines of Fixer Upper Had A Capsule Wardrobe
I shared this Mix 'n' Match Capsule Wardrobe: 12 Pieces = 81 Outfits first on the blog, then shared the post on Instagram and it went viral and received over 4,300 likes! It's a mini capsule wardrobe using all basic essentials, where you can mix and match the pieces creating 81 different outfits. See the blog post here, which shows how to use the diagram and includes shopping links for all the pieces, including 3 pairs of shoes.
Shop the Post On LIKEtoknow.it
You may also like:
10 Ways To Wear A Denim Jacket
6 Ways To Wear A Plaid Blazer
7 Pieces / 10 Outfits: French Minimalist Summer Style
These Meg Ballet Flats in the "soft beige leather" are new to my capsule wardrobe this season. They are so comfy are so pretty that I had to share a closeup photo on Instagram. They fit nearly identical to my Felicia flats, also by Sam Edelman, which I wore out and knew it was time to replace them with these flats.
Shop the Post on LIKEtoknow.it
This is an all neutrals outfit that I shared on Instagram a couple of weeks ago. It includes the Cashmere Crewneck Striped Sweater (I sized down to a Medium), DL1961 Black Skinny Jeans, Beige Trench Coat (similar), Gucci Brixton Loafers (similar budget-friendly loafers here), YSL College bag with gold hardware (also love this Lovitt Medium Convertible bag), LeSpecs sunglasses, Gold Halo Necklace and these Gold Hoop Earrings.
Shop the Post on LIKEtoknow.it
I included this Blue Floral Poet Top in the Teacher Spring 2021 Capsule Wardrobe and liked it so much that I bought it for myself! I added my Medium Wash Slim Straight Jeans (absolutely love this color of denim), Meg Ballet Flats in the "soft beige leather", Gucci Soho Disco bag (pre-loved Gucci Soho Disco bags here), Gold Twist Hoop Earrings (similar) and Coco Mademoiselle Perfume.
Shop the Post on LIKEtoknow.it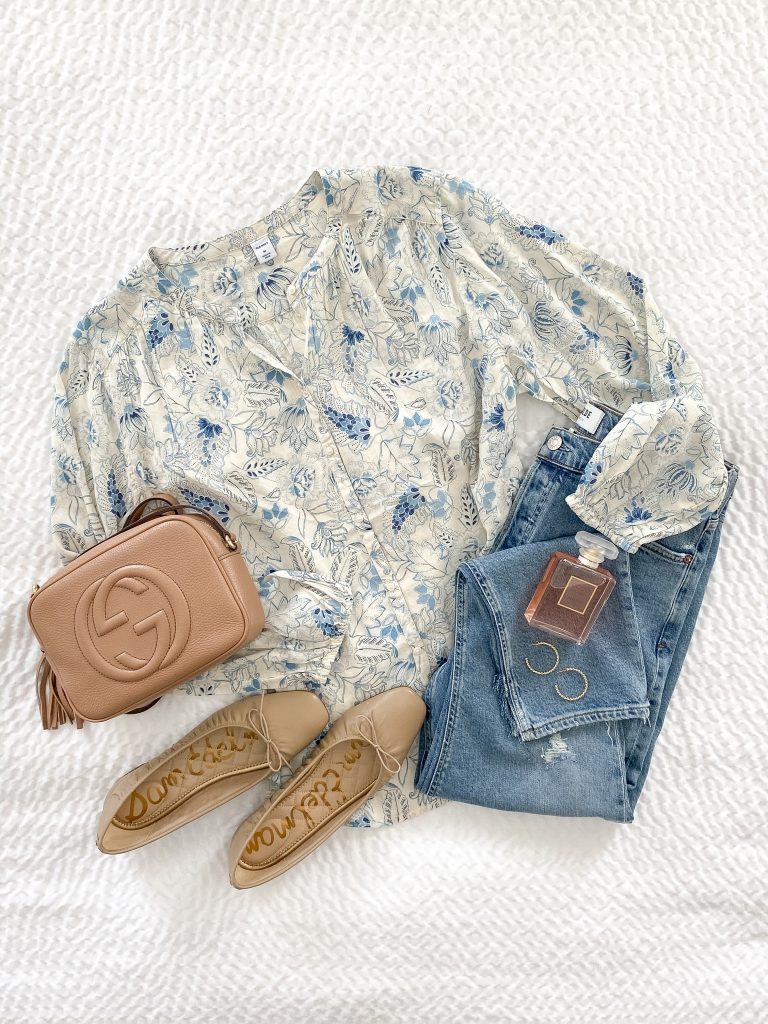 Kept my outfit simple that day by wearing my Black Puff Sleeve Tee (similar), Straight Crop Jeans and Leopard Pattern Mules (similar). I'm wearing these Gold Halo Earrings and Gold CZ Bezel Necklace.
Shop the Post on LIKEtoknow.it
I posted this outfit flatlay which includes my most favorite striped tee ever. I have worn several striped tees, but this Boden Breton Short Sleeve Tee in the "ivory/black" color is the best-fitting one in my opinion. I had the navy striped one and wore it for several years until this year when it needed replacing. Since I wear a lot of black in my outfits, I bought the black striped one. If you prefer navy, you may prefer the striped tee in the "ivory/navy" color. I added the Hampshire Ankle Pants, Denim Jacket and Chanel-inspired Cap Toe Pumps from my Spring capsule wardrobe and added my Tortoise Sunglasses, layered the Skylar Gold Necklace and the Riley Gold Link necklace.
Shop the Post on LIKEtoknow.it
I can't believe how soft this Blue Pinstriped Shirt is! It has thin stripes so it is a subtle striped pattern and has flat pockets to add a bit of texture to the shirt. I added my Black Pants (a very similar pair here) and my d'Orsary Black Flats. I recently bought a beautiful Polene Numero Un Mini in the "Sand" color.
Shop the Post on LIKEtoknow.it
The last outfit is the one I wore to church yesterday. I bought this "Faith" short sleeve tee last year from a seller on Etsy and have worn it SO MANY times! It is so soft and I love the blue color. WildflowerTeesShop on Etsy has so many tees to choose from in lots of colors and this "Hoppy Easter" tee that they have in their shop is adorable! I added my beige cardigan (similar), Dark Wash Skinny Jeans (these are SO comfy) and my Meg Ballet Flats in the "soft beige leather" from my Spring capsule wardrobe. I completed my outfit with my Abalone Shell gold earrings and matching Abalone Shell gold necklace and carried my Louis Vuitton Cluny BB Monogram bag with LV Monogram Metis 20mm Strap.
Shop the Post on LIKEtoknow.it
A Bit of Inspiration For Your Day:
"The name of the Lord is a fortified tower; the righteous run to it and are safe." – Proverbs 18:10