My 29-Piece Summer 2021 Capsule Wardrobe
See everything in my own Summer 2021 capsule wardrobe, including tops, bottoms and shoes, using several pieces from Simplified Style®: The Dressy and Casual Collection. Also see how I customized the capsule wardrobe to fit my lifestyle.
For those of you that are readers of the Classy Yet Trendy blog, you know that I have been using a capsule wardrobe in my closet for several years. I absolutely love using a capsule wardrobe every season because everything coordinates and I can get dressed quickly and easily everyday. I am so passionate about capsule wardrobes that I made it my full-time job to not only blog about capsule wardrobes, but create seasonal capsule wardrobes for women all over the world! All the capsule wardrobe collections are available in the Capsule Wardrobe eBook Store.
If you are a reader of this blog, you know that I create my own personal capsule wardrobe every season and share them here on the blog (here are all of my previous capsules from my own closet). To create my personal capsule wardrobes, I "shop my closet" first, then shop at retailers for any pieces I need.
Schedule of Summer 2021 Capsule Wardrobe Collections
I sent out an email to all the email subscribers about the publication dates of the Summer 2021 capsule wardrobe eBooks. Someone emailed me the other day asking if I could publish them all at once. I wish I could! But since I run my website solo (that's just me), I create them one at a time and publish them as I complete each one. Here are the publication dates of the Summer series…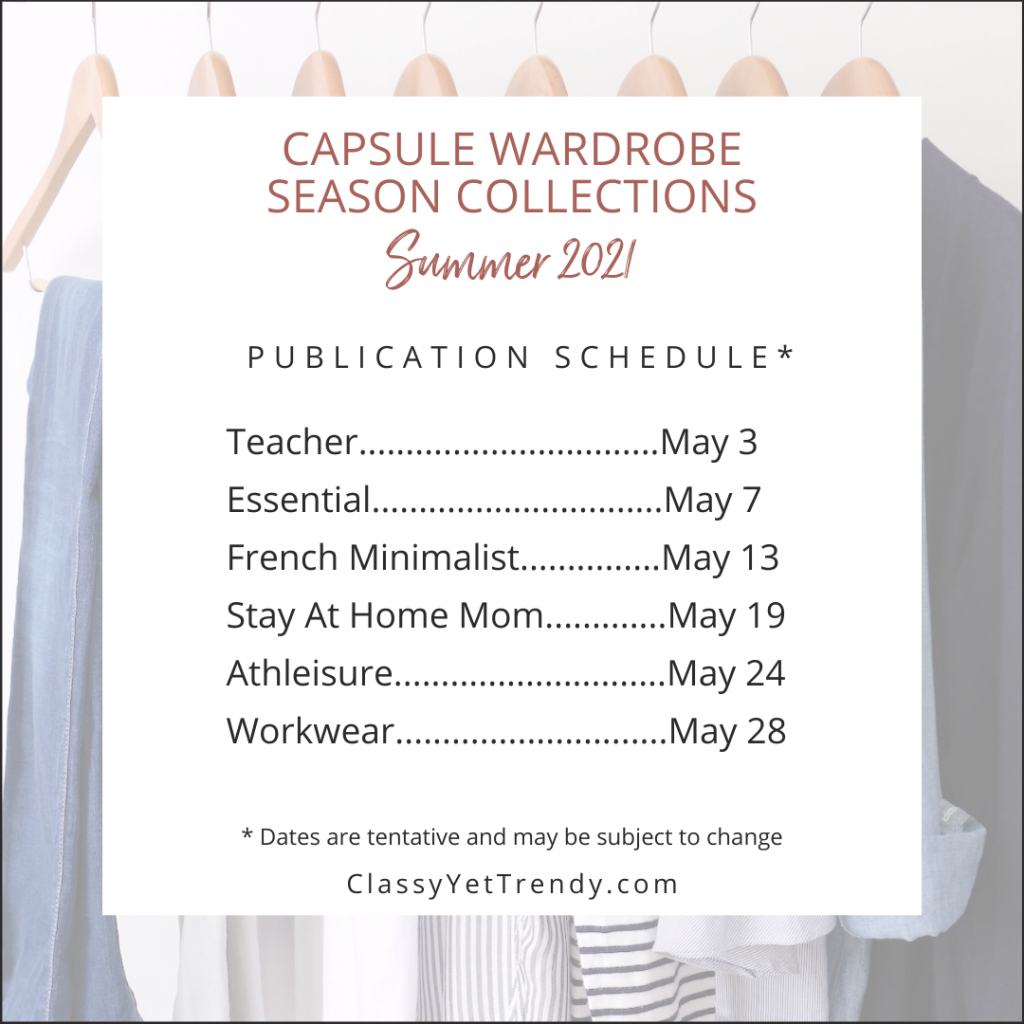 For my own personal Spring 2021 capsule wardrobe, I am using Simplified Style®: The Dressy and Casual Collection, along with a few extra pieces. I customized the Simplified Style® capsule to fit my lifestyle. I used 14 pieces in the capsule with a couple of style variations. I work at home everyday, so I like to wear casual outfits. I LOVE wearing neutral colors in classic and timeless styles, but I do like to wear light blue and green, so I added accent colors to my color palette.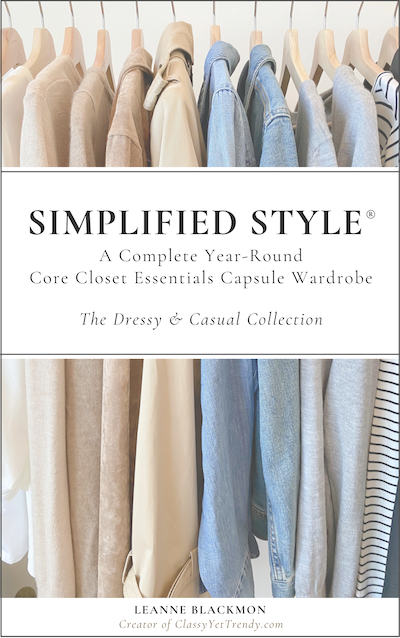 How My Personal Style Has Evolved
Has your style evolved over the years? My style has! Several years ago, when I had my career and was working at an accounting office, I considered my style "preppy" and I wore a lot of dress pants, button-down shirts in different colors and patterns, skirts, cardigans and other layers with bold statement jewelry. When I left my career to work for myself full-time running Classy Yet Trendy and creating capsule wardrobes, my style changed to casual. Last season, my Spring 2021 Capsule Wardrobe, was based on the French Minimalist Spring 2021 collection eBook and I included several dressy pieces. I found that I gravitated more toward the casual pieces in my capsule and even though I liked the dressy pieces, I only wore them a handful of times. So, I have set those aside for church days and I'm focusing on just casual outfits now.
My Summer 2021 capsule truly reflects my personal style, which I call "Rustic Casual" and is inspired by Madewell. I have always loved Madewell, since I first started blogging in 2014! I also love J. Crew and Loft. My favorite home designers are Joanna Gaines from the famous tv series "Fixer Upper", Shea McGee from Studio McGee and Aly and Leigh from Pure Salt Interiors and their design styles have influenced my own fashion style.
I love wearing earthy colors, like blue and green. I also like wearing denim, whether it be jeans, shorts or denim jackets. Cognac and tan leather bags and shoes are my most favorites to complete my outfits and I have added a couple of straw hats to my accessories. I gravitate toward wide leg pants, graphic tees, linen fabrics, chambray and stripes. I also like to wear clothes with feminine details like ruffle and flutter sleeves, crochet detail and eyelet, but keep it simple.
See this Instagram Reel on my Summer capsule that I shared on my @classyyettrendy Instagram account yesterday! Be sure to have the sound turned on to hear the music!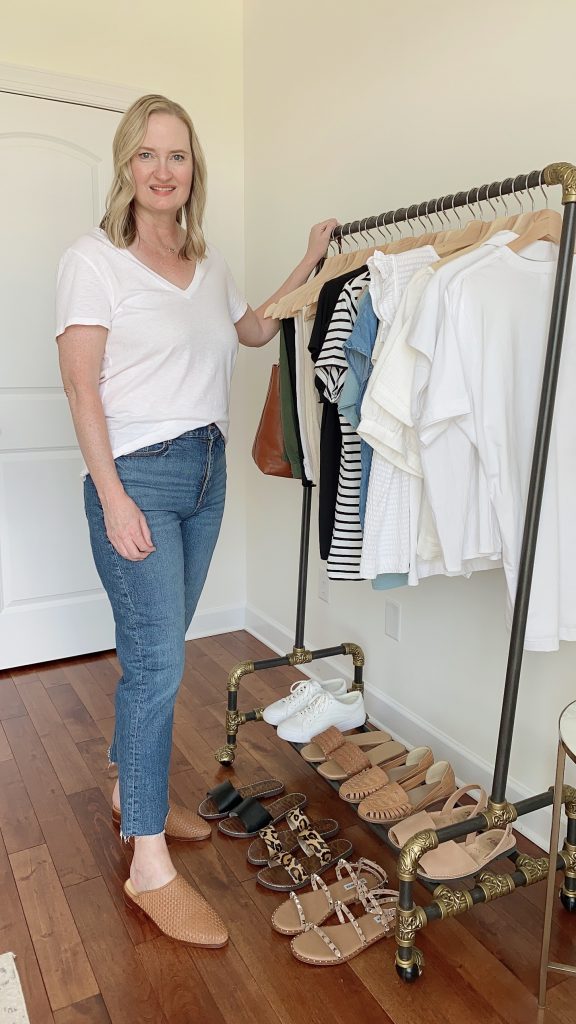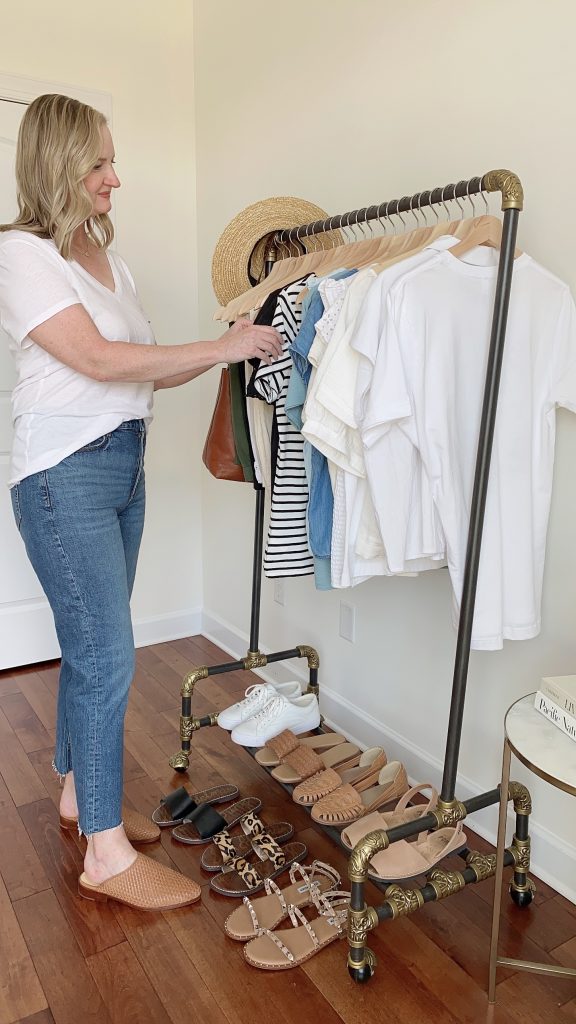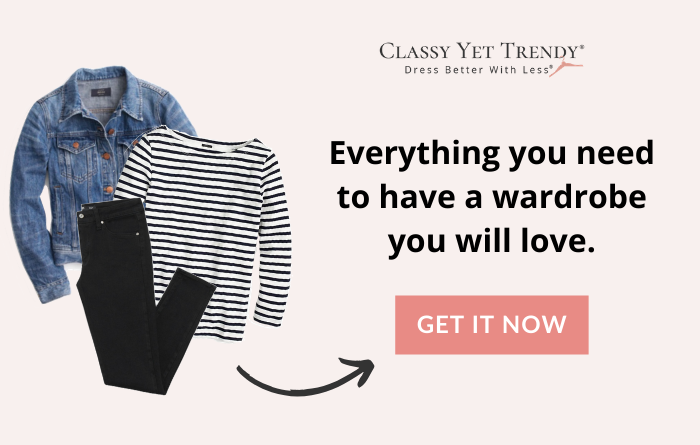 What's In My Summer 2021 Capsule Wardrobe?
Here's everything in my own capsule wardrobe. I used several core closet essentials I had in my closet, then added a few trending pieces.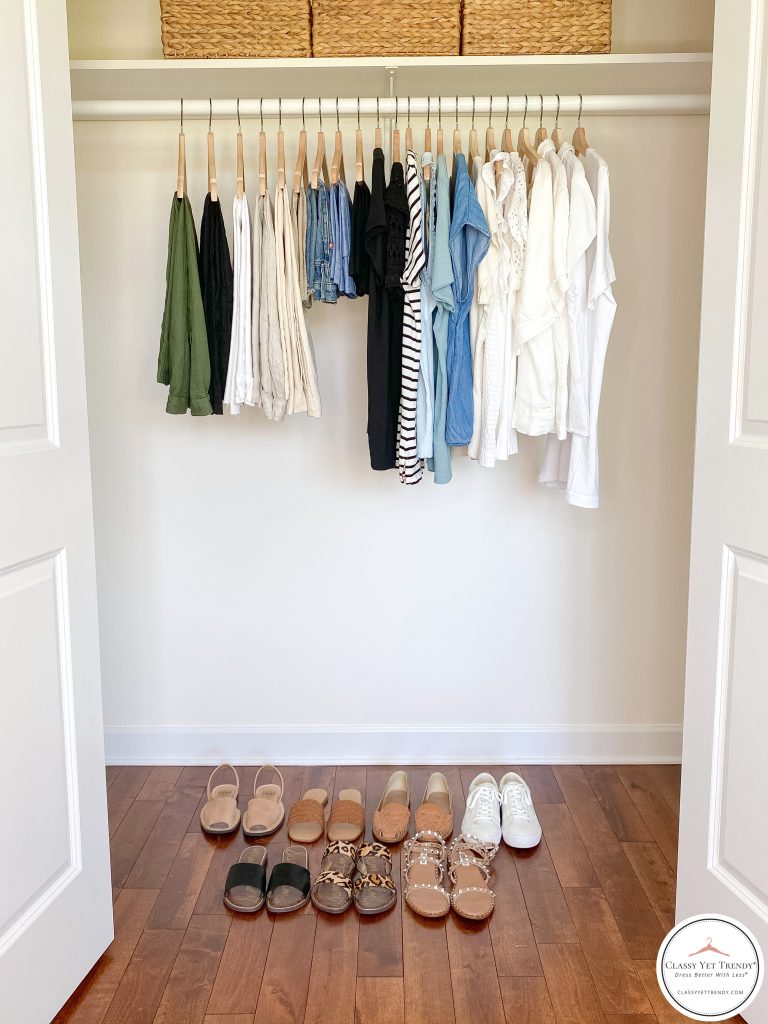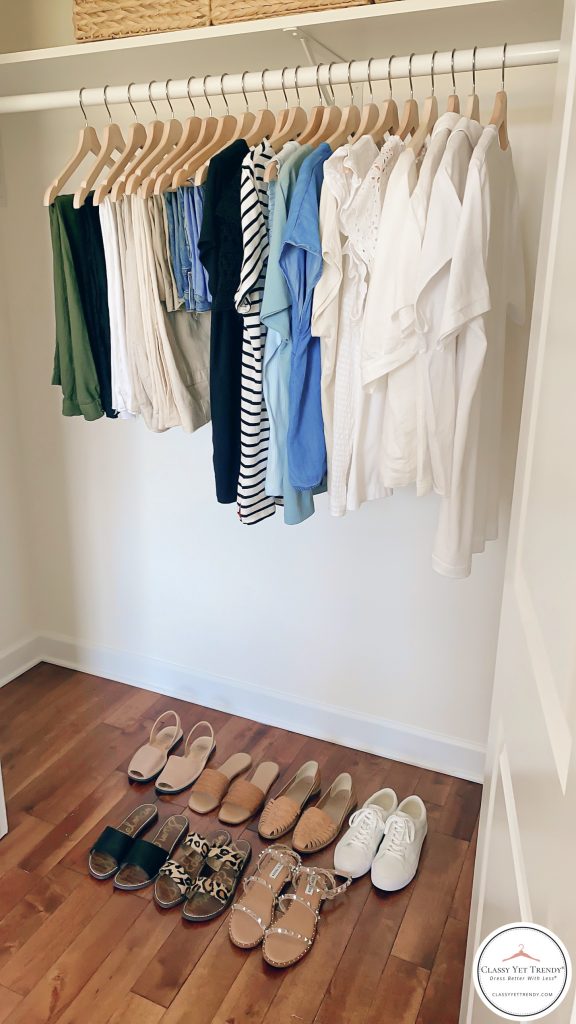 Here is my Summer capsule wardrobe on my clothes rack…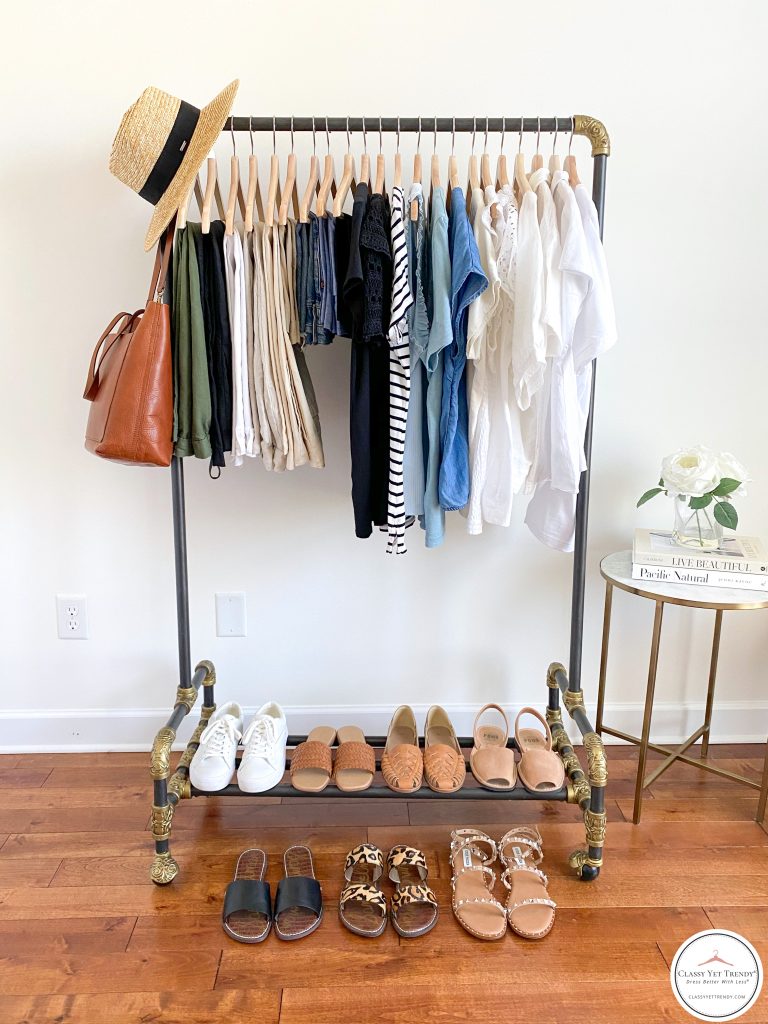 If you like what is in my Summer capsule wardrobe, you can use the same capsule in your closet! I included convenient shopping links for you! If the exact item is no longer available, I linked similar ones that will work in the capsule.
Tops
I didn't include layers like jackets or cardigans since it gets hot and humid here in Alabama. I do have my favorite layers on hand, so if it cool at night or we eat out for supper and the restaurant is cold, then I can add it to my outfit. I just bought ABLE's Merly Denim Jacket and it is the BEST denim jacket out there (in my opinion), since it is buttery soft and is a longer length than the traditional denim jacket, falling just past my hips. I also have a utility jacket very similar to this Madewell Dispatch Jacket. Here are the tops in my capsule…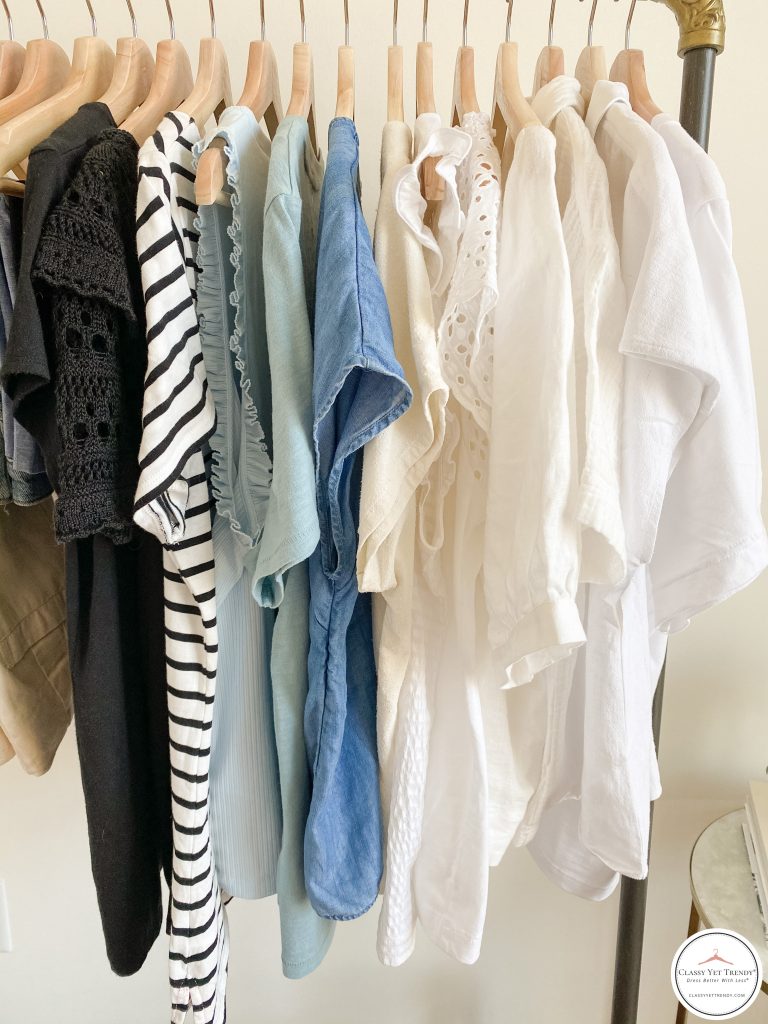 Tops – Left To Right:
1. black short sleeve tee (exact) – I bought the white and black colors last year and love the jersey feel of the material. They are perfect to wear by themselves and they are also easy to add a layer over them.
2. Crochet Sleeve Black Top (similar) – I bought this top a couple of years ago from Loft and added it to my Summer capsule this year. I couldn't find one with crochet sleeves, but I was able to find this Eyelet Flutter Sleeve Top that is so pretty.
3. Striped Short Sleeve Tee (exact) – This has got to be my most favorite striped tee! I bought this exact one in the navy stripes (more of a dark indigo) when I first started blogging a few years ago and I have worn it so much that I needed to replace it. They are now making it in the "black/white" color, so I bought that one this past week. This striped tee is a "breton" style, which according to an article on Feraggio, "The Breton stripe shirt was first introduced in 1858 as the uniform for all French navy seaman in Northern France. The original design featured 21 stripes, one for each of Napoleon Bonaparte's victories and the distinctive stripes made it easier to spot wayward sailors who had fallen overboard." A bit of history of the top there for ya!
4. Ribbed Ruffle Tank (exact) – This is new top a J. Crew this year and I when I saw the light blue color, I had to order it! It comes in several colors and this one is the "cloud" color. You can see me wearing it in this Madewell and J. Crew Try-On Session from last week.
5. Vintage Cotton Beach Rose Tee (exact) – This graphic tee is so pretty and the muted blue color is perfect for Summer! J. Crew has a flower series of graphic tees in their New Arrivals. You can see me wearing the tee in this Madewell and J. Crew Try-On Session from last week.
6. Chambray V-Neck Tie Front Top (exact) – I loved wearing this top last Summer and I am glad they brought it back again this year! It goes well with pants, jeans, shorts and skirts.
7. Alta Top in Raw Silk (exact) – I have had this top for a few years and love wearing it. It is made by the sustainable and ethical company Only Child, who has been around for several years. Their clothes are made to order, so when you order a piece, it will take a few weeks. It is worth it as their clothes are beautiful, they make them as they are sold, meaning less waste to the environment. If you are interested in learning more about slow fashion, I have an extensive Sustainable and Ethical Clothing Companies list.
8. Seersucker White Ruffle Shell (exact) – I recently bought this top and I just love the seersucker texture of the material and the ruffle detail around the arms. I know I will be wearing this top A LOT this Summer!
9. White Eyelet Sleeve Top (similar) – I have had this top for a couple of years and brought it out for my Summer capsule. I absolutely love eyelet! When Summer rolls around I always want to include some kind of eyelet in my capsule. I linked a very similar top and here are two more tops you may like: this Eyelet Puff Sleeve Top and this Squareneck Eyelet Top. Both of these tops come in several other colors too.
10. White Linen Button Front Top (similar) – My exact top is from Everlane last year, but is sold out, so I linked a similar one from Target. Here is a similar button-front one, but with a v-neck and eyelet! You can see my exact top in this Everlane, Eileen Fisher & Grayson Try-On Session.
11. Lightspun Beachside Shirt (exact) – This was in my recent Madewell order. When I tried it on I loved it, so I kept it for my closet. It is a gauzy material, so it will be cool for the Summer, plus I can wear it in the Fall underneath jackets and cardigans!
12. Cap Sleeve Camp Shirt (exact) – This was also in my Madewell order from a couple of weeks ago and I kept this one too! I had been looking for a white camp style shirt for a while and found it! You can see me wearing this top in the Madewell and J. Crew Try-On Session from last week.
13. "Flowers Of The Meadow" White Tee (exact) – You may remember my "Fleurs" Botanical Tee in the cream color in my Summer 2019 capsule. Dyanna who owns the Etsy shop, JustImagineStudiosCa, is an artist who paints her own designs, then transfers them to t-shirts to wear! When you order her tees, it is good to know you are buying from an actual artist who designs and makes her own tees. I have loved wearing my "Fleurs" Botanical Tee and wanted to get another one. The "Flowers Of The Meadow" Tee is a new design and just had to get this one! See the tee below…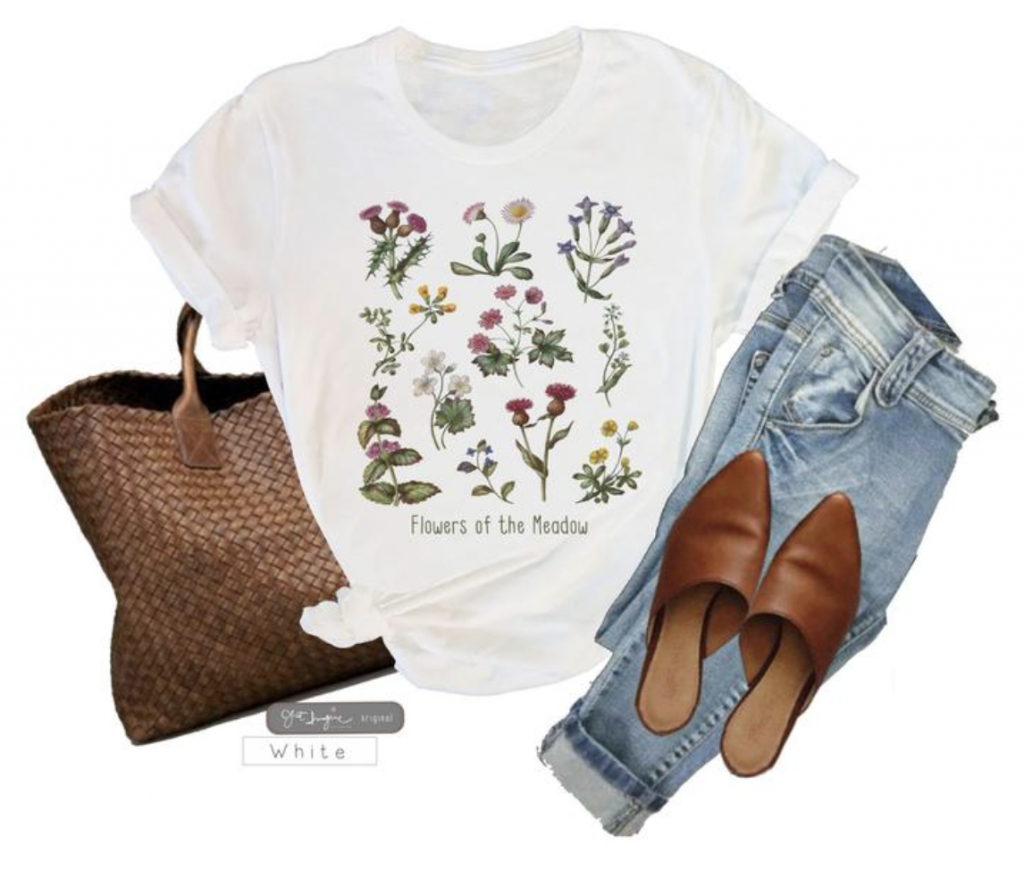 Shop The Tops:
The Bottoms
Here are the pants, jeans and shorts in my capsule…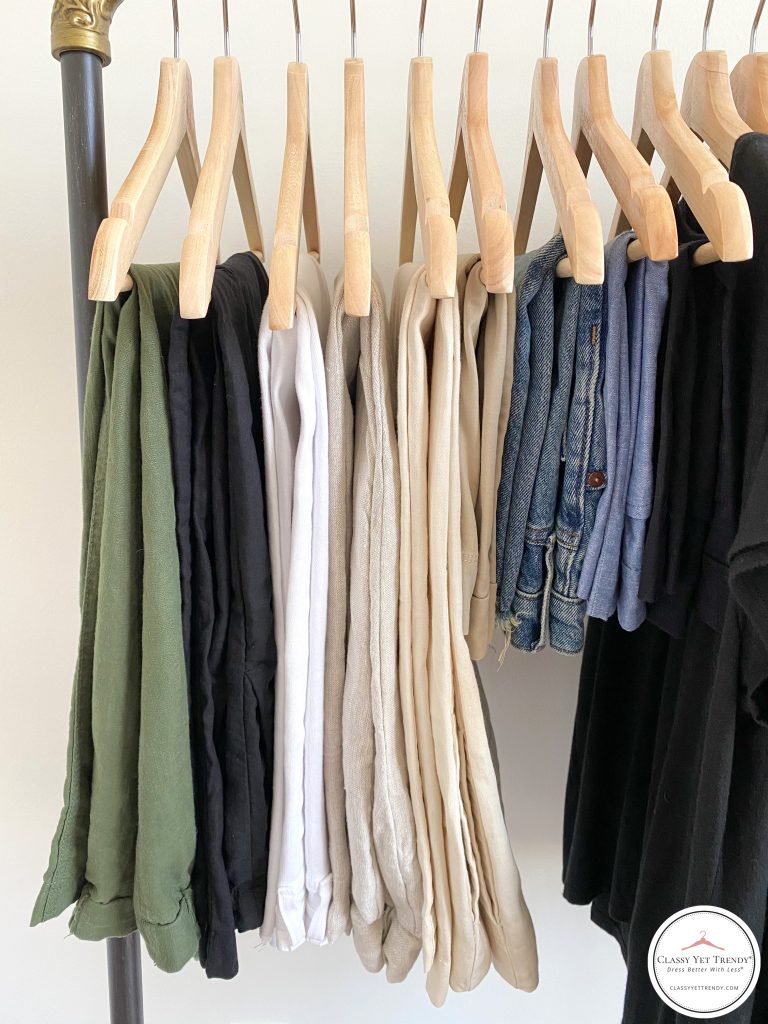 Bottoms – Left To Right
14. Linen Tie-Front Seaside Pants (exact) – Let me just say these pants are PERFECT. The "distressed fatigue" green color is such a pretty shade. You can see me wearing these pants in the Madewell and J. Crew Try-On Session from last week.
15. Black Linen-blend Pants (exact) – Old Navy nailed it with the design of these pants. They look and feel like a more expensive pant but with a budget price. I included these in the ABLE, Loft, Old Navy and Target Try-On Session last week.
16. white crop flare jeans (exact) – I have had these jeans in my closet for a couple of years. They are a straight leg with a raw hem and flare slightly at the hem. They are a thin denim that you can wear in the Summer.
17. Flax Linen-blend Cropped Pants (exact) – These are new and I am excited to include them in my Summer capsule. In the ABLE, Loft, Old Navy and Target Try-On Session last week I'm wearing a Large, but I returned those for a Medium. The color of the linen fabric is so pretty on these.
18. Seamed Twill Wide Leg Crop Pants (exact) – The material on these pants is SO soft and they fit just right. The wide leg at the bottom evens out my body shape and I like how the top of the pants are fitted, then gradually go into the wide leg shape from the knee down. I included these in the ABLE, Loft, Old Navy and Target Try-On Session last week.
19. Khaki Chino Shorts (exact) – I bought these shorts last year and am including them in my Summer capsule again this year. I love the khaki color of the material and the quality is great on these shorts.
20. Mid-Length Raw Hem Denim Shorts (exact) – I have had my shorter length Madewell denim shorts in my Summer capsules the past couple of years and love wearing them. When I saw Madewell came out with these mid-length 7″ shorts in the same style, I knew I had to have these. For you all that like the longer length denim shorts, you will LOVE these! They aren't a bermuda length and aren't short, but are JUST RIGHT! Here are the shorts in the Madewell and J. Crew Try-On Session from last week.
21. Chambray Shorts 7″ (exact) – I found these shorts at Talbots in the early Spring and loved the way they fit so I bought a black pair too! For some reason the sizes on this length is limited, but here is the similar 6″ rolled cuff shorts which I like also.
22. Black Perfect Shorts 7″ (exact) – And, here are the black shorts also from Talbots. Love the ways these shorts fit and the length is perfect.
Shop The Bottoms:
The Shoes
I added these shoes to my Summer capsule wardrobe…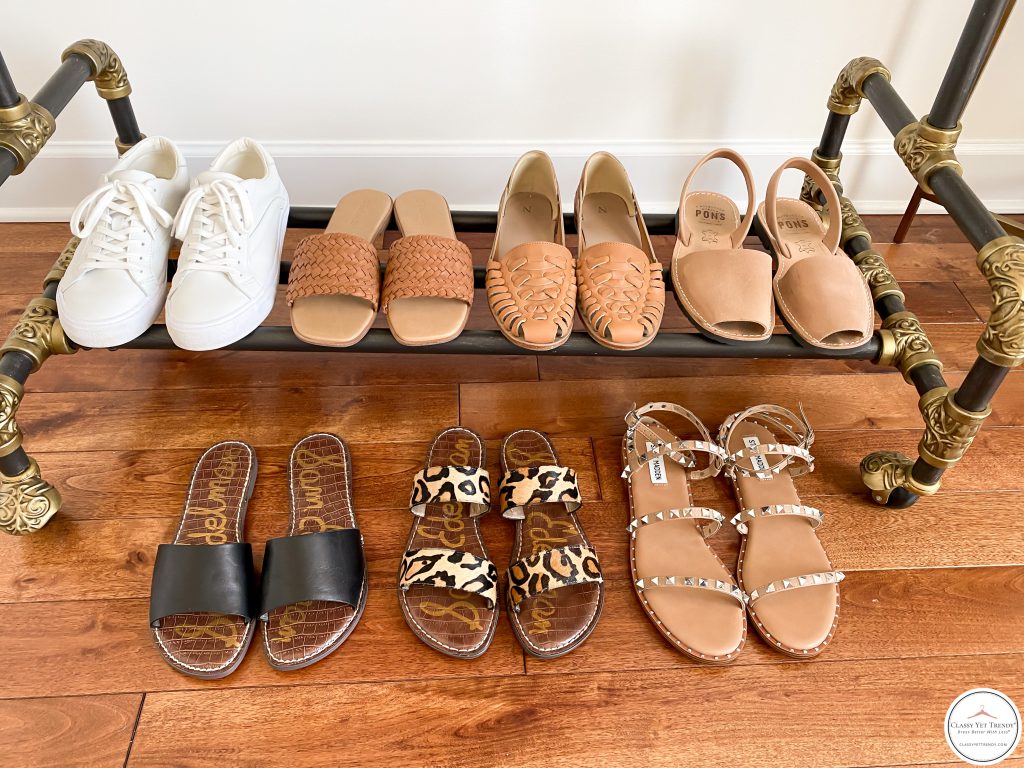 Back Row – Left To Right:
23. White Sidewalk Sneakers (exact) So comfy! / also love these sneakers! – I bought these sneakers last year and enjoyed wearing them. So, I added them to my Summer capsule. I have also heard these sneakers are comfy too.
24. Madewell Liane Woven Sandals (exact) – I have been wanting a pair of cognac color slide sandals and these woven ones from Madewell are gorgeous! Here are the sandals in the Madewell and J. Crew Try-On Session from last week.
25. Huarache Sandals (exact) – I have had these shoes for 3 years and they keep getting more comfortable the more I wear them! To look at the sole, you might think how can these be comfortable? I think they have "magical" soles and I don't know how they make them that way, but they are so comfy! I also like that Nisolo, who makes the shoes, are an ethical and sustainable company who strives to improve the lives of the people they employ. Some sizes in my exact color "almond" are limited, but they have other gorgeous colors and they often restock.
26. Avarcas Pons Sandals (exact) – These are one of my most favorite shoes ever! I included them in my Summer capsule last year and I knew I wanted to include them again this year. Let me tell how I discovered these sandals. A couple of years ago my husband and I went to visit Frank Lloyd Wright's Rosenbaum House in Florence, Alabama (I love architecture and Frank Lloyd Wright's work). A side note: I want to also visit the "Falling Water" house! We started one of the tours outside the house and I noticed an outfit that one of the ladies was wearing who was on the tour with us. She was wearing a straight style linen dress with these sandals. I had never seen this style of sandal before but thought they were so pretty. I noticed that the word "Pons" was stamped on the side of her shoes. When we were finished with our tour, I searched for them on the internet and found out they were Avarcas Pons Sandals. I ordered the "tan" color and when they arrived, I loved the way they instantly felt comfortable out of the box. And, they have been one of my most favorite pairs of shoes in my closet! When they wear out, I will buy another pair in the same color!
Front Row – Left To Right:
27. Black Genesis Slide Sandals (exact) – I bought these at the end of last Summer and I didn't get to wear them much before the Fall weather rolled in. I love the style of a black slide sandal, which is a classic and timeless shoe.
28. Gala Sandals in "Leopard" (exact) – I wanted these sandals last year and missed out getting them, so I was happy to see they are still available! I have already worn these shoes twice and they are so pretty. I wore these in the ABLE, Loft, Old Navy and Target Try-On Session last week.
29. Travel Stud Sandals in "Tan" (exact) – These sandals are trending for the Spring and Summer! These are a wrap style sandal and they come in tan, a snake print and clear. The Skylar Stud Slide Sandals are very popular too; they also come in tan and clear.
Shop The Shoes:
Follow me on my Instagram @classyyettrendy, where I share my outfits and flatlay photos!
I hope you enjoyed seeing everything in my Summer 2021 capsule. Thank you for visiting the blog!
Are you using a capsule wardrobe in your closet?
What style do you like to wear?
A Bit Of Inspiration For Your Day:
"I can do all things through Christ who strengthens me." – Phillipians 4:13