Fall 2014 Outfit Inspiration: Famous Art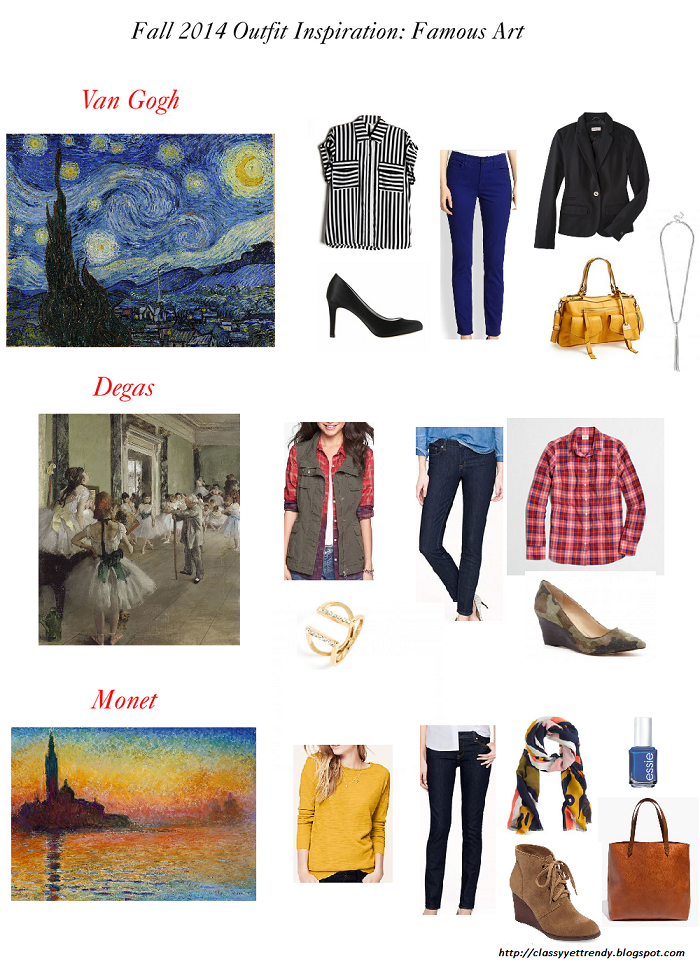 For years people have been inspired by famous artists and their paintings. When it comes to coordinating outfits, you too can be inspired by famous art! The way to do this is to first look at the
color that is the basis of the painting. Is the base color black with muted tones of ivory and
burgandy? A black pencil skirt, ivory top and a burgandy cardigan would go well together. Is it a cobalt blue? Then, you could choose cobalt blue pants and coordinate other pieces of your outfit with other colors in the painting. Now, see these outfits I created from well-known paintings.
SHOPPING LIST:
Van Gogh:
Degas:
Monet:
Linking up with The Fashion Canvas, Fitness Blonde, Sweaters, Stripes & Sweets, Because Shanna Said So, Get Your Pretty On, What I Wore, Transatlantic Blonde, My Girlish Whims, Vodka Infused Lemonade, Mix & Match Fashion, Penniless Socialite, Style Elixir, Two Thirty Five Designs, All Things Chic, Musings of a Housewife, Watch out for the Woestmans, I Would So Rock This