Making Magic Happen (Trendy Wednesday Link-up #59)
A graphic tee always goes well with a faux leather jacket and distressed jeans, and a touch of leopard!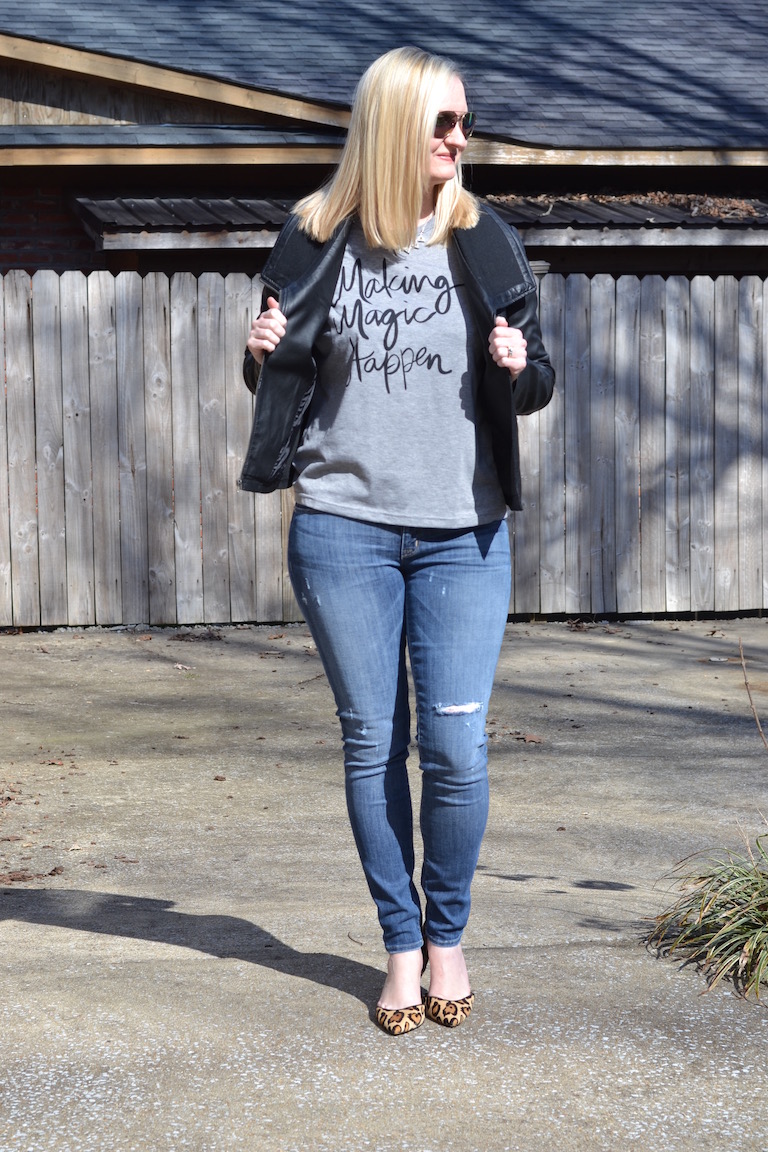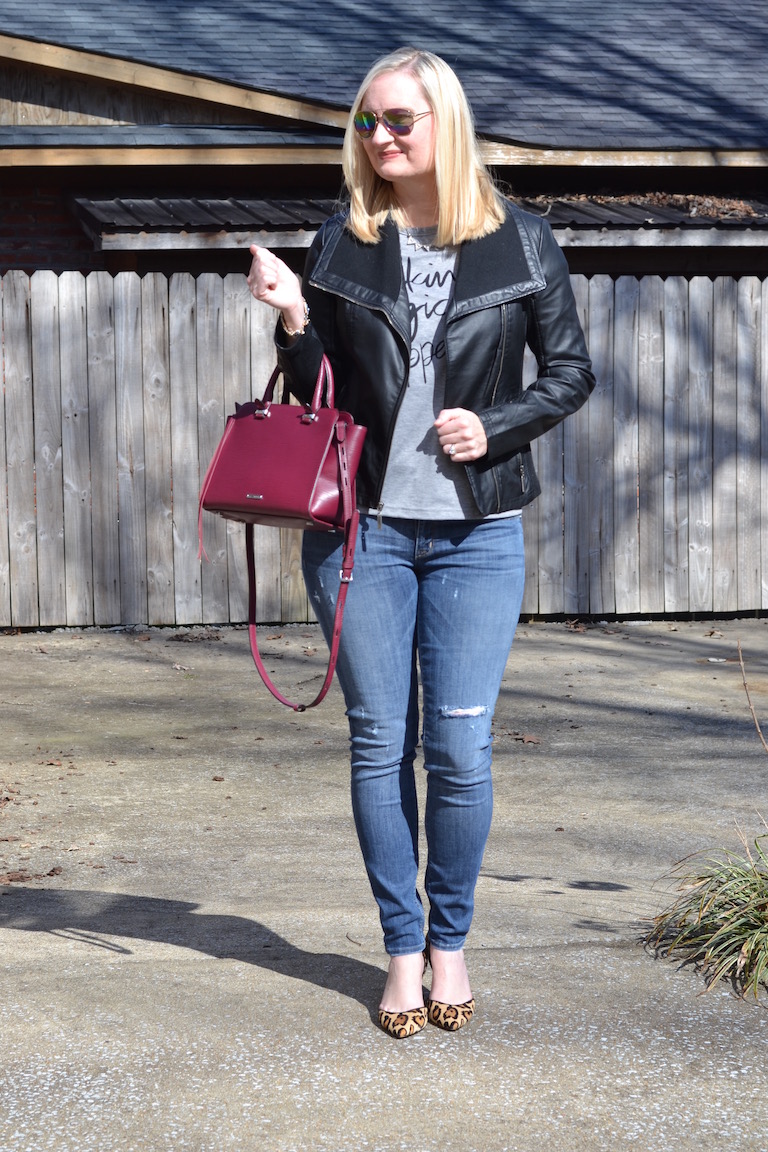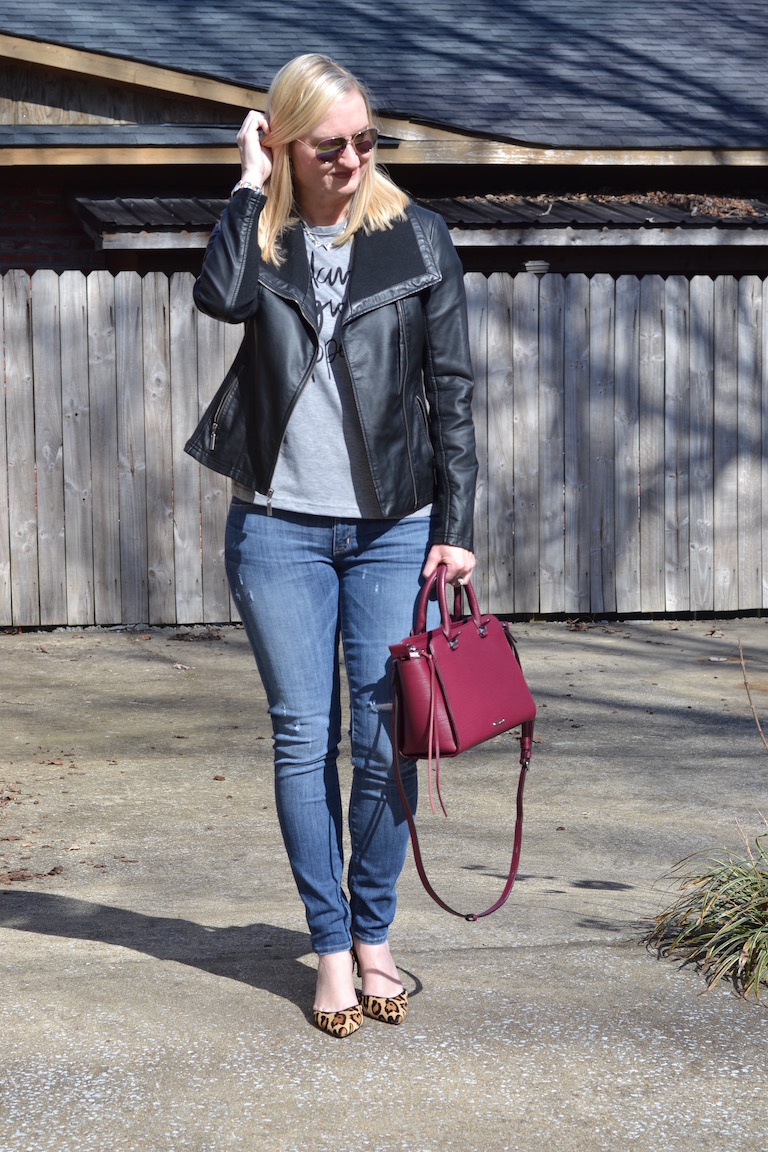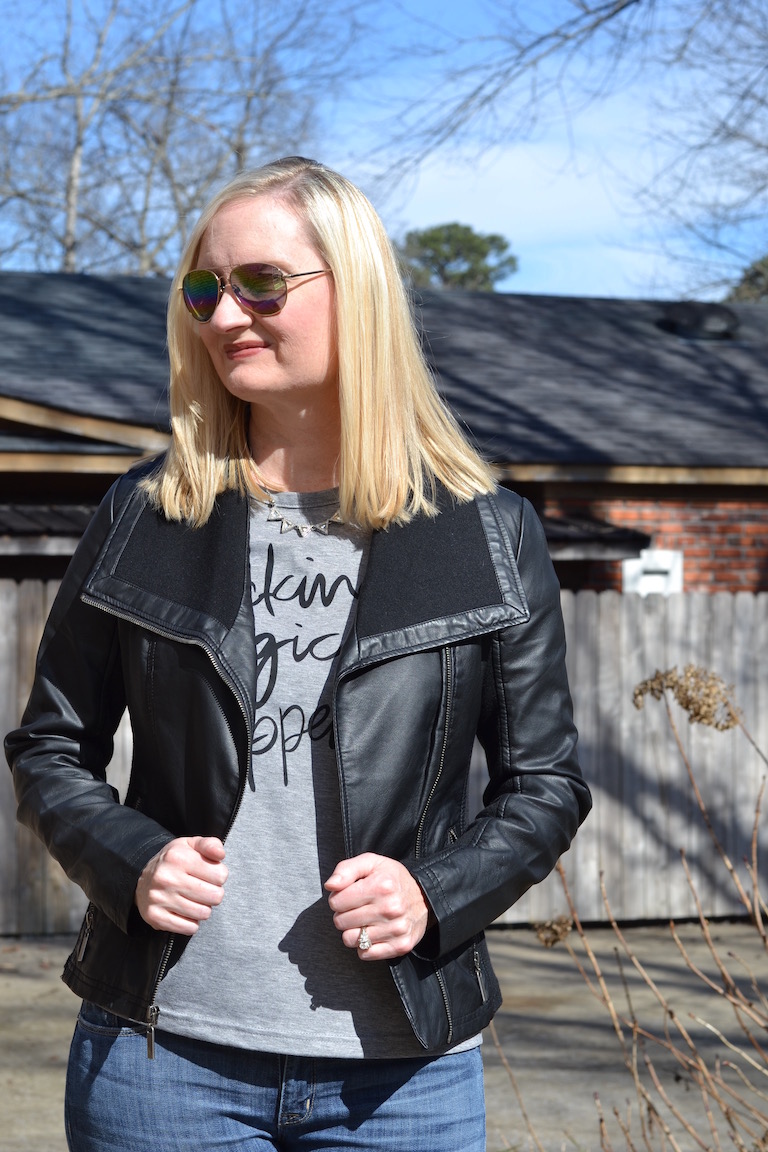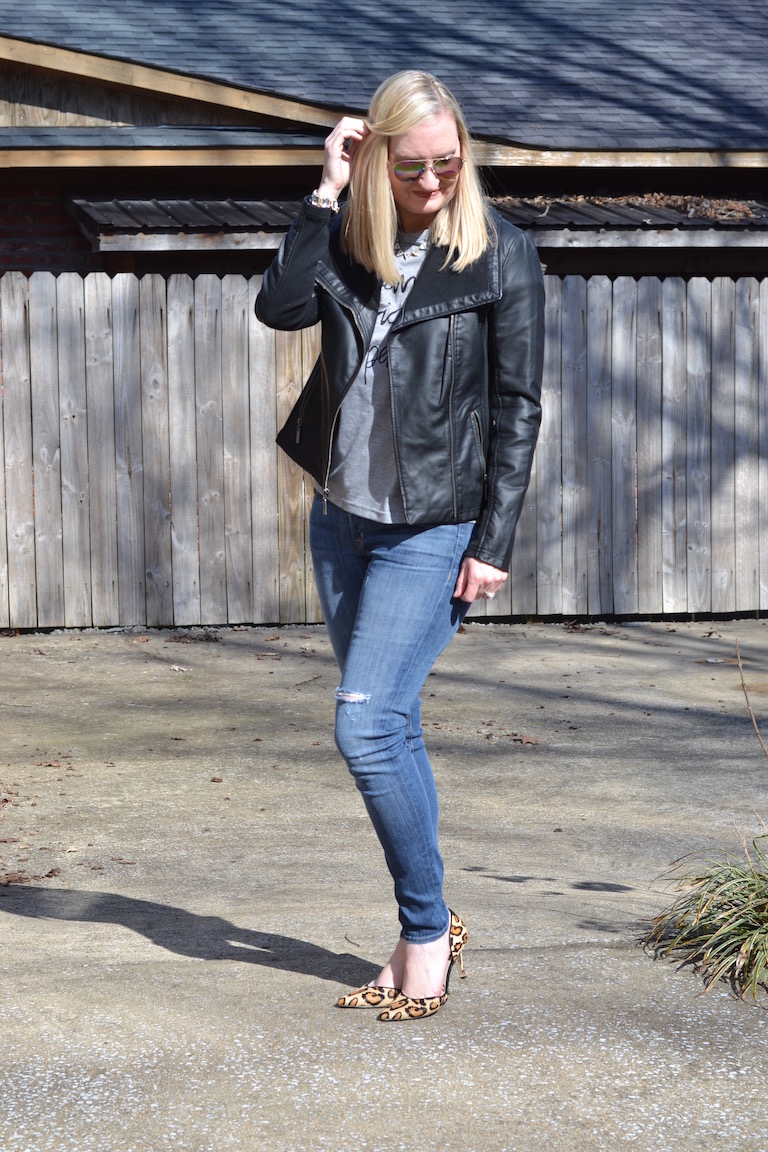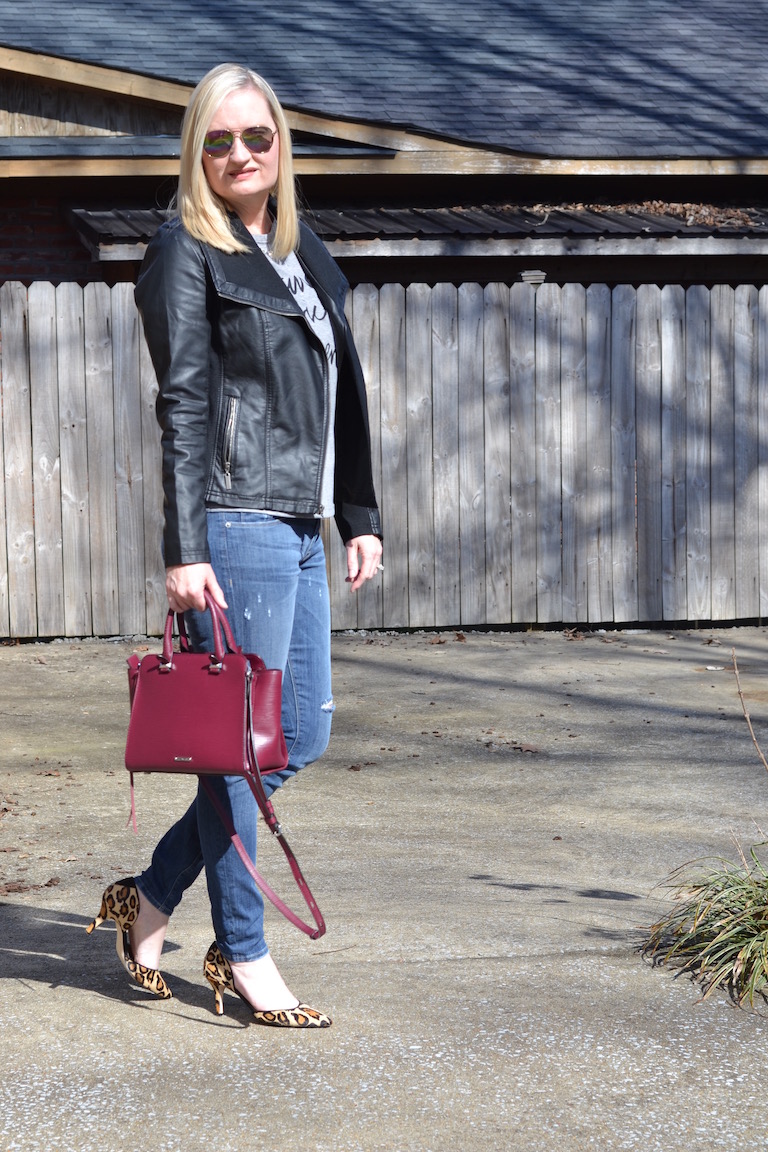 Outfit Details:
"Making Magic Happen" tee c/o Shein
faux leather moto jacket (option 1, option 2)
distressed jeans: (option 1, option 2)
aviator sunnies
Luxe Crystal Silver Necklace (in a set of 5 necklaces and pair of earrings, all for under $50!)
Rebecca Minkoff Mini Avery Tote c/o Shopbop : exact color, Pantone Rose Quartz Color
This "Making Magic Happen" tee is from Shein.  This tee fits perfectly and I love the quality of the material!  And, the price is under $11!  When I saw this tee on Shein.com, I just knew I had to get it, as it is just what I feel like I do here on Classy Yet Trendy…make magic happen.   I'm very passionate about fashion and personal style and absolutely love creating outfits.  I created my first e-Book, The Essential Capsule Wardrobe: Winter 2016 Collection a couple of months ago.  Lots of positive feedback has come in from everyone who purchased it, so I'm working on the Spring 2016 Collection edition, which will be released VERY soon.  I'm SUPER excited about the Spring Collection, as the colors will be navy blue, light gray, and white, with a few peach and pink colors.
Speaking of Capsule Wardrobes, this faux leather moto jacket and distressed jeans are from my Winter Capsule Wardrobe.  Since I'm doing the #cytshopmycloset February challenge, where I'm not shopping during the month of February, my capsule wardrobe came to the rescue for this edition of Trendy Wednesday!
This past week I had my hair cut!  I was tired of the long length and wanted something easier to fix.  I'm SO glad I had it cut!
I guess you noticed the new look of Classy Yet Trendy and the new logo?  The blog theme is from solopine.com and it is so easy to setup!  I had it installed and finished in about 30 minutes.  I made the new logo with a font I purchased from Creative Market.  I have to admit, I'm a bit of a theme and font addict.  I love the look of different themes and I love creating logos.  I started making a basic theme about a month ago and I haven't finished it yet.  I've been busy getting my e-Book business started.  That's area of blogging I would love to do more of, making themes.  Too much to do, so little time!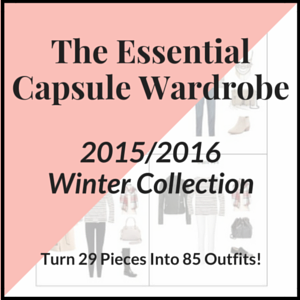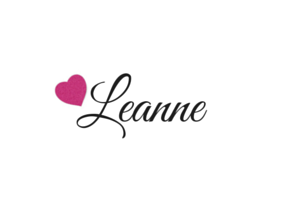 The two featured bloggers from the last linkup are:


1.  Please follow your Host 
2. Link up to 5 posts: 
it can be about fashion, style, beauty or lifestyle

(linkup to your blog post and not your main page)
3. Please include a link back to this post or place my linkup button in your post.
4.  Now, add your post(s) below!  I hope you enjoy the linkup and enjoy meeting other bloggers!