Black, Gray & A Pop Of Plaid (TW #141)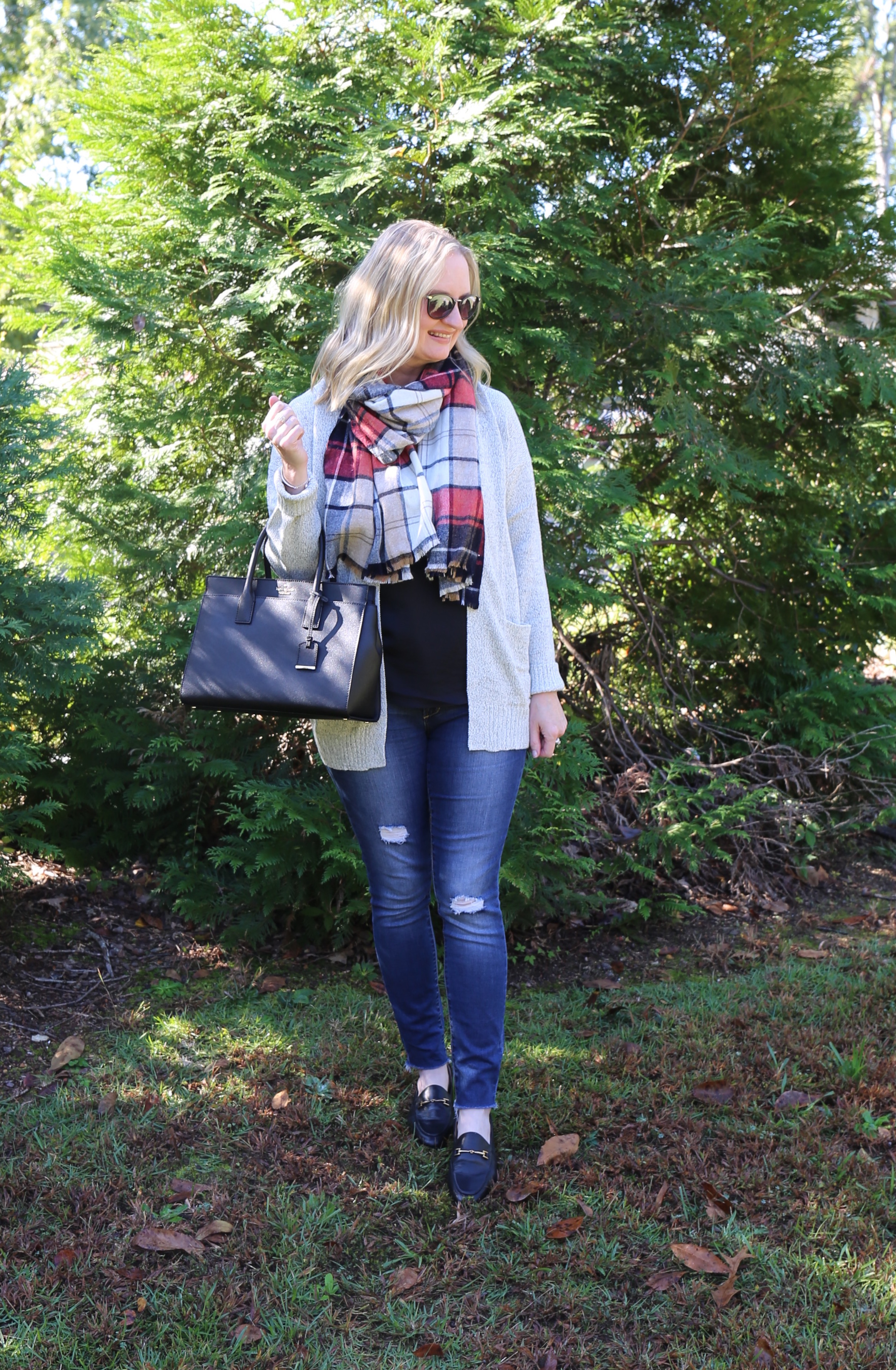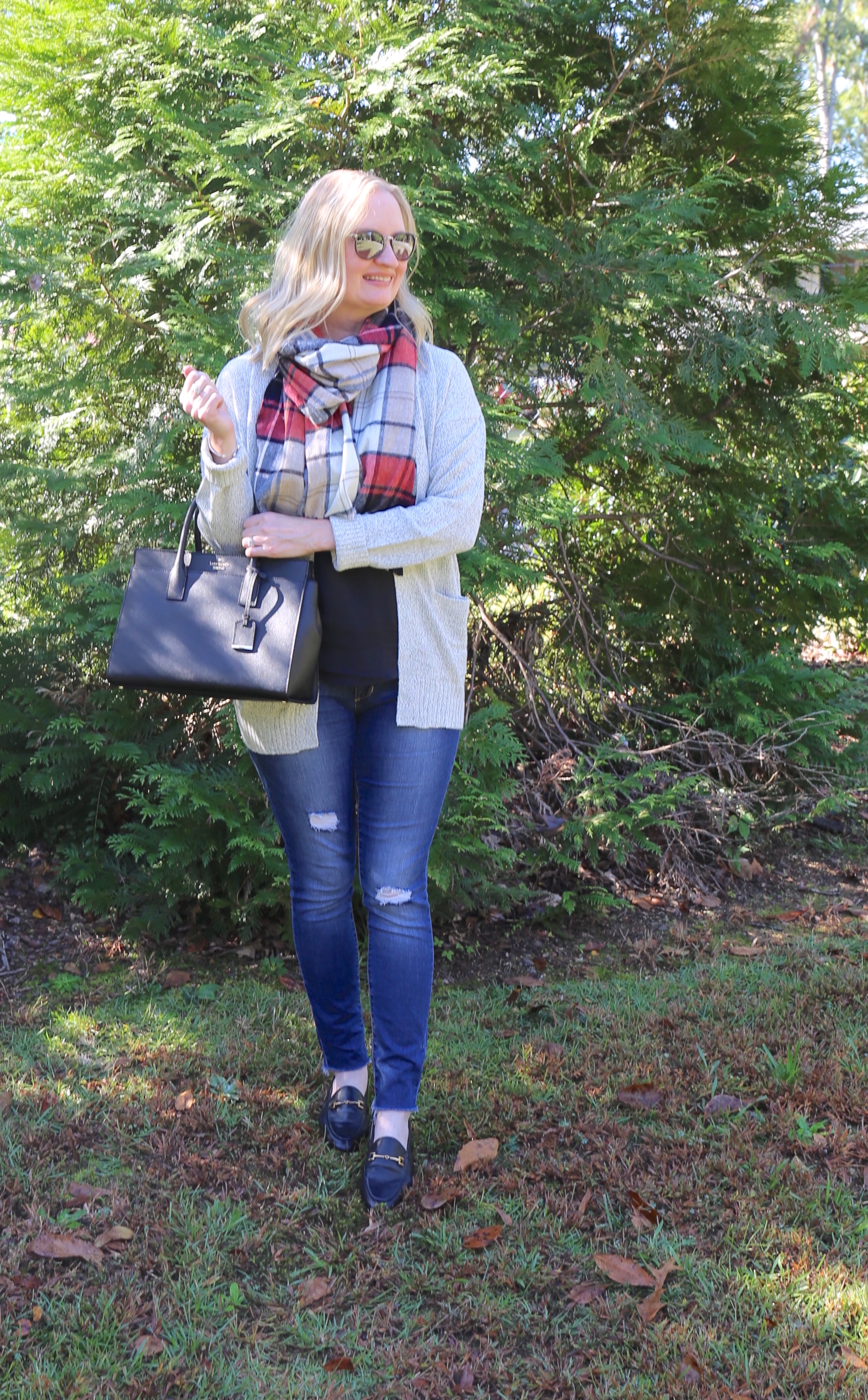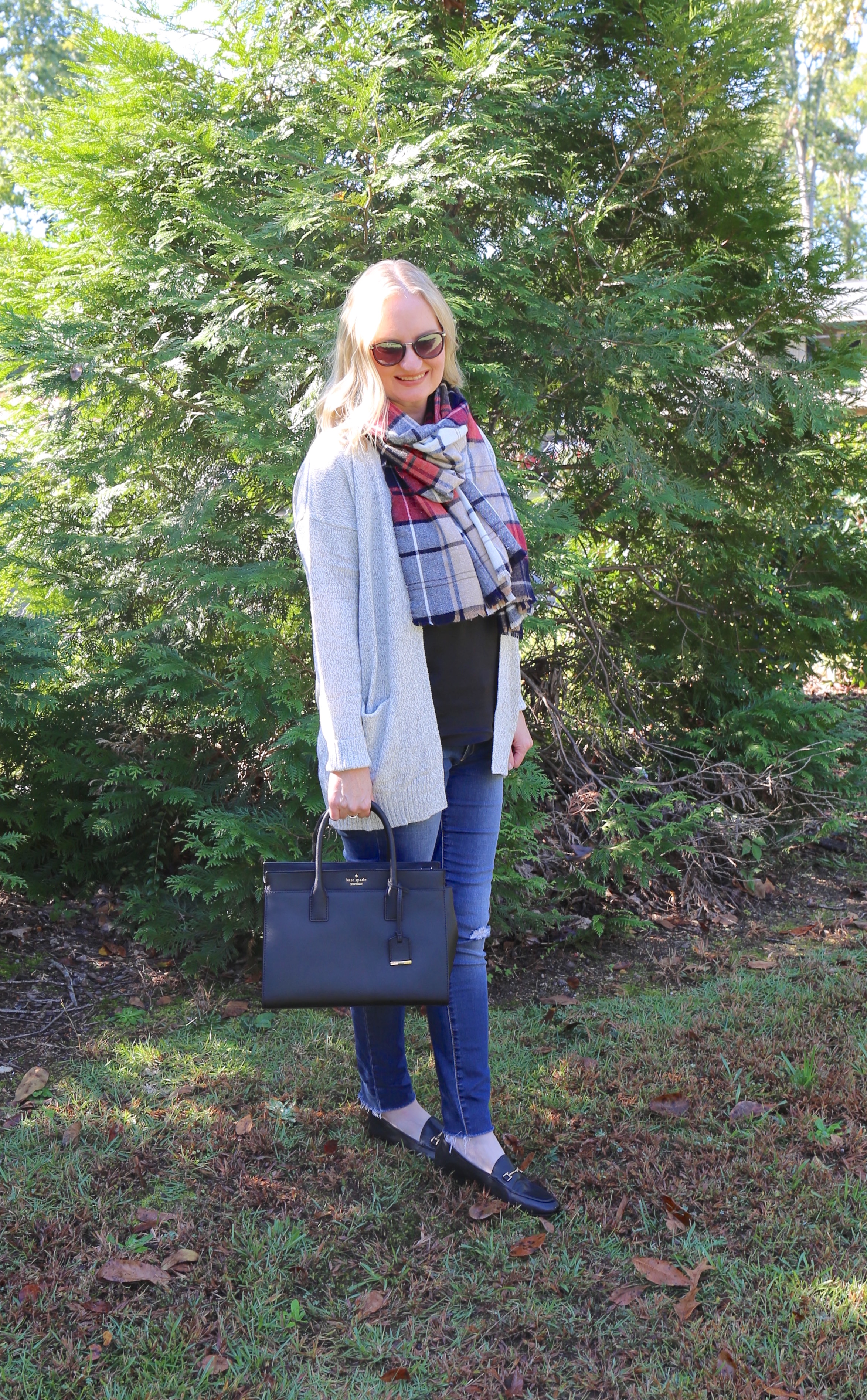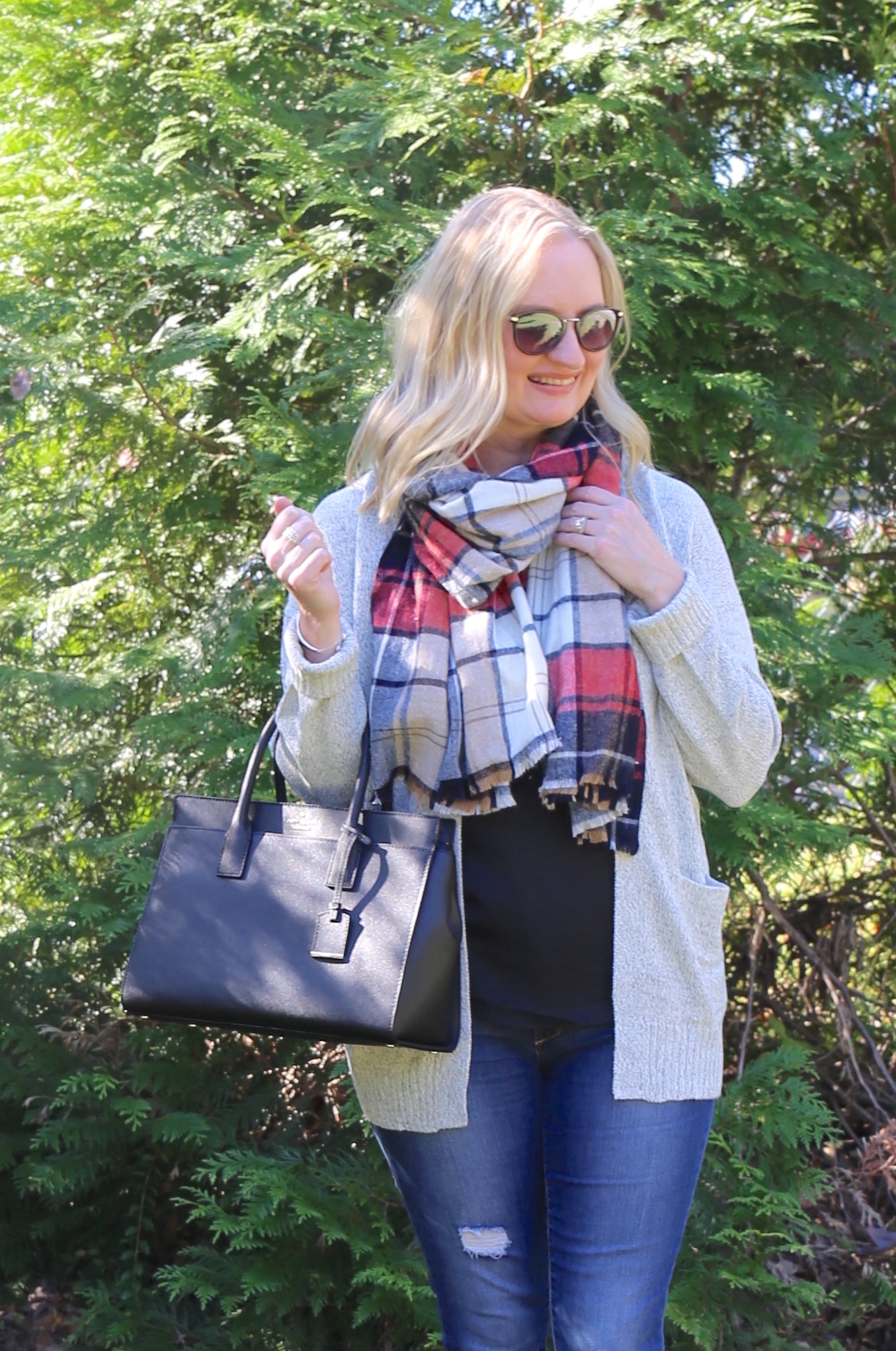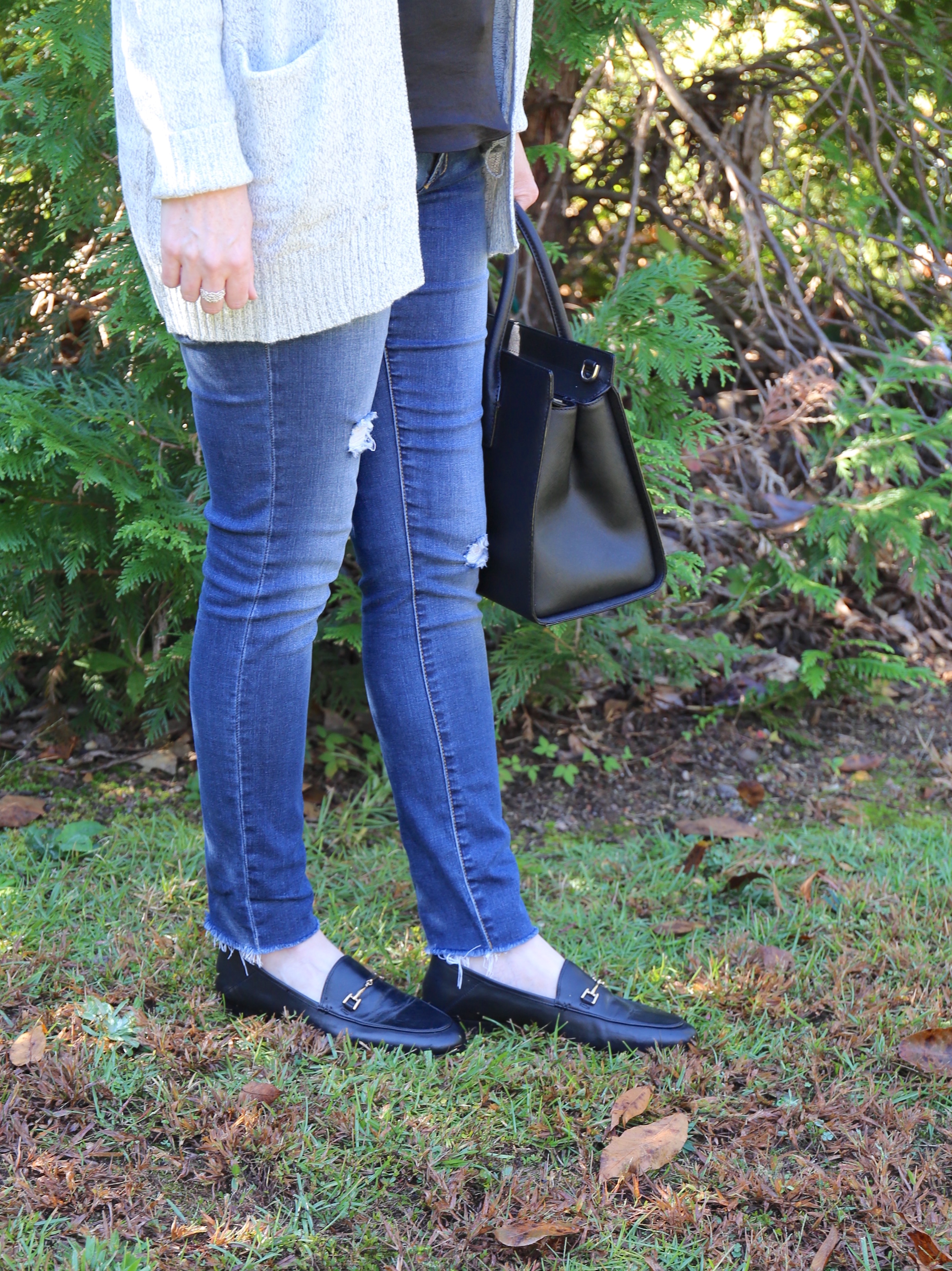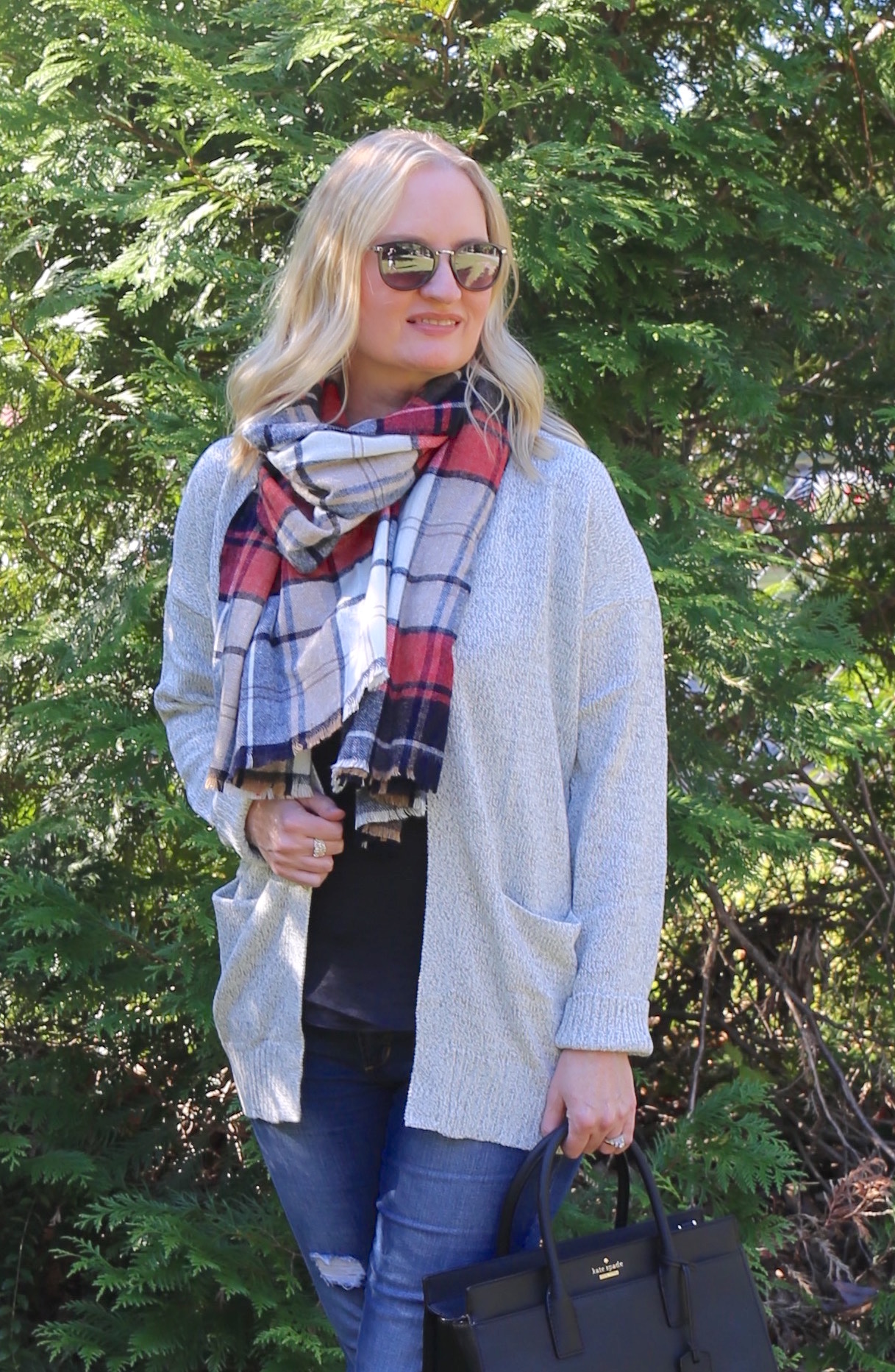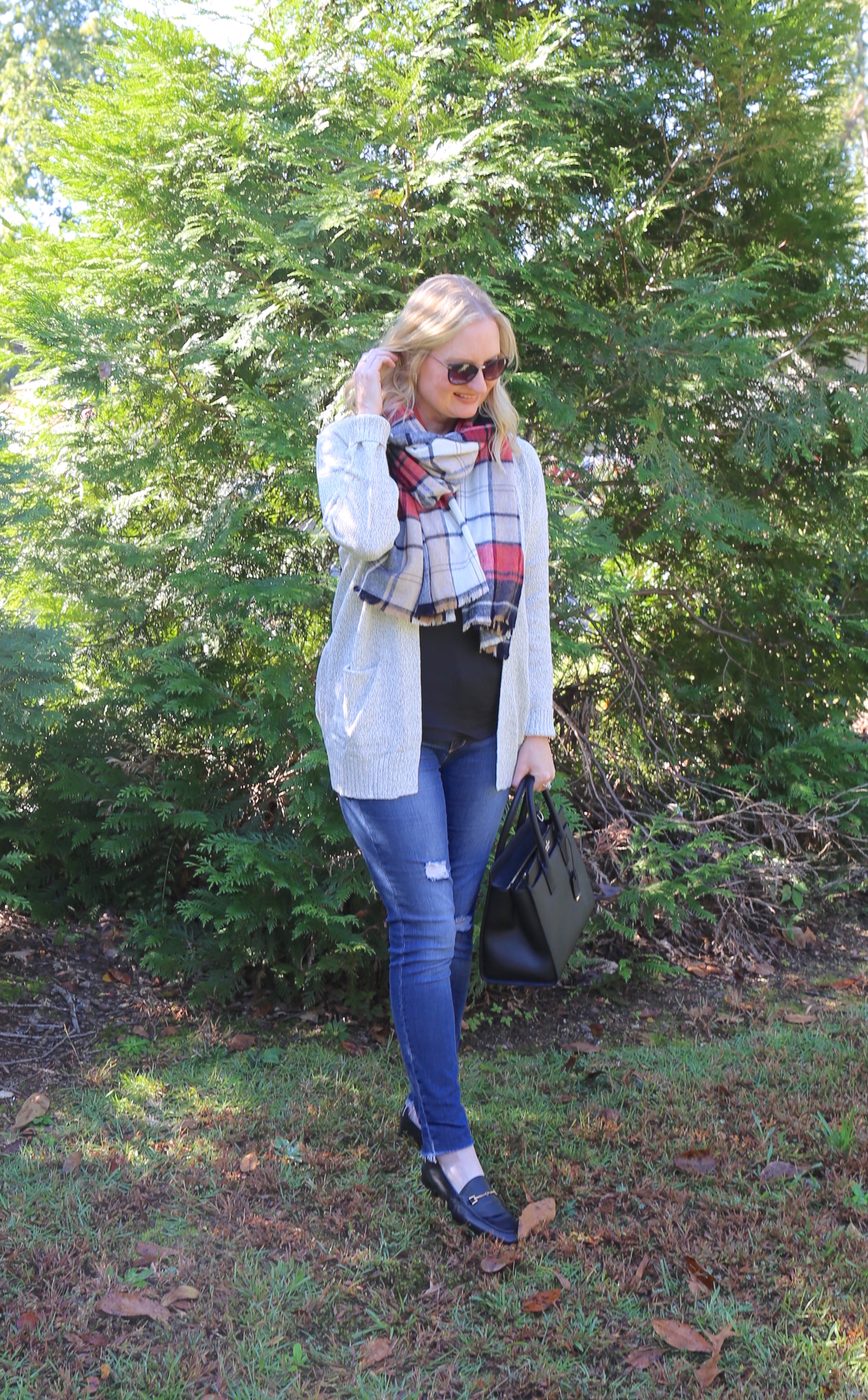 Outfit Details:
black double layer cami / plus-size option
gray marled cardigan (under $25!) / plus-size option
sunnies (under $20!)
silver hoop earrings (similar)
silver adjustable chain bracelet
plaid scarf
black satchel bag
distressed raw hem jeans / plus-size option
black loafers
We've had temps in the 70's for a few days a it feels like Fall!  Yea!  I was starting to think that Summer didn't get the memo that it was now Fall and that it was time to leave.  Hopefully the cooler temps are here to stay.
This Fall capsule has been a bit challenging, because, 1) I kind of guessed what I thought I would be wearing since I work at home now, and, 2) with the temps being in the 80's so far, I've only worn just about half of my capsule.  With that being said, I've found that I have worn mostly short sleeve tops and jeans.  Since it's gotten cooler outside, I'll throw on a cardigan, denim jacket or utility vest.  I dressed for the warm temps in my Fall 10×10 challenge a couple of weeks ago.  You can see all the outfits I wore for 10 straight days.
I changed up a couple of items in my Fall capsule wardrobe.  I have wanted a gray marled cardigan and a pink cardigan ever since my daughter assumed ownership of them last year!  I know when she likes things I wear, because she'll tell me that she might have to put that in her closet.  She's almost 13 and has discovered her style, which is a little bit boho and classic mixed together.  She's not into capsule wardrobes (yet), I guess because she's a teen and loves clothes.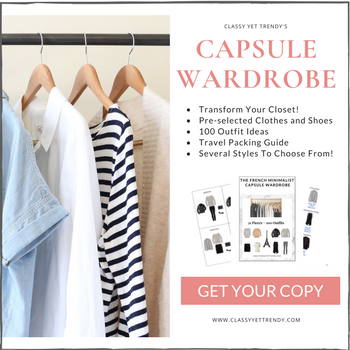 I was on H&M's site last week looking at possible clothes to put in the Winter capsule wardrobe eBooks, when I discovered
this knit gray marled cardigan
 in
"natural white melange"
.  I ordered it and also the 
"powder pink"
 color.  When they arrived and tried them on I was so excited that I found my wardrobe replacements!  They fit perfectly, are well made, love the soft material and the colors are perfect.  Plus, they were only $24.99 each!  Score!  I knew that I needed a couple of cami's to wear under my cardigans and denim jacket, so I ordered this
"pitch black" double layer satin cami
and also one in
"vintage pink"
.  They are similar to my white barcelona cami that I've had for a few years.
Since this outfit was a bit plain with just black and gray, I added a pop of plaid with this Sole Society plaid scarf.  I bought this scarf last year and it's super warm, perfect for windy days like today and the colder days to come in the Winter!  I was excited to see it's back again this year because it's such a pretty scarf.  The colors in the scarf are ivory, beige, black and red.  I posted this outfit yesterday in a #flatlay on Instagram, but I added a pendant necklace (similar) instead.  Then when my husband and I went outside to take a few photos for today's post, it was chilly and windy, so I went back inside and grabbed this scarf.  These Sam Edelman loafers are so comfy!  They are classic black loafers accented with gold hardware.  I can walk literally all day in these and not worry about my feet getting tired.  That's one of the reasons that Sam Edelman is my favorite shoe brand.  These loafers would look great with the outfits in The French Minimalist Capsule Wardrobe: Fall 2017 Collection!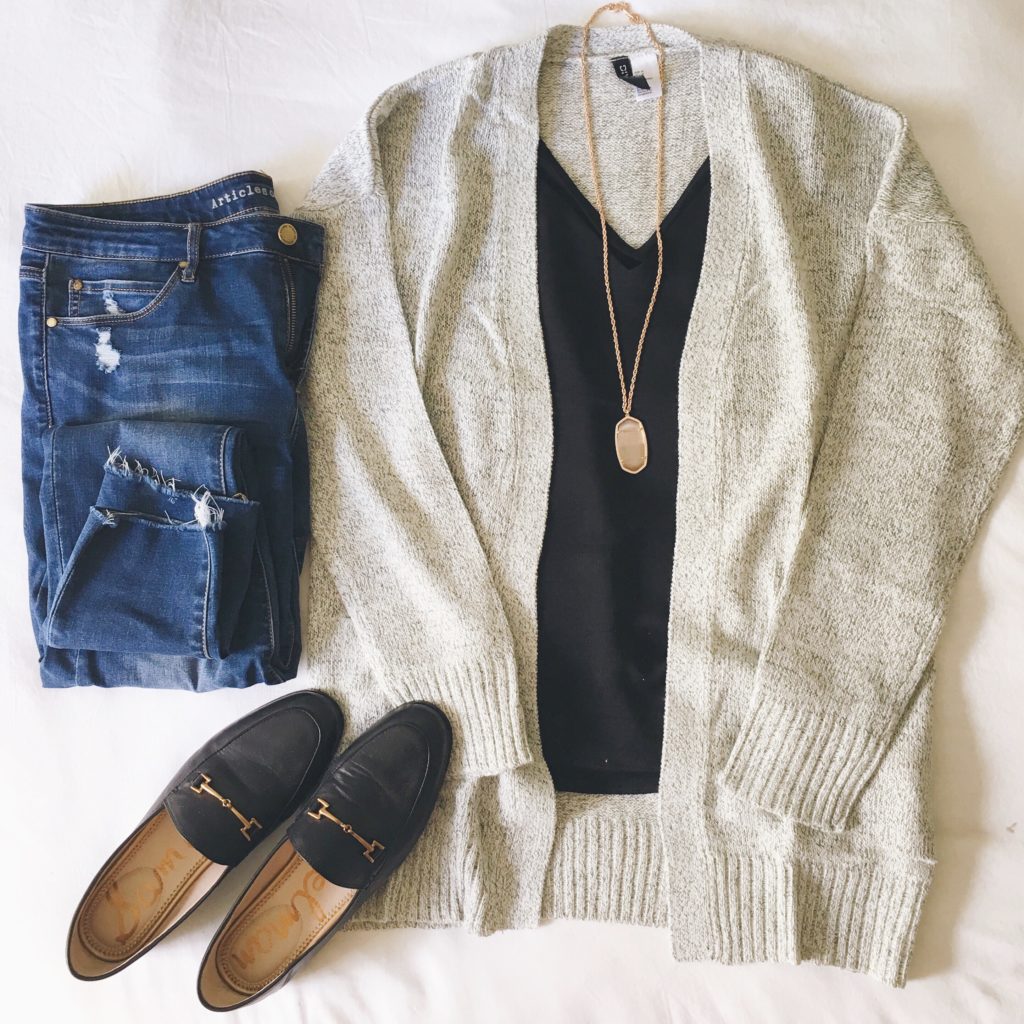 via Instagram @classyyettrendy
My gray cardigan that I had in my Fall capsule wardrobe, which I bought at Kohl's a couple of months ago, I'm now using as loungewear to wear around the house.  A few weeks ago I cleaned out my pajama drawer and now am wearing lounging pants, leggings, graphic tees and my long cardigan.  I now have a loungewear capsule wardrobe!  All the colors are black and gray and coordinate with each other, so no matter what I wear it all matches!  Plus, they all double as pajamas.  Let me know if you would like to see a post on capsule wardrobe loungewear?
I've already started scouting out items for the Winter capsule wardrobe eBooks.  As always there will be core closet items in each of them, but there will also be slightly trendy pieces too.  Let me know if you have any requests for items that you would like to see included!  Either comment below or send me an email to classyyettrendy@gmail.com.


The two featured bloggers from the last linkup are:


1.  Please follow your Host 
2. Link up to 5 posts: 
it can be about fashion, style, beauty or lifestyle

(linkup to your blog post and not your main page)
3. Please include a link back to this post or place my linkup button in your post.
4.  Now, add your post(s) below!  I hope you enjoy the linkup and enjoy meeting other bloggers!
Each week I feature 2 bloggers from the previous link,
so link-up your blog posts for your chance to be featured!