The Perfect Gift On a Budget With Burt's Bees
Thank you to Burt's Bees for sponsoring this post.
Sometimes buying gifts during the holidays can get overwhelming. You may wonder, "what size do they wear?", "what would they like to have?" or "how am I going to afford buying presents this year?" You want to buy someone just the right gift the will love, but you're limited on money to spend.
I've gotten overwhelmed in buying presents during a few holidays. I would spend too much, get the presents home, and wonder how I spent all my money on these few presents. I've wised up these last few years and found a way to stay within my budget, while giving the perfect gifts.
Giving Burt's Bees gift sets is the perfect gift for anyone! They come in a decorative package, include several products and are easy on your wallet too. My local Target has several types of Burt's Bees gift sets. Just look at all the gift sets available! They are conveniently located at the end of one of the Beauty aisles. You can also find the Burt's Bees gift sets online at Target.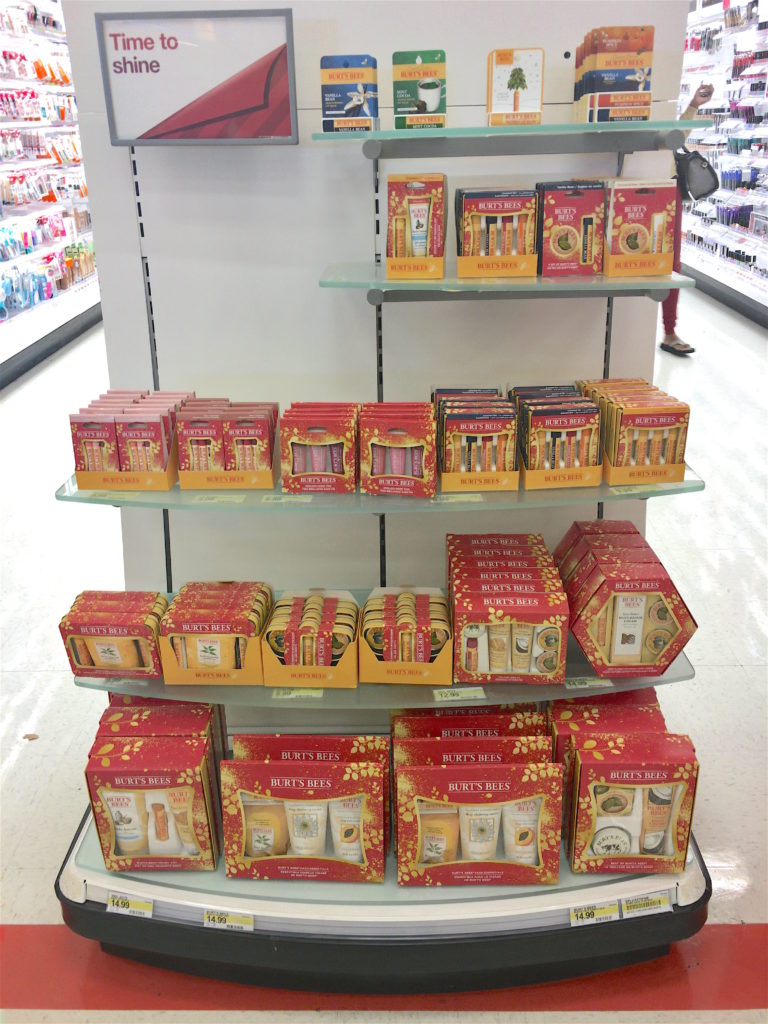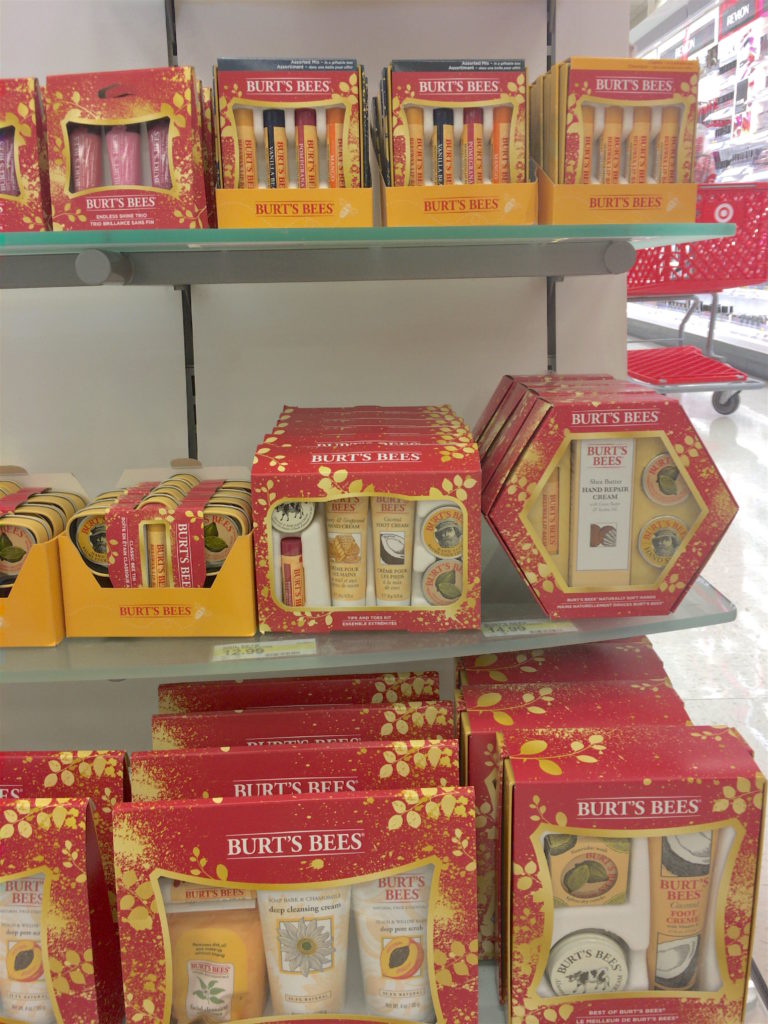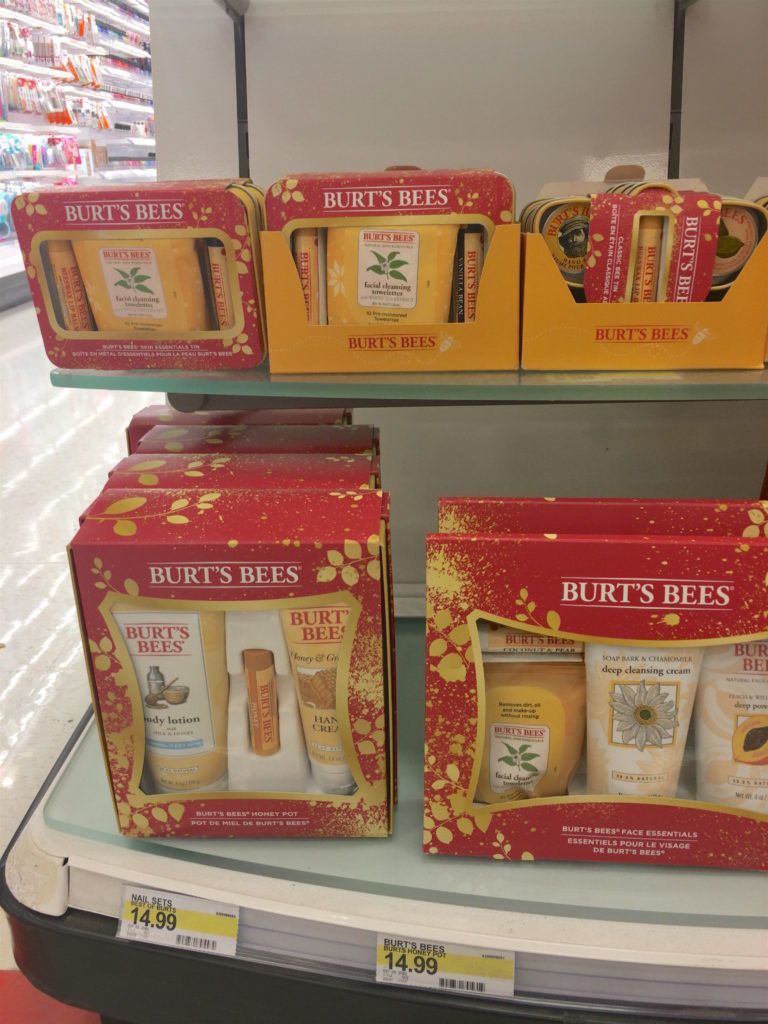 I bought three gift sets to give as presents this year. Burt's Bees Honey Pot, Kissable Color: Warm Collection and Beeswax Bounty.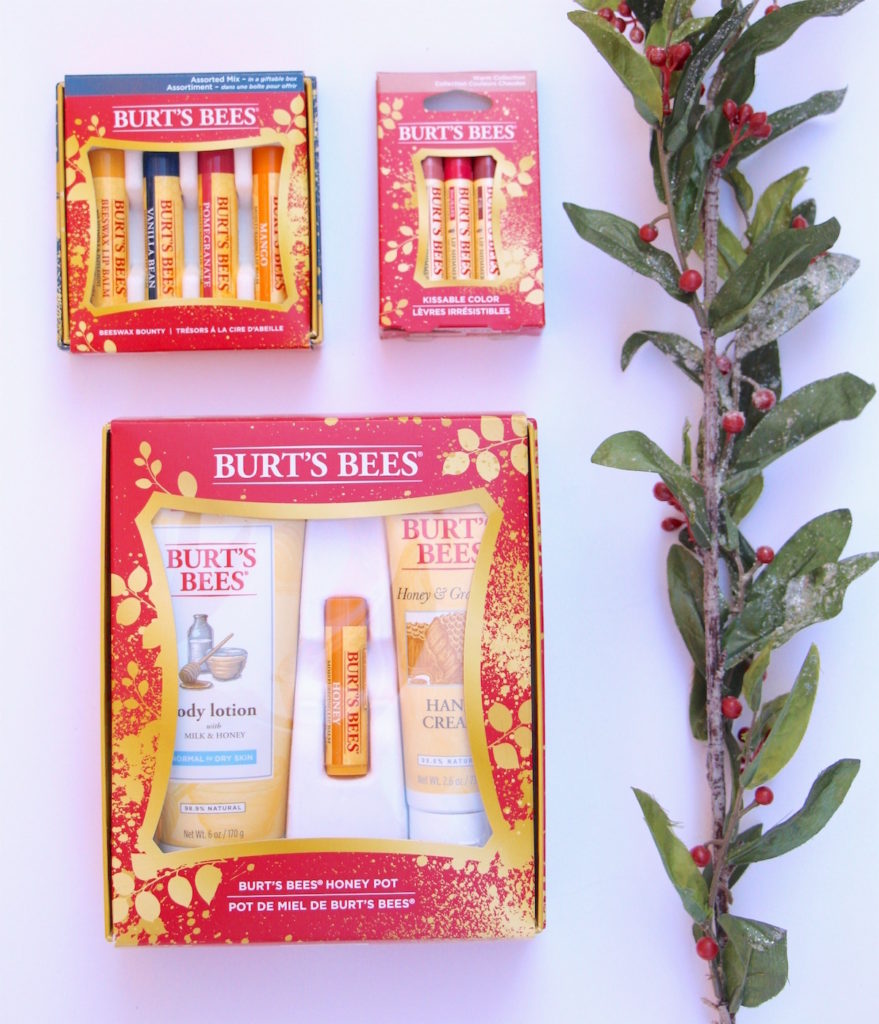 Burt's Bees Honey Pot – This gift set includes a 6 oz. Body Lotion with milk and honey for normal to dry skin. It also includes 2.6 oz. Honey & Grapeseed Hand Cream and Honey Moisturizing Lip Balm with vitamin E. Here's a neat feature of this gift set. It comes in it's own gift box! Just remove the front cover, take off the lid that's on the back of the box and put it on the top. Voila! Your present is ready to give!
Burt's Bees Beeswax Bounty – This is a gift set with four Moisturizing Lip Balms in Vitamin E & Peppermint, Vanilla Bean, Pomegranate and Mango. I've used the Vitamin E & Peppermint for years and I love it. It's smooth going on, keeps my lips moisturized and the peppermint is a flavor I love. I like that they included other flavors, especially pomegranate and mango!
Burt's Bees Kissable Color Warm Collection – When I saw this trio set of lip shimmers, I just had to buy it…for me! This gift set comes in Peony, Rhubarb and Fig. I have already tried the Peony and I love it. Since it's a lip shimmer, it's slightly tinted with color. The Peony is a mauve tinted lip shimmer. If you don't want to wear a full lipcolor, I recommend the lip shimmers. They provide just a touch of color and keeps your lips moisturized.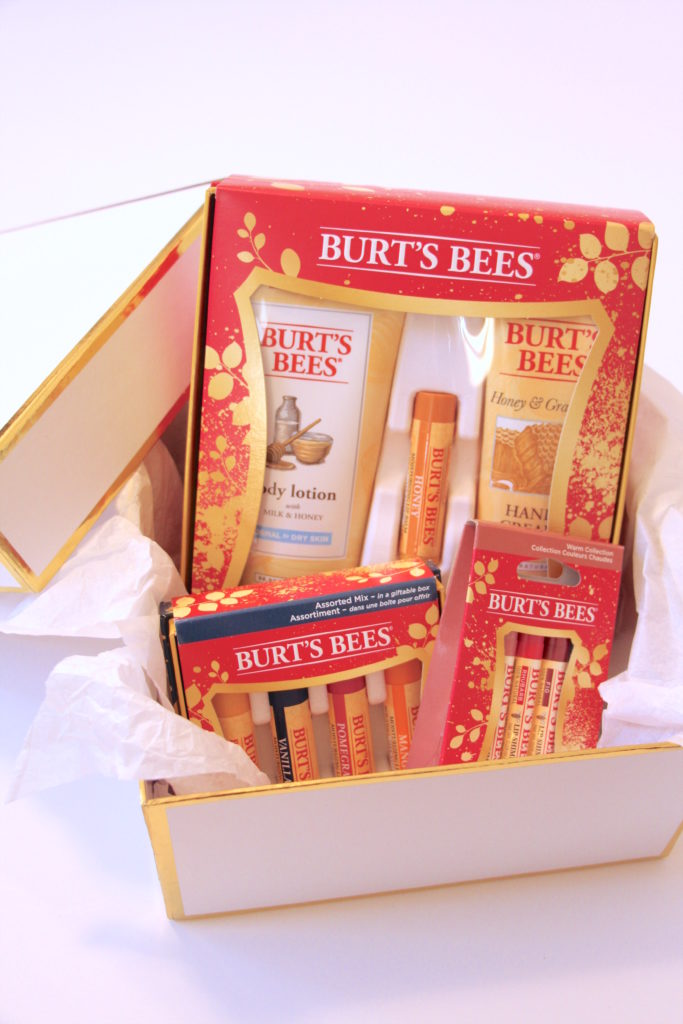 Other Burt's Bees gift sets available at Target that I recommend are:
For a Baby Gift: Burt's Bees Baby Bee Sweet Memories Keepsake Photo Box – This includes a keepsake photo box, shampoo & wash, lotion, soap and diaper rash ointment. Also, there is the Burt's Bees Baby Organic Washtime Tin – This set includes an adorable keepsake tin, 3 washclothes and mini wash.
Burt's Bees Endless Shine Trio – These provide a hint of color and soft, moisturizing care for lips. They come in three shades of pink. This set also makes a great stocking stuffer!
Tips and Toes Kit Holiday Gift Set – This is one of the best sets, because it includes 6 favorites for fingers and toes. Almond Milk Beeswax Hand Cream, thoroughly therapeutic Honey and Grapeseed Oil Hand Cream, Hand Salve lovingly moisturize dry hands, while Lemon Butter Cuticle Cream nourishes and hydrates nails and cuticles. Feet also get babied with rich Coconut Foot Cream. Finally, Pomegranate Moisturizing Lip Balm soothes and softens dry lips. This beauty kit provides serious softening and hydrating for dry skin.
With Burt's Bees, gift giving is easy…and, easy on your wallet!
You can find all these gifts and more at your local Target or at Target .com
You can find Burt's Bees online:
Facebook: https://www.facebook.com/burtsbees
Twitter: https://twitter.com/burtsbees/
Instagram: http://instagram.com/burtsbeesus
Pinterest: http://www.pinterest.com/burtsbees/