Then And Now: 2 Years Of Blogging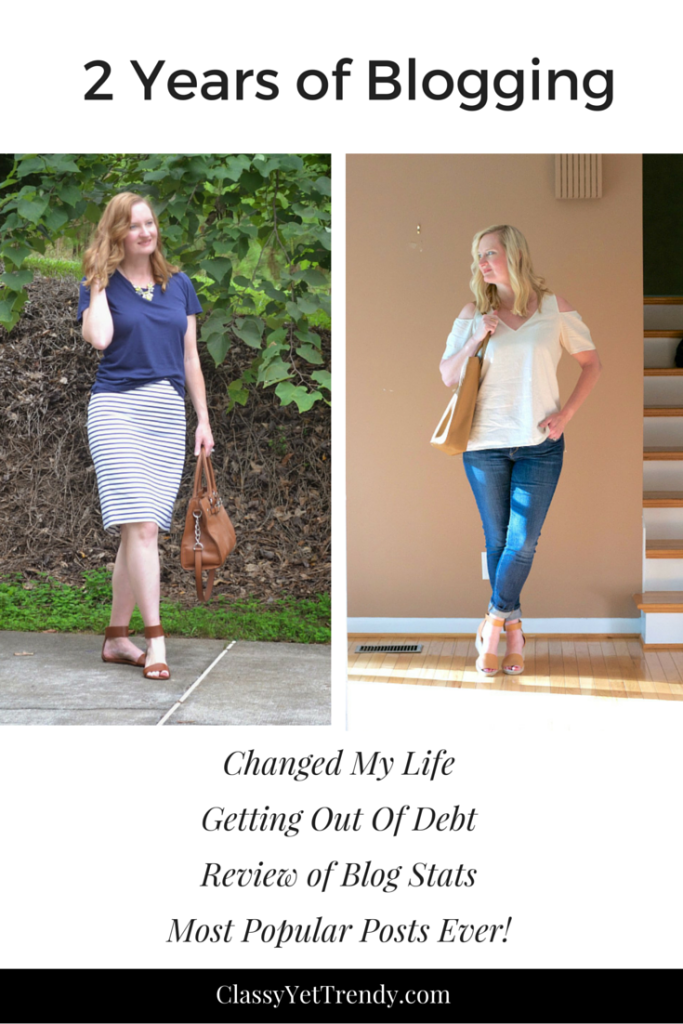 As I sat down this Sunday evening to write a blog post for Monday, I realized that I have been blogging for two years…2 years!  I started in 2014 and it has already been two years.  What started as a hobby has turned into much, much more.  Blogging has improved my life.  You may be wondering how it has changed my life.
How Blogging Has Changed My Life
I've developed my personal style
If you'll look back in the archives (on the right side of the screen at the bottom), you'll see my first posts.  I was just started to develop my personal style.  When I discovered "blogs" on the internet, it helped me learn about how to coordinate clothes and accessories.  I have to admit, before I started blogging, I wasn't the best dresser.  Through studying how to dress and applying it on my blog, I have developed my personal style.
I've gained confidence
Learning how to dress better and wearing clothes that I love has given me more confidence.  That confidence has enabled me to take risks and improve my blog and also develop The Essential Capsule Wardrobe E-Books.
I earn another income
Now, I consider blogging as my 2nd job.  Yes, I work two jobs now.  I work all day at my career, then I blog about 2 hours every other night after family time.  I even work every other weekend, sometimes all weekend if I'm writing a capsule wardrobe e-book and preparing the marketing materials with it.  It's hard working so much sometimes, but blogging on the side is actually helping me get out of debt!
I've helped others
I can't tell you how much positive feedback I have received from this blog, through comments, emails and feedback through The Capsule Wardrobe Collective Facebook group.  I love hearing feedback from others.  That feedback helps me to improve both this blog and my E-Book Capsule Wardrobe series.  Many of you have given me feedback on how my posts and E-Books have helped you get dressed in less time and how a capsule wardrobe has changed your lives.  It humbles me to know that I have helped others.  When I first started blogging, I got ideas from other blogs so I could dress better.  Now, I think I'm paying it forward to you all.  Thank you!
My Blog Stats
I checked my blogging stats on Google Analytics.  In 2 years, ClassyYetTrendy.com has had 1,221,947 views!  Oh my!  According to Alexa.com, ClassyYetTrendy.com is ranked 142,475 in the United States and 615,172 in the world!  That's good enough reason for me to keep blogging.
Most Popular Posts
Here are the Top 5 Posts Ever on ClassyYetTrendy.com:
Create A Mixable Wardrobe: 10 Spring Outfits
Create A Mixable Wardrobe: 15 Winter Outfits
My Summer 2016 Capsule Wardrobe
Create A Capsule Wardrobe On a Budget: 10 Minimalist Outfits