12 Essentials Every Woman Needs In Her Closet
We all have clothes in our closets are our favorites.  You know, those pieces that reach for the most and that you love to wear over and over.  Some pieces are considered "essentials".  They are tops and bottoms that are "anchors" of our wardrobe…pieces that coordinate well with others in our closet.  Those essentials are also considered classics that never go out of style.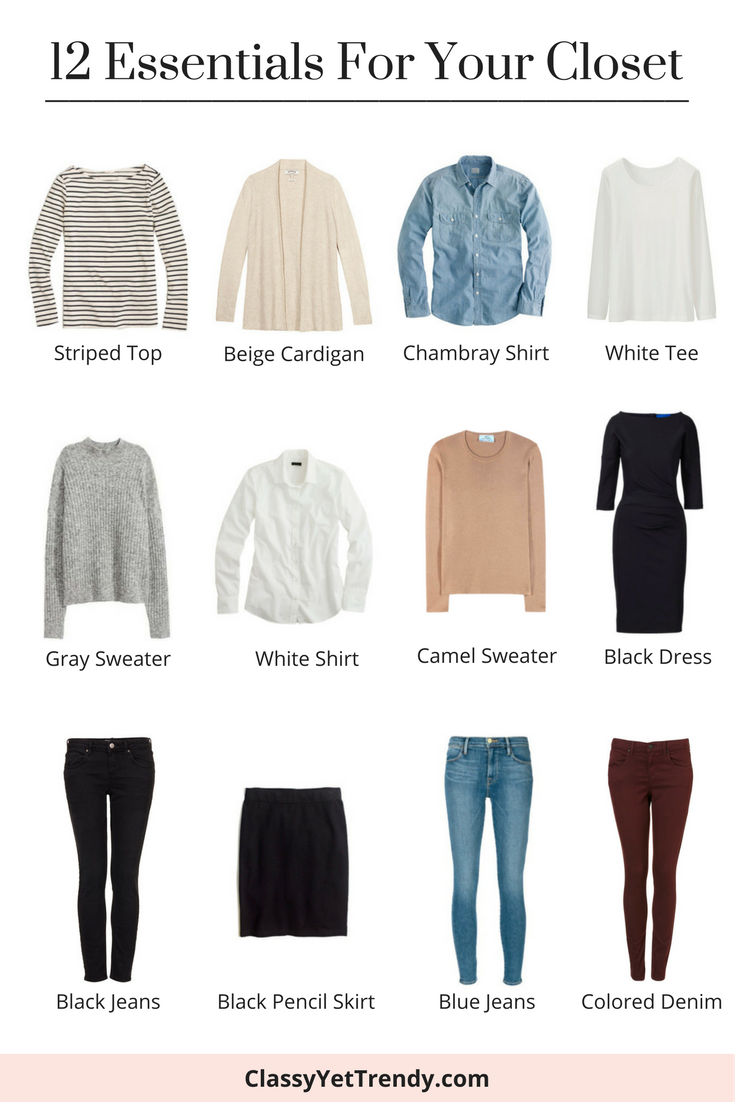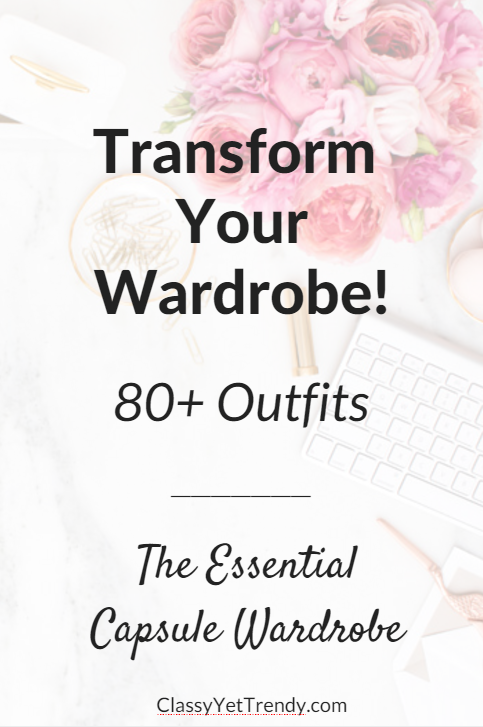 Essentials are also an important component in a capsule wardrobe.  Since a capsule wardrobe is based on having a certain number of tops and bottoms in your closet, essentials make up most of a capsule wardrobe.
When I'm preparing my closet for the next season, I always gather my essentials first, like a white top, chambray shirt, striped top, blue jeans, black jeans and a pair of colored denim.
Here's my list of go-to essentials that I like to include in my capsule wardrobe for the cooler seasons, like Fall, Winter and Spring:
Striped Top: This type of patterned top is always in style!  Stripes, whether black or navy, goes well with solids and even other patterns.  You can wear a striped top by itself, underneath a cardigan or even underneath a sweater and let the bottom and sleeves show creating contrast.
Beige Cardigan: Since a cardigan is open, you can wear a solid color top underneath or even a patterned top.  The beige color is a neutral, so it goes with practically any color or pattern.  I've found this is the most versatile piece of clothing I have.  I've styled it so many ways too: with jeans, colored denim, skirts, leggings.  I've dressed it up and wore it casual too.
Chambray Shirt: This shirt is a wardrobe workhorse!  The chambray looks like denim, yet is a beautiful color of blue that can go with several other items in your closet.  I've worn my chambray shirt dressed up with a black pencil skirt, statement necklace and heels, and I've also worn it casual, open with a white tee underneath, pair of jeans and sneakers.
Long Sleeve or Short Sleeve White Tee: This is an absolute must-have for any closet!  The solid white color goes well with any other color or pattern, plus it's basic shape goes well with other tops.  Wear a white tee underneath any vest or leather jacket for an instant contrast to your outfit.
White Button-up Shirt: This classic shirt is always in style!  You can dress this up with a blazer and skirt or wear it casually just with a pair of jeans and you'll look fabulous.  You'll always look polished wearing this shirt.  It usually comes in cotton, but if you're wanting a more relaxed version, try this softer fabric Utility Shirt from Loft.
A Camel or Tan Crewneck Sweater: This is a wardrobe must-have!  This type of sweater never goes out of style.  The neutral color of camel or tan goes well with other colors in your wardrobe.  The crewneck is open enough that you can wear a shirt underneath, wear it alone with a statement necklace or add a scarf for instant chic!  Opt for a solid color instead of a pattern.  You won't get tired of a solid color sweater, plus the solid color goes with many other items in your closet.
A Gray Sweater: Gray looks great with many other pieces in your wardrobe.  It goes well with black, navy blue, burgundy, etc.  Choose a color of gray that goes well with your skintone.  Charcoal or a darker gray and marled gray looks great on almost any woman.
The "Little Black Dress": If you have only one dress in your closet, go for a black dress.  The color is classic, chic and looks great for your figure!  If you are not too keen on wearing the black color alone, add a statement necklace, colorful scarf or add a vest for contrast.
Black Jeans: I wear my black jeans at least once a week.  The black color makes me look more slim and they go with many other items in my closet.  These are an absolute must-have!
Black Pencil Skirt: My favorite type of black skirt is a pencil skirt.  The slim style and solid color coordinates well with all my tops and sweaters.  Add just a top or sweater, a pair of solid black pumps and necklace and you're all set for the day!
Blue Jeans: These come in all sorts of styles and washes, so add your favorite pair to your closet.  There are skinny, bootcut, boyfriend, slim boyfriend, just to name a few.
Colored Denim: When you add colored denim instead of just blue jeans to your closet, it opens up many other outfit options.  Opt for "skinny" or "straight" fit so you can wear fitted or loose tops.  My favorite colored denim is burgundy, but there is also olive, white, gray and several other colors.
There you have it.  Those are the most common wardrobe essentials, at least in my closet!
Do you have a few essentials that I didn't mention that you have in your closet?
Which ones are your "go-to" essentials?
Shop The Post: