My Fall 2021 Classic Neutral Capsule Wardrobe
See how I mostly "shopped my closet" to create an all-neutral color capsule wardrobe, which includes tops, bottom and shoes, based on the Simplified Style®: Dressy & Casual Capsule Wardrobe. I'm sharing everything in my own capsule wardrobe that is in my closet.
For those of you that follow the Classy Yet Trendy blog, you know that I have been using a capsule wardrobe in my closet for several years. I absolutely love using a capsule wardrobe every season and by using a capsule wardrobe, I get dressed quickly and easily everyday. A capsule wardrobe is a small set of clothes and shoes, which all mix and match and will make many outfits. Joshua Becker, from becomingminimalist.com, says this about minimalism, "minimalism is intentionally living with only the things I really need—those items that support my purpose. I am removing the distraction of excess possessions so I can focus more on those things that matter most." Using a capsule wardrobe lets you focus on more important things in your life and takes the stress away from getting dressed everyday.
In previous years, all the capsule wardrobes I created were ones with neutral plus accent color capsules, but never just neutral colors. The first all-neutral capsule I created was my Spring 2020 neutral capsule wardrobe. In the past, when I participated in the 10×10 Challenges, I used mostly all-neutrals and really enjoyed wearing them!
Being that I work at home on Classy Yet Trendy, I wear casual clothes like jeans, casual pants, shorts and casual tops. My job everyday consists of many duties: working at my desk, shuffling clothes and shoes from room to room and taking photos, moving about creating flatlays for Instagram, etc. so dress clothes, dresses or skirts are not feasible for my lifestyle.
Our Summers are long here in the South, so when I initially create my Fall capsules, I include several shorts sleeve tops, then when the weather finally turns cool, I replace the short sleeve tops for long sleeves in the same colors.
I created my all-neutral capsule for my closet based on my eBook, the women's Simplified Style®: The Dressy & Casual Collection – A Year-Round Core Closet Essentials Capsule Wardrobe. In my Simplified Style® eBook, there are 400+ outfit combinations for the entire year, capsule collections for all seasons, outfit calendars and more!
Why An All-Neutral Capsule Wardrobe?
There is just something about neutral colors that I myself love! A couple of years ago, I found myself gravitating toward neutrals more, wearing my favorite neutral pieces over and over. I enjoy wearing clothes and shoes in a neutral color palette because they can mix and match so easily, plus I don't get tired of the colors since they are neutrals. Amy from fashionjackson.com is a top fashion blogger and she wears neutrals beautifully! Other fashion bloggers who also wear neutrals are Hannah from Cocobeautea, Crystalin Marie from crystalinmarie.com, Anna from somethingwhite (Instagram) and Ewelina from ewelinakanty (Instagram).
So, the capsule wardrobes I share from my own closet every season, are clothes that I have and enjoy wearing. Everyone has their own personal style as well as color preference in clothes. If you enjoy wearing neutrals, you are welcome to use my capsules as inspiration for building your own capsule wardrobes! If you enjoy wearing colors, like blues, greens, reds, etc., then you may enjoy using one of my season capsule wardrobes available in the Capsule Wardrobe eBook Store!
You can use this same capsule wardrobe for your closet! From time to time, some readers will write to me asking, "Will I get tired of wearing neutral colors all the time?", or "How can I add color to my neutral outfits?" Since neutral color basic essentials are the core items in your closet that we use in all our outfits, chances are you may not get tired of wearing them, but if you want to change things up a bit, you can add some color by adding colorful handbags and accessories, like jewelry and scarves! For more on this, see the blog post, "4 Ways To Add Color To Neutral Outfits".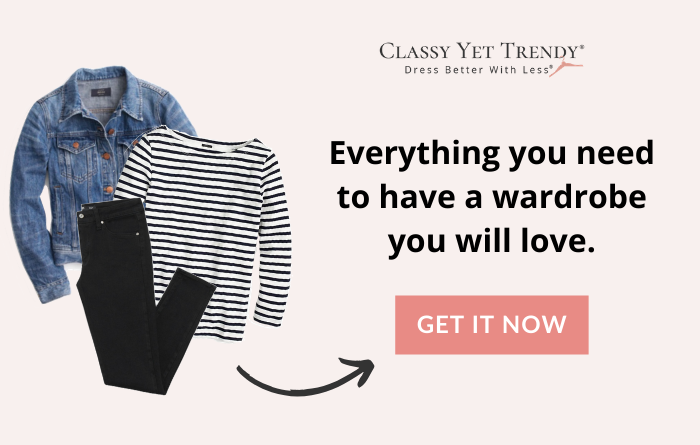 What Is Leanne's Personal Style?
My first and foremost favorite style is "Classic", which includes solid color tees, button-down shirts, ankle pants, jeans, cardigans, denim jackets, loafers, mules and flats. What is "classic" style? Classic style is timeless designs that stands the test of time, simple styles and natural fabrics in solid, neutral colors.
I love the simplicity of classic style and I enjoy wearing this style. I also enjoying wearing "Athleisure", especially in the Winter season. I enjoying wearing athleisure styles on the weekends when I am relaxing at home.
What Did I Buy For This All-Neutral Capsule Wardrobe?
Nothing! I shopped my closet for a lot of pieces in this capsule! Since I have been wearing all neutral colors for the past couple of years, every season I have been replacing clothes in my closet that I do not wear anymore with classic and timeless neutral color wardrobe staples for my closet, so it is easy to find wardrobe staples in my closet when creating my capsules.
How Did I Create This Neutral Capsule Wardrobe?
I created this neutral capsule wardrobe based on the capsule from my eBook, Simplified Style®: The Dressy & Casual Collection. I also followed the 4 steps in my blog post, How To Start A Capsule Wardrobe: An Easy 4-Step Visual Guide.
Here is my color palette for my capsule wardrobe…
I chose BLACK as my base color. As I was creating my capsule, I selected a few tops and bottoms in black, then built the rest of my capsule around those pieces.
What's In My Neutral Capsule Wardrobe?
Here's everything in my Fall 2021 All-Neutral Capsule Wardrobe. I keep my capsule wardrobe on my wardrobe rack in my Studio Room. If you follow me on Instagram (@classyyettrendy), you will see the wardrobe rack behind me when I take my mirror photos. I had kept my capsule wardrobe in our walk-in closet, but I found it is easier for me to access in in my Studio Room when I am working taking photos for Instagram.
For my Fall 2021 capsule, I included tees, button-down shirts, sweaters, cardigans, sweater blazers, jeans and a pair of pants. Since I work from home everyday and do not wear outerwear everyday, I did not include any outerwear in my capsule. When I am working at home, I will wear cardigans and sweater blazers as layers to keep warm. I have these outerwear pieces in my closet to wear with my outfits when I go out…
Anine Bing Olive Utility Jacket also love this utility jacket and this utility jacket too!
ABLE Merly Denim Jacket
Ivory Puffer Vest
Black Leather Jacket
Every time I create a capsule wardrobe, I select my tops first, I guess maybe out of habit, but you can also start building your capsule by choosing bottoms or shoes first! I almost always dress in solid, neutral bottoms in classic and timeless styles, so I included several of those. Then, I added a few pairs of shoes to complete my capsule.
To give you a visual of what a capsule wardrobe looks like in a closet, here is what my capsule looks like in the closet in my office…
Here is everything in my own Fall 2021 capsule wardrobe, along with shopping links!
Tops
Out of personal preference, I used only one top with a pattern: this striped short sleeve tee. All the other pieces are in solid, neutral colors to easily mix and match which will create lots of outfits.
I used mostly core closet essentials, which are classic and timeless basics, to build my capsule wardrobe! I included just a few trending pieces in neutral colors according to my personal style. You can use similar pieces to mine OR you can "shop your closet" too, including your favorite pieces for your capsule!
Left To Right:
(I noted the brand of my items in my capsule. I linked "similar" items if any of my exact ones are sold out)
J. Crew Factory white Girlfriend Tee exact
Grayson Hero Brushed Cotton white shirt exact (use code "LEANNEBLACKMON" at Grayson.com for $25 off at checkout)
Express ivory cardigan exact -> replaced with Madewell Ivory Button Cardigan exact
Banana Republic silk-blend crewneck sweater in "white" color exact (it's actually an ivory color)
J. Crew short sleeve silk sweater in "hthr natural" exact
Caslon gray open cardigan exact
J. Crew Eloise gray sweater blazer exact
Banana Republic gray v-neck sweater similar
Halogen gray tee exact
Anine Bing Vintage Bing Tee exact
Amazon Daily Ritual black puff sleeve top similar also love this puff sleeve top!
J. Crew Factory striped Girlfriend Tee exact
J. Crew chambray button-down shirt similar also love this chambray shirt!
Banana Republic silk-blend crewneck sweater in "cool beige" exact
J. Crew Sophie sweater blazer in "hthr khaki" color new rounded-collar style
Leopard Pattern Tee exact – Added this tee!
Shop The Tops:


You may also like:
How To Create A Carry-On Capsule Wardrobe (Spring Edition) + Outfits
How To Create a Core Closet
How To Create a Classic Wardrobe
How To Dress Like a French Woman
Bottoms
I have 6 bottoms in my Fall capsule. Since I work from home, I wear mostly jeans. I included one pair of black ankle pants.
Left To Right:
AG Cigarette dark wash jeans exact also love these jeans
J. Crew Factory dark wash button-fly skinny jeans exact
AGOLDE slim straight medium wash jeans -> REPLACED with J. Crew Factory medium wash button-fly skinny jeans exact
Wit & Wisdom Ab-Solution gray jeans exact
AG Cigarette black jeans exact also love these jeans
Wit & Wisdom black ankle pants similar

Shop The Bottoms:
Shoes
TOP ROW (Left To Right):
Gucci Brixton Horsebit Loafers exact love these Gucci-inspired loafers!
Sam Edelman Loraine Loafers in "saddle" color exact
Veja Campo Sneakers exact
Sam Edelman Aubrie Sneakers exact Golden Goose inspired sneakers!
BOTTOM ROW (Left To Right):
Franco Sarto Sloan taupe color booties very similar style
Steve Madden Finn Tan Mules exact
Toe Cap Slingback Flats exact Chanel-inspired style & color!
J. Crew Factory Leopard Flats similar also these shoes!
Shop The Shoes:
I'll be sharing outfits I wear from this capsule on my Instagram @classyyettrendy!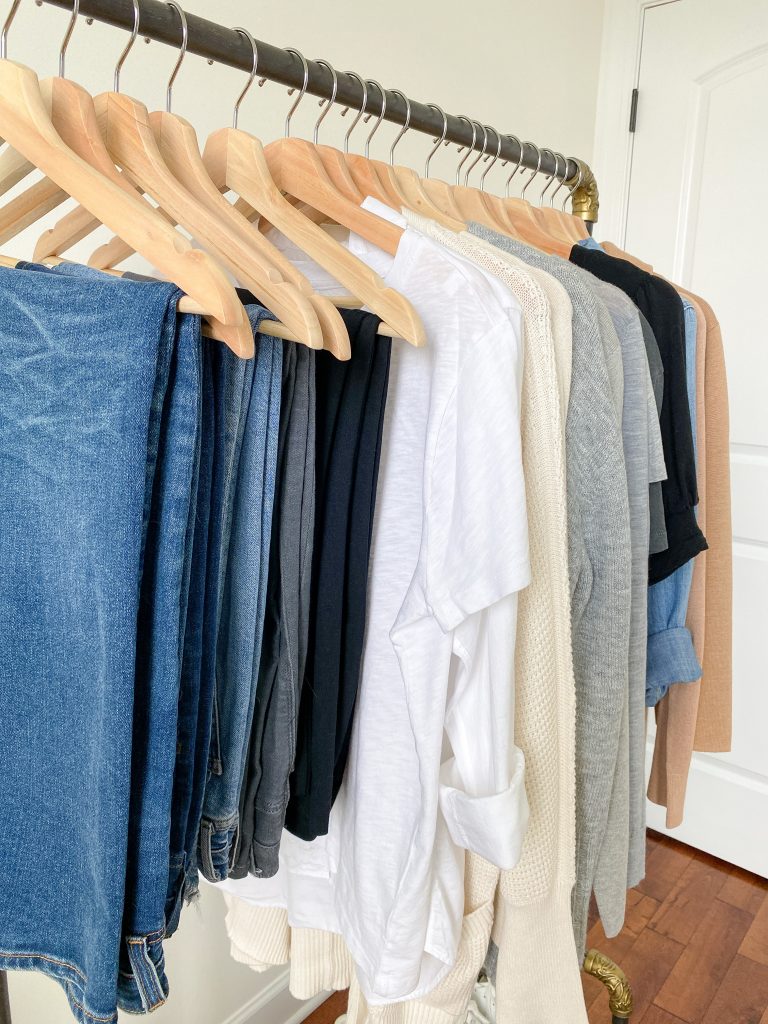 A Bit Of Inspiration For Your Day:
""I lift up my eyes to the mountains—where does my help come from? My help comes from the Lord, the Maker of heaven and earth." – Psalms 121:1-2