4 Travel Outfits Using A Capsule Wardrobe
From time to time you may have to travel a long distance, for a business trip, to see family or go on vacation.  When you travel, whether it be by car, plane or train, you want to be comfortable.  Traveling those long distances can make you feel stiff and tired.  When you dress in an outfit that is not only comfortable, but versatile too, you'll be a happy traveler!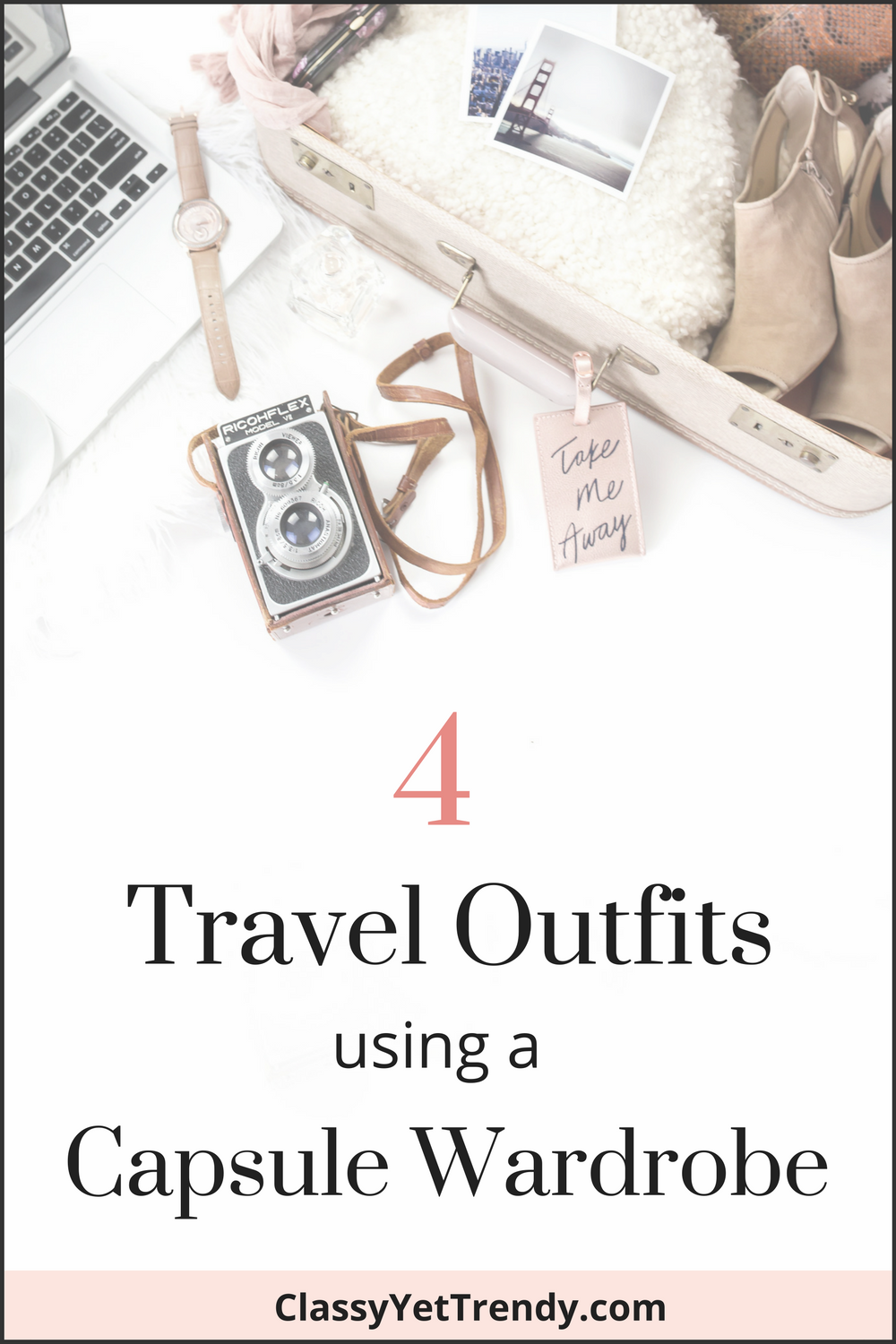 In the winter, you want to wear an outfit you can stay warm in.  When you travel in the car or plane it can get warm quick.  You'll want to wear a third layer, like a cardigan, sweater or coat you can remove if you get too warm.  I tend to wear a cardigan over a long sleeve tee when I travel.  As soon as I get warm, the cardigan comes off and I can still wear the tee.
I wear an outfit that's comfortable.  Nothing is more uncomfortable while traveling than an outfit that is too tight or too itchy.  Go for pieces like leggings, jeggings (jeans that stretch like leggings) and loose fitting, breathable tops.  I focus on wearing clothes mostly made with cotton.  Cotton keeps you feeling cool, letting your skin breathe.
If the weather isn't too cold and you don't feel like wearing a coat, wear a blanket scarf instead.  You can wrap it around your neck to stay toasty warm, or wear it like a shawl!  When you get too warm, just take it off and put it in your tote.
Also, carry a tote or a crossbody instead of your regular handbag.  A tote will be roomy enough that you can pack a lot of stuff in it and use it as a carryon on a plane!  A crossbody will keep your hands free so you can manage your luggage an paperwork while traveling on a plane.
When you pack your outfits, wear one outfit while you're traveling.  You can use those same pieces to go with other pieces you pack and wear again, so you can really make use of your capsule wardrobe!
The more outfits you can create out of a limited number of pieces = Less To Pack!
You can find the four outfits below in The French Minimalist Capsule Wardrobe: Winter 2017 Collection e-Book!  This e-book is one of several available in the Capsule Wardrobe e-Book Store.  These e-Books show you how to create your own capsule wardrobe from START to FINISH!  Each e-Book contains a step-by-step guide, as well as all the types of clothes and shoes are outlined, DOZENS of pre-made outfit ideas, a Visual Packing List with outfit ideas, plus BONUSES like a Free Facebook Capsule Wardrobe group you can join and more!
1st Outfit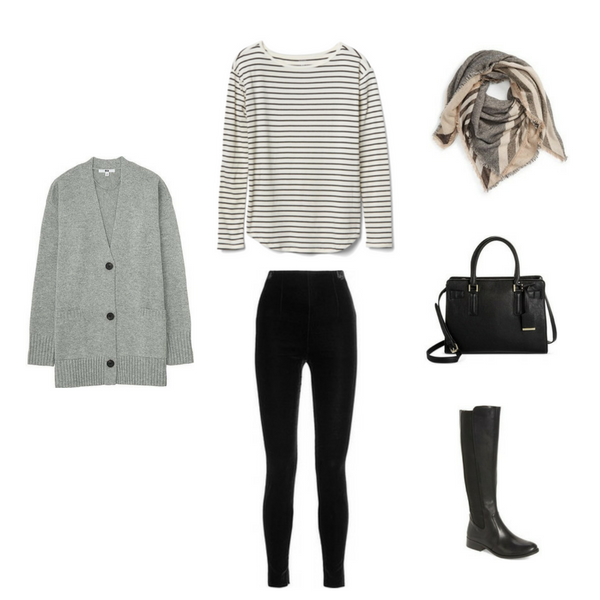 Striped Top | Black Leggings | Gray Cardigan
Blanket Scarf | Handbag/Crossbody | Black Boots
2nd Outfit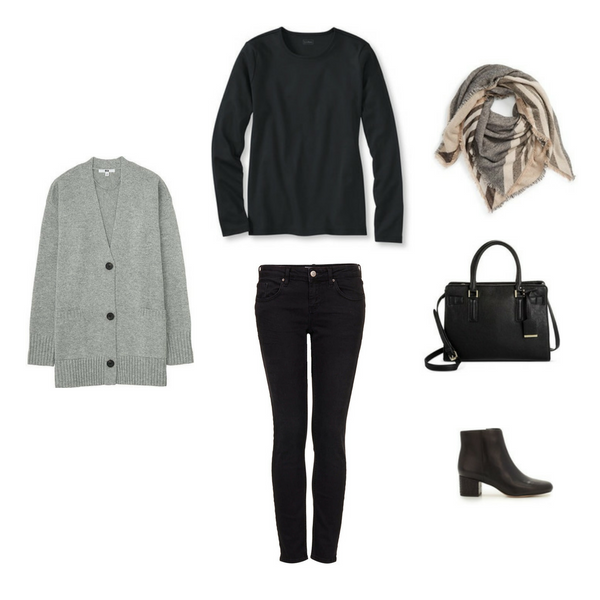 Black Long Sleeve Tee | Black Jeggings | Gray Cardigan
Blanket Scarf | Handbag/Crossbody | Black Ankle Boots
3rd Outfit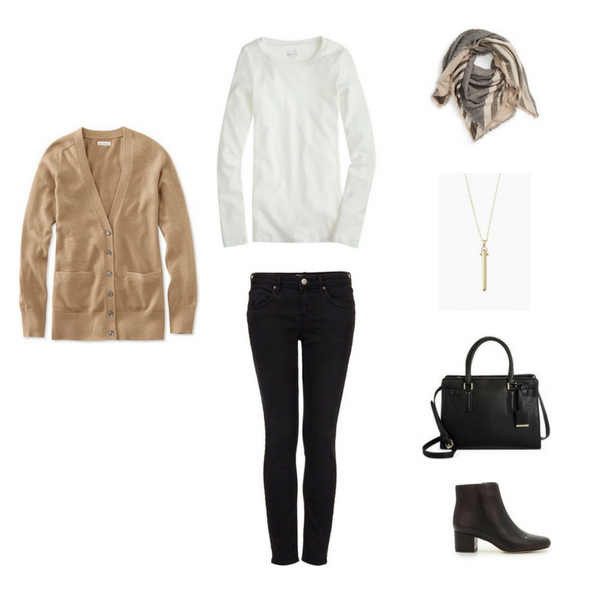 White Long Sleeve Tee | Black Jeggings | Camel Cardigan
Blanket Scarf | Pendant Necklace | Handbag/Crossbody | Black Ankle Boots
4th Outfit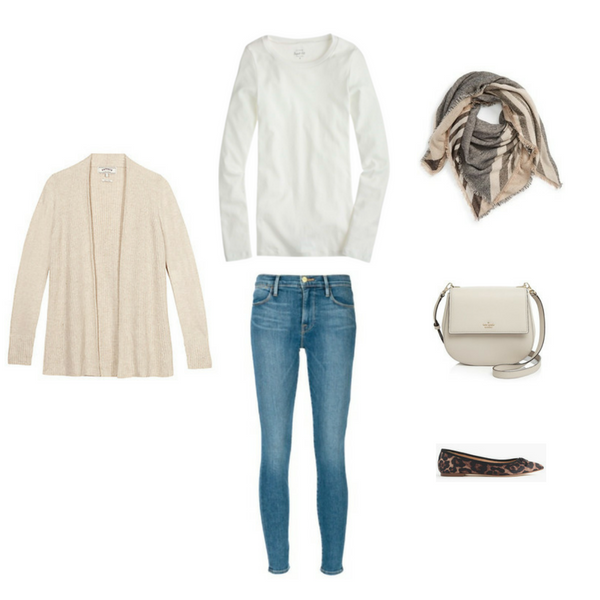 White Long Sleeve Tee | Blue Jeggings | Beige Cardigan
Blanket Scarf | Crossbody | Leopard Flats
Shop The Post: