A Cozy Work At Home Outfit from T By Talbots
This post is sponsored by Talbots and ShopStyle, but all thoughts and opinions are my own.
For the past few months, many people have been working from home. Since several of us have been working at home instead of at the office, the dress code is what you want it to be! If you participate in online meetings, you want to look nice and put-together, but you also want to be comfortable. Talbots has some styles this season perfect for working at home and many come in Regular, Plus and Petite sizes. One of my favorite places to shop is Talbots. I love their classic and timeless style of clothes, shoes and accessories. Talbots "began from a singular & personal vision, inspired by a joy of discovery and fueled by a commitment to timeless and timely fashion, extraordinary quality and memorable service."
Talbots is having a Merry Event Sale where you will receive 40% off your purchase! The outfit I'm wearing is all on sale! Sale ends November 25.
I put together this stylish, yet comfortable outfit that I think you will enjoy wearing too! Let's talk first about this Jacquard Funnel Neck Top (I'm wearing a size Medium). This top is from the T by Talbots line, which includes athleisure and more casual pieces, which are perfect for working at home! This Jacquard Funnel Neck Top is so soft and the fair isle design is gorgeous. This top will look great for your online meetings! You can leave the collar up so it drapes around your neck or you can style it like I did in the photos by turning it down for a more relaxed look. A neat feature about this top is the side zipper slit, where you can leave it zipped up or leave it unzipped like I did in the photos, whichever way you prefer. I'm wearing it casually in the photos, but dress it up with Talbots pants or skirts. You could add a pair of heels or flats to complete the dressy look!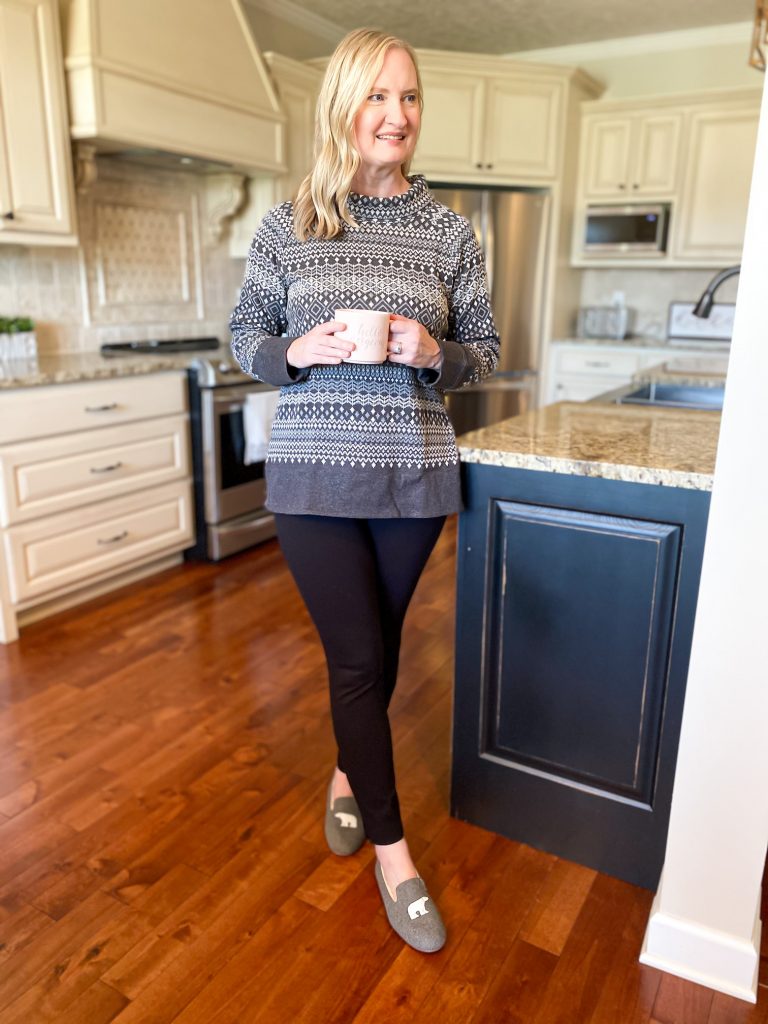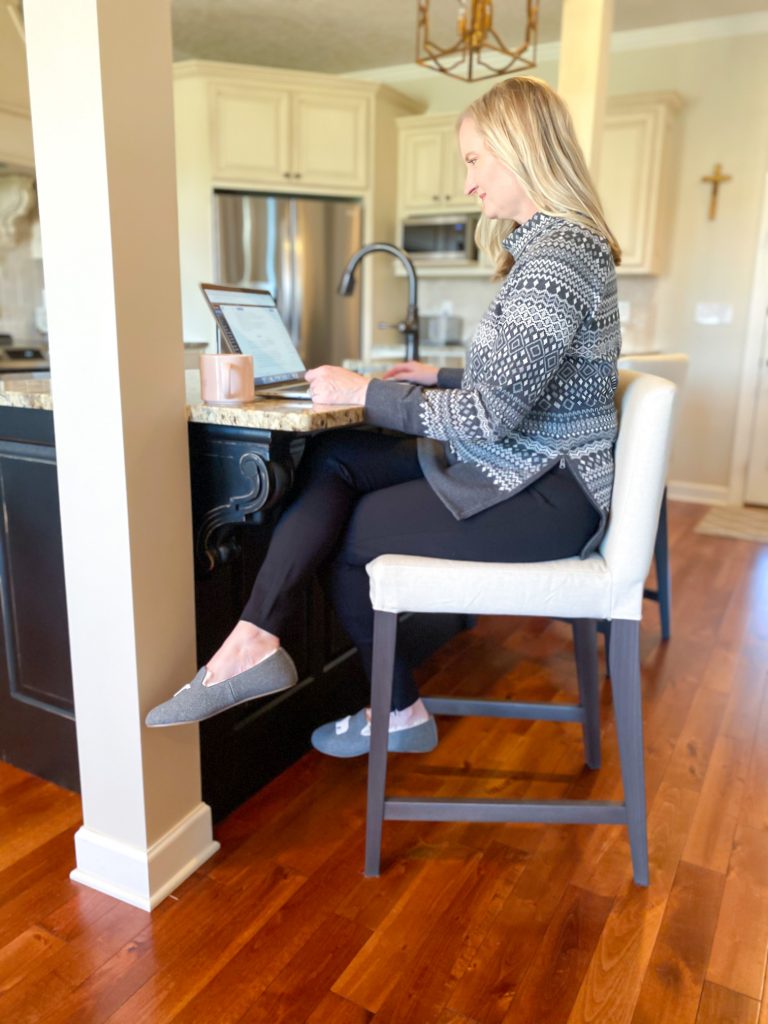 Now, let's talk about these Soho Ponte Leggings! These ponte leggings fit like they are a cross between leggings and pants. They.Are.Perfect! I am wearing the black color and they also come in indigo blue (great with all your navy pieces in your closet) and shiraz (a burgundy color). I'm wearing a size 10 in these and they fit true to size. You could also dress up these Soho Ponte Leggings by wearing them with a sweater and a pair of boots.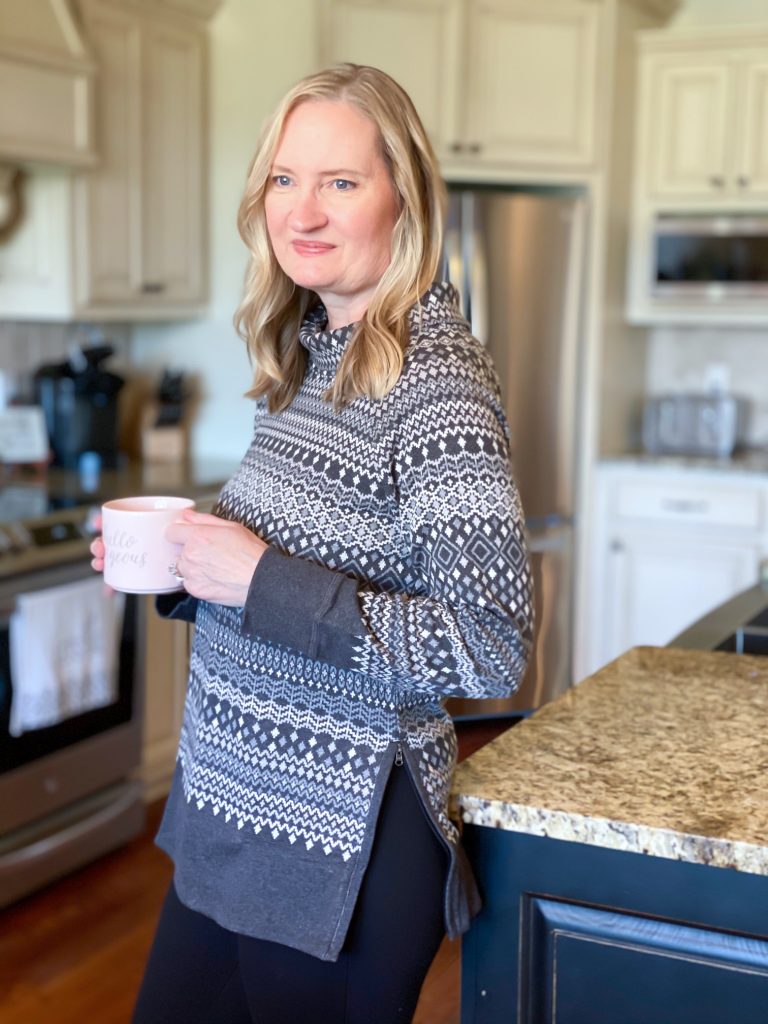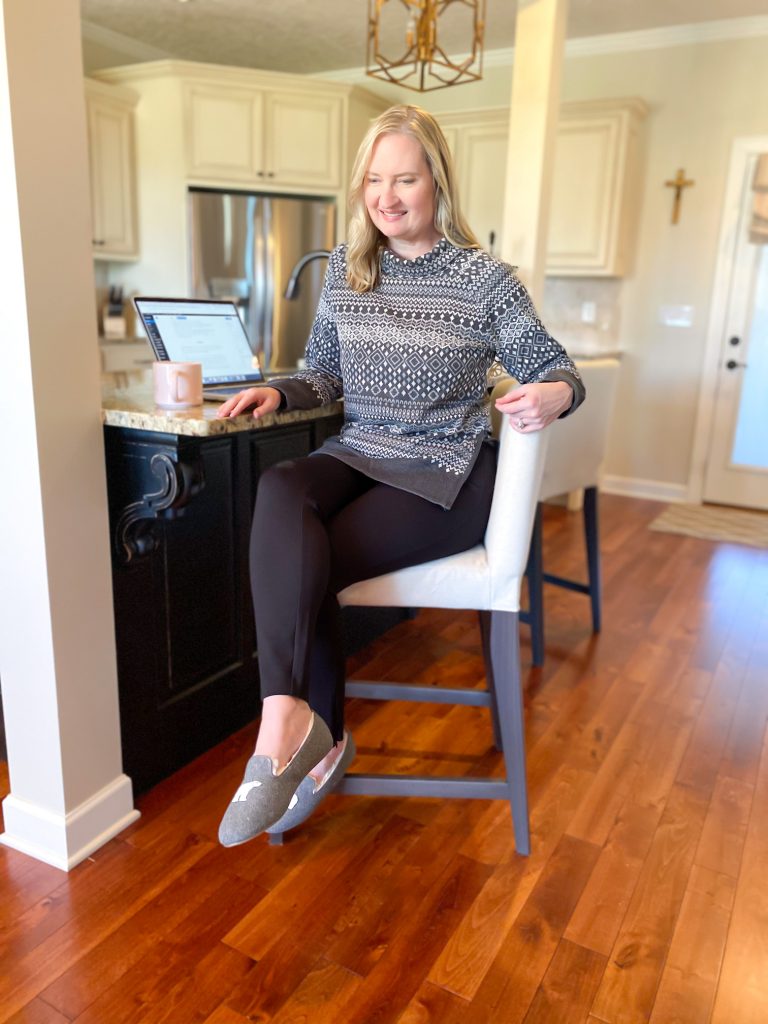 If you are working at home, you can keep your feet warm and cozy with these Fireside Embroidered Polar Bear Flannel Slippers (I'm wearing a size 9, true to size)! They have a memory foam footbed for comfort and the lining is a faux fur to keep your feet warm. Talbots also has other slippers to choose from, including a holiday-themed pair.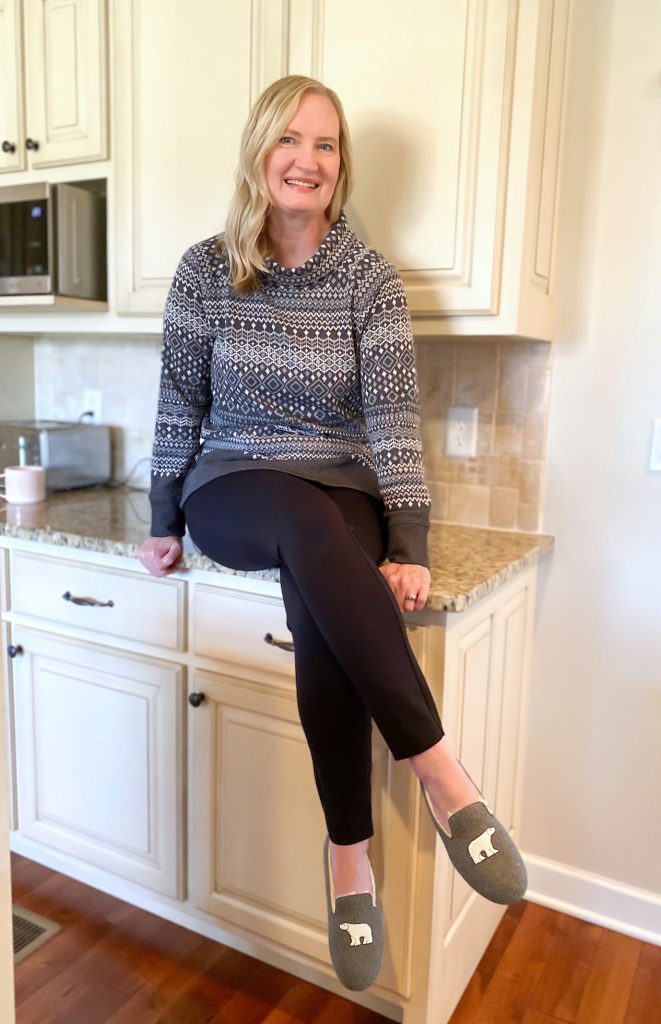 Do you need an outfit for Thanksgiving that looks great and that you can wear all day while cooking or spending time with family or friends? This outfit is perfect to wear! You can wear a pair of flats, then change into the Fireside Embroidered Polar Bear Flannel Slippers later.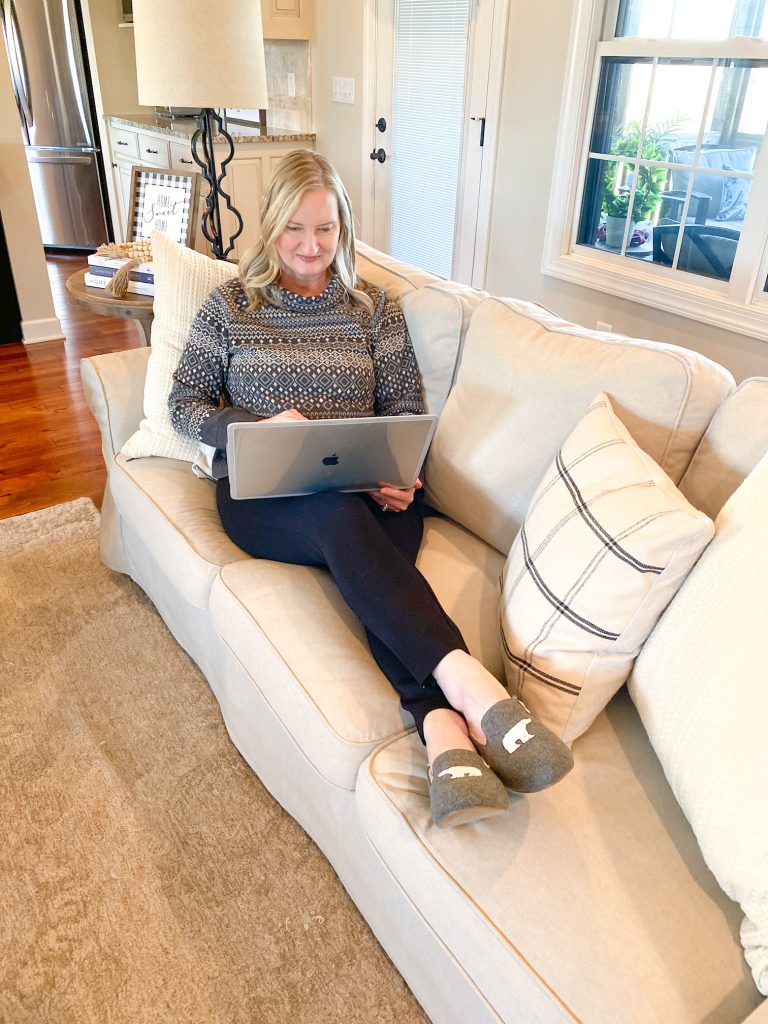 If you like to wear jewelry everyday like I do, Talbots' Delicate Jewelry is perfect for working at home, since it completes your outfits without getting in the way of working. Talbots also has Cold Weather Accessories to wear when it gets cold, if you have to run some errands during the day.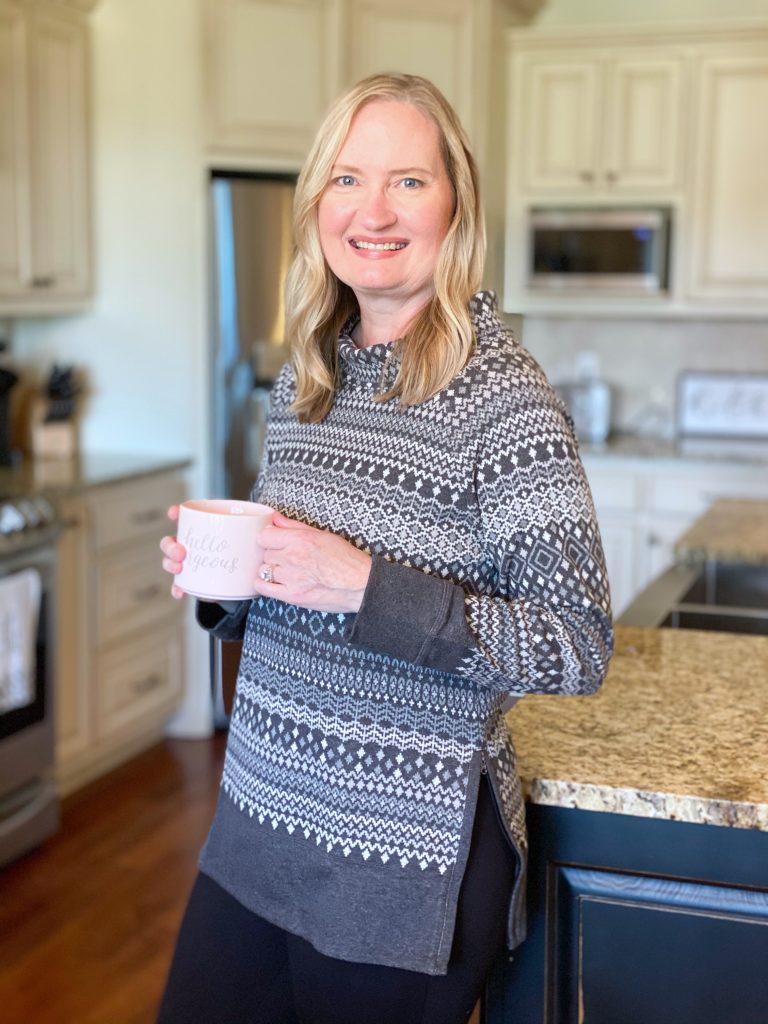 My Outfit Details:
Jacquard Funnel Neck Top (wearing a size Medium)
Soho Ponte Black Leggings (wearing a size 10)
Fireside Embroidered Polar Bear Flannel Slippers (wearing a size 9)
Shop The Post: