Fall Accessories Under $30
Accessories take our outfits up a notch.  They add pattern, color and texture to what otherwise would be a boring outfit.  Just adding a couple of accessories to your outfits makes them more interesting and can even earn you some compliments!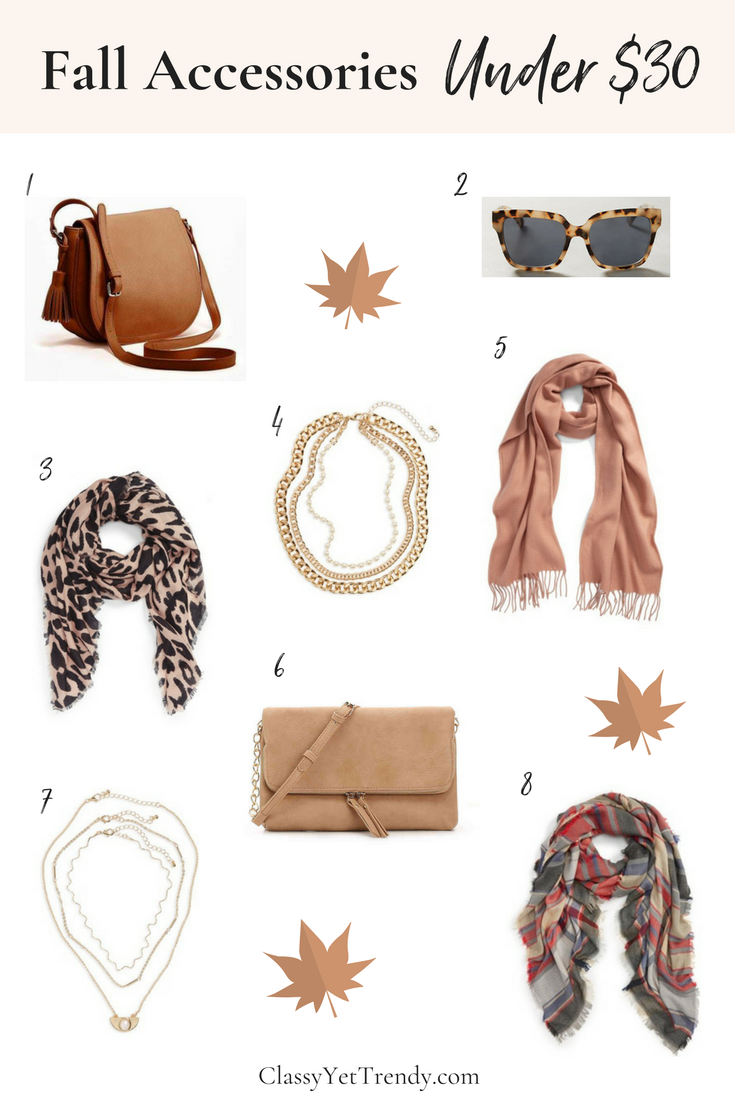 1 – cognac saddle crossbody
2 – leopard sunglasses
3 – leopard print scarf
4 – three-layer chain and faux pearl necklace
5 – rose gold color fringe scarf
6 – fold flap crossbody bag
7 – set of three layering necklaces
8 – plaid oblong scarf
Let's talk about scarves…As the weather turns cooler in the Fall, it's time to bring out your scarves!  If you find that you are needing a couple of new scarves, this Bp Leopard Print Scarf is popular with the fashion bloggers.  I'm glad Nordstrom brought it back this year.  I bought it last year and have already worn it a couple of time again this year.  This leopard scarf has a smaller print and this one is a lovely black and white for under $8!  When you wear this Nordstrom plaid scarf, you'll feel like going apple picking, with its vibrant Fall colors.  If neutral colors are more your style, this gray, white and deep rose infinity scarf will add a touch of color to your minimalist outfits.  This Topshop rose gold color fringe scarf is gaining momentum with fashion bloggers; I expect this one to sell out quickly!
I've found several bags for under $30.  A brown crossbody bag is always a necessity in a wardrobe and this cognac color tassel saddle bag is the perfect size and is under $23!  Here is a burgundy pebbled crossbody bag that has both a handle and a strap.  This tote bag comes in a gorgeous shade of gray, plus it comes in black and red too.  And speaking of grey, this gray dressy crossbody bag looks almost identical to the Chloe Drew designer bag (see it here to compare), but it's only $24!
You're going to love these necklaces from Nordstrom!  I have a couple of Bp necklaces and love them!  They are on-trend styles but are very budget-friendly.  You can wear one or all of this set of three necklaces and this three-layer chain and faux pearl necklace looks expensive but is only $20!  This gold pendant necklace looks great with almost any top and this gold and crystal statement necklace looks more expensive that its $19 price!