Fall 2017 10×10 Challenge
It's time for another 10×10 Wardrobe Challenge!  This is my second season challenge.  The first one I did was this past Spring (see the Spring 10×10 Challenge here).   I also shared all 10 of my outfits in this 10×10 Challenge: What I Wore In 10 Days post.
The ones who originated the 10×10 challenge are Lee, from Stylebee, and Caroline, from Un-Fancy.  I'm glad they started the seasonal challenges because it's a way to really test out your capsule wardrobe.  You can discover which items in your wardrobe are the most functional and favorites.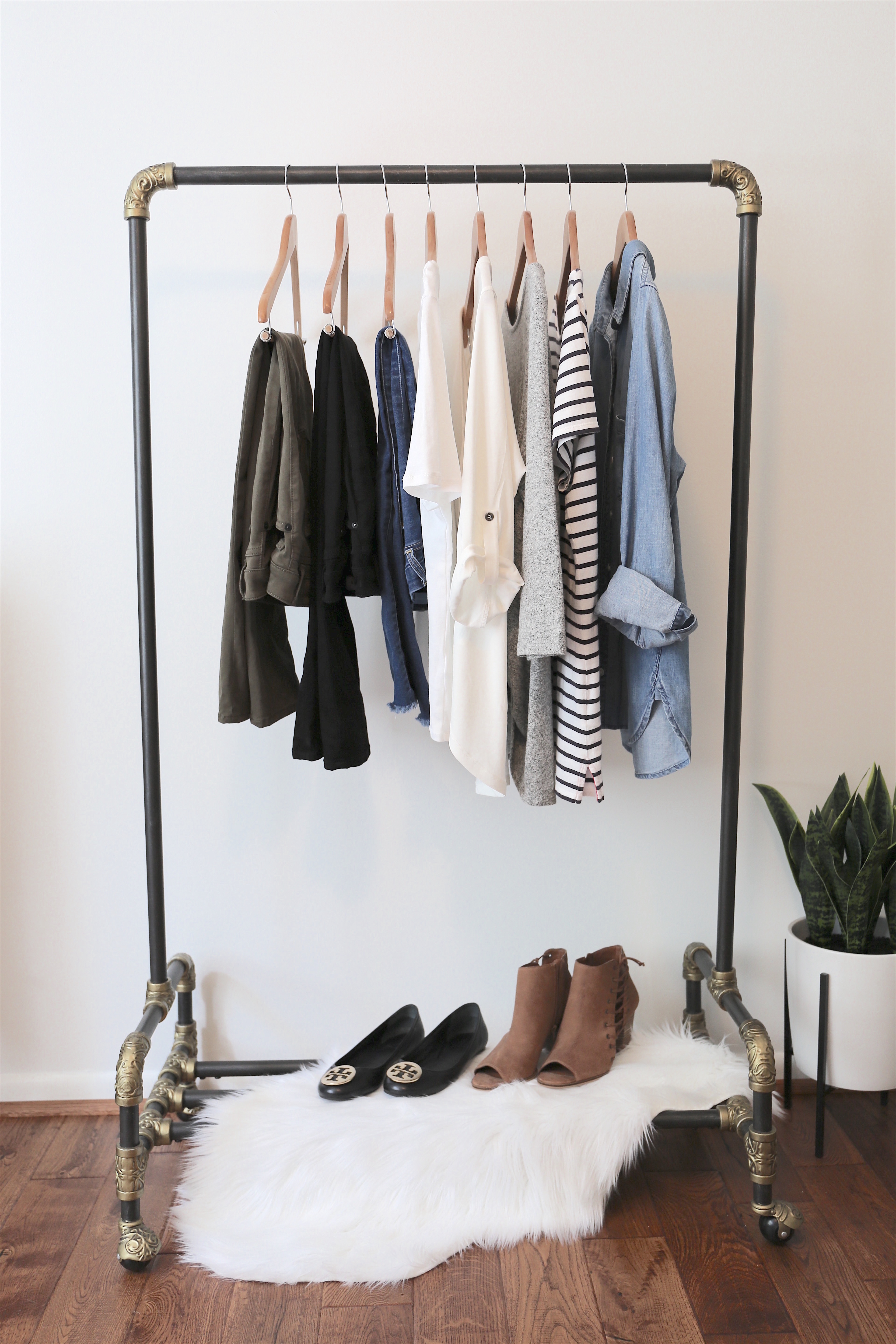 How The 10×10 Challenge Works
Check the weather to see what the temperature will be for the next 10 days, so you can see how to dress.  If you are still experiencing temps in the 80's, you may want to include short sleeves or lightweight long sleeves for your tops.  If the temps in your area are cooler, include all long sleeves.
Pick 10 items from your closet based on your activities for the next 10 days.  Items could include tops, jeans, pants, skirts and shoes.  Adding shoes as 10×10 items are optional.  If you want to just have clothes as your 10×10 and be free to choose what shoes to wear, that is ok.  Don't include accessories, handbags or jewelry.  You can add those items as needed to complete your 10×10 challenge outfits.
Wear just those 10 items, in 10 different outfits, for the next 10 days.  That's it!
When To Start The Challenge
I started the challenge Saturday, the same day that Lee and Caroline started their challenge.  See all my #fall10x10 posts on Instagram!  You can start your Fall challenge anytime!  Feel free to use the hashtag #fall10x10 on your social media accounts.
What's In My 10×10 Challenge Wardrobe
Since I work from home, my clothes style is casual, so I'll be including casual tops, jeans, a pair of ankle boots and a pair of flats.  I took 8 tops and bottoms from my Fall 2017 Capsule Wardrobe and added the two pairs of shoes to make 10 items.  I included both short sleeve and long sleeve tops, since our temps will be in the 70's and 80's for the next 10 days.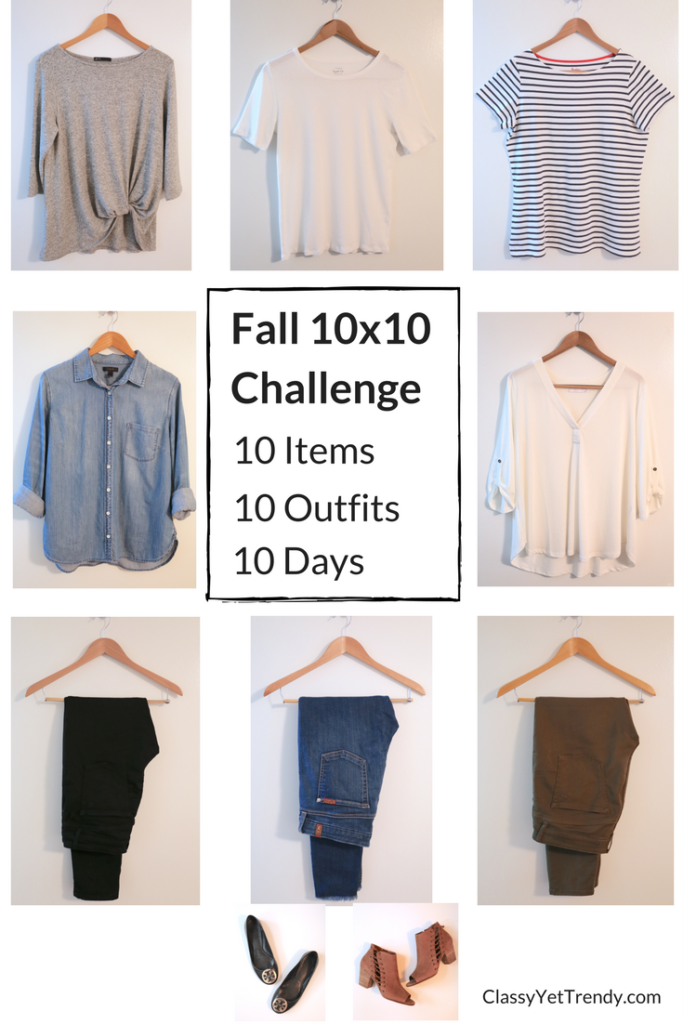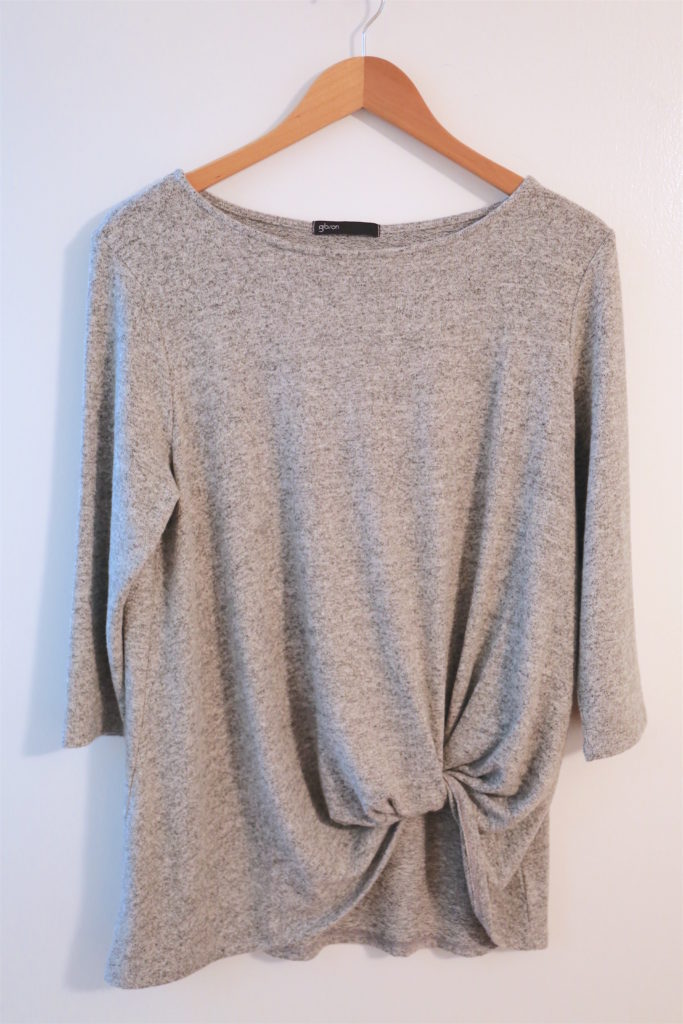 Gray Fleece 3/4 Sleeve Top (Gibson via Nordstrom): I bought this one in August to add to my Fall capsule wardrobe.  The material is so soft and comfy!  The color is a flecked gray color.  I really like the twist style in the front.  You can can wear this top with jeans, pants or a skirt.  Since it's longer in the back you can even wear it with leggings.
Perfect White Tee (J Crew): I have had my Caslon Scoopneck White Tee in my Capsule Wardrobe, but I wanted to wear a more fitted tee in the 10×10 challenge, since I would be wearing it by itself.  I purchased J. Crew's Perfect Tee last Spring and loved it.  It had accidently shrunk in the dryer when it was dryed with a few other whites (sigh!) and thought I couldn't wear it.  When we were putting everything back in our rooms after installing our hardwood floors a couple of weeks ago, I saw it, tried it on and managed to carefully stretch it out in several places.  It worked, so now I can wear it again.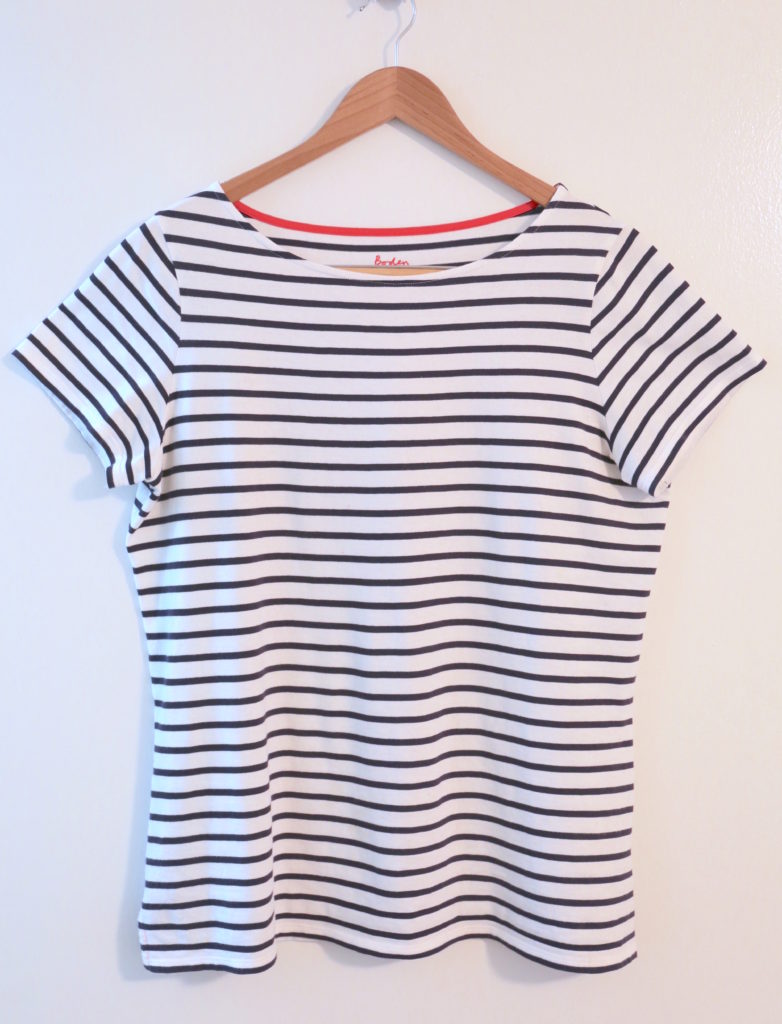 Striped Breton Tee (Boden): I purchased this one in May for my Summer capsule wardrobe.  I love to wear it so much I also have it in my Fall capsule wardrobe.  Everything about this tee is perfect: the fit, the stripes, the material and the length.  If you buy this one, you won't be disappointed.  This was the first item I pulled from my closet for the 10×10 challenge!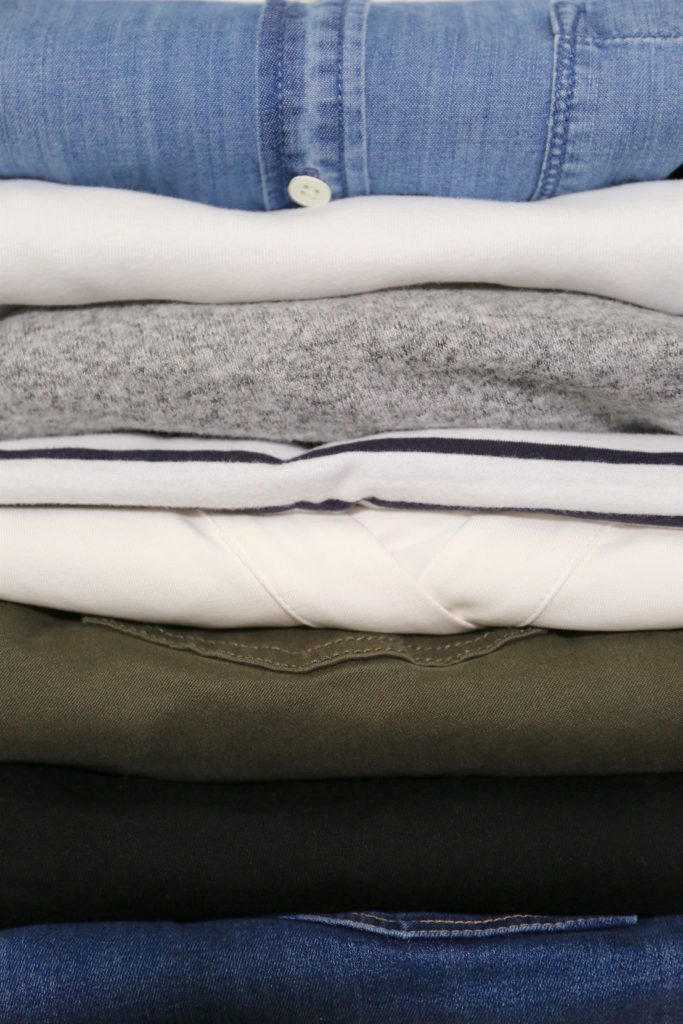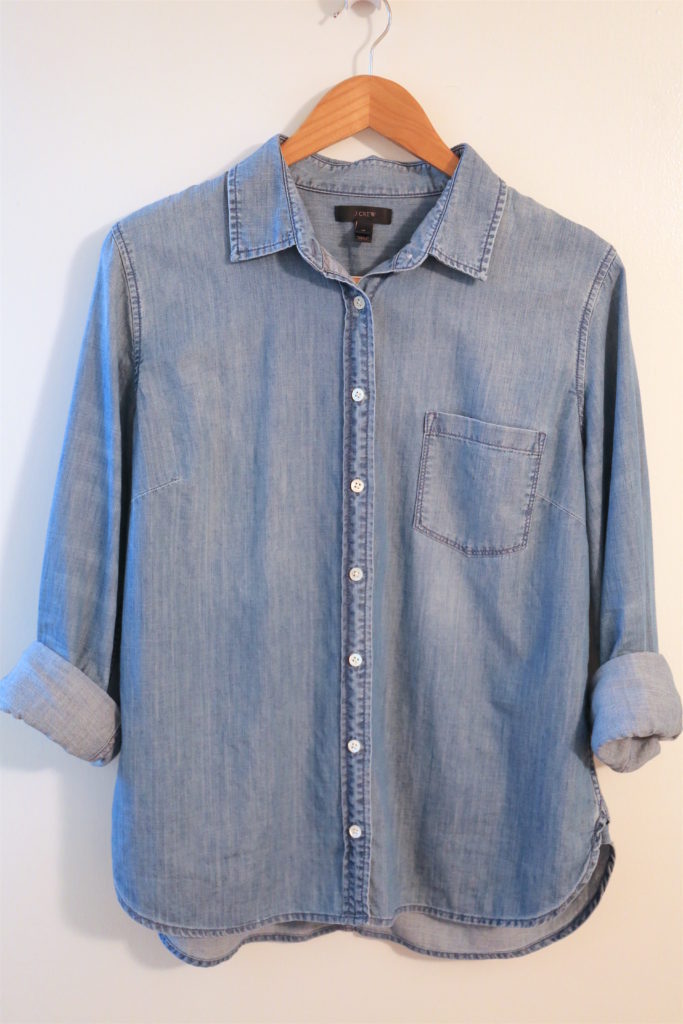 Chambray Shirt (J Crew): I've had this Chambray shirt for a few seasons.  I've had two other chambray shirts over the years and this one is my favorite.  I bought it from J Crew last year.  This year's version has two pockets and is a slightly lighter fabric and is gorgeous!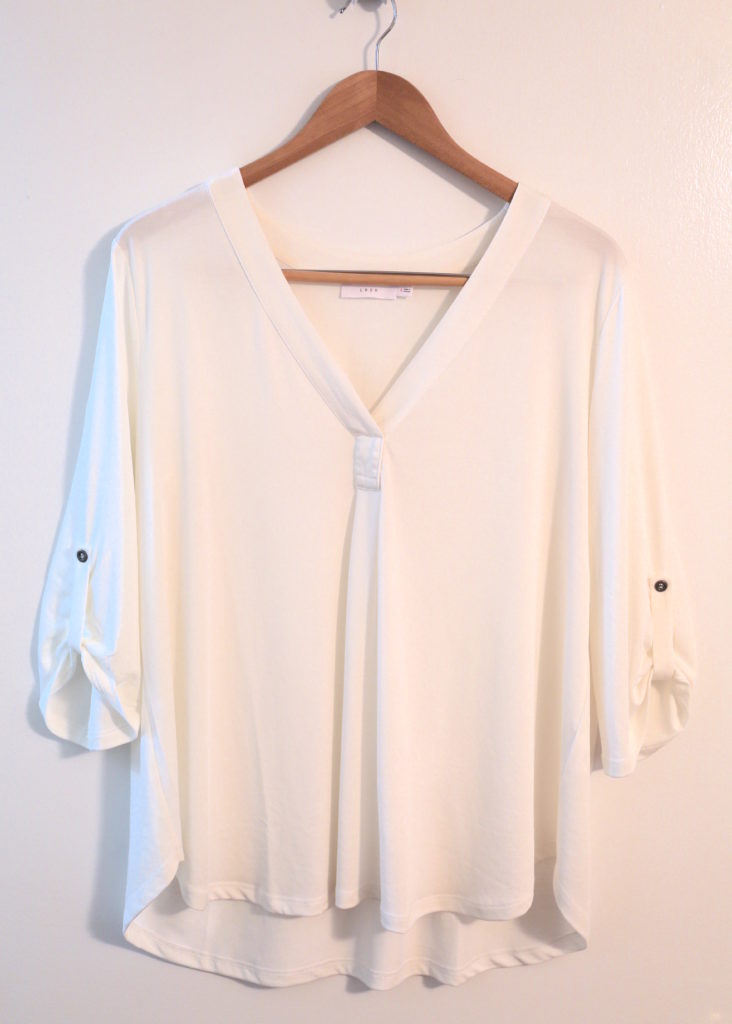 V-neck Roll Tab Sleeve Henley Top (Lush via Nordstrom): Since I had a short sleeve tee, I also wanted a long sleeve white top in my 10×10 challenge.  I bought this v-neck top for my Fall capsule wardrobe.  The Lush v-necks have been so popular every season so I thought I would try one.  It took me a long time to buy one since this top says "dry clean only".  I read a few reviews about this top and a few recommend washing it in cold water and hang to dry.  I hope that works because it's a beautiful top and wears so well!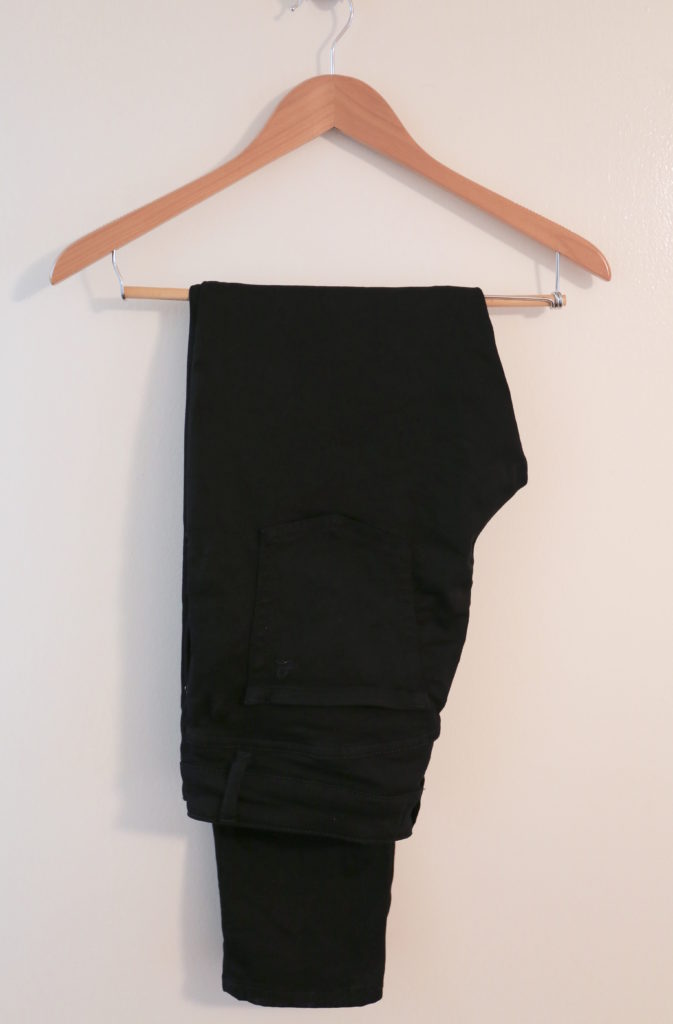 Black Florence Skinny Jeans (DL1961 via Nordstrom): These are the best pair of black jeans ever!  I wore them last week in the Trendy Wednesday Link-up and go into detail in that post about the fit and what jeans I replaced.  Black jeans are a core closet staple that can be included in several core closet outfits, so I knew I wanted to include them in the challenge.
Raw Hem Skinny Jeans (7 For All Mankind via Nordstrom): A 10×10 challenge wouldn't be complete without a pair of jeans.  I've had these jeans since March and have been in my Spring, Summer and Fall capsule wardrobes.  I've worn these I can't tell you how many times and they still look great.  It appears that the "raw hem" version is sold out, but they have the original hem version.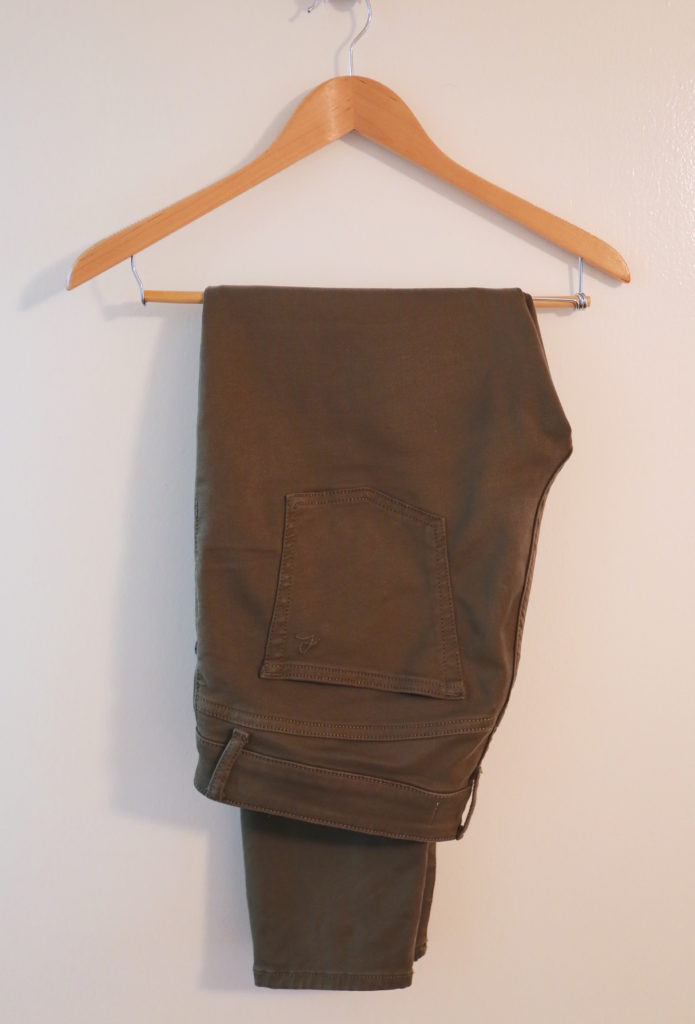 Olive Margaux Skinny Jeans (DL1961 via Nordstrom): I replaced my olive jeans that were fading with these DL1961 jeans.  The olive color is perfect and they have enough stretch in them but stay put all day.  I wanted to add a bit of color to my 10×10 challenge, and these olive jeans fit in nicely.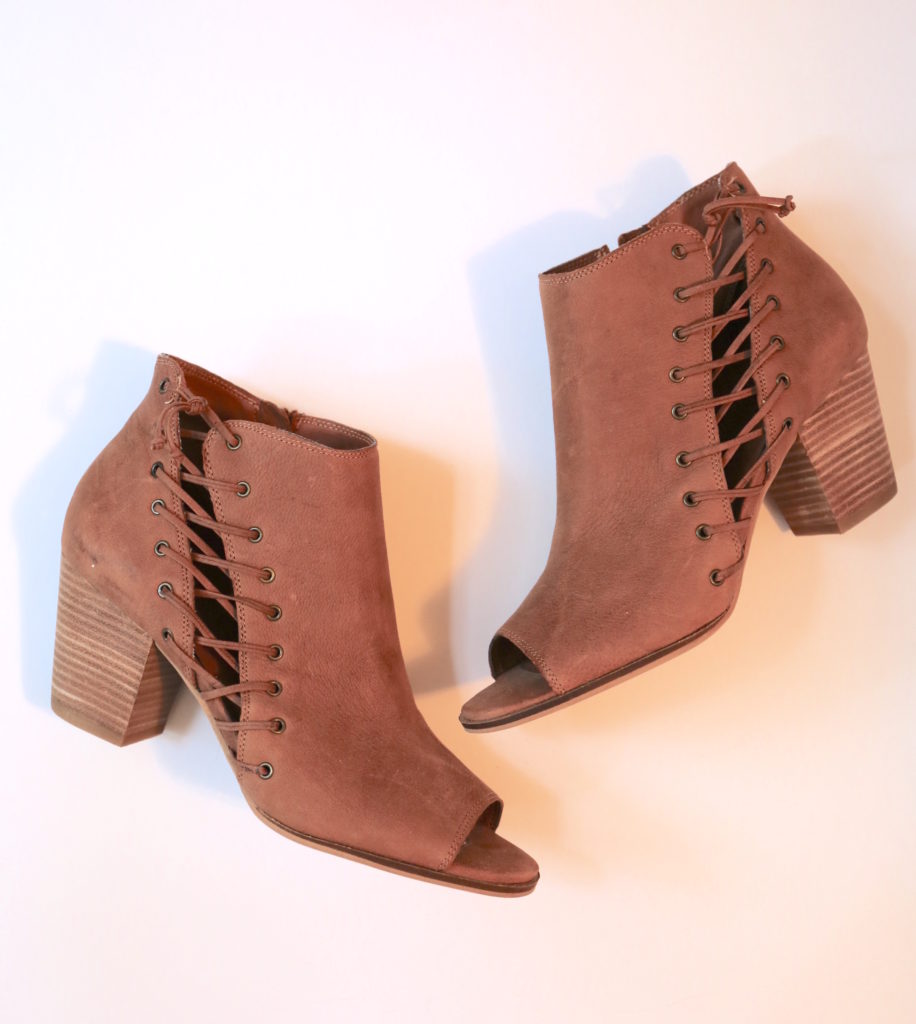 Suede Peep Toe Booties in "Sesame" (Lucky Brand via local shoe boutique): With the Fall temps hovering the 70's and 80's, I wanted to include a bootie that would still be cool enough to wear.  I chose these Lucky Brand booties.  Since they are brown, they will finish the look of my Fall outfits..  They are almost sold out, but I've linked a few similar ones below.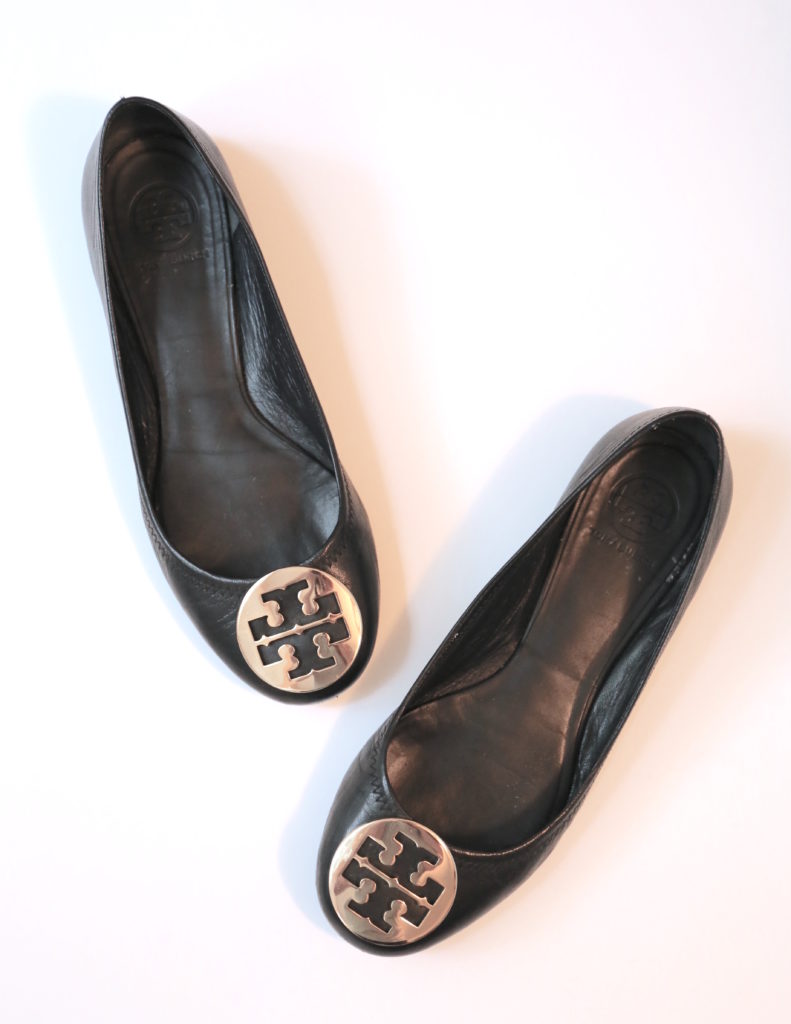 Minnie Ballet Flats (Tory Burch via Shopbop) c/o: I've had these since last Fall and have worn them countless times.  They not only fit great but also are perfect for a lot of walking.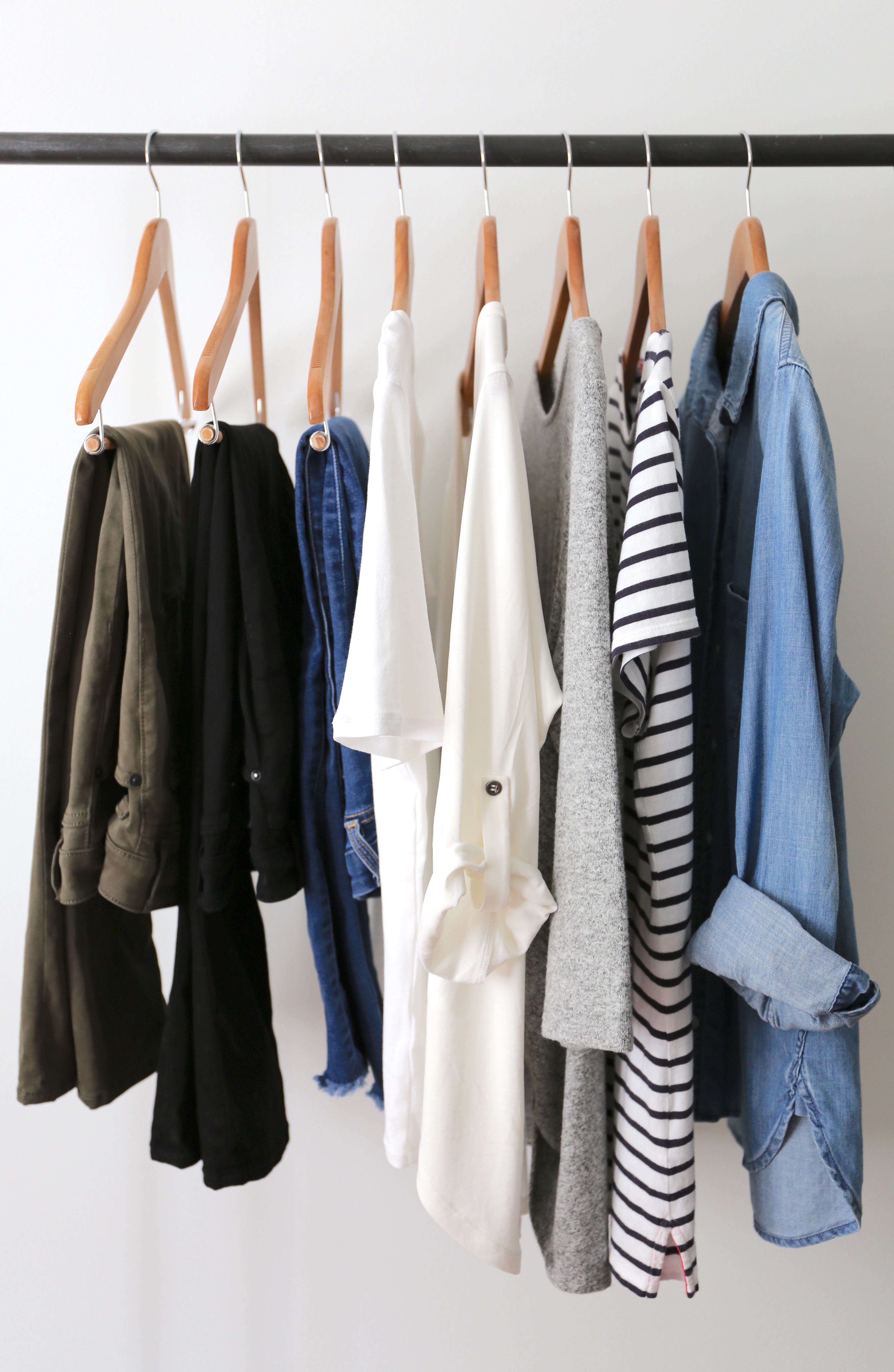 Are you participating in the #fall10x10 challenge?  If so, what items do you have in your 10×10 wardrobe?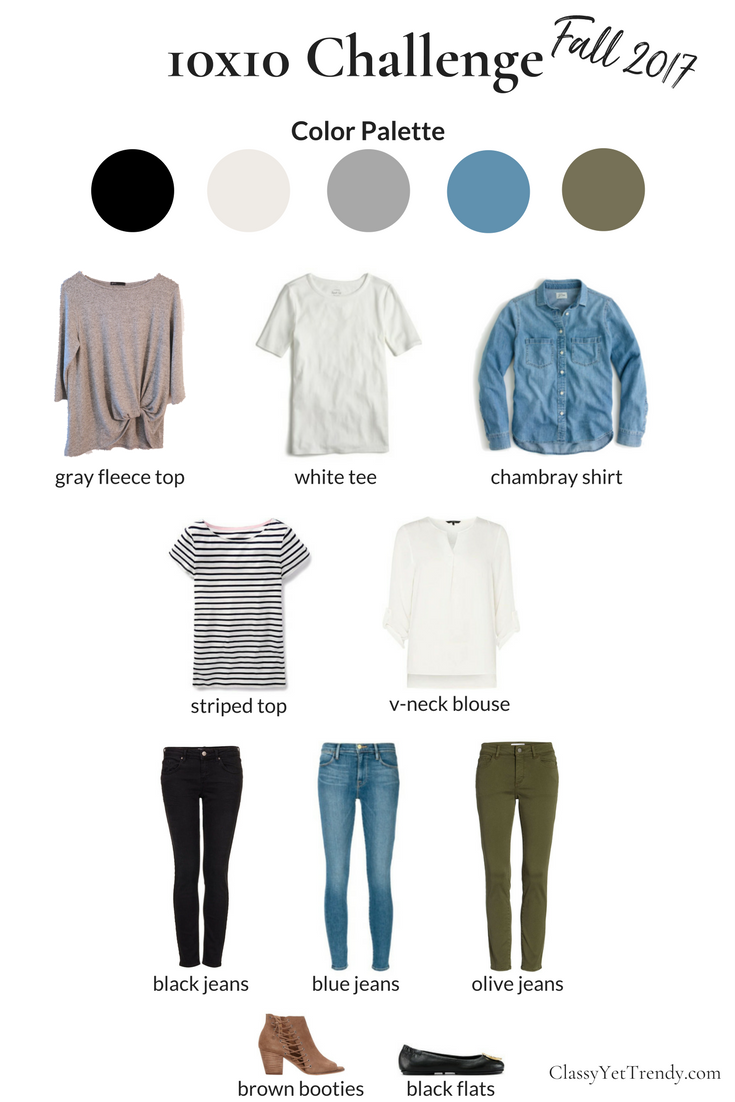 This post is not sponsored but contains affiliate links. When you shop via the links above I may make a small commission from a sale. Thanks for supporting Classy Yet Trendy! All opinions are always my own.