I've prepared my closet for the Winter season!  See all the clothes in my Winter 2018/2019 Capsule Wardrobe!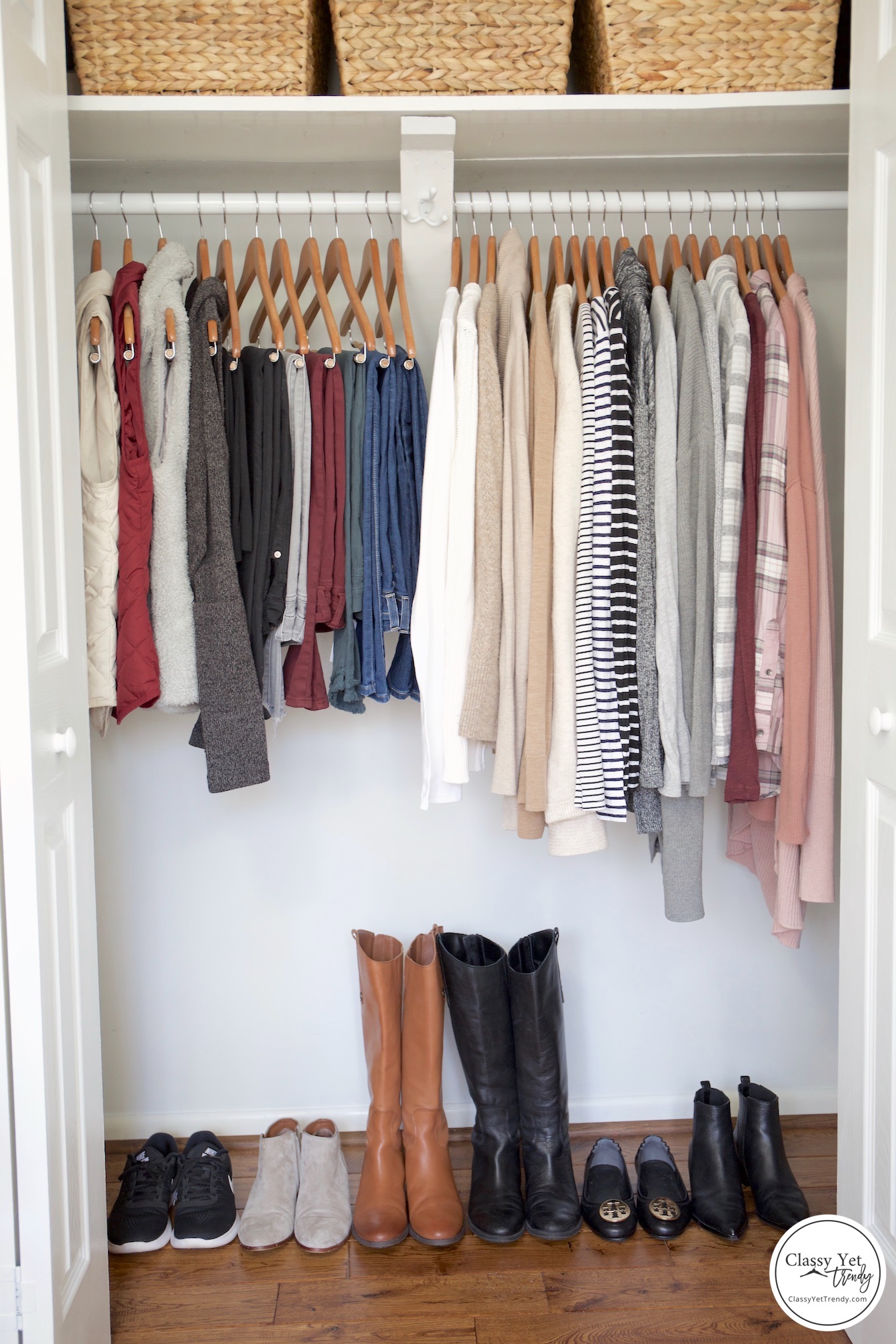 I spent a couple of hours this past weekend creating my Winter capsule wardrobe.  We have had some chilly weather, so I thought I would go ahead and get my closet ready for Winter.
I took my Fall capsule wardrobe out of my closet, put a few pieces from my Fall capsule back in my closet and packed the rest of the clothes away.  I work at home so I wear mostly jeans everyday.  My capsule wardrobes consists of clothes that are casual and comfortable, but that also look great while I run errands and go out to town.
I won't be including shoes in this capsule wardrobe.  I have put a few pairs in my closet that I will be wearing, but want to keep my options open in case I need to dress up with pumps or additional flats.
In deciding what clothes I wanted in my Winter capsule wardrobe, first I decided my base color, which is the first step in my popular blog post, How To Create a Capsule Wardrobe: A 5-Step Visual Guide.  I decided to have BLACK as my base color.  As a personal preference, I usually choose black as a base color for the Fall and Winter and navy for the Spring and Summer.  Then, I picked 2 accent colors: dusty rose (light to dark tones) and burgundy.
To create a capsule wardrobe that is efficient and that can make many outfits, I use mostly Core Closet Essentials.  They are basic essentials in neutral colors that never go out of style.  Core Closet Essentials are considered the building blocks of an efficient closet.  You can have a capsule wardrobe with just core closet essentials, like in my eBook Simplified Style: A Year-Round Core Closet Essentials Capsule Wardrobe, or you can add a few trendy clothes in accent colors to expand your wardrobe.  My Winter capsule wardrobe uses mostly core closet essentials, with a few trendy tops in two accent colors.
By using your Core Closet Essentials, you save money as well!  Using mostly basic essentials in your capsule every season prevents you from having to constantly buy loads of clothes.  You can choose to buy just a few clothes or wear what you have each season.  It keeps money in your wallet, plus it's better for the environment!  I used to buy lots of clothes every month with all kinds of colors and patterns.  I would grow tired of them quickly and would buy more.  Now, I utilize my core closet essentials and I enjoy wearing them over and over!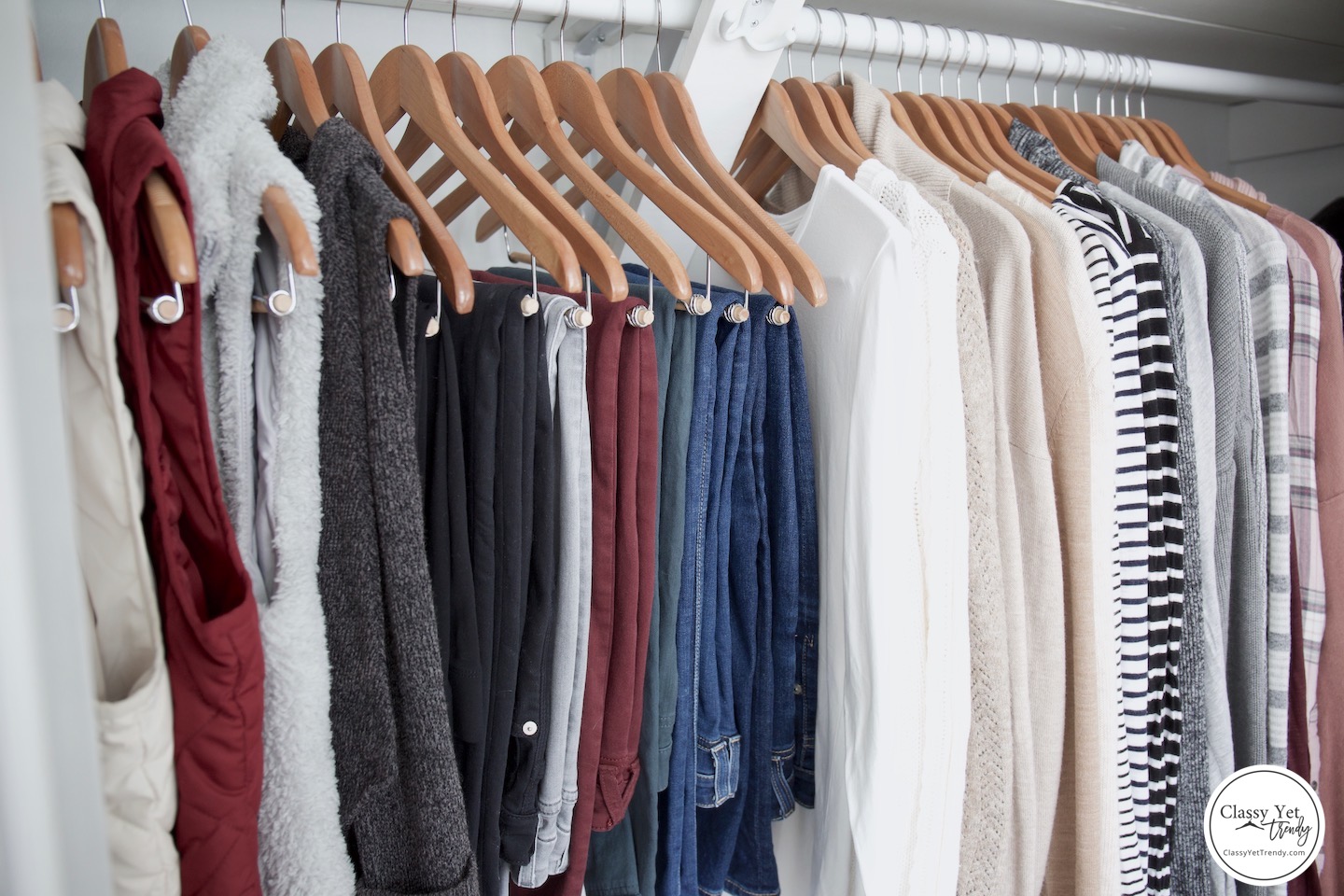 I can remember just a few years ago when I didn't use a capsule wardrobe.  I don't see how I ever found anything in my closet!  It used to be a complete mess!  I had too many clothes that didn't coordinate, clothes that didn't fit, clothes with colors that didn't look good on me, you name it.  I even had bad shopping habits!  I would buy an outfit…a top and bottom that would go together, not really thinking how I could wear the pieces with other clothes in my closet.  Plus, I loved to go shopping for clothes.  When I was bored or had a bad day, I would go shopping and always felt like I had to buy something to feel good.  Shopping lead to a high credit card bill, in which I was in constant debt.
I'm so glad I discovered the "capsule wardrobe" system, because using a capsule wardrobe helps me get ready quickly, I love what I wear, I have a neat and organized closet and I always have dozens of outfits ready to wear.  Plus, being organized has transitioned to the rest of my house.  I organized my kitchen pantry, my office and I have a neat and tidy house!
I feel better about myself too, plus I shop with purpose for everything now, not only for clothes, but also for household goods, furniture, you name it!  Having a capsule wardrobe literally changed my shopping habits.  I think twice before buying anything now, saving me hundreds of dollars every year.  I'm so passionate about capsule wardrobes, that I publish Complete Wardrobe Plans each season, all in the Capsule Wardrobe eBook Store.
One of my favorite sites to shop online for quality clothes, shoes, accessories and even gifts is Shopbop.  I have been shopping with them for several years and love that they carry brands like I love, like Sam Edelman, Tory Burch, Madewell, Frye, Kate Spade and more!  Plus, their shipping is fast and customer service is great.  Now, Shopbop is on Amazon!  Along with their convenient categories on the menu at the top of the page, you can also "shop by occassion", find "must haves" and find popular seasonal trends.
Now onto my capsule wardrobe!  I have 29 items in my Winter 2018/2019 capsule wardrobe.  My capsule wardrobe is mostly a combination of the French Minimalist and the Essential capsule wardrobe eBooks, with a few items that I already had in my wardrobe.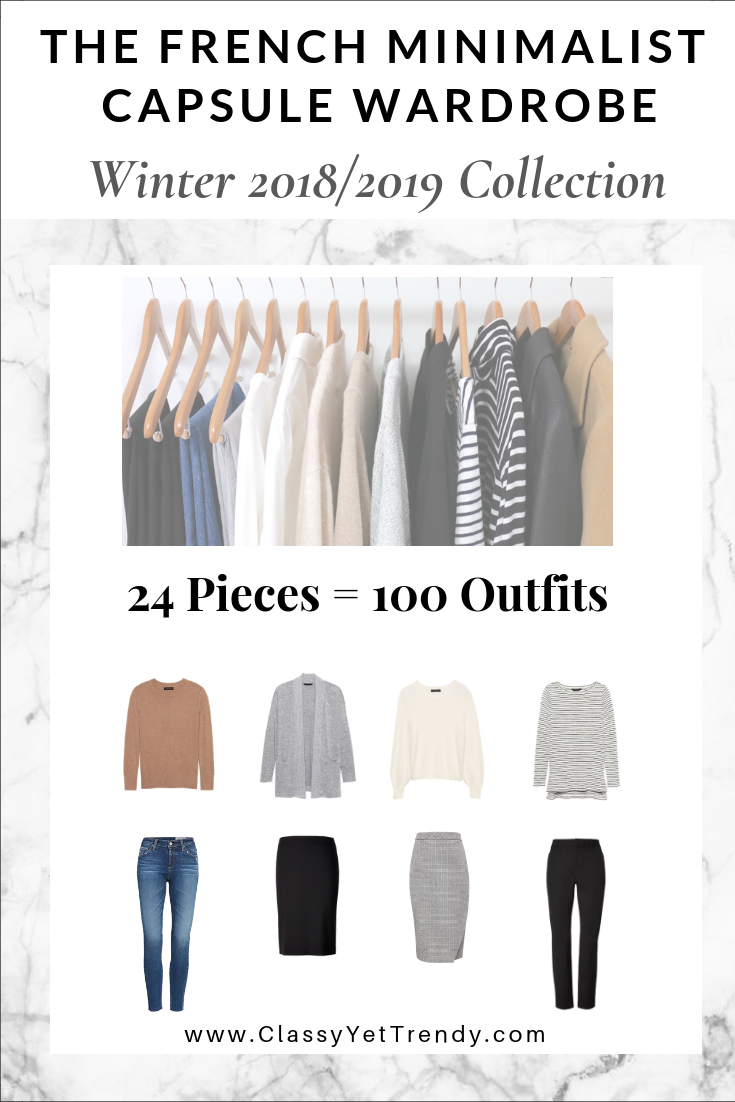 I created my capsule wardrobe using my capsule wardrobe process, using the steps in this blog post, How To Create A Capsule Wardrobe: A 5-Step Visual Guide.
First, I took everything out of my closet, so that it was empty.  I kept a few items from my Fall capsule wardrobe and hung them back in my closet.  I put the rest of my clothes from my Fall capsule in my storage bins.  I went through my storage bins for the clothes I thought about using in my capsule and put them in stacks for each type: solid tops, patterned tops and bottoms.  I knew I may not include all of them in my capsule, but it gave me a starting point.
I went through the stacks of clothes, determined what I wanted to keep for my capsule, then hung those clothes in my closet, using wooden hangers like these.  These velvet hangers also work well and these hangers are perfect for hanging skirts.  Then, I put any clothes that I wouldn't be using back in the bins and put them in my closet.  I have storage bins for different types of clothes: seasonal tops, denim and shorts, cardigans and sweaters and skirts and dresses.  It helps me organize my clothes so I know what clothes are in each bin.  You can use these exact bins to store your off-season clothes too!  If you need a clothes rack to hang your clothes on, here is my exact wardrobe rack.  This pipe clothes rack (comes in black or white) and this wooden clothes rack (comes in wood or white) will work great for your capsule wardrobe too.  And, I love this industrial pipe and wooden wardrobe rack from West Elm!
I created my Winter capsule wardrobe using mostly clothes I already had and purchased just a few items.
Here are the Tops and Layers that are in my Winter 2018/2019 capsule wardrobe: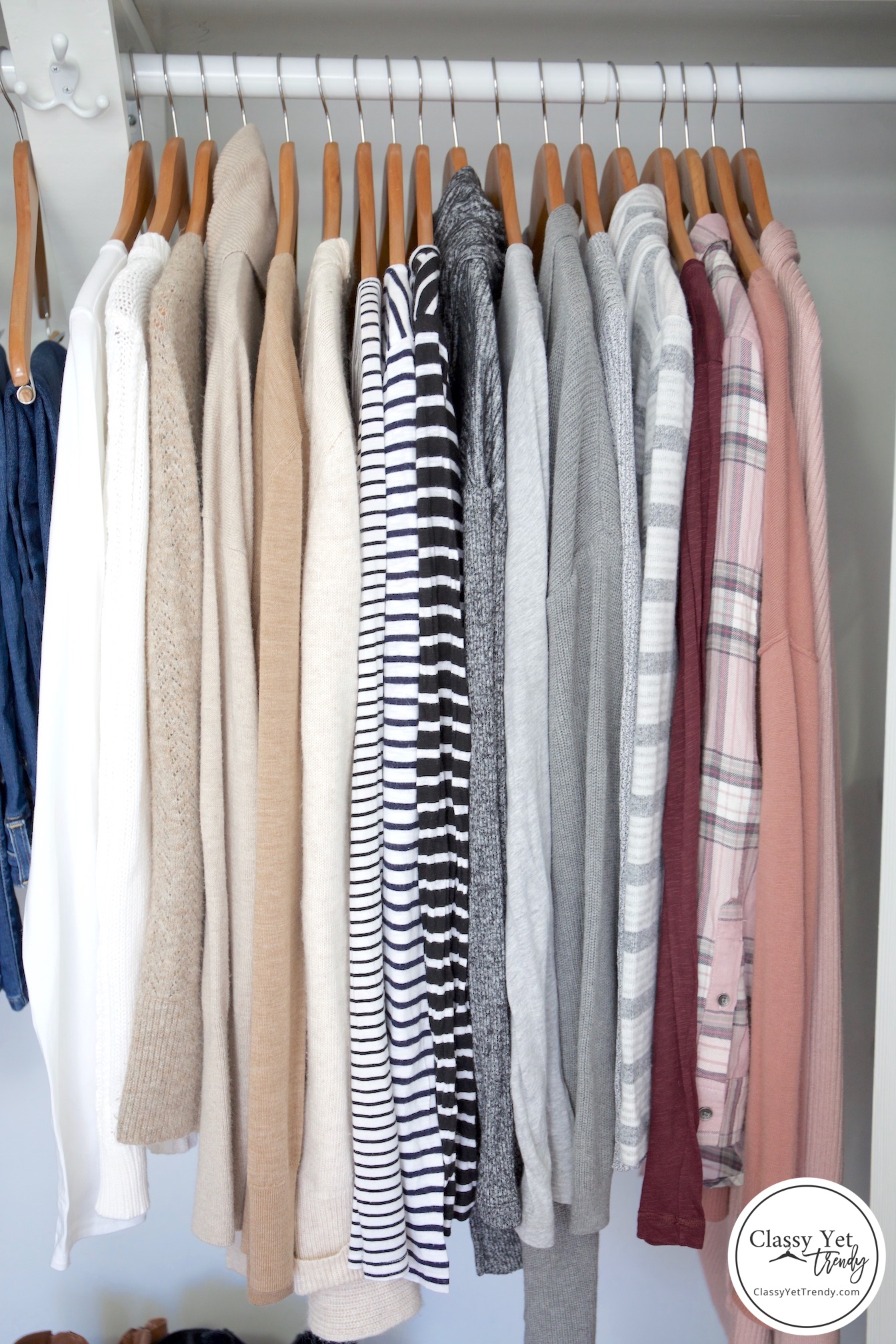 Tops:
white long sleeve tee (old)
ivory cable crew neck sweater (similar) (old)
tan pointelle sweater (similar) (old)
tan cowl neck tunic sweater (very similar) (old)
camel boyfriend cardigan (exact) / similar (cashmere) / similar (old)
beige cardigan (similar) (old)
white striped long sleeve peplum tee (similar) / similar black peplum (old)
white striped long sleeve tee (exact) (old)
black striped long sleeve tee (exact) (new)
black marled cowl neck tunic (exact) (old)
gray long sleeve tee (similar) (old)
gray cardigan (similar) (new)
gray mock neck marled sweater (similar) (old)
gray striped cowl neck tunic (exact) (new) / See it in the Loft Dressing Room Reviews Post!
burgundy long sleeve tee (exact) (old)
dusty rose plaid flannel tunic shirt (exact) / similar (new)
dusty rose sweater (exact) / very similar (old)
dusty rose cardigan (exact) (old)
Here are the jeans, leggings and vests: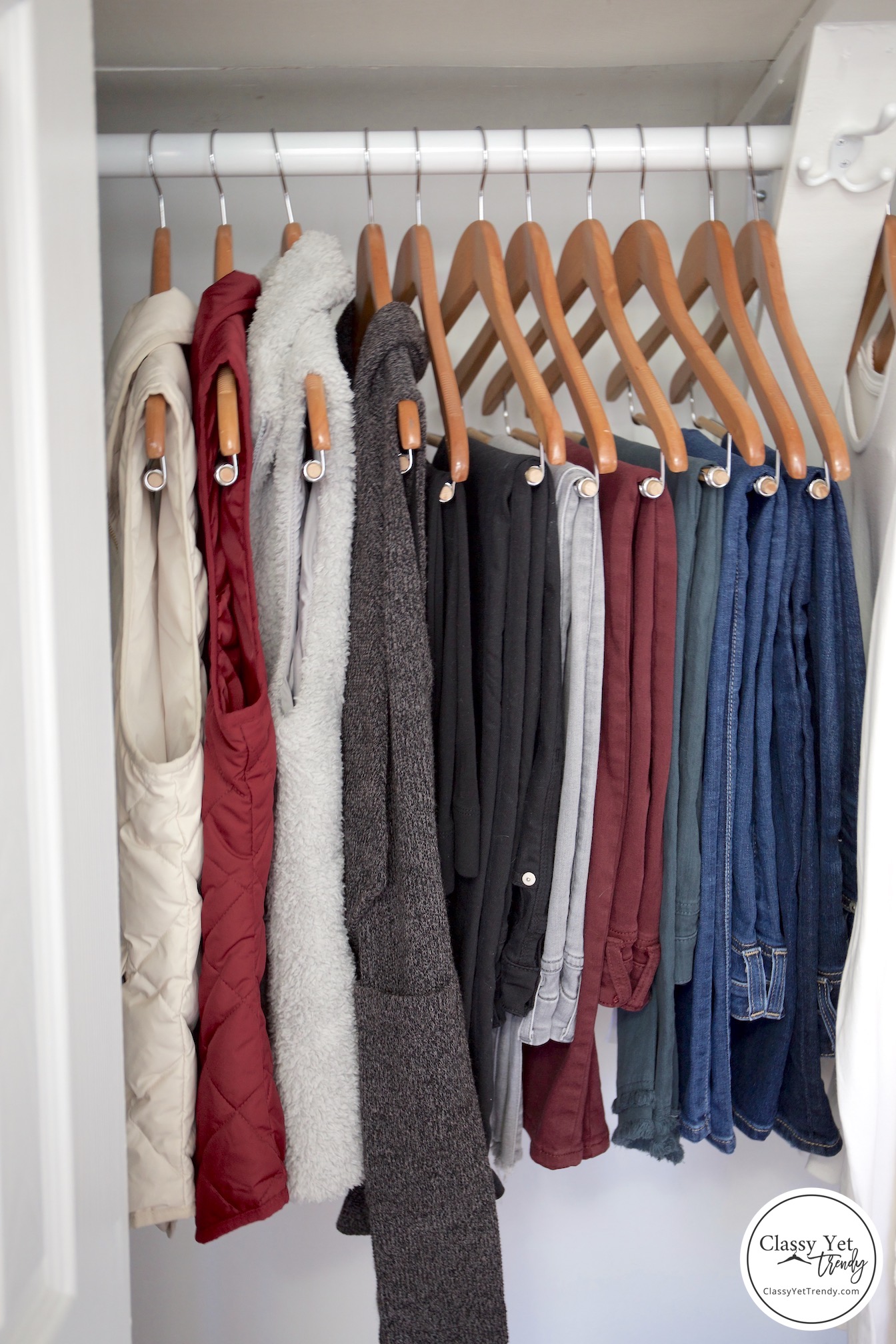 Vests, Jeans & Leggings:
ivory puffer vest (exact) (old)
burgundy vest (similar) (old)
gray fleece vest (exact) (old)
black marl sweater vest (exact) / similar (new)
Lou & Grey Essential Legging (old)
Madewell black skinny jeans (exact) (new)
7 For All Mankind raw hem gray jeans (old)
burgundy jeans (exact) / similar (new)
teal ankle jeans (exact) (new) / See it in the Loft Dressing Room Reviews Post!
medium wash jeans (exact) (old)
dark wash jeans (exact) (old)
Shoes: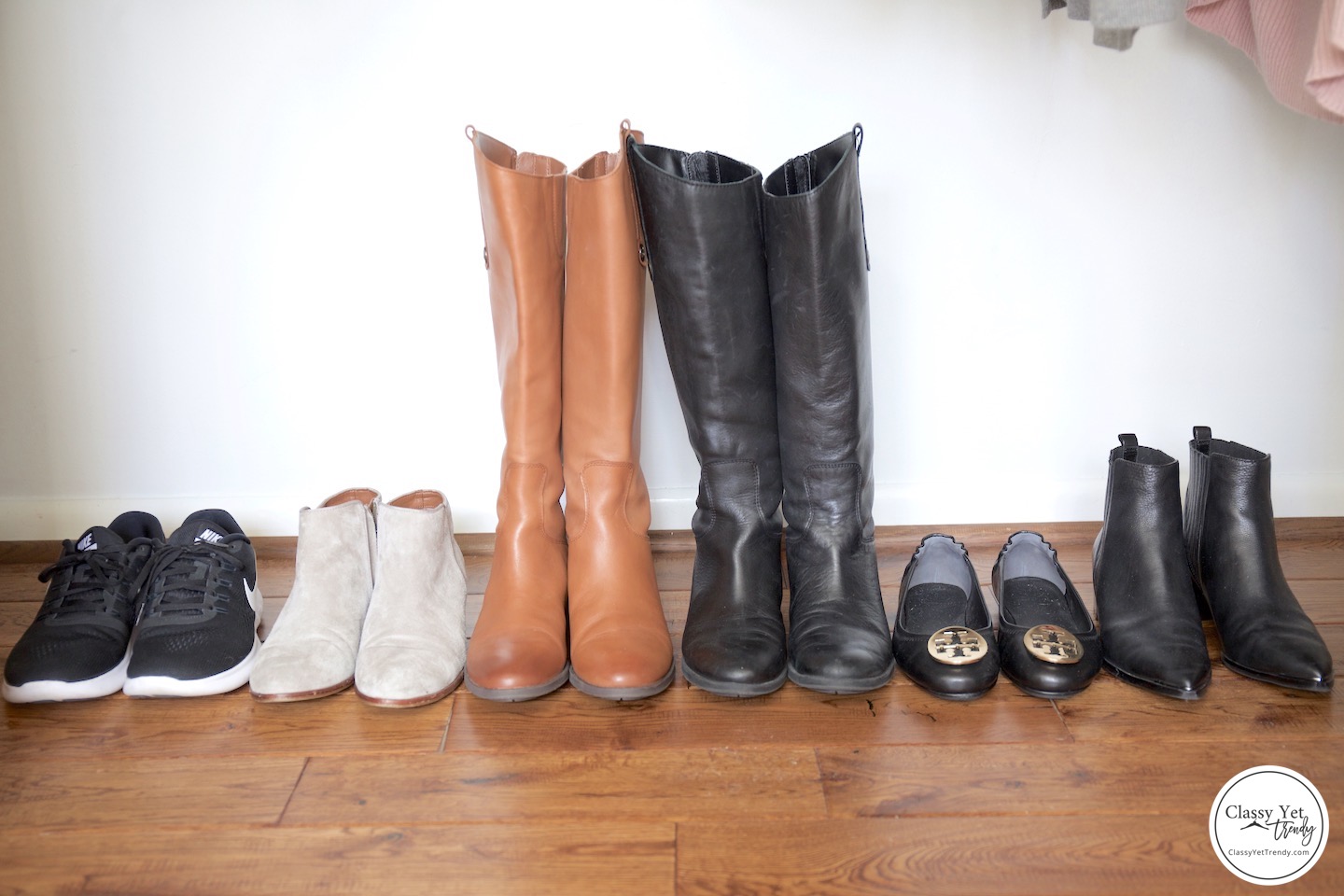 I didn't include shoes in this capsule wardrobe, but I'm showing a few pairs of shoes I'll be wearing this Winter (left to right from photo above):
Nike Black Sneakers (similar)
Sam Edelman Petty Suede Booties (exact)
Sam Edelman Brown Penny Tall Boots (exact)
Sam Edelman Black Penny Tall Boots (exact)
Tory Burch Minnie Black Flats (exact)
Marc Fisher black ankle boots (exact)
Shop The Post: