4 Ways To Wear a Bandana Scarf
One of the best ways to add an accessory to your outfit is with a bandana scarf!  Their small size is perfect for adding color to your outfit.  Since they are smaller than a regular size scarf, it makes them a go-to accessory for the warm months.  Plus, they fit within your budget too!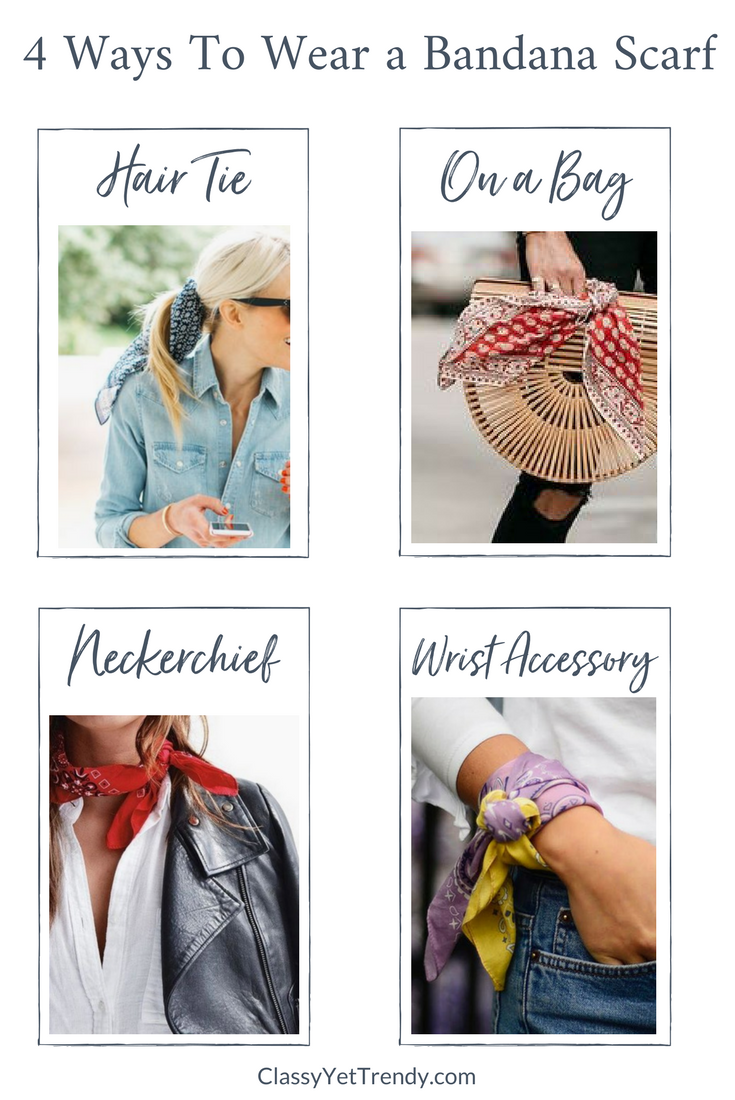 I remember when I first discovered a bandana scarf.  It was about a year ago.  I had been used to wearing regular size scarves and that had been my favorite accessory.  I was at a Madewell store browsing around, looking at their Spring clothes, when I saw this red square printed bandana scarf.  When I picked it up, it was so soft that it almost felt like butter.  Even though the color is called "tropical coral", it is a light red color.  The pattern was gorgeous and I immediately bought it!  I've worn it several times and posted a few outfit photos on my Instagram account wearing it.  Madewell has it in stock again this year!  I loved wearing that one so much, that I bought another white patterned one from Madewell and a navy patterned one from J. Crew.  Madewell also has this "bright poppy multi" red color bandana, which is so pretty too!  I'm loving this bandana from Urban Outfitters and it comes in 5 colors: berry, gold, lavender, black and blue.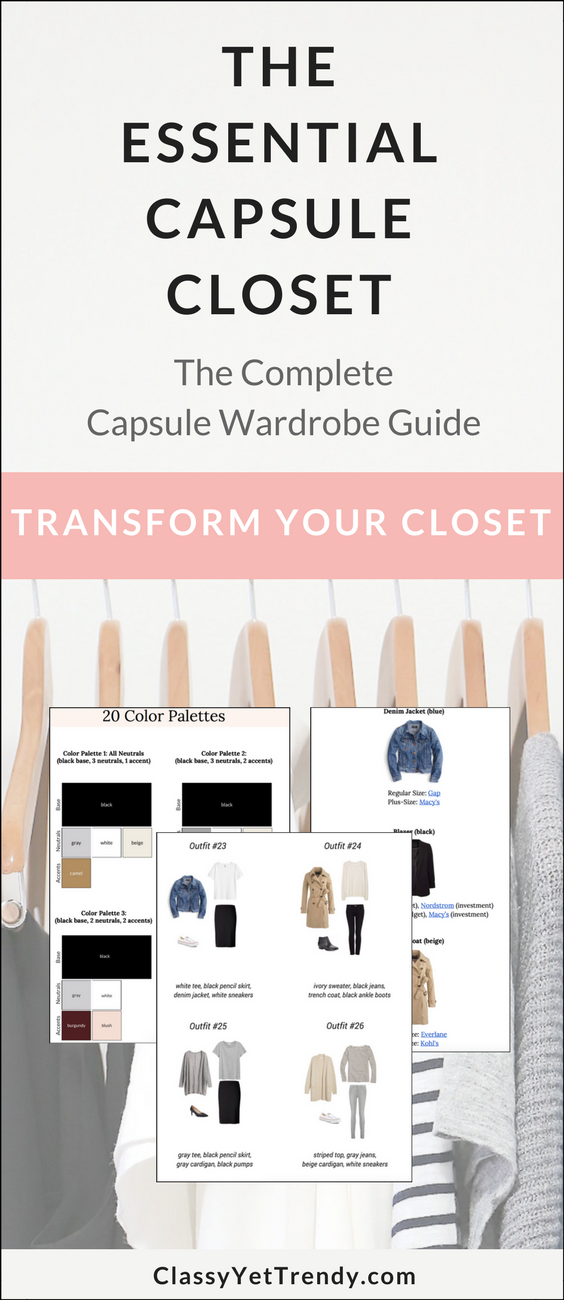 Here are four ways to wear bandana scarves:
1. As a Neckerchief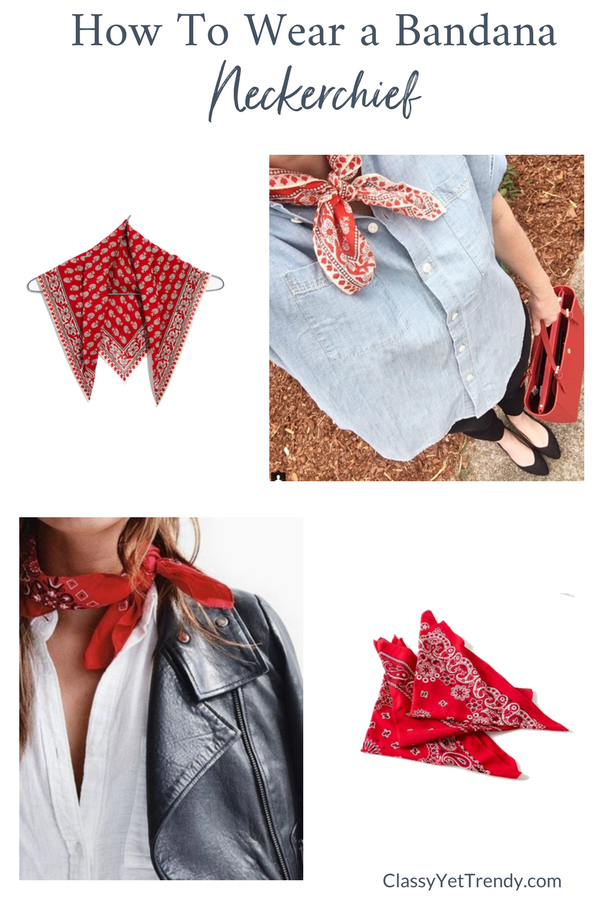 Shop the Post:
Top: red patterned bandana scarf / chambray shirt (plus-size) / black pants (plus-size) / red Tory Burch bag / black ballet flats
SHOP THESE RED BAGS
Bottom: red classic bandana scarf / white shirt (similar) (plus-size) / leather jacket (similar) (plus-size)
SHOP THESE LEATHER JACKETS
2. As a Hair Tie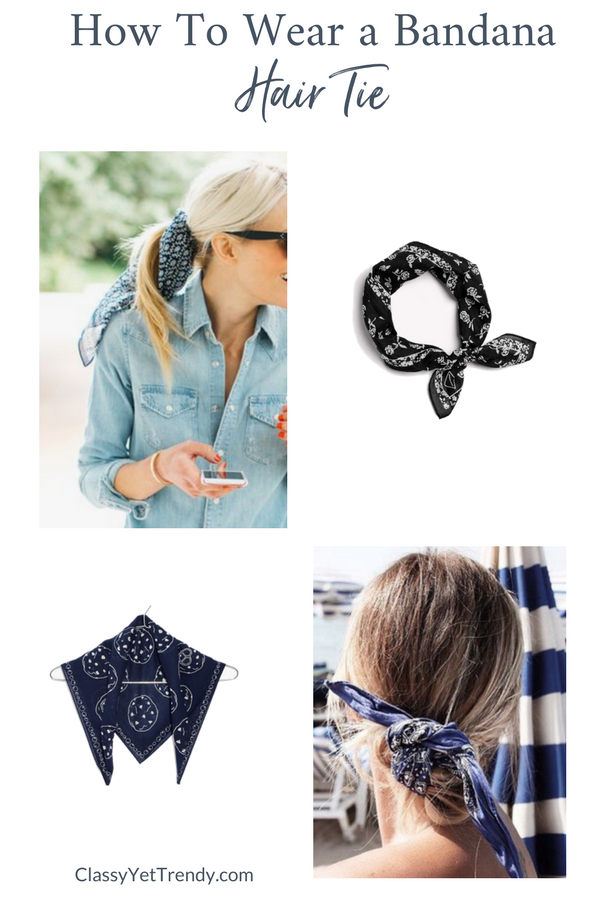 Shop the Post:
Top: black patterned bandana / chambray shirt (similar) (plus-size) / gold bangle (similar)
Bottom: navy patterned bandana
3. On a Bag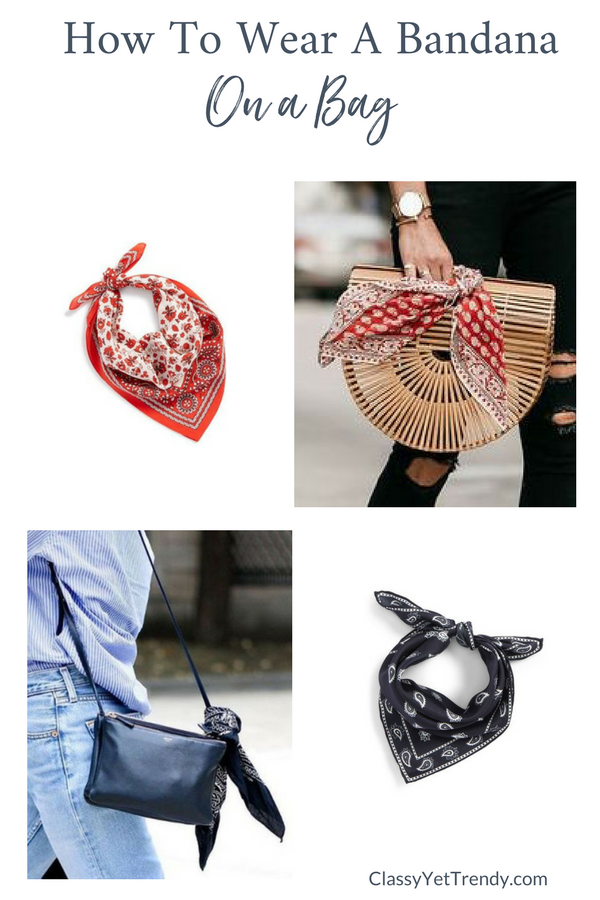 Shop the Post:
Top: red patterned silk bandana / black distressed jeans (investment) (budget) (plus-size) / wooden ark bag
SHOP THESE WOOD ARK BAGS
Bottom: black patterned scarf / blue striped shirt (plus-size) / light wash jeans (investment) (budget) (plus-size) / black crossbody
SHOP THESE BLACK CROSSBODY BAGS
4. As a Wrist Accessory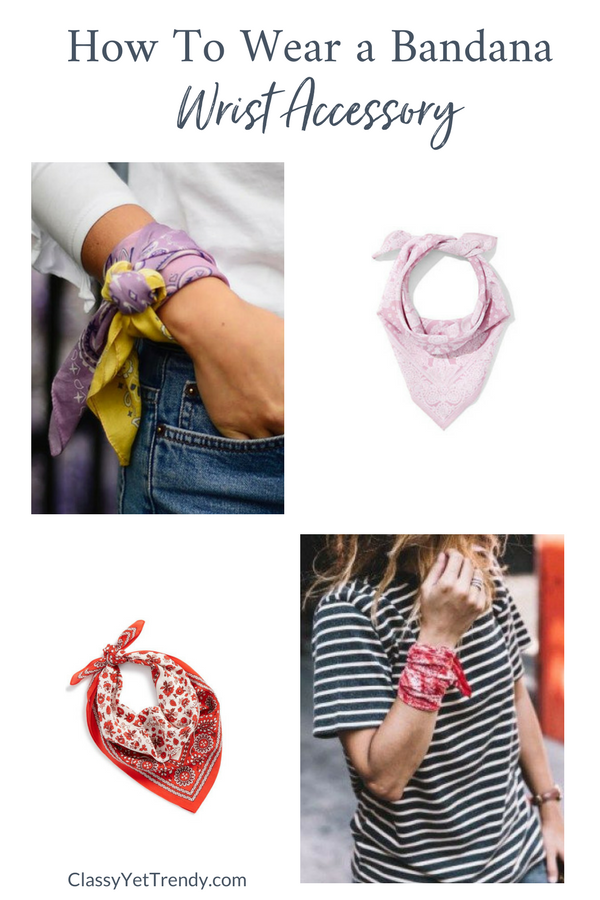 Shop the Post:
Top: lilac bandana scarf / white long sleeve tee (similar) (plus-size) / slim boyfriend jeans (similar) (plus-size)
Bottom: red poppy patterned scarf / navy striped tee (plus-size)