Valentine's Day Gift Guide
Valentine's Day is next week!  It will be here before we know it.  If you have someone to buy for, I'm sharing several Valentine's Day gift ideas.  You may see something in this post to buy for yourself too!
I've always loved Valentine's Day not only because of the theme and the colors pink and red, but Valentine's Day is also my birthday.  My mom was also born on Valentine's Day, so we shared the same birthday.  Either I would call her or she would call me early in the morning each year on our birthday and we would sing Happy Birthday to each other on the phone.  Since she's not here anymore, I miss those special times we shared.
If you are needing a gift for your mom, sister or other loved one for Valentine's Day, this bubble gold chain bracelet is gorgeous and unique!  They may also like this blush textured knit throw, which comes in two colors.
If you are looking for a gift for a jetsetter, this leather monogram luggage tag would be perfect for their luggage.  It comes in 12 colors, so it would be perfect for a man!  They may also like this Rose Hibiscus face mist to use when they travel for instant hydration.
If you are looking to buy a couple of things to treat yourself for Valentine's Day, this "Exhausted To Energized" Journal will help to inspire and educate on how to live your best life. Identify how your diet, exercise habits and stress affect your health and how making small changes in these areas can lead to greater well-being.  This Tasseled charging cable is the best one I've seen, since it's leather and well made.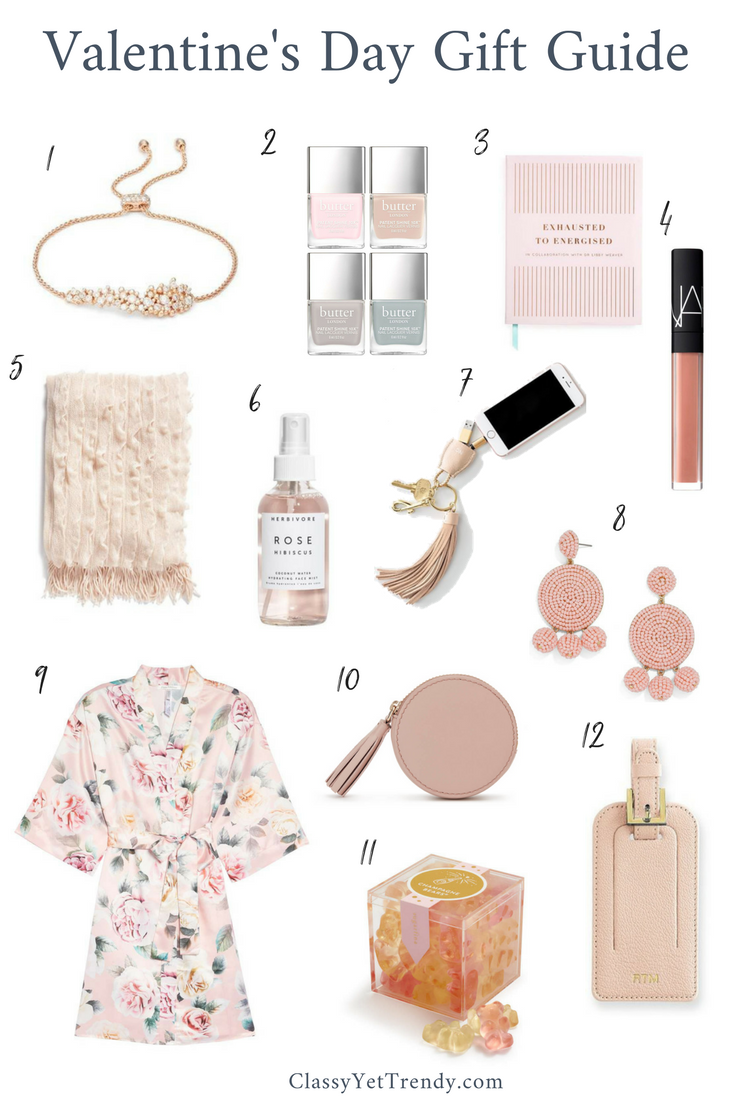 Shop The Post:
1. bubble gold chain bracelet / SHOP THESE CHAIN BRACELETS
2. butter London palace pastel set
3. "Exhausted To Energized" Journal
4. Nars lip gloss (comes in 21 shades!)
5. blush textured knit throw
6. rose hibiscus face mist
7. tasseled charging cable (comes in 7 colors!)
8. maraca beaded drop earrings / SHOP THESE DROP EARRINGS
9. flora satin robe (comes in 2 colors!)
10. leather tassel coin pouch (comes in 5 colors!)
11. champagne bears (these are delicious!) / SHOP MORE CHAMPAGNE BEARS
12. leather monogram luggage tag (comes in 12 colors!)
The first eBook of the Spring 2018 season, The Essential Capsule Wardrobe: Spring 2018 Collection is a complete wardrobe plan, that includes a white tee in the 26-piece collection!  All the clothes, shoes and accessories you need for an entire season of outfits is included, plus convenient shopping links, a checklist, a travel packing guide and more!