Joanna Gaines Inspired Capsule Wardrobe: 10 Outfit Ideas
A mix of classic & boho style in a capsule wardrobe inspired by outfits of Joanna Gaines of the Fixer Upper tv series.
It's no doubt that Joanna Gaines is the queen of home remodeling and modern farmhouse decorating.  Her inspiring sense of modern farmhouse design has sparked interest with home owners and lifestyle bloggers.  She has made #shiplap a household term and has revolutionized the home decor industry.  She and her husband Chip Gaines even have their own decor line Hearth & Hand at Target.
There's not an episode of Fixer Upper that I haven't watched!  They are on their 5th season!  I enjoy watching each house being given new life with a custom renovation by the Gaines'.  In addition to seeing the finished rooms, I've been also inspired by Joanna's sense of fashion.  Last year, I published this blog post on Joanna's style, If Joanna Gaines of Fixer Upper Had a Capsule Wardrobe, where I shared a few outfits she has worn.
Since she wears several Core Closet Essentials, it would be easy to create a capsule wardrobe from the items she wears.  Her fashion style is a mix of classic and boho.  Her style is casual and relaxed.  Even when she wears a skirt or a dress, the pieces are soft, slightly loose and flowy.  The jewelry she adds to her outfits often have a handmade look, making each piece seem unique, adding to the boho look.
Pieces she wears like a chambray shirt, jeans and tees are the ones included in my Capsule Wardrobe eBooks.  The Essential Capsule Wardrobe: Spring 2018 Collection includes several core closet essentials like the ones Joanna Gaines wears often.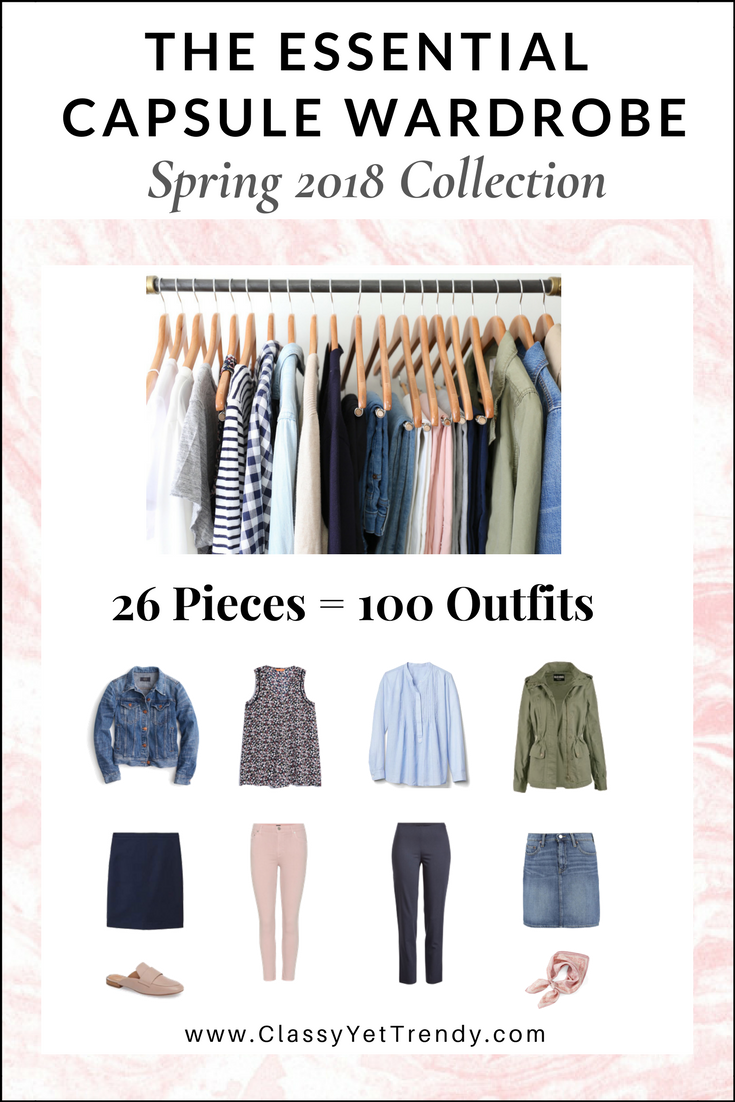 I've created a capsule wardrobe inspired by the outfits Joanna Gaines has worn on the Fixer Upper series.  It's a casual/slightly dressy caspsule wardrobe with mostly jeans and one skirt.  I've included shoes, jewelry and two handbags that compliment the outfits.  I've created 10 outfits from all the pieces in the capsule, but there are several more outfit possibilities!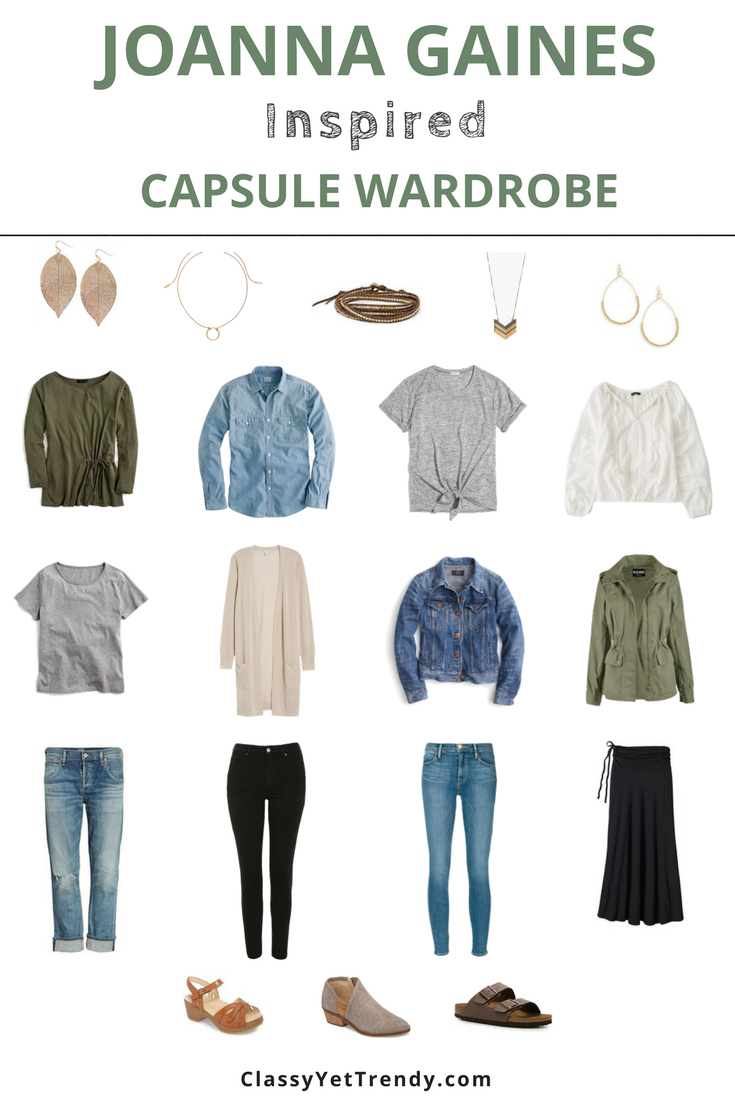 Row 1:
filigree gold leaf earrings (these are under $10)
gold circle necklace / SHOP THESE CIRCLE NECKLACES
leather beaded bracelet (also love this one!) / SHOP THESE BEADED BRACELETS
pendant necklace / SHOP THESE PENDANT NECKLACES
beaded drop earrings (also love these!)
Row 2:
olive tie top (also in navy, pink & white) / PLUS / PETITE
chambray shirt (budget-friendly option) / PLUS / PETITE
black & white tie front tee / PLUS / PETITE
white peasant top (also in navy & blush) / PLUS / PETITE
Row 3:
gray tee (comes in 7 colors) / PLUS / PETITE
beige linen blend cardigan (comes in 7 colors) / PLUS / PETITE
denim jacket / PLUS / PETITE
olive utility jacket / PLUS / PETITE
Row 4:
slim boyfriend jeans / PLUS / PETITE / SHOP THESE BOYFRIEND JEANS
black jeans / PLUS / PETITE / SHOP THESE BLACK JEANS
skinny jeans / PLUS / PETITE
black maxi OR midi skirt (converts to a halter dress!) / PLUS / PETITE
Row 5:
platform woodgrain sandals (comes in 4 colors)
Birkenstock Arizona sandal (2 colors)
stacked heel cutout side bootie (3 colors)
Ethically Made Bags Featured in the Outfits:
Tirhas Saddlebag in "cognac" / SHOP THESE SADDLE BAGS
Maria Tassel Shopper in "dusty rose" / SHOP THESE TASSEL BAGS
See more ethical and slow fashion clothes, shoes & accessories at Able (formerly LiveFashionable):

Would you like to create your own custom capsule wardrobe, but don't know where to begin?
Have you spent hours on the internet researching, but just give up the idea, thinking it's too complicated?
Everything you need is in one convenient eBook!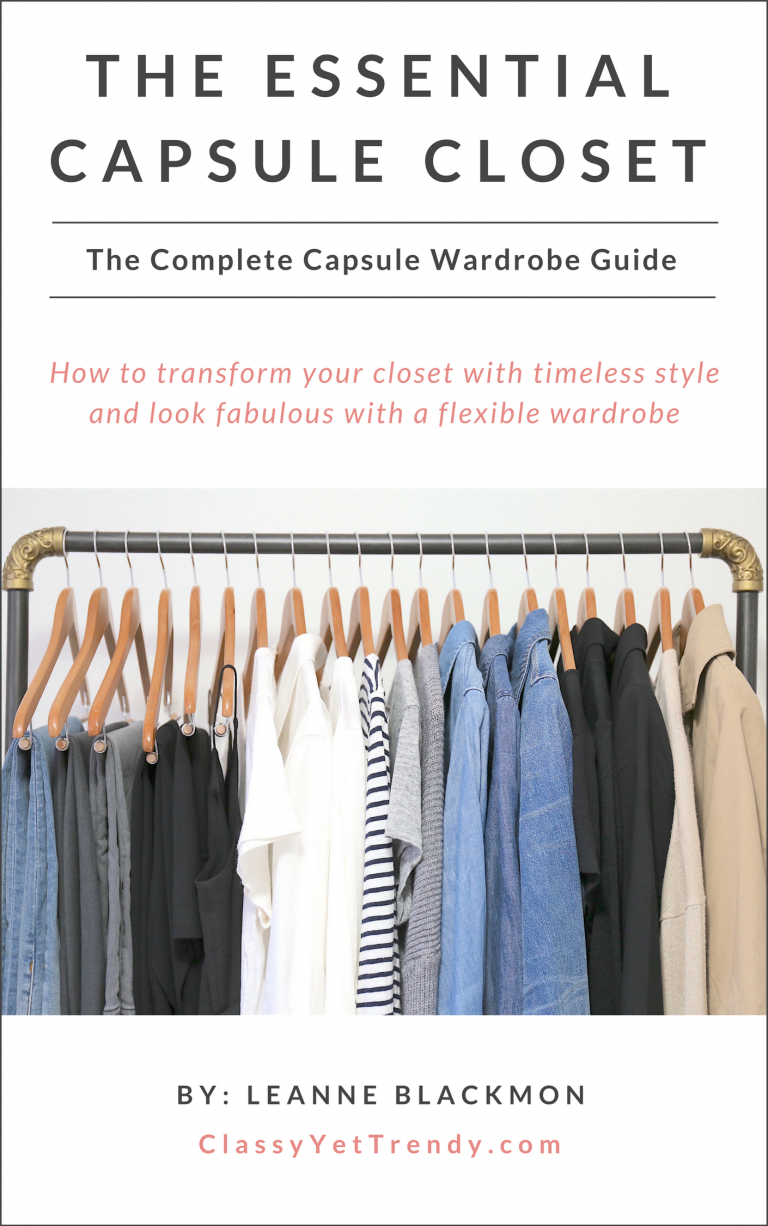 The Outfits:
---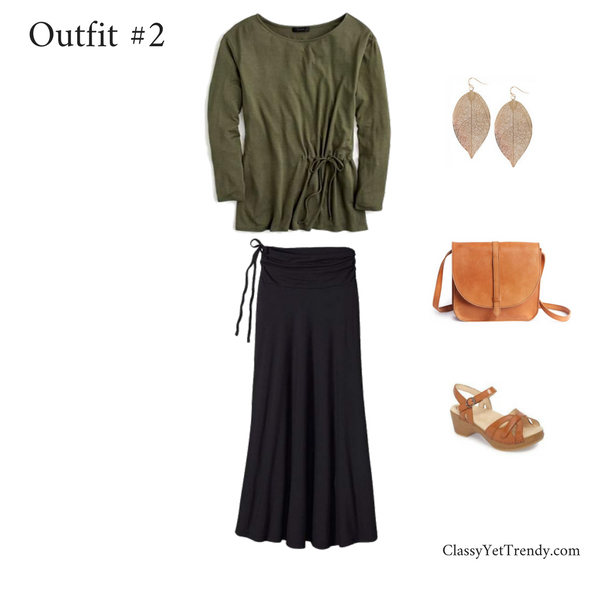 ---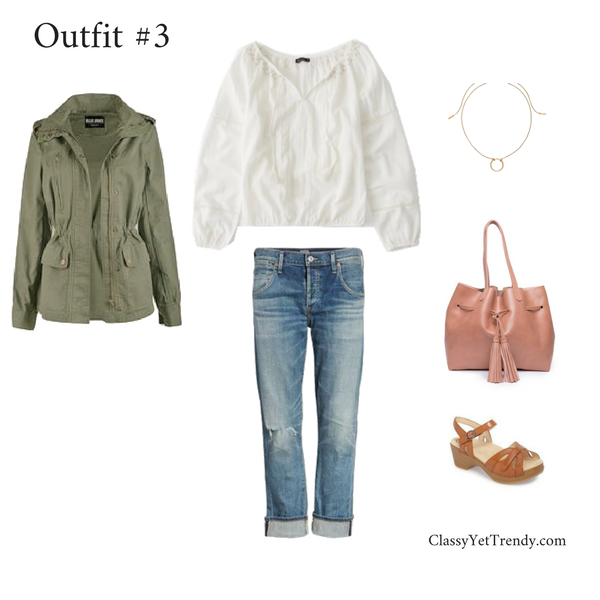 ---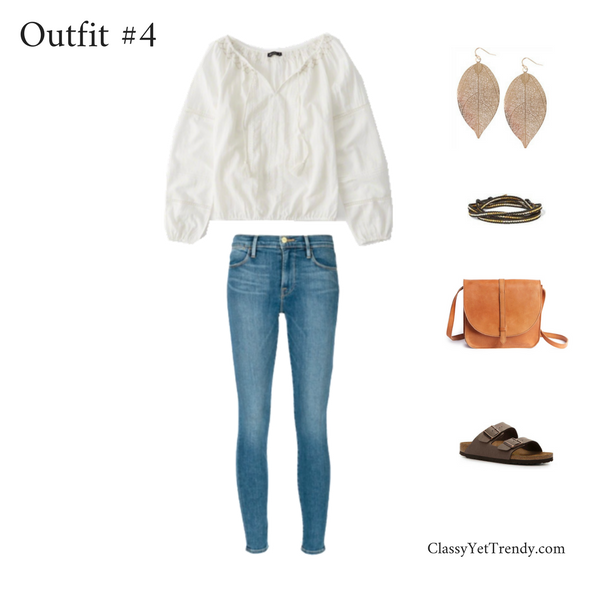 ---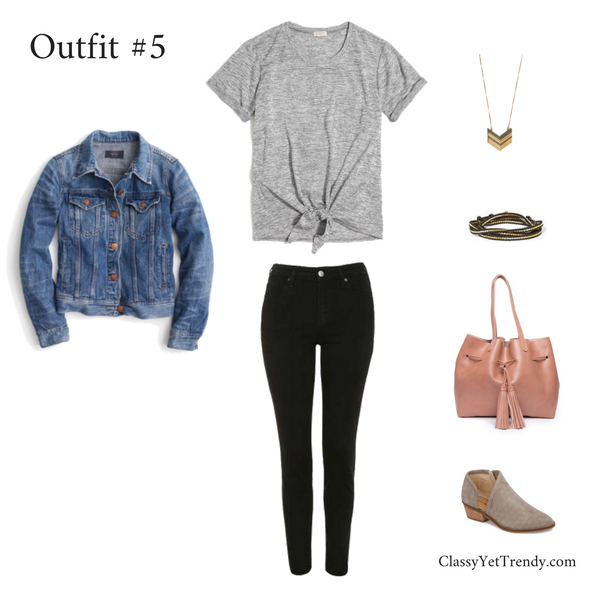 ---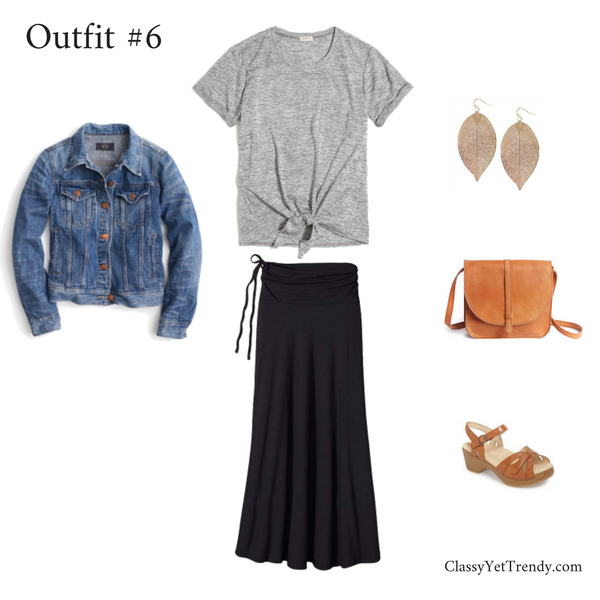 ---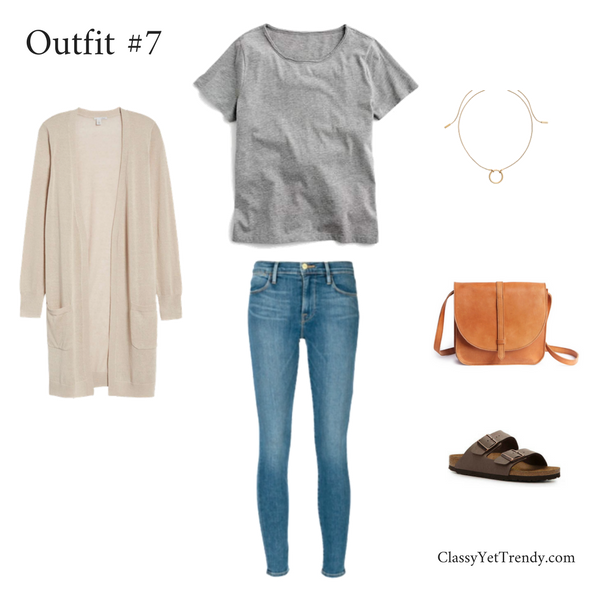 ---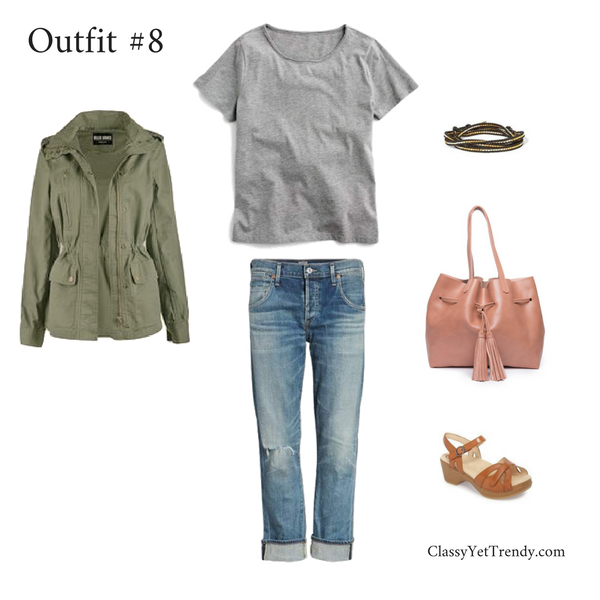 ---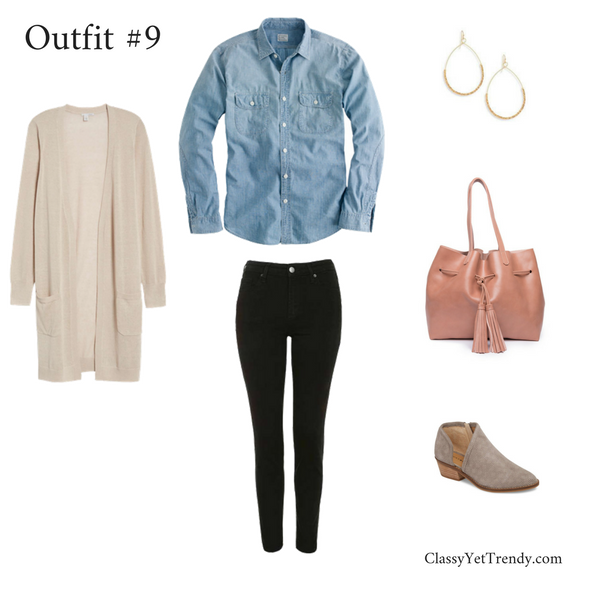 ---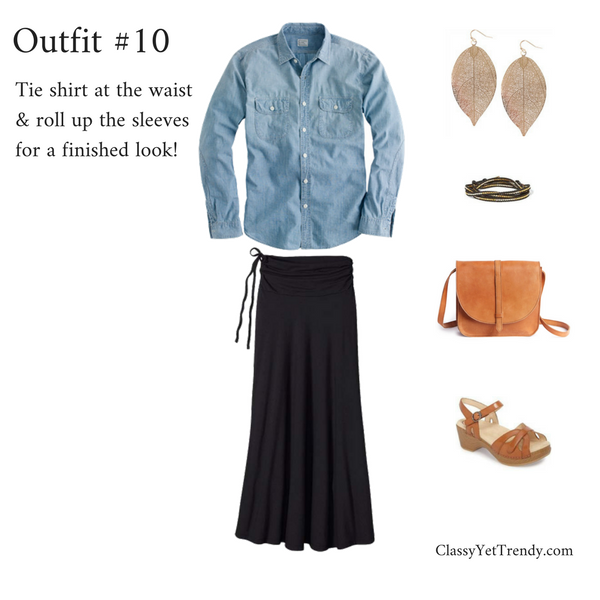 Shop The Post:
PLUS Sizes:
PETITE Sizes:
Shop More Joanna Gaines Inspired Styles:
These are just 10 of the many outfit possiblities!  What other outfits can you create?  Which outfits are your favorites?